Easy step by step tutorial for making a DIY wooden box in any custom size you want. Learn how to make a wooden box that will fit any shelf or spot in your home.
We have a built-in bookshelf in our family room where we keep most of our toys. Unfortunately, all of the tiny little toys my kids love to play with were taking over. So when I updated our family room a few months ago, finding sturdy wooden boxes to help organize it all was on the top of my to do list.
I quickly realized that buying matching boxes would be pretty expensive and finding some in the exact size I needed would be nearly impossible. So I turned to plan B: figuring out how to make a wooden box for myself.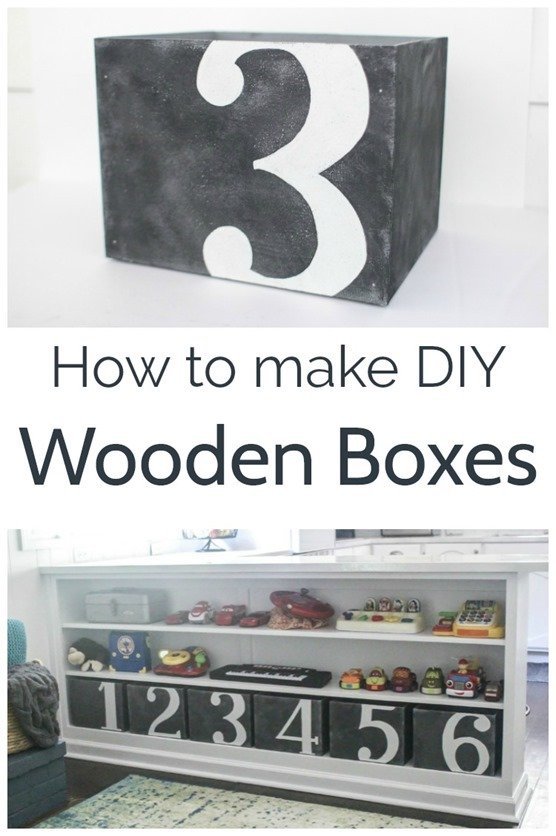 Making wooden boxes is a little more work than buying them, but it isn't nearly as difficult as it seems. And I love that I was able to build bins that perfectly fit our shelves rather than trying to make something not quite right work.
I was able to make these DIY wooden boxes for nearly free using scrap wood we already had in our shop. But even if you are buying all of the materials, the wood you need is incredibly inexpensive.
This post contains affiliate links which means if you make a purchase after clicking a link I will earn a small commission but it won't cost you a penny more. Click here to see my full disclosure policy.
Materials for DIY Wooden Boxes
Wood Cut List
(for each box 12" wide, 11" deep, 9" high. There are instructions below on how to easily adjust these measurements to make any size box)
2 pieces 1/4" plywood, 12" x 9"
2 pieces 1/4" plywood 10.5"x9"
1 piece 1/4" plywood 11.5"x10.5"
Four 1"x2" boards 7" long
Other Materials
primer and paint
paintbrushes
pencil
150 grit sandpaper
Tools
table saw (or just have your wood cut when you buy it!)
hammer and nails or nail gun
How to Make DIY Wooden Boxes
The first step of making DIY wooden boxes is cutting all of your wood. This is definitely the most time consuming part of the whole project.
You can cut all of your pieces on a table saw or take the easy route and just have them cut it for you at the store when you buy it. I used 1/4 inch thick plywood for my boxes along with 1x2s for support at the inner corners.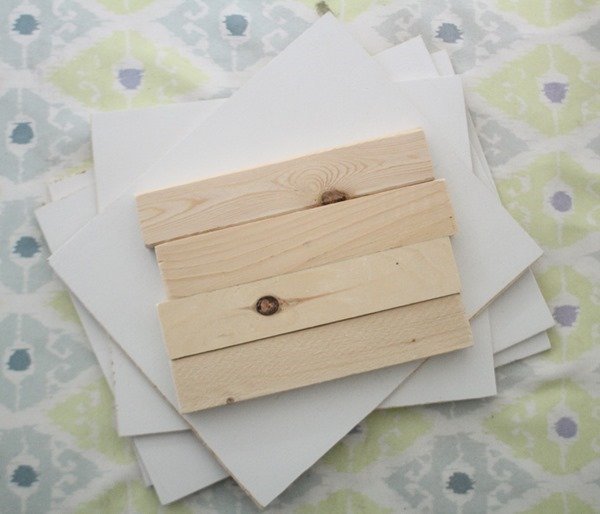 I made my boxes 12" wide, 11" deep and 9" high because this worked perfectly for my bookshelves. But I will also show you how to make these any size you need. First, these are the measurements I used.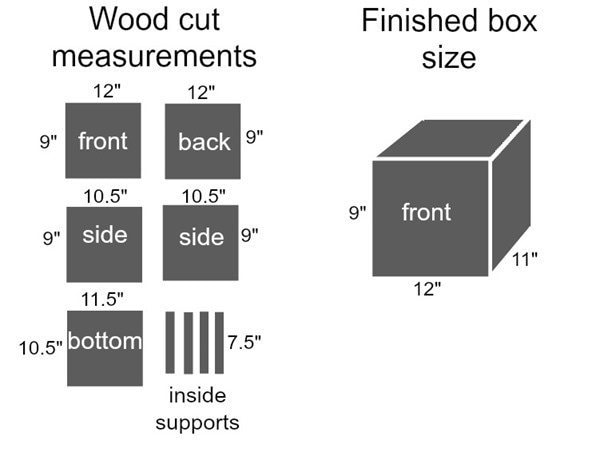 It is really simple to make these wooden boxes any specific size you need. The main thing you need to keep in mind is that you need to cut the two side panels of your boxes 1/2 inch shorter than the front and back. The bottom panel will also be 1/2 smaller in both length and width than the overall box size because it will tuck up into the bottom of the box.
I made a quick graphic to make it super easy to figure out your measurements for any custom size box. Just substitute the sizes you want for the height, width, and depth.
(If math makes your eyes roll back in your head, just look away. And yes, I was totally a math nerd in school and proud of it.)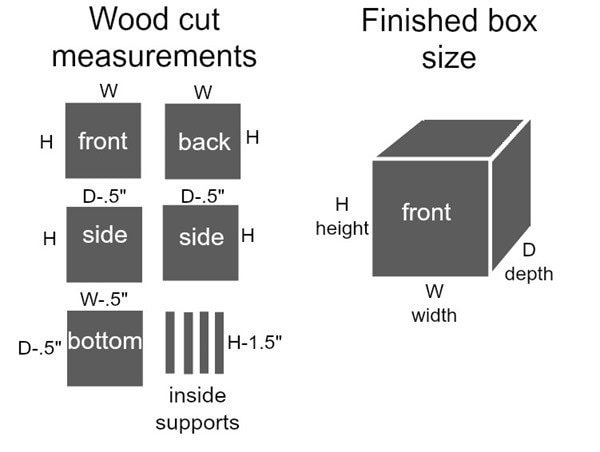 The 1″x2″s used for support don't really have to be an exact measurement. They just need to be around 1 – 2 inches smaller than the height of the box so they aren't very visible.
Once all of the pieces are cut, sand any rough edges. I think it is easier to also go ahead and prime and paint them.
At this point, I painted all of my pieces with a base coat of gray but I finished painting everything once they were assembled. Remember to paint both sides of each piece of wood unless you want the inside off your box to be raw wood. Of course, sanding would also work.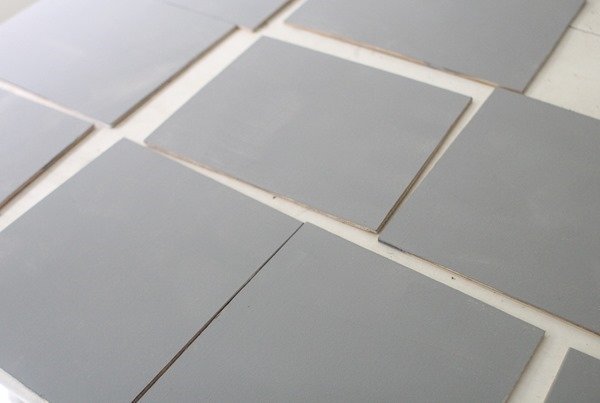 Then it is time to assemble everything. I made this before I had my new nail gun, so I simply used a hammer and nails. You also need wood glue for this part.
Lay one of the sides of your box face down on a table or flat surface.
Take 2 of your 1″x2″ support pieces and lay them against the outer edges of the wood like the picture below. Be sure to leave 1/4" of space below them so there will be room to slide in the bottom at the end. Glue these down with wood glue.
Do the same thing using the second side and the other 2 supports. Let the glue dry.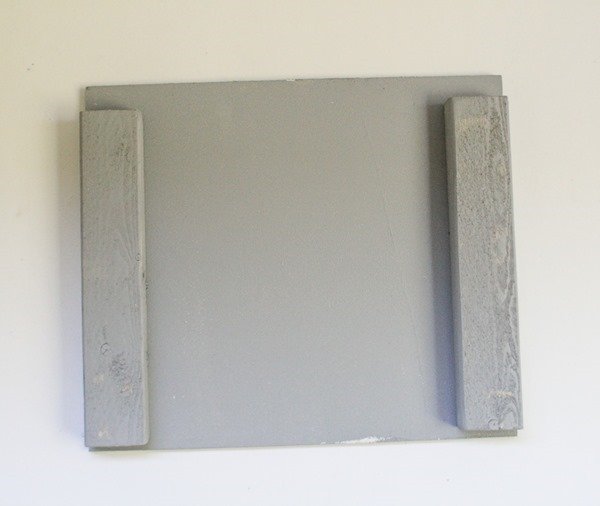 After the sides have dried, lay the front of the box facedown on the table. Using wood glue on the 1″x2″ supports, attach the two sides of the box to the front. Be sure to line up the edges carefully.
Apply wood glue to the final supports as shown below and carefully attach the back piece.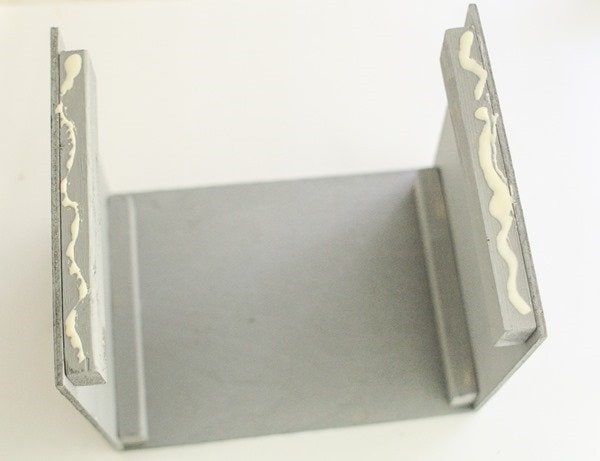 Once the glue dried, I also hammered four brads (small nails) into each side of the box. The glue alone was probably plenty to keep the box secure, but I would rather them be too sturdy than not enough. (Especially since my kids are going to be using these!)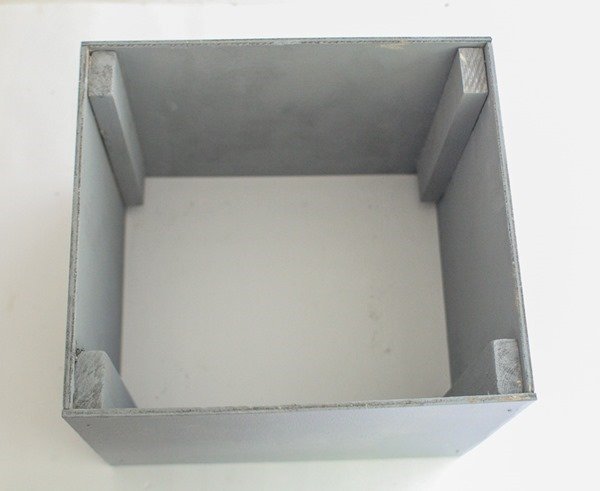 The final step is to attach the bottom of the box. Flip the whole thing over so the bottom is facing up. (The bottom will be the end where there is a 1/4″ space at the end of each 1×2).
Add some wood glue to the bottoms of the 1x2s as shown below. Then simply slip the bottom into place and use a few more brads to hold it in place.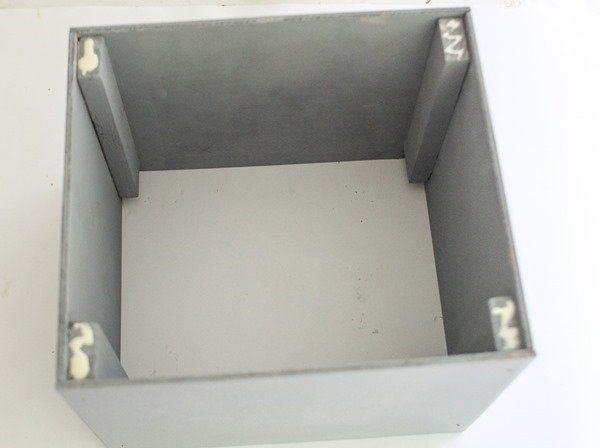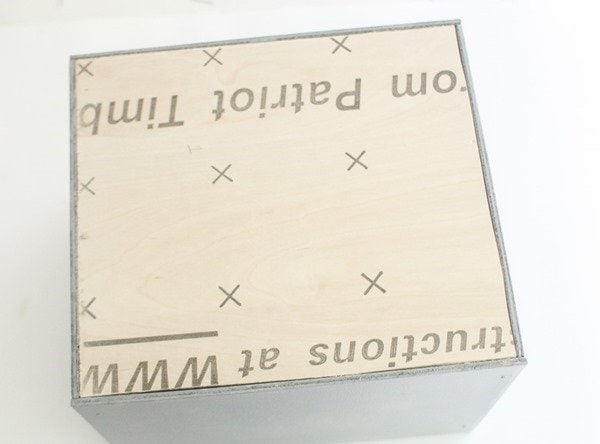 And that's it as far as actually constructing the box.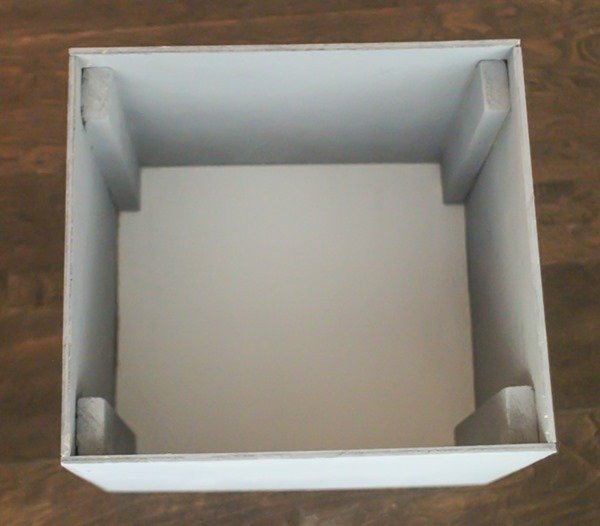 I dry-brushed several coats of charcoal gray paint onto my boxes but they still looked a little plain. My husband suggested adding the numbers which was the perfect solution.
The numbers add visual interest but more importantly, they make the bins much more functional. It's super easy to keep track of what belongs in each bin now.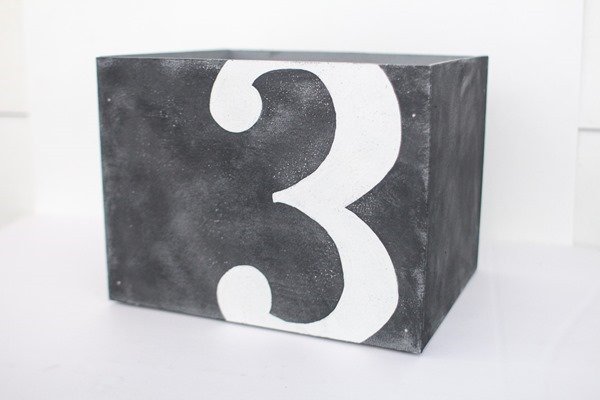 I chose to do oversized numbers and I simply drew them on and painted them white. But if you aren't feeling confident in you number-drawing abilities, this pencil trick is a super easy way to print out a font you like and then transfer it to the bins.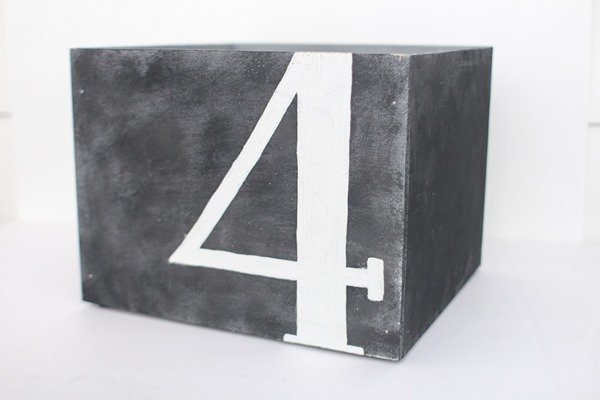 And now I have six custom wooden boxes that perfectly fit our built-in shelves. And they were inexpensive and look awesome. Which is exactly why I love to DIY – you can create exactly what you want and you usually save money doing it.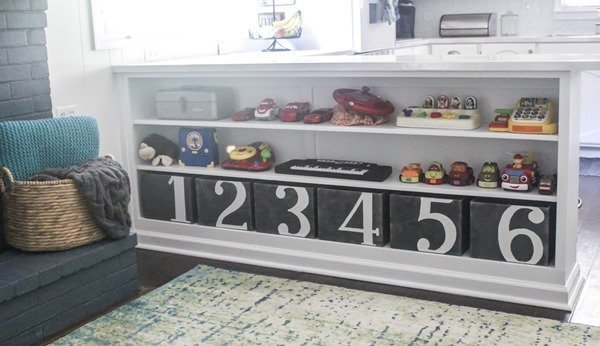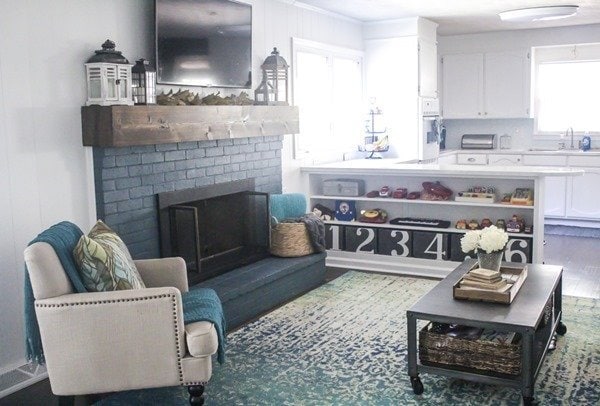 These boxes have definitely helped with keeping our overabundance of toys organized. I'm not going to lie – there are still toys all over the floor more often than not. But at least now, when I ask the boys to put the toys away, they know where to put them.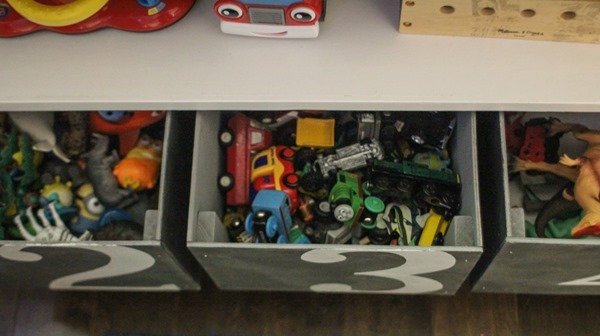 Here are a few more posts I think you'll love:
How to make fabric storage cubes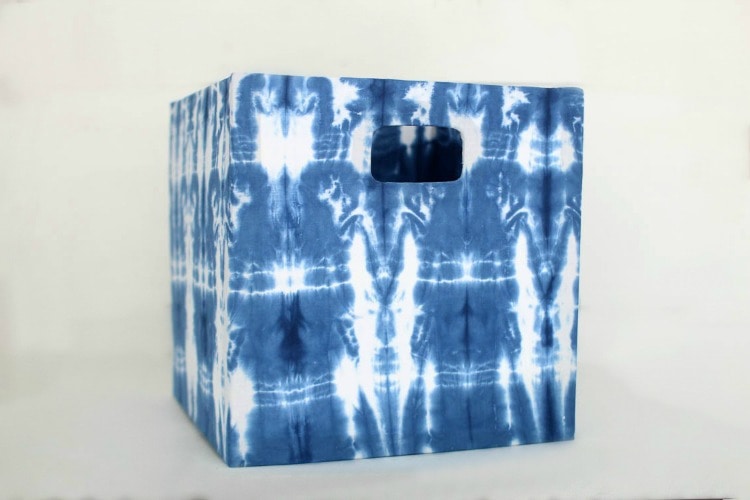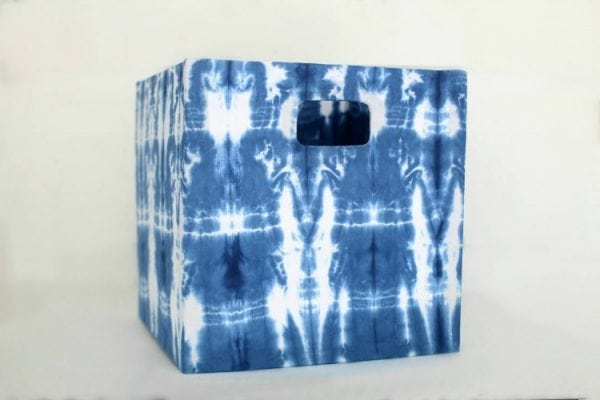 Turn any cardboard box into beautiful storage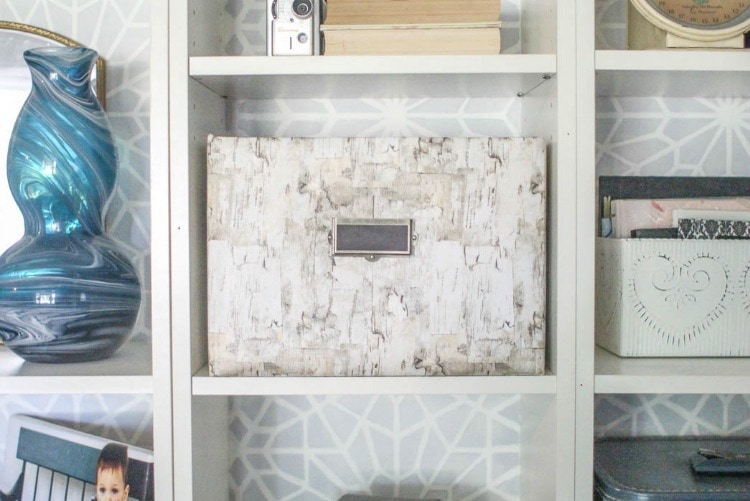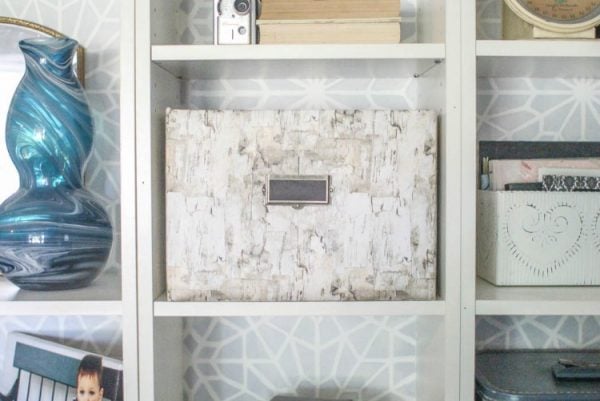 How to build cheap and easy closet shelves