Lesson learned: do not paint latex paint directly over oil-based paint! Learn how to fix peeling latex paint and the steps to safely paint latex over oil.
When we moved into this house several years ago, the walls were painted dingy pastel colors and all of the trim was painted to match the walls.
I immediately got to work painting the walls in a fresher color palette and painting the trim a nice crisp white.
Unfortunately, I made a huge mistake.
I skipped a vital step. I didn't stop to check what kind of paint the trim had been painted with previously – I just got myself a nice can of semi-gloss white paint and blissfully painted away.
I had no idea that the gold standard used to be painting doors and trim with oil-based paint.
And honestly, even if I had known, I wouldn't have realized that you can't just paint latex paint right on top of oil-based paint.
Latex paint simply isn't going to stick to oil-based paint.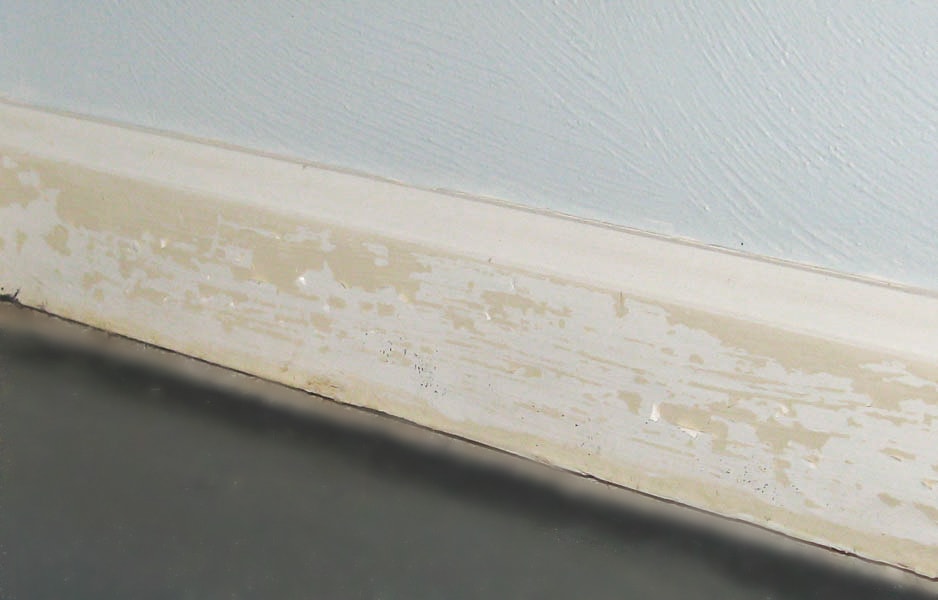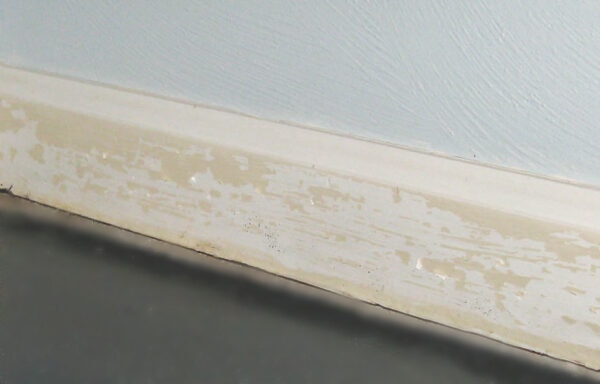 I started to realize something was wrong within a matter of days – the fresh white paint I added to all of our trim and doors could be scratched right off with a simple touch.
And within months, it started peeling off like crazy. So frustrating!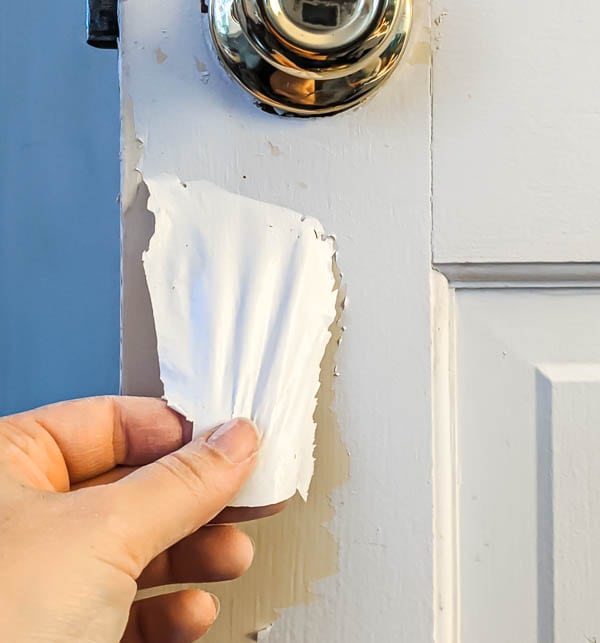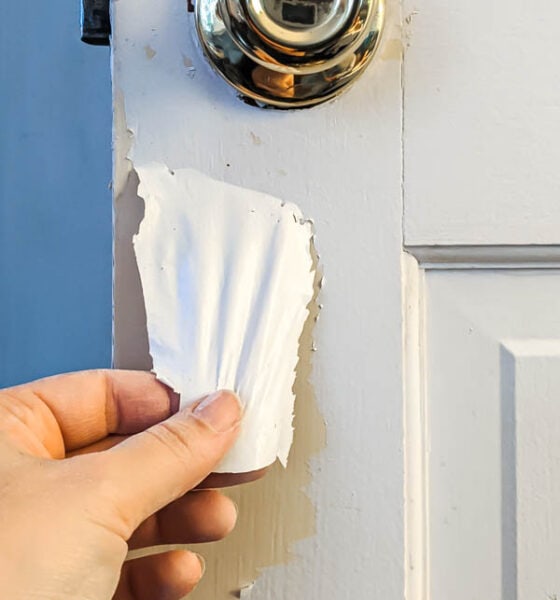 It's been several years since that maddening mistake and I've learned a ton about the dos and don'ts of oil-based paint in that time.
Now I'm sharing it all with you in the hopes I can spare someone else the headache I caused myself.
Let's start with the basics of correctly painting over oil-based paint and then I'll share how I solved my problem for anyone else who may have painted with latex paint over oil-based paint with disastrous results.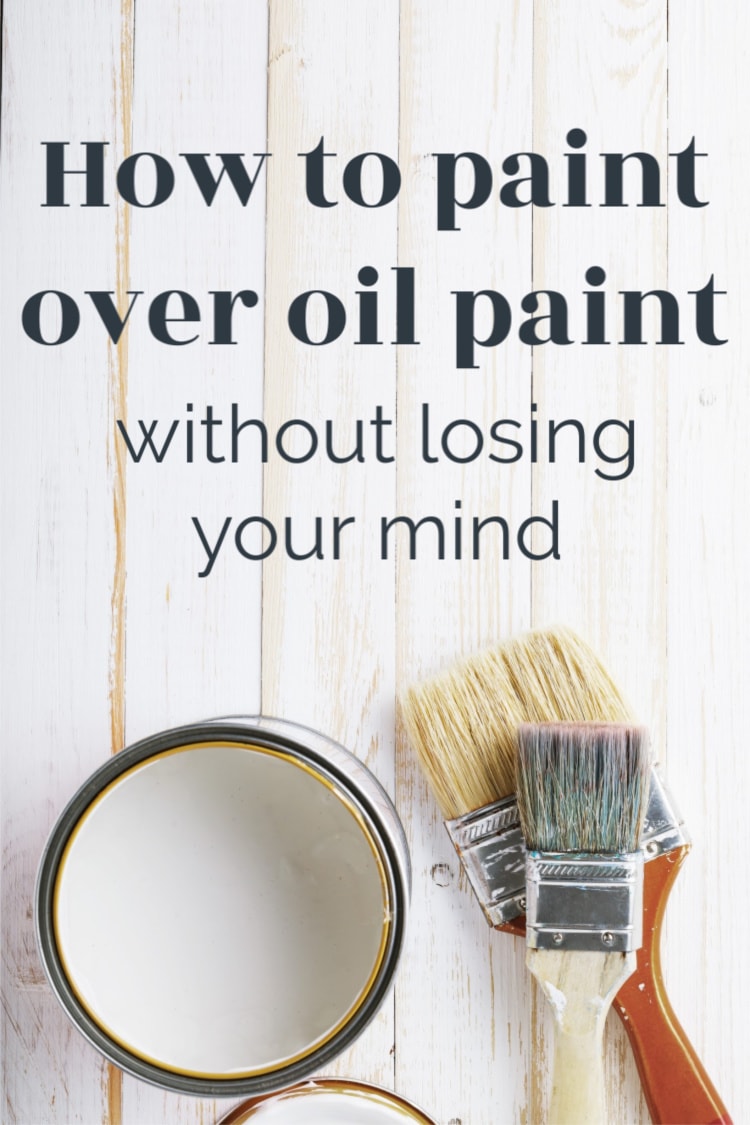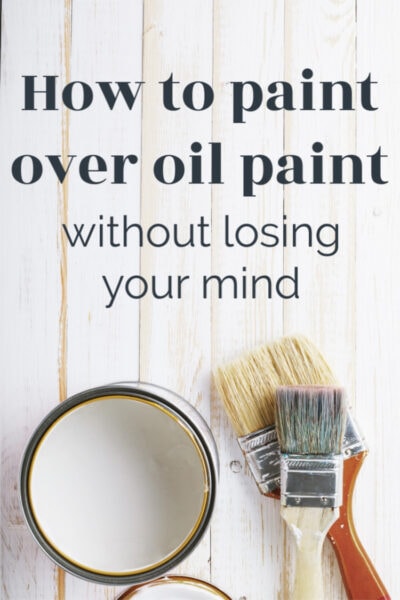 This post contains affiliate links which means if you make a purchase after clicking a link I will earn a small commission but it won't cost you a penny more. Click here to see my full disclosure policy
How can you know if something is painted with oil-based paint?
A lot of times when we have an older home, we have no idea what type of paint was used.
Almost all trim in older homes is painted using oil-based paints and a good portion of the trim in newer homes as well.
Before you repaint any woodwork, there is an easy test you can do to determine what type of paint was used in your home.
Pour a little bit of nail polish remover (with acetone) or rubbing alcohol onto a rag.
Rub it onto the painted surface that you want to test.
If some of the paint rubs off, it is latex paint. If no paint rubs off, it is oil-based paint.
Be sure to use a dark rag for light paint and vice versa so it will be easy to tell if the paint is rubbing off.
How to paint with latex paint over oil
As I've already mentioned, you definitely should not paint latex paint directly onto oil-based paint.
It might look ok for a minute, but it definitely will not last. Latex paint will not bond to oil-based paint.
They're like oil and water. (Haha, get it?)
Thankfully, there is a way to paint latex paint over oil-based paint. So if you discover that parts of your home were painted with oil-based paint, you aren't stuck using oil-based paint forever.
The crucial step that I missed is that you must first use an oil-based primer.
Once your primer has dried, you can paint it with either oil-based paint or latex paint.
Yes, I know it is confusing. You can never paint latex paint directly over oil-based paint, but latex paint over oil-based primer works perfectly.
How to solve peeling latex paint over oil-based paint
This brings me back to my own badly peeling latex paint. I had already painted basically all of the trim in our home with latex paint and no primer.
So what could I do to fix it now?
I started doing research on all of the potential solutions and none of them sounded very fun.
These are the solutions I found:
Replace all of the trim.
Strip off the latex paint using a chemical stripper and then prime with an oil-based primer and repaint.
Sand off the latex paint and then prime with an oil-based primer and repaint.
Well, replacing all of the trim was out for sure. That would take way too much time and money.
I also wasn't a huge fan of the second option. I have used chemical strippers to strip furniture before and they work well.
But it would be very difficult and messy to strip all of the trim without removing it first.
And again, removing all of the trim would be a huge undertaking.
The Solution I Used
I chose option three – the sanding option.
*Important Safety Note* If your home was built before 1978, there is a chance it may have been painted using lead-based paint. You should never scrape or sand lead paint, because it releases lead dust into the air and inhaling lead dust is very dangerous.
If your home was built before that time, you can buy an inexpensive lead paint test to check for the presence of lead. These are very easy to use, only cost a few dollars, and can save your family from serious future health problems so it is worth your time.
I started by using a paint scraper to gently scrape off any paint that was actively peeling off.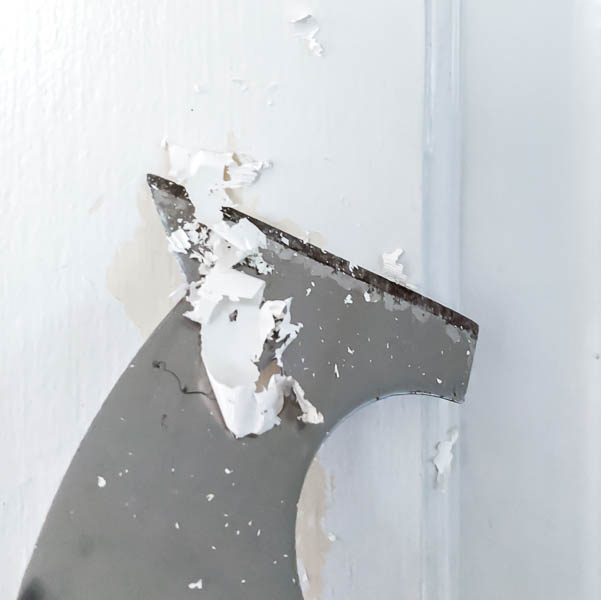 Then I used a palm sander to sand the flat areas of the doors and baseboards and I hand-sanded the more detailed areas.
I did not sand off every last bit of paint. I found mixed advice about this: some people said that you must remove every speck of latex paint; others said that you could just remove the loose paint.
I had a ton of area to sand and repaint – most of the baseboards and doors in our entire home.
So I chose to sand all of the loose paint really well, making sure that absolutely anything that was loose, peeling, or scratched was removed.
Once all of the loose paint was removed, I primed everything with an oil-based primer. (This is my favorite oil-based primer that I have come to trust implicitly.)
When the primer was fully dried, I painted once again with my bright white latex paint.
And this time it went on so much better. I could immediately tell that it was adhering differently this time around.
And once the paint had fully dried and cured, it didn't scrape off at the slightest scratch.
It's now been a few years since I sanded and repainted my trim and it has held up beautifully.
There have been a few scratches and dings here and there over the years, but no more than you would expect from any trim in an active home with three little boys.
I hope this information has helped save you from making the same mistakes.
And if it's already too late for that, helped get you started fixing the problem.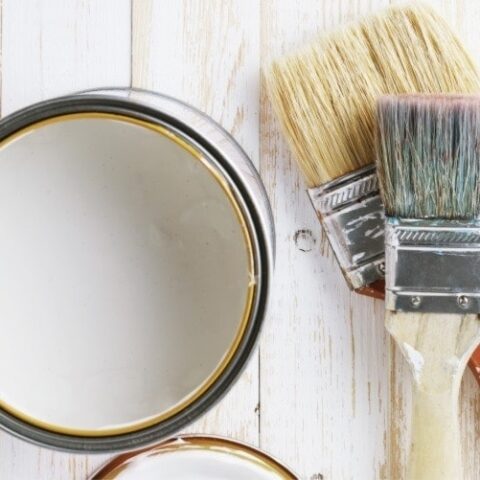 How to Paint over Oil-Based Paint
Yield:
1 freshly painted door or baseboard
Total Time:
2 hours
10 minutes
Learn the right way to paint with latex paint over oil-based paint and save yourself a lot of future frustration!
Materials
All purpose cleaner
Oil-based primer
Latex paint
Mineral Spirits
Tools
2 paintbrushes
painter's tape (optional)
Instructions
Start by cleaning the surface you will be painting. Simple dish soap and water works well for this.
Use painter's tape if needed to protect adjoining surfaces.
Prime the surface with a good oil-based primer.
Allow the primer to fully dry.
Paint the surface with the latex paint of your choice.
Allow the paint to dry and apply additional coats of paint as needed.
Notes
You will need to use Mineral Spirits to clean the paintbrush that you used for the oil-based primer. The paintbrush used with latex paint can be cleaned with water.
Recommended Products
As an Amazon Associate and member of other affiliate programs, I earn from qualifying purchases.
I'd love for you to share this post on Pinterest.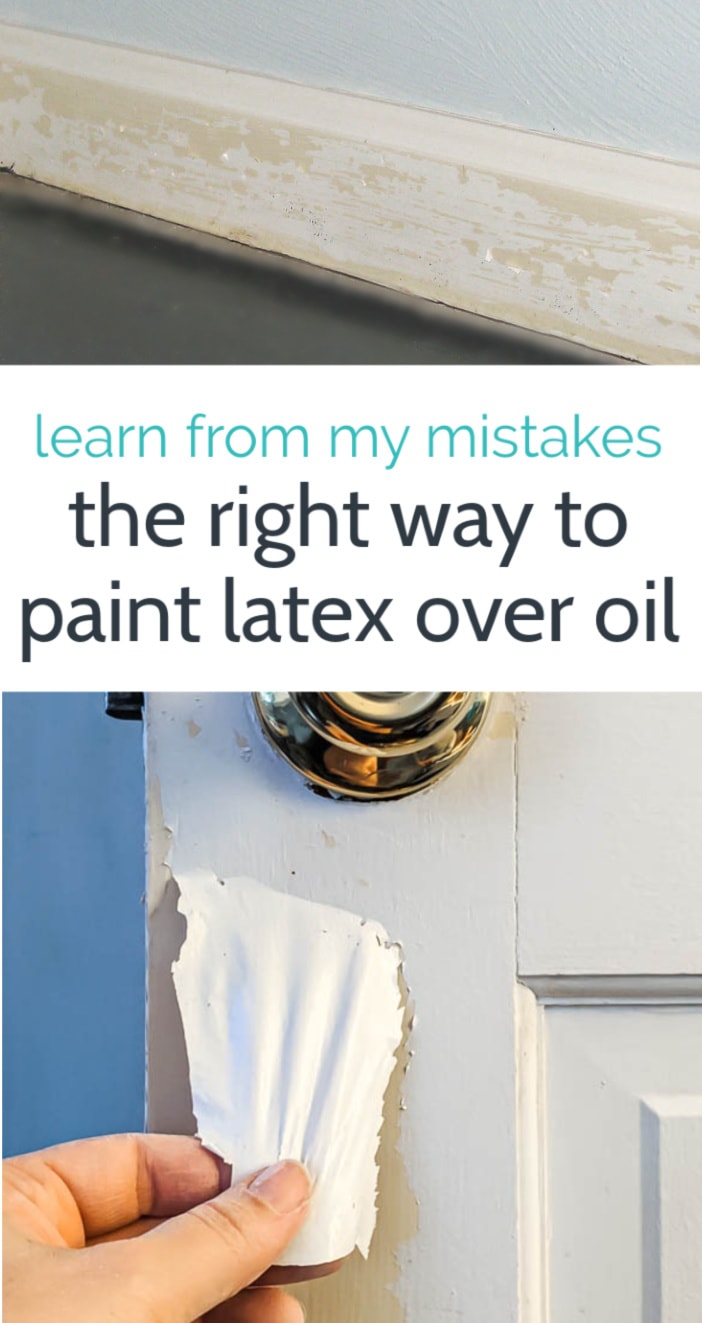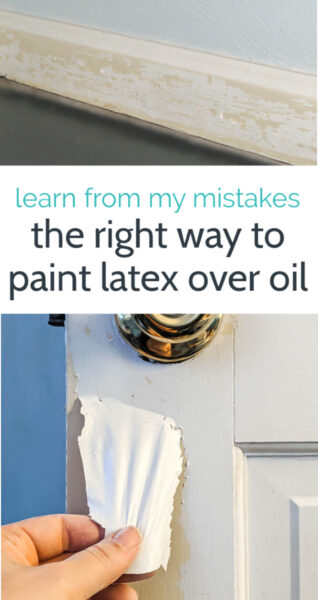 Here are a few more posts I think you'll find helpful:
Everything You Need to Know about Primer
Caulk or Wood Filler: Choose the Right One for Every Project
The Best Paintbrushes for a Perfectly Smooth Paint Finish