First off, thanks for all the great comments and features of my painted floors. I have loved reading all of the comments and will probably be posting a follow up in a few weeks to answer some questions several of you have had.
In other news… I didn't make it through this week's challenge on One Month to Win It. I really enjoyed my time in the contest – particularly the extra incentive to try to be really creative and do something different each week. On the other hand, it was hard work trying to be really creative and do something different each week. So it is nice to have a break.
But I do have one last (awesome) project to share from the competition.
This past week's theme was banners and buntings. (Okay, so first of all, pennants, banners, buntings – do they all mean the same thing? I never seem to know which word to use.) But when I think about banners and bunting, I think about happiness and summer. This sure isn't summer so I decided a really cheerful project was in order. Because everyone can use an extra dose of sunshine in the dead of winter.
I decided some happy pillows were in order. My first task after sewing the basic pillow cover was to choose some nice, peppy sayings for my pillows. (I'm a sucker for typography in design.) I was lucky enough to pick up a great set of alphabet stamps at a yard sale last summer. I mixed some craft paint with fabric medium and then painted it on the stamps and stamped the pillow covers.
I gathered some colorful fabric scraps and cut out my bunting pieces. I simply used stitch witchery to attach them to the pillow covers and then filled them with some down pillow inserts I had on hand.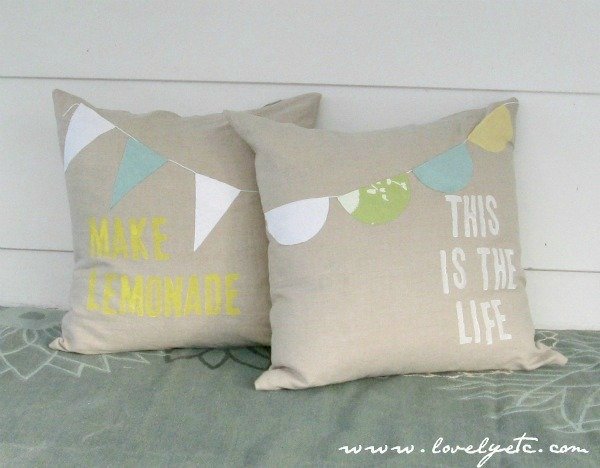 I love the contrast between the playful bunting and the linen background. Happy pillows for sure.
Anyone else obsessed with using letters and words in decor? Do you have a favorite saying you display in your home?