Using the right primer can make or break your paint projects, but it is one of the most misunderstood parts of painting. Learn what primer does, when you need to use it, and what type is best.
A big post packed with information about priming before your paint might not sound very exciting, but it is going to save you from making so many mistakes.
I'm talking about the kind of mistakes that can turn a quick DIY project into a headache that stretches into multiple weeks.
I know because I've made them all.
When I first realized how magical paint is for updating basically anything, I jumped in with both feet. And I quickly learned that there is a lot more to a successful paint project than slapping on some paint.
I've already shared my best tips for knowing when you need to use sealer on painted furniture and today I'm answering all of your questions about primer.
Trust me – this is going to save you from so many terrible painting mistakes.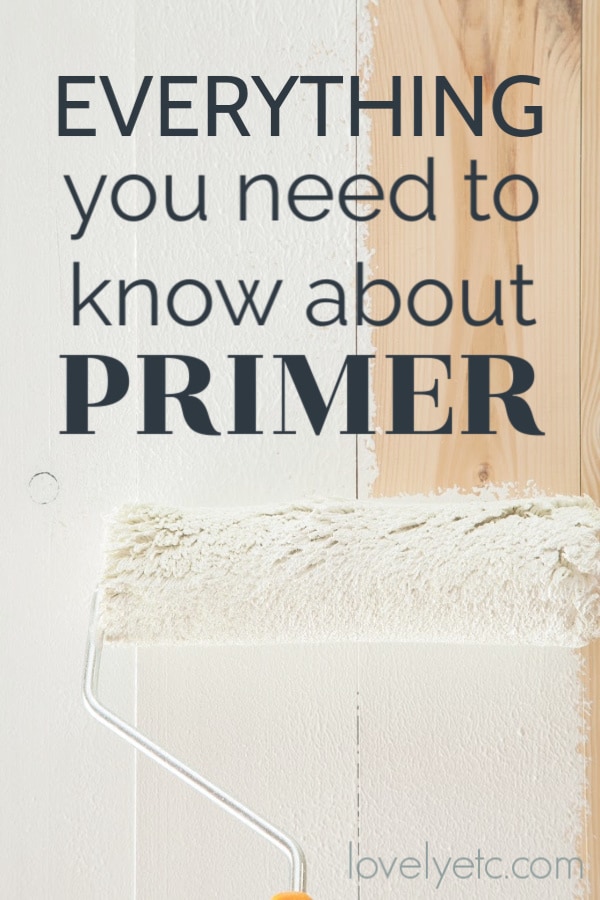 This post contains affiliate links which means if you make a purchase after clicking a link I will earn a small commission but it won't cost you a penny more. Click here to see my full disclosure policy
What does primer actually do?
Basically, primer prepares a surface for paint in a bunch of different ways.
Priming first makes your paint job more durable and long-lasting.
Priming slick surfaces gives paint something to stick to.
Priming porous materials like brick or drywall helps seal the surface so it doesn't absorb as much paint.
Priming raw wood and wood furniture helps seal in the wood tannins so your paint job doesn't yellow.
Priming walls helps cut down on the coats of paint you need when making a drastic color change.
Priming doors and trim previously painted with oil-based paint allows you to repaint with water-based paint.
Is priming necessary before painting?
This is where things get complicated. Priming before you paint adds extra work and time to your project so it's very tempting to skip it whenever possible.
Sometimes you absolutely need to use a primer before painting and sometimes it's no big deal to skip it. It all depends on what surface you are painting and what type of paint you are using.
When do I need to use primer?
If you don't need to use a primer every time you paint, how do you know when to use it? There are a lot of factors to consider but here are some basic guidelines.
If you are painting something that has never been painted before, you should start with primer. This includes furniture, bare wood, wall paneling, drywall, doors, etc.
Basically, anything that has never been painted needs primer. The primer gives the paint something to stick to and also seals in anything that might mess with the paint (like wood tannins, knotholes, and grease.)
I've got more specific info about when to use primer for refinishing furniture here.
If you are painting something with a very slick surface, you should start with primer. If you paint directly onto a slick surface, the paint has nothing to stick to and will scratch right off.
Primer gives the paint something to adhere to. This includes laminate furniture, metal, plastic, furniture with a slick, glossy finish, and anything else that is very smooth to the touch.
If you are painting something that may have been previously painted with oil-based paint, you may need primer.
Oil-based paint was used to paint trim, doors, and even furniture for many years because it was much more durable than water-based paints.
But water-based paints have come a long way. They are more durable than they used to be and they are also much more environmentally friendly than oil-based paints. Plus they are much easier to work with and clean up.
So you may find yourself in a situation where you want to use a water-based paint on something that was previously painted with oil-based paint.
But you can't simply paint water-based paints like latex paint over oil-based paint. The old saying 'water and oil don't mix' applies to paint too. If you paint a water-based paint over an oil-based paint, it won't adhere well.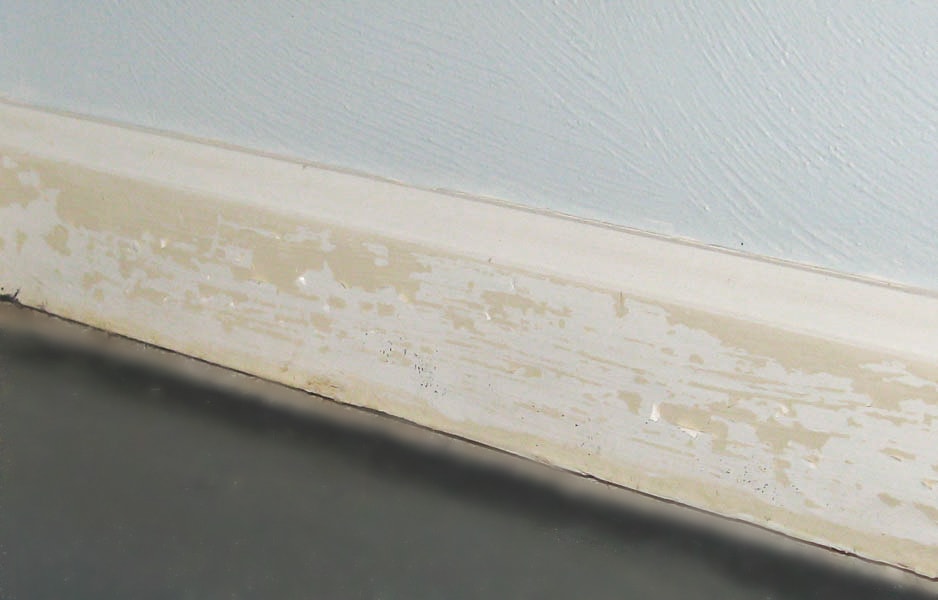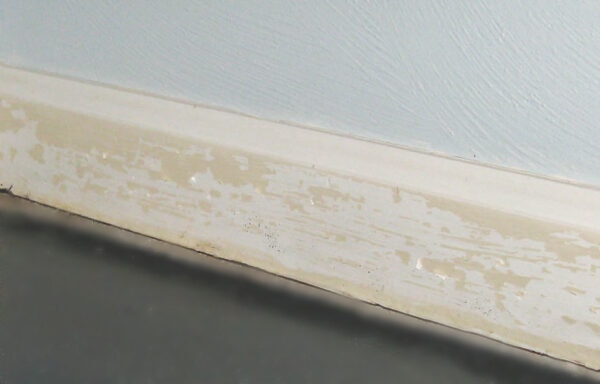 That time I painted over all our off-white oil-based paint trim with white latex paint. It peeled off at the lightest touch. Lesson learned.
Instead, you need to first use an oil-based primer. Once the primer has cured, you can paint over it with water-based paint without a problem. (If you aren't sure if your item was painted with oil-based paint, there's a simple test you can do.)
Primer can also be helpful when you are painting with certain colors. Red paint is notorious for needing many, many coats to get even coverage.
If you start with a primer tinted pink, you can save yourself a few coats of paint. Also if you are painting something black, a gray-tinted primer will cut down the coats of paint you need.
And if you are painting white over something that was very dark, a coat of white primer will make the process go much faster.
Are there different types of primer? Which is best?
There are many different primers available but they mainly fall into two categories: water-based primers and oil-based primers.
Water-based primer
Water-based primers like KILZ and Zinsser Bullseye can be used on bare drywall or when painting a room a new color. Water-based primer is great because it cleans up easily with water, dries quickly, and doesn't have a strong smell.
Oil-based primer
Oil-based primers like Zinsser Cover Stain do have a very strong smell and should only be used in rooms with good ventilation.
These primers take longer to dry and you will need to clean your brushes and other supplies with mineral spirits rather than simple water.
So why would anyone want to use an oil-based primer? In certain situations, oil-based primer works much better than a water-based primer.
If you are painting something that was previously painted with oil-based paint, you need to use oil-based primer before using any water-based paints.
If you are painting dark wood furniture or certain raw woods, oil-based primer effectively seals in wood tannins while water-based primers often fail. Sealing in wood tannins can help prevent your finished product from yellowing.
Oil-based primer sticks to almost any surface, even when water-based primer can be scratched off.
Basically, oil-based primer can adhere to any surface and seals in anything that could potentially mess up your paint finish.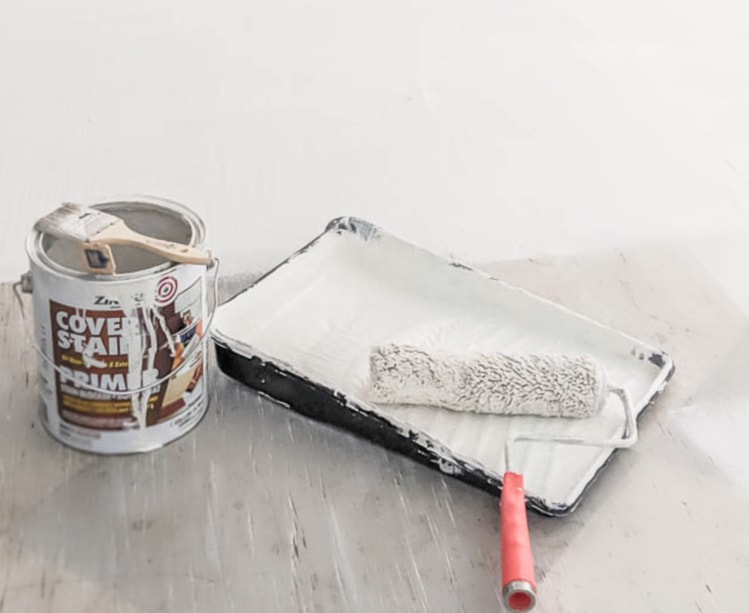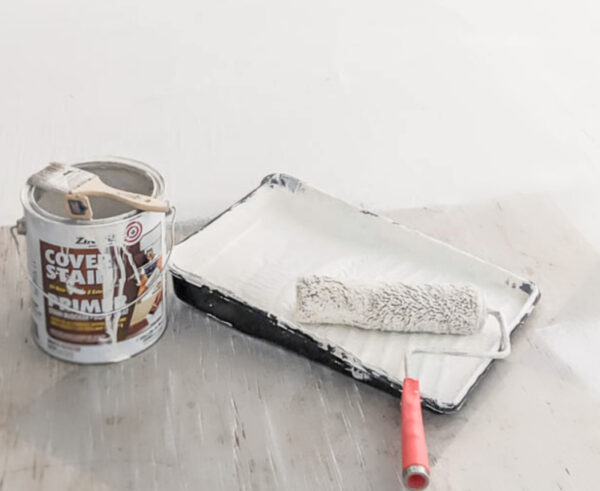 Priming my porch floor before repainting.
Spray Primer
Both oil-based and water-based primers are available in spray versions as well as brush-on versions. Spray primer doesn't go far and is much more expensive per fluid ounce.
But if you are working on a small project or anything with a lot of curves and details, it can make the job go much faster.
When can I skip primer?
Okay, I realize that it is sounding like you need to prime all the things every time you want to paint something.
But there are times you can skip the primer.
If you are painting walls that have been painted before.
If you are painting doors and trim that have been painted before. (And they weren't painted with oil-based paint).
If you are using a special paint that doesn't require primer including most chalk paints, milk paints, and some other specialty furniture paints. (Keep reading for more info on this.)
What about chalk paint and other paints that say you don't need to use primer?
There are lots of amazing paints out there that claim you don't need to prime before using them. Chalk paints, mineral paints, and other boutique paints often claim they can be painted right onto any surface without a primer.
And these paints are correct – when used on certain surfaces, they don't require primer at all. This is because they generally don't need a primer to be able to stick to most surfaces – even surfaces like wood furniture or metal that other paints wouldn't stick to well.
The issue is that primer also serves other purposes beyond simply helping the paint stick.
It also helps seal in those pesky wood tannins that love to ruin a beautiful paint job just as you are finishing up the final coat.
So if you are painting dark wood furniture or certain raw woods, you still need primer even when using chalk paint.
Even though the paint will stick without it, if you don't properly seal your piece with primer, wood tannins are likely to lead to yellowing and blotchiness in your paint finish.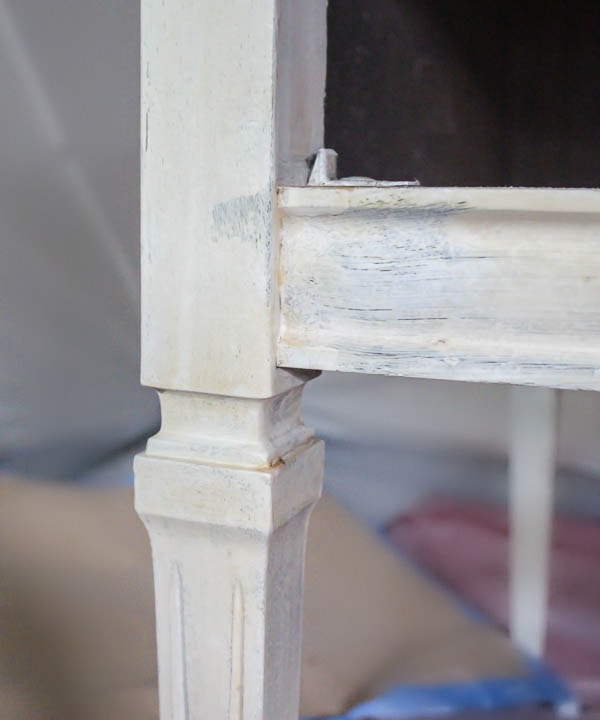 Yellowing of white furniture paint caused by wood tannins.
How do I apply primer?
You apply primer pretty much the same way you would apply paint. You can apply it with a roller or a brush. Or you can just spray it on if it is spray primer.
Just remember that if you are using a water-based primer, you can clean all of your brushes and supplies with water and if you are using an oil-based primer, you will need to use mineral spirits to clean everything.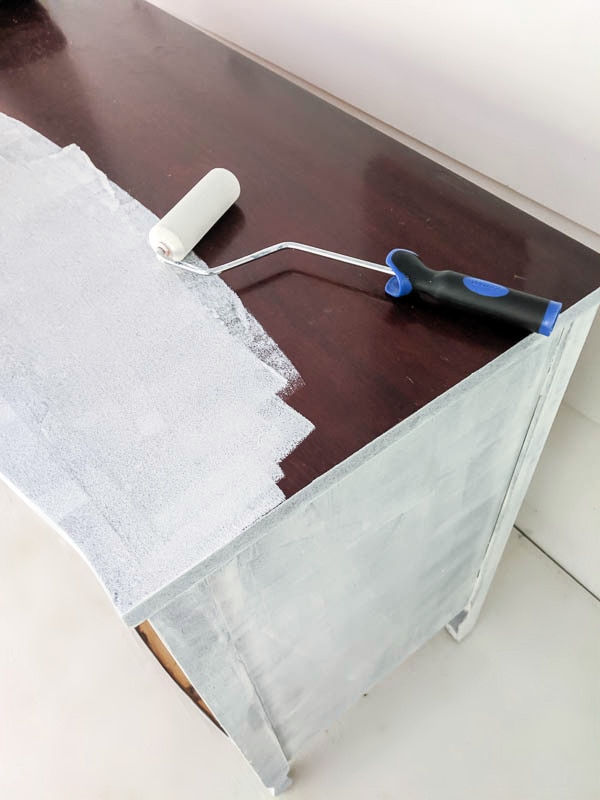 What about paint + primer in one?
Why do we need a primer at all when most gallons of paint already have primer included?
A few years ago, most paint companies started labeling their latex paints as paint and primer in one.
It makes a lot of sense. Instead of applying paint and primer separately, why not just combine them and save lots of time?
Unfortunately, paint and primer in one is a lot like shampoo and conditioner in one. It sounds like a great idea (especially to marketers), but it just doesn't work very well.
Paint and primer in one is a premium paint that typically provides better coverage in fewer coats, but it doesn't do any of the other things a good primer does.
It doesn't seal in wood tannins or stains or adhere to slick surfaces.
This is fine when you are repainting walls or anything else where primer really isn't essential anyway. But if you are painting bare wood or dark wood furniture or laminate furniture, paint and primer in one is not going to cut it.
Trust me. I've tried it and want to save you from making the same mistakes. As great as it sounds to be able to combine two steps in one, don't do it. You'll just end up with extra work in the end.
Does it really matter if I skip the primer? What is the worst that will happen?
The worst that will happen is your paint job will be ruined. Not only will you have to start over and repaint, but you will probably also have to do lots of extra work to remove the bad paint job before you can even begin again.
If you don't use primer when you are supposed to, there is a good chance your paint will scratch off, become yellowed, peel off, or need many, many coats of paint to get good coverage.
Definitely not the beautiful, fresh coat of paint you were hoping for.
What is the best primer?
My favorite oil-based primer is Zinsser Cover Stain. It does get fumey, but I have used it on old furniture, laminate countertops, floors, porch floors, brick, and more and it has never failed me. Whenever I try to take a shortcut and skip it, I almost always regret it.
Hopefully, I've answered all of your questions, but if not, feel free to ask in the comments. Here's to lots of beautiful flawless paint jobs in the future!
I'd love for you to share this post on Pinterest!
Other painting tips you may find helpful: