This year, I really, really wanted a flocked Christmas tree.  So when buying one wasn't really a possibility, I decided to turn my old fake Christmas tree into a DIY flocked Christmas tree.  And it turned out amazing!
Flocked trees are those vintage-y white ones.  Not the ones with white plastic needles, the ones that are white with a snowy texture. Some are all white and some are a little white with plenty of green still showing.
I even casually checked some out while I was shopping, thinking maybe I would find a killer sale.  But no such luck, and I just couldn't justify buying one, especially considering I already had a perfectly nice artificial tree at home.
So, of course, the next logical step was to figure out how to turn the tree I already had into a snowy masterpiece.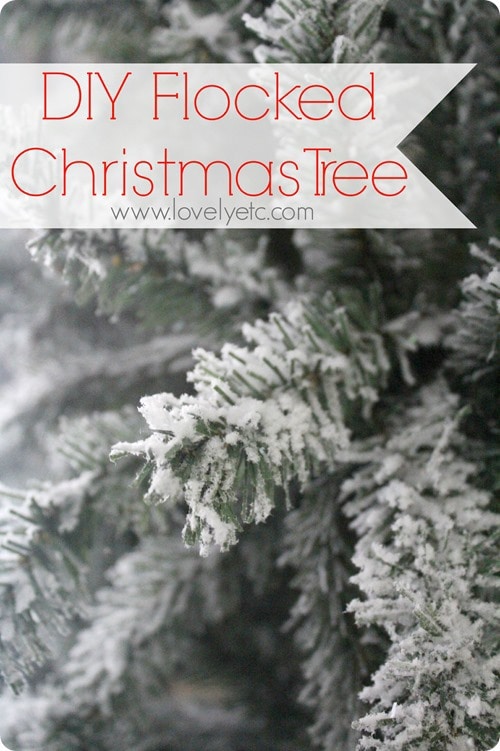 This post contains some affiliate links.  See my full disclosure here.
I turned to Pinterest and started searching for ways to flock your own tree.  I found lots of different ways involving soap flakes, white glue, glitter, even spray paint.  But when I looked at the results, they really didn't look much like a real flocked tree at all.  I only found one picture that showed a really great looking flocked tree and when I clicked on that one, the blogger had used the kind of flocking material that florists and other professionals use.
It only makes sense I guess – if you want it to look like the real thing, you need to use the real stuff.
So I started searched for some flocking myself and found that it isn't super cheap. (But it is way cheaper than a whole flocked tree!)  I did a little searching for the best price and found this Sno Flock on Amazon to be the best deal.  (This is the good stuff – it is what I used and I can personally vouch for it.)
I really wasn't sure how much flocking I would need so I went for the five pound box.  I figured it was better to have too much than too little.  In the end, I probably used a little less than half of the 5 pounds flocking my tree.  Our tree is seven and a half feet tall and I flocked it very lightly with plenty of green still showing.  If I had wanted it completely white, I think I would have used the whole box.
The actual process was super simple. It is a little messy, so I recommend working in a basement or garage if possible.  If not, cover the floor under the tree with a tarp or dropcloth.  (Also if you are interested in trying this out, be sure to check out my answers to frequently asked questions about this project including how it has held up over time.)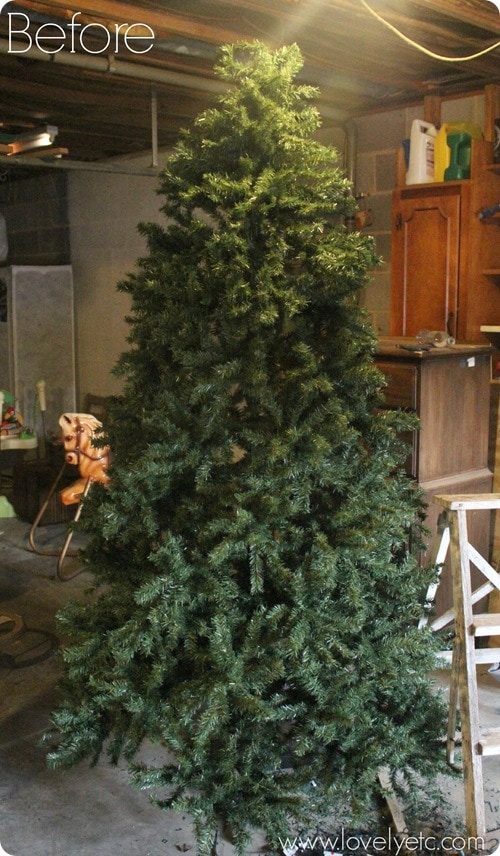 The flocking is a powder that came in a big box.  The only other things you need to create your own DIY flocked Christmas tree are a spray bottle of water and a strainer.
I should mention that before I flocked our tree, I did something else slightly crazy to it.  Last year over half of the lights on our pre-lit tree burned out.  I just unplugged them and threw on a bunch of other strings of lights.  This year, since I knew I was going to be making our tree beautiful and snowy, I didn't really want to cover lots of old nonworking lights with flocking, so I cut all of the lights that came on the tree off with wire cutters first.  This probably took around three hours and was completely unneccessary but I'm glad I did it.  We are most likely going to have this tree for many more years and now it is good as new again.
You can flock real trees, fake trees, pre-lit trees, wreaths, garlands, pretty much anything.  And you certainly do not have to remove the lights from your pre-lit tree first – that's just a little of my crazy showing.
I made a quick video to show how easy it is to flock a tree.  Or if you prefer, there are written directions and pictures below.
Use your spray bottle to lightly mist a section of the tree with water.  Scoop up some of the flocking into your strainer and sift it onto the damp tree.  Spray the flocked section of the tree with water again.  The water activates the adhesive, fluffs up the flocking, and seals it all.  (By the way, you don't want to accidentally mist your sifter with the water – it will fluff up the flocking before it is on the tree and stop up the sifter).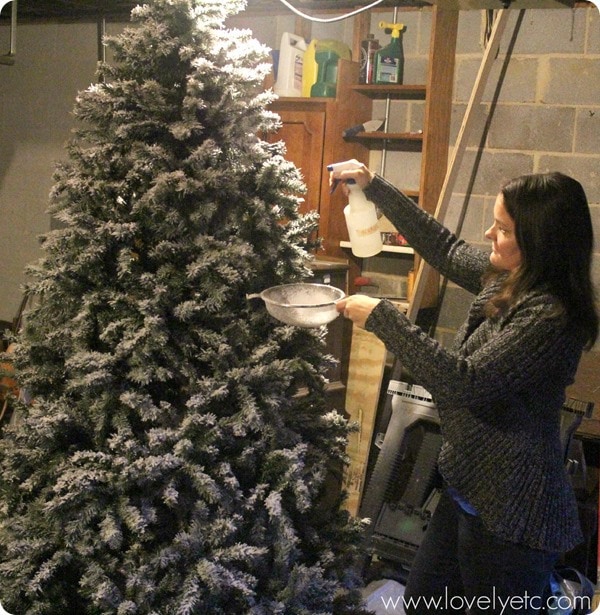 Continue to do this moving from section to section.  Afterwards, if you would like your flocking fuller, go back and add more water and more flocking.  As you can see, I flocked my tree when it was already put together.  If you want yours to be more thoroughly white, you may want to take apart the sections so you can better reach the inner branches.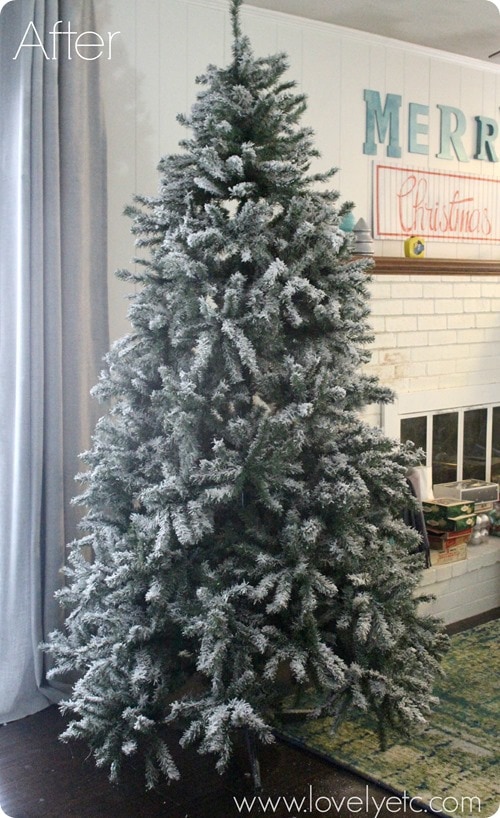 Seriously easy.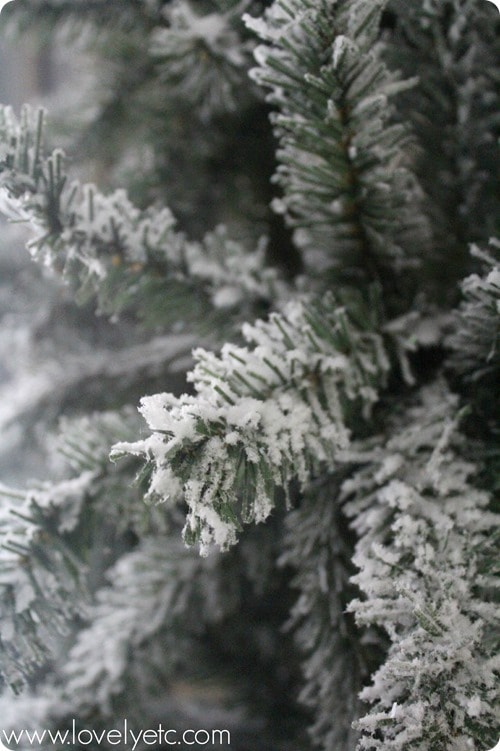 I love how much it actually looks like a snowy evergreen!
You are going to have to let everything dry.  This takes between 6 and 72 hours.  The more thickly you flock it, the longer it will take.  I flocked my tree in the evening, let it dry overnight, and the next morning it was ready to move upstairs and decorate.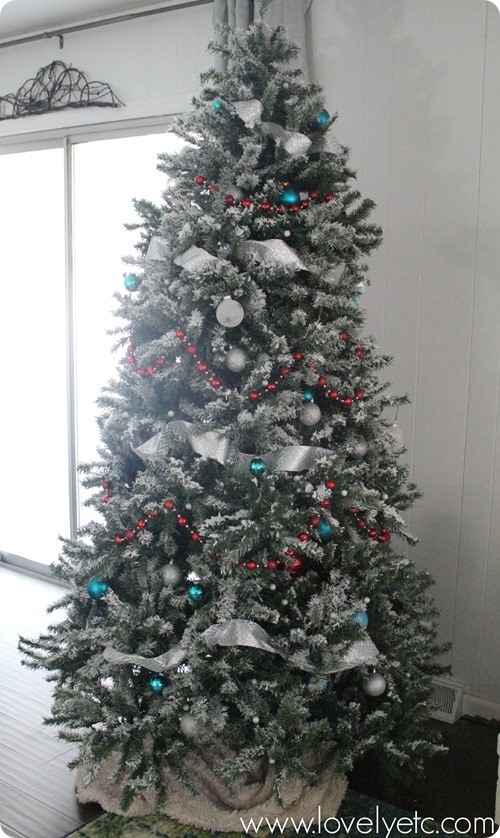 This is by far my favorite Christmas project ever!  Check out the before and after – the flocking just made such a difference.
Pin it for later: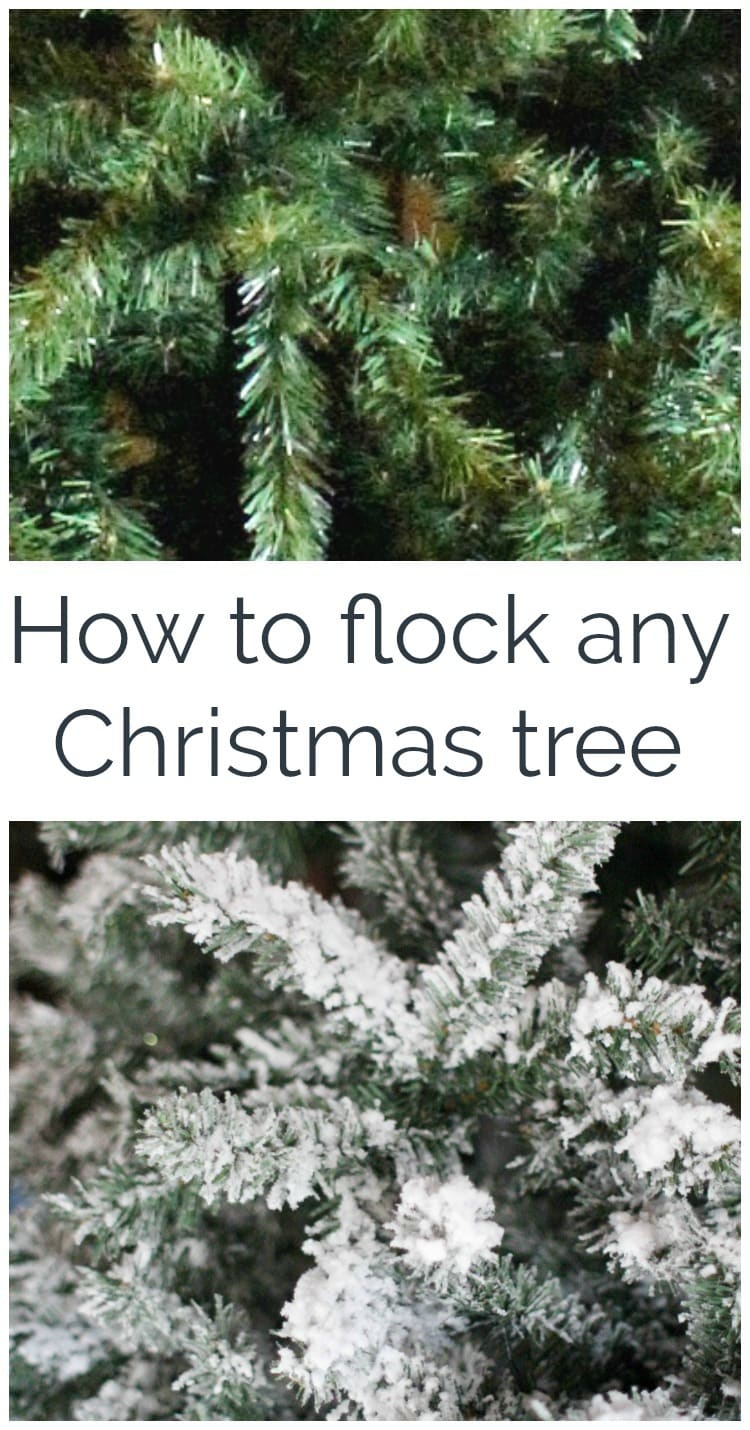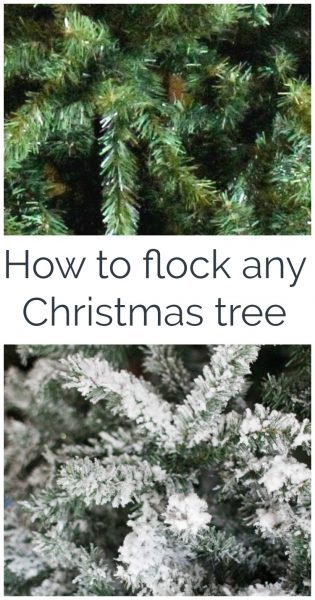 I've gotten a lot of questions about this project so I put together an update on how my tree is holding up after a year plus answers to frequently asked questions right here. 
And for those of you who aren't sure you want to flock your own tree, I put together a round up of flocked Christmas trees you can buy all ready to go:  15 Gorgeous Flocked Christmas Trees for Any Budget

More Christmas posts you're going to love: