It's been five years since I first flocked my own Christmas tree. And since this is one of the DIY projects I get the most questions about, I figured this was a great time to update you all on how my DIY flocked Christmas tree is faring 5 years later.
(Note – I originally published this update one year after flocking my tree to share how it was holding up. Now that it's been five years, I've updated the post to reflect how the tree has continued to hold up throughout that time.)
For those that don't know, flocked Christmas trees are those beautiful trees that look like they are covered in snow. They can be completely white or they can have just a 'dusting' of snow on the green branches, but either way they are gorgeous.
I wanted one of those beautiful trees so bad, but I couldn't justify buying a whole new tree when I had a perfectly good artificial tree already.
So I did what I always do in those situations – I figured out how to get what I wanted by doing it myself for way less.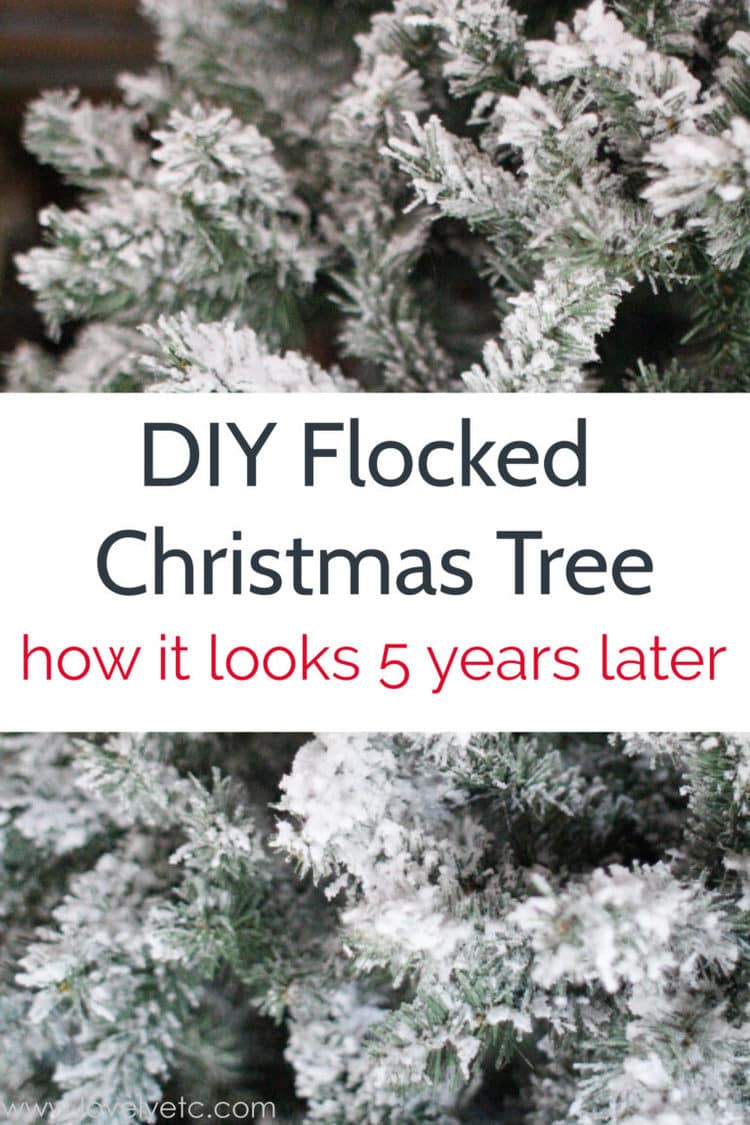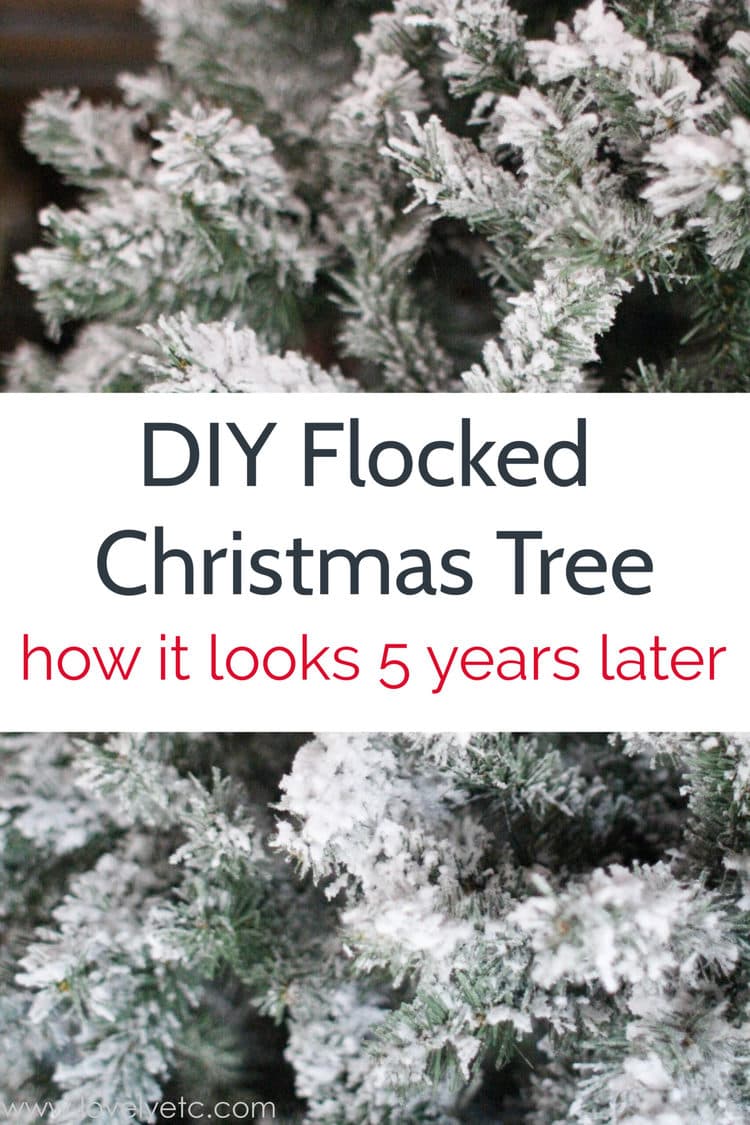 And it worked!
If you haven't read about my flocking experience, you can check out the full tutorial of my DIY flocked tree here. But suffice it to say, the tree looked amazing.
The flocking made the whole tree look fuller, more realistic, and more beautiful.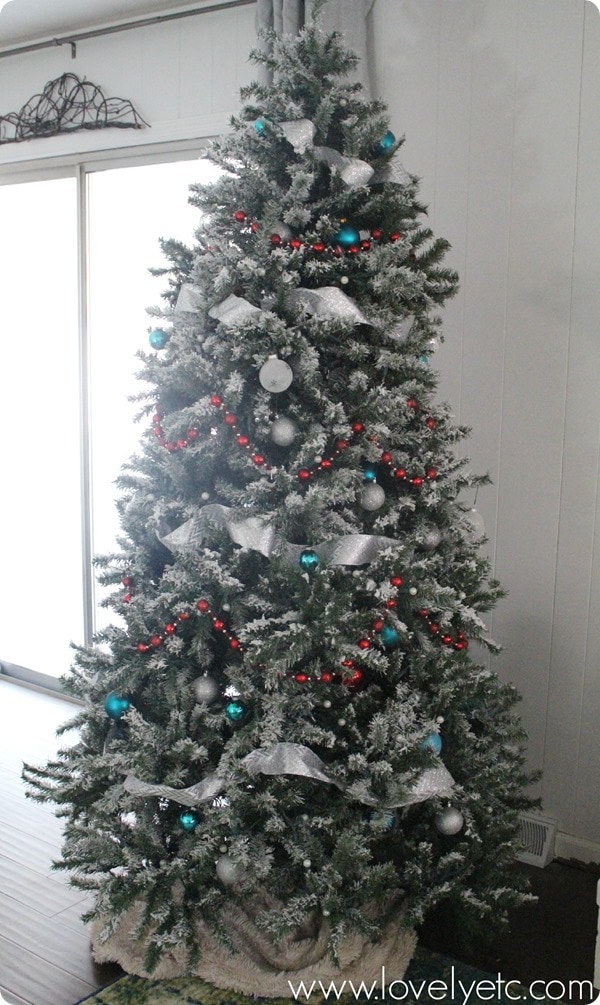 Over the last few weeks, I've gotten tons of questions about my tree and how it is holding up. So today I am going to share the good, the bad, and the ugly of flocking your own Christmas tree.
This post contains some affiliate links – when you buy stuff you like, you also support future projects on Lovely Etc. at no additional cost. See my full disclosure here.
Where did you get the flocking spray?
There are several ways to get a gorgeous flocked tree. You can buy one that is already flocked. You can have your tree flocked at some Christmas tree lots or florists.
Or you can do it yourself like I did.
Most professional flockers use a fancy machine to spray the 'snow' on but you can do it yourself without any fancy equipment.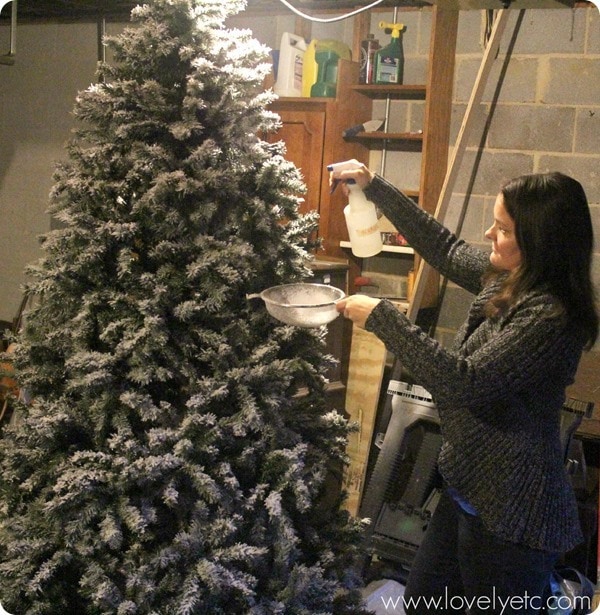 When I decided to flock my tree, I looked into all kinds of ways to get a pretty snowy tree. Some people use spray snow or white paint. Some people stick cotton batting in their tree or make their own flocking mixture with glue and glitter and paint.
All of these could be great options, but I couldn't find a single picture of a tree that truly looked snowy that wasn't done with proper flocking powder.
So I decided to get the real stuff.
I did my research and purchased a five pound box of SnoFlock from Amazon. It worked beautifully!
This is the real deal flocking powder and I can personally vouch for it.
I used roughly half of a 5 lb box to lightly flock my 7.5 foot tree. You could probably get by with a 2 lb box if you don't plan to heavily flock your tree.
This year I decided to do a little test to see if SnoFlock really is the best. You can see all the details of my quest to find the best flock here, but I'll go ahead and share that I found SnoFlock and Sno-Bond Flock in a Box both work really well and look absolutely beautiful on your tree.
(This is especially helpful to know because SnoFlock sells out frequently, so having another awesome option really helps.)
How messy is flocking a Christmas tree?
To be honest it is pretty messy. Verging on really messy.
The process of flocking the tree is quite messy and I would definitely recommend doing it outside or in a basement or garage where a bit of mess isn't such a problem. It can be done inside though if that is your only option; just be sure to cover your floor with a drop cloth first.
Damp flocking will stick to both you and the floor as you are flocking your tree. It isn't too difficult to clean up though. Just throw your clothes and drop cloth in the laundry.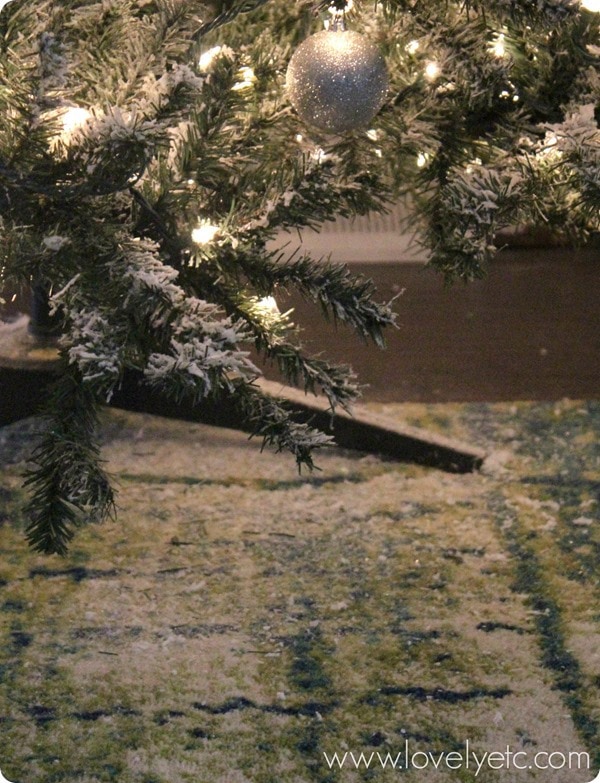 Unfortunately, it continues to be messy any time you move the tree including when you move it into the house, when you decorate it, when you fluff the branches, etc.
Whenever you move the tree, some of the flocking will flake off and land on the floor.
But since it is now dry, it will basically be like white dust falling off the tree.
It is very easy to clean up with a broom or vacuum and once the tree is decorated and just hanging out in the corner, it will stay fairly neat.
How has your flocked tree held up after one year?
As I mentioned, the tree does shed some of its snow whenever it is moved or jostled, so it will gradually become less and less snowy.
We are very fortunate to have a large basement so for the last few years, we have moved our entire tree to the basement without disassembling it. (We did this even before I flocked the tree.)
This is the best time-saver ever and if you have extra room in your basement, garage, closets, etc. I highly recommend it.
We used to throw some old sheets over our tree to keep the dust off and then bring it back upstairs the next winter. We now use this Christmas tree cover bag to cover and move it and it is so much easier.
Because of this, I can't say for sure how much snow would be lost in disassembling and reassembling the tree each year. I would imagine quite a lot – maybe even half.
I doubt all of the snow would fall off though. And what did fall off, could be easily cleaned up as you pack away the tree.
Even without packing our tree into a tiny box, we did lose some snow between decorating it, undecorating it, and then moving it to the basement. I would say we lost 1/4 to 1/3 of the flocking I had originally added.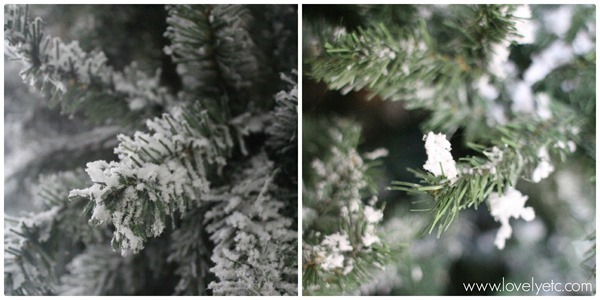 Obviously these two pictures aren't showing the exact same branch, but you get the idea. After a year of use and then storage, it was looking a little ragged.
I still had plenty of flocking powder left over from last year so before I brought the tree back upstairs this year, I added more.
I added more all over the tree and I still have maybe 1/4 of the 5 lb box left. Adding extra flocking probably took 30 – 45 minutes.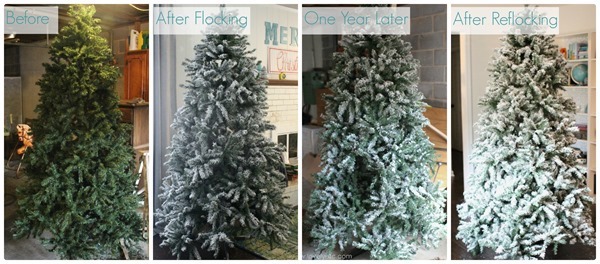 As you can see, I added more flocking this time than I did originally. I wanted it to look even snowier, plus I knew that some of the snow was going to fall off.
This time, I got a tip from the sellers of the flock to add a little white school glue to my water to help it stick better so I tried that. So far I can't really tell if it helped the flocking stick any better than plain water.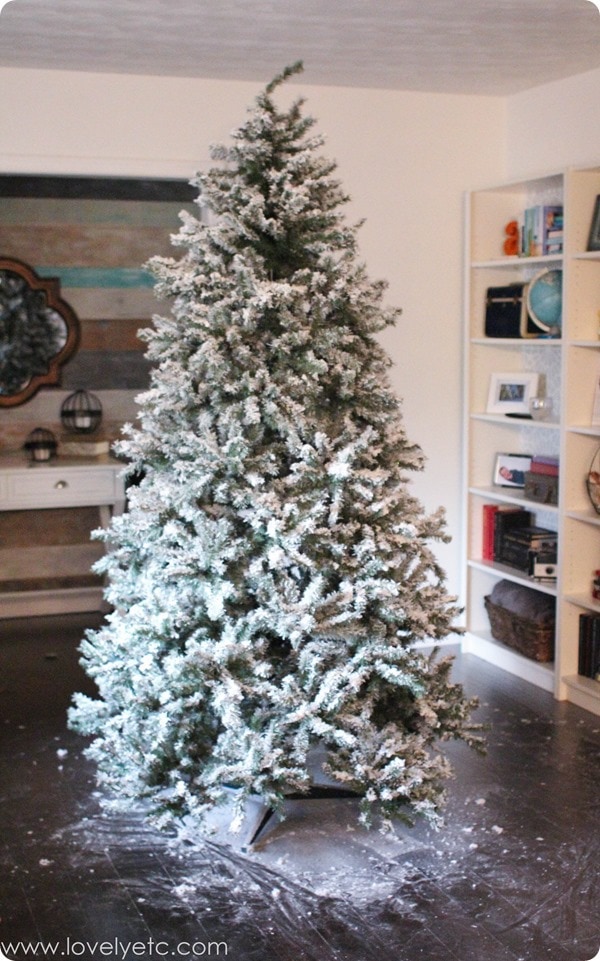 This is the mess that was created putting on the lights this year. (I sadly didn't realize I should have just left the lights on when I undecorated last year until it was too late!) I love Christmas lights so there are seven strands of lights on there wrapped around each individual branch.
If you just add a string or two, the mess will not be nearly this big. Also, this mess was definitely helped by my two year old who thought shaking the tree to watch the snow was really fun.
DIY Flocked Christmas tree five years later
Update! It has now been five years since I originally flocked our Christmas tree and we have been using the same tree every year.
There is a good chance we will be replacing the tree in the next year or two, not because of the flocking, but because some of the bottom branches are getting very droopy and almost touching the floor. I'm okay with that -it's lived a nice long life for an artificial Christmas tree.
(Update – this is the flocked tree I ended up getting when my old tree finally died and I'm really happy with it!)
As far as the flocking goes, it continues to look beautiful. The flocking has not yellowed or changed in appearance at all from day one.
As I mentioned previously, the tree does lose a bit of flocking each year but I have not needed to add more flocking every year.
When I initially flocked the tree, I kept the flock fairly light. When I added more flocking the next year, I flocked it more thickly so it would be more white. Since then I have added more flocking only once more and it continues to look beautiful. And yes, I use the exact same Sno-Flock every time. I'm a pretty firm believer in sticking with what works.
Here is a photo of my tree from last year (year 5 of use). It honestly still looks gorgeous.
And here's a photo showing all five years we have used this same tree from year one on the left to year five at the right.

Is tree flocking safe for pets?
I have been asked this quite a lot – good for you conscientious pet owners! I do not have any pets, so I can't say for sure. I do know that the flocking says it is biodegradable, environmentally friendly, and nontoxic.
It also says they recommend wearing a dust mask when applying it and that it should not be used by people that are allergic to trees or corn. (Yeah, I don't know. That's just what it said.)
Personally, I would probably skip it if you think your pet may try to eat it. Also, if you are worried about your pet tracking flocking powder all over the house, that could also be a problem.
Can you flock real Christmas trees?
Absolutely. You can use this on real or fake trees as well as wreaths, garlands, Christmas villages, etc. It would actually probably stick better to a real tree as their needles are not as smooth and slick as fake ones.
Can you flock a pre-lit Christmas tree?
Yes! You can definitely flock pre-lit trees.
While my original Christmas tree was unlit when I flocked it, I have since flocked several smaller Christmas trees that were pre-lit. The flocking doesn't adhere well to the lights, but some flocking does stick to them.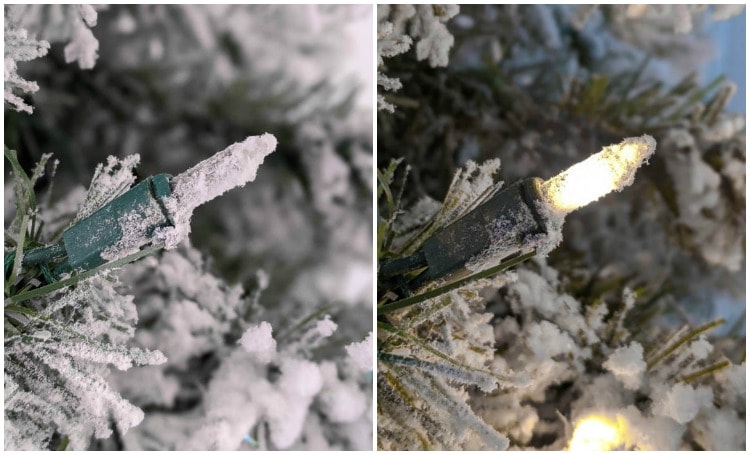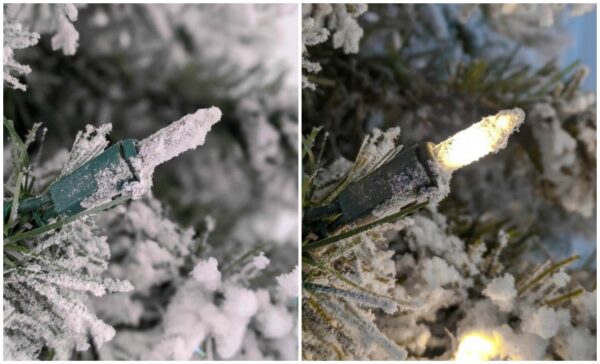 However, it doesn't affect how the lights work at all – they still light up the tree beautifully.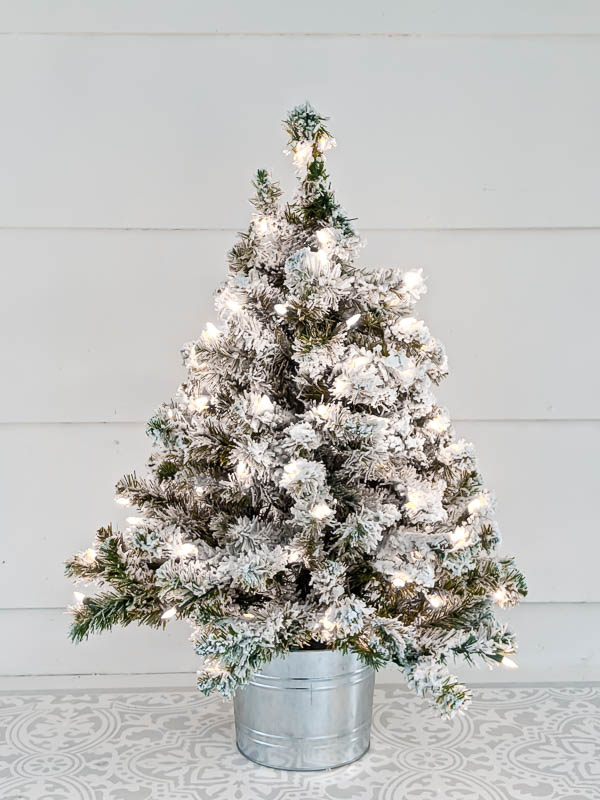 If you are flocking an unlit tree, it is probably a bit easier to add the flocking before adding the lights, but either way is fine. Just remember to allow your tree to thoroughly dry after flocking before plugging in the lights.
Was flocking your own tree worth it?
Despite the messiness and the fact I needed to refresh my tree this year, it was 100% worth it to me. I think it turned a perfectly ordinary budget fake tree into an extraordinarily beautiful one.
It was easy to do and fairly inexpensive. The mess is kind of a pain but is easy to clean up.
And I love the way it looks all beautiful and snowy.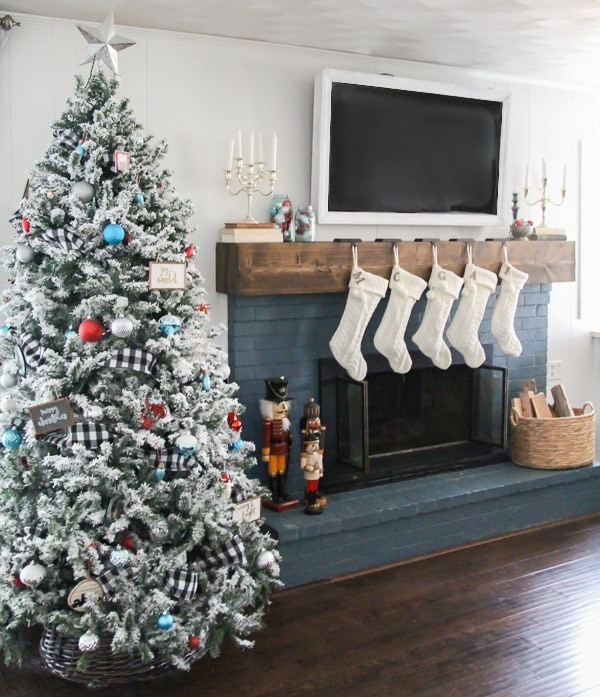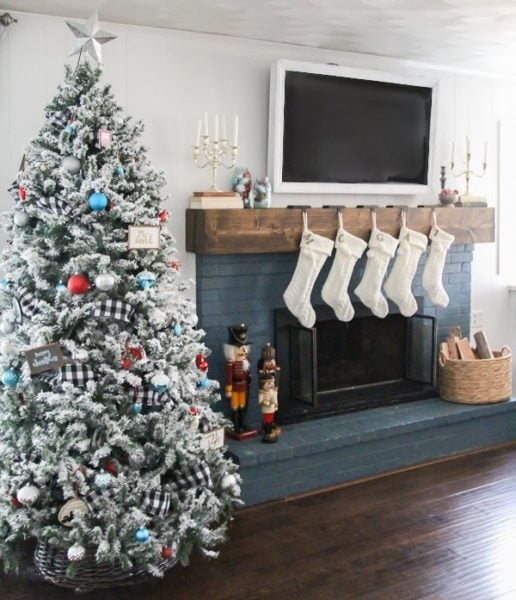 If you're looking for more details on all things flocking, I've got you covered with the posts below:

Google Web Story: Flocked Christmas Tree – 5 Years Later