I bought my first vintage camera from a yard sale six years ago for $8.  It was a Kodak Brownie Hawekeye with attached flash and I thought it was just about the coolest thing in the world.  Sometime that very same day I also thought wouldn't it be amazing if I could turn that big ole flash into a light somehow!
Well, here we are six years and thirteen vintage cameras later and I have finally done it!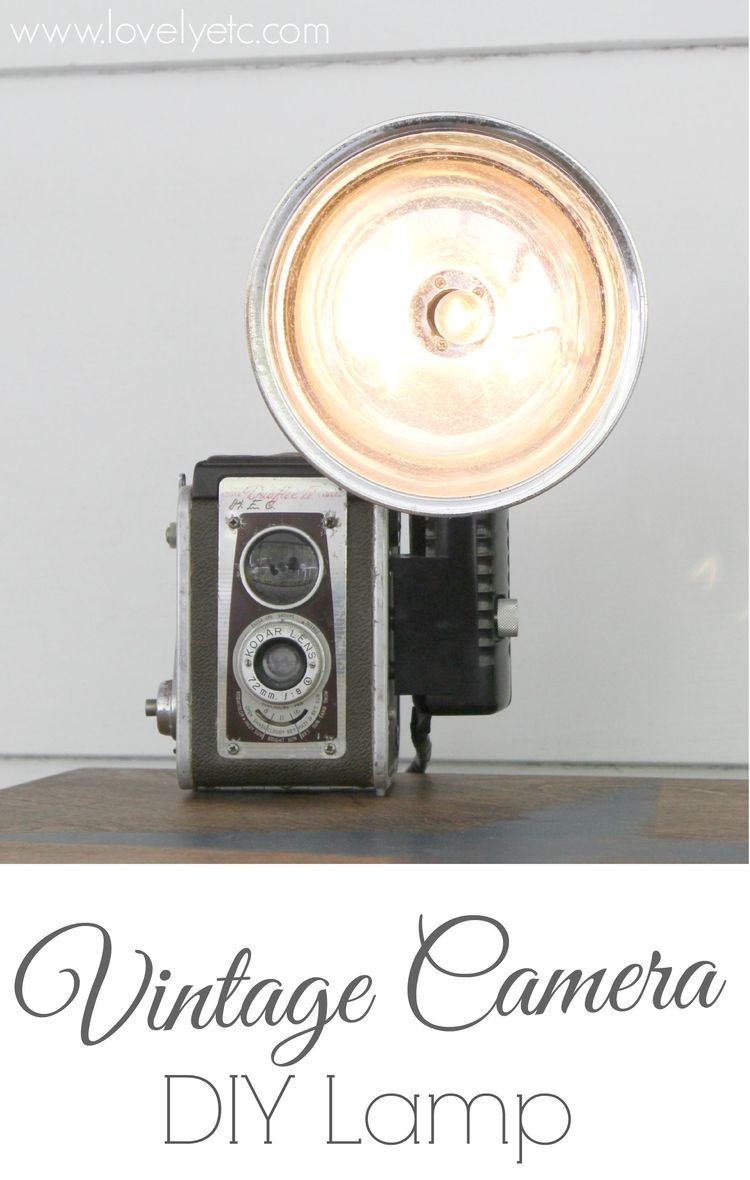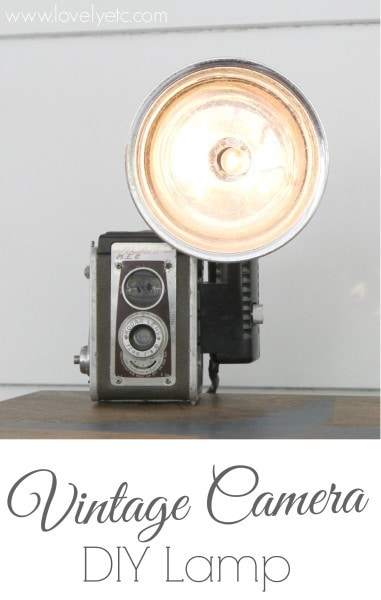 This year of being bold is really paying off big time! All the little ideas floating around in my head that usually die a slow death are actually happening! This is huge!
Disclaimer:  I couldn't really find any instructions out there on how to do this so I made up my own.  I am no electrician.  The majority of my knowledge of electricity comes from third grade science class.  Although it was gifted third grade so maybe that counts for something.  Please be extremely cautious when working with anything electrical.  My lamp works perfectly and nobody was electrocuted in its creation but I cannot promise you will have the same results.  (Though I certainly hope you do!)
How to Turn a Vintage Camera into a Lamp
This post contains some affiliate links – when you buy stuff you like, you also support Lovely Etc. at no additional cost.  See my full disclosure here.
Supplies I used for this project:
Vintage camera with flash (Mine is a Kodak Duaflex but almost any camera will work.  You can find these inexpensively at yard sales or for slightly more at antique stores or on ebay.  The camera I used was bought from ebay several years ago for $15.)
Keyless Socket- candelabra size
Candelabra Base switch cord
Sturdy scissors
Electrical tape
Small screwdriver
What to Do:
Note: This is what worked for my camera flash.  You may need to make small adjustments for your own model.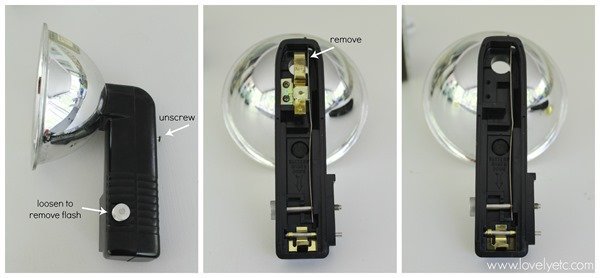 First, remove the flash from the camera.  There is a small knob on the side that you unscrew to do this.
There is a small screw on the back of the flash.  Unscrew it to open the flash casing. Inside are some metal parts attached with two small screws.  Remove those.
Take your keyless socket.  Remove the cardboard tube.  Use your sturdy scissors to remove the plastic casing.  (This is to make the socket small enough to fit into the hole in the flash.)  You should really wear safety goggles for that part.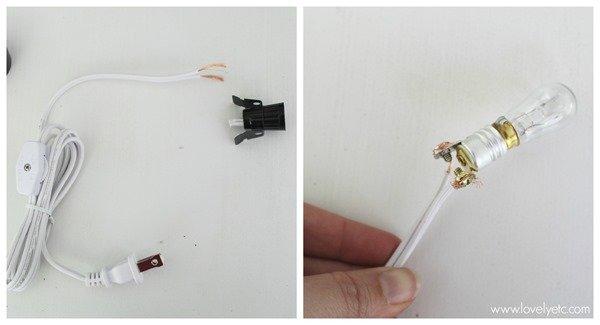 Take the candelabra base switch cord and cut the cord from the candelabra base.  Use your scissors to strip the casing from the last two inches of wire. Your cord should now have two copper wires showing on one end.
Wrap one of the copper wires around each of the screws on the keyless socket.  Use electrical tape to securely wrap the keyless socket, making sure all exposed metal and wires are covered.

Slip the socket into the back of the flash.  Screw the brass parts we removed earlier back in.  You can bend these as needed to fit around the new socket.  Be sure that there is plenty of electrical tape between the new socket and this metal.
Reattach the back of the flash. The cord can simply hang out the bottom of the flash through the crack where the two halves join.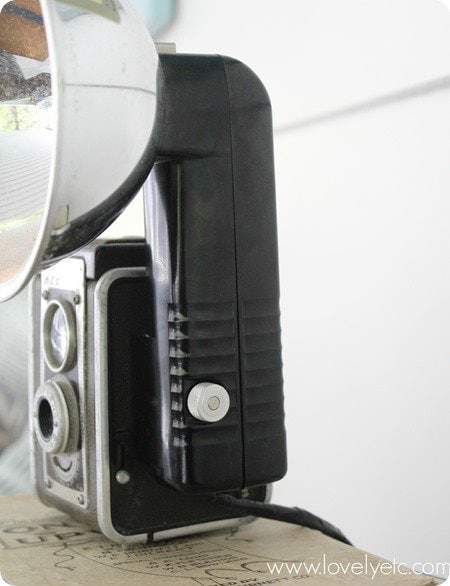 Use electrical tape to cover your cord.  (This is just for decorative reasons – a black cord blends in much better than white).
Plug it in and turn on the switch!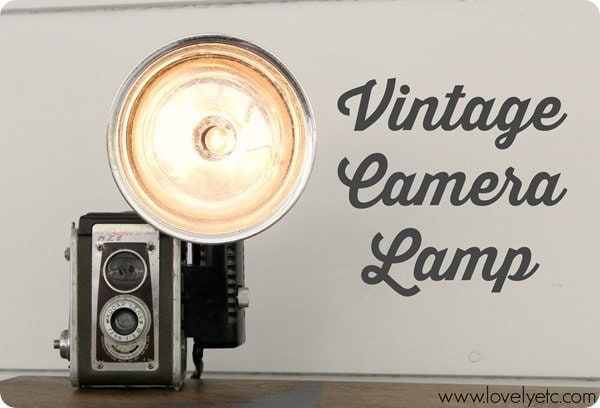 All in all, this project took less than an hour including figuring out how to do it.  I cannot believe I waited six years to try this!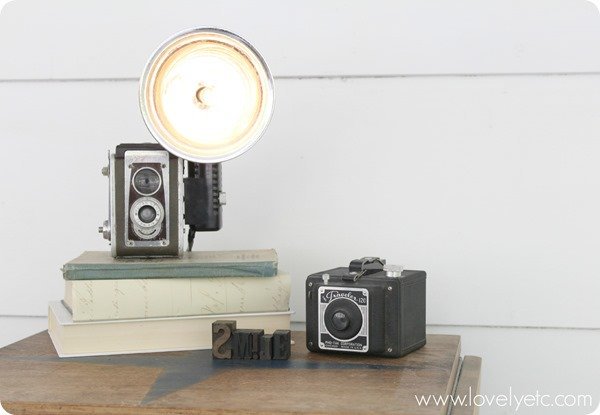 If you made it this far, I'm pretty sure you are also going to love these free vintage camera art prints I made as well.  These are watercolor vintage cameras and you can print out your own set completely free right here.