I'm putting the most popular tree flocking powders in a head-to-head competition to find out which one is really the best for flocking a Christmas tree.
I just love a beautiful flocked Christmas tree. I flocked my first Christmas tree six years ago and since then, I've flocked all kinds of wreaths, trees, and garlands.
Up until this point, I've always used the same flocking powder for all my projects: SnoFlock.
I've had great results and I love it, so I just keep using it. But I started to wonder, is it really the best or is there an even better option out there?
So I decided to put it to the test. I want to find out once and for all – what is the best snow flocking powder?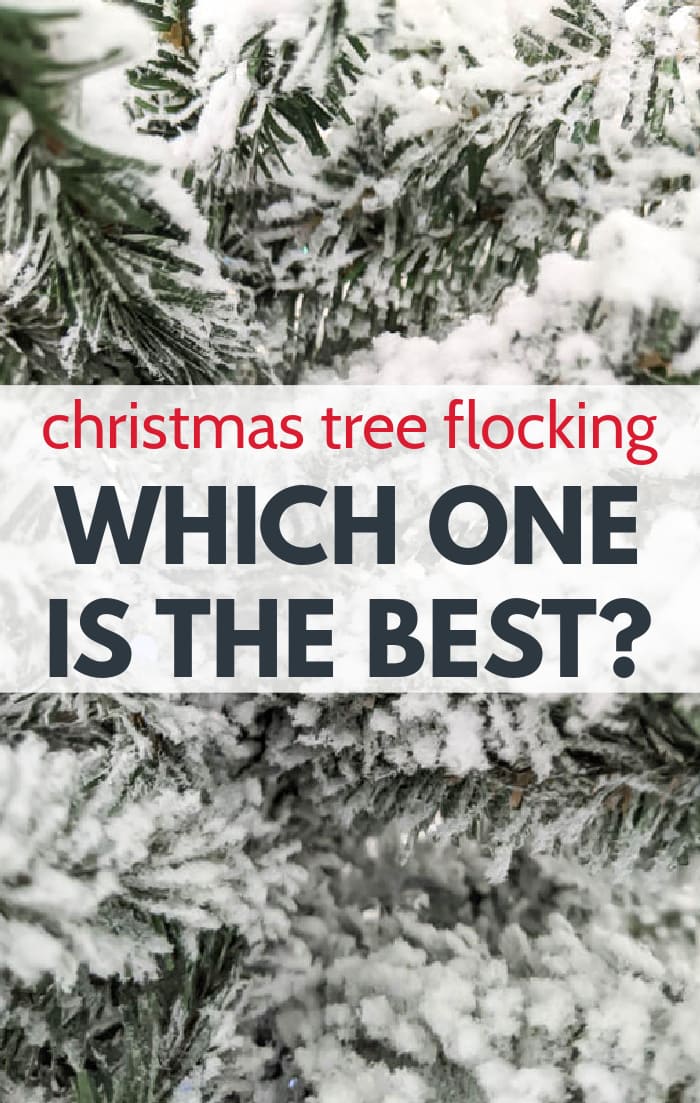 This post contains affiliate links which means if you make a purchase after clicking a link I will earn a small commission but it won't cost you a penny more. Click here to see my full disclosure policy.
SnoFlock vs. Sno-Bond Flocking Powder
The two contenders in this test are my beloved SnoFlock and Flock in a Box, which is one of a few flocking powders made by Sno-Bond.
I chose these two flocking powders to test because they are by far the most popular on Amazon and they both have very strong reviews.
I purposefully am not testing any flocking sprays today because they just aren't that great for flocking a Christmas tree. They're good for adding some fake snow to your windows, but they do not give you that realistic textured flocking that you want on your Christmas tree.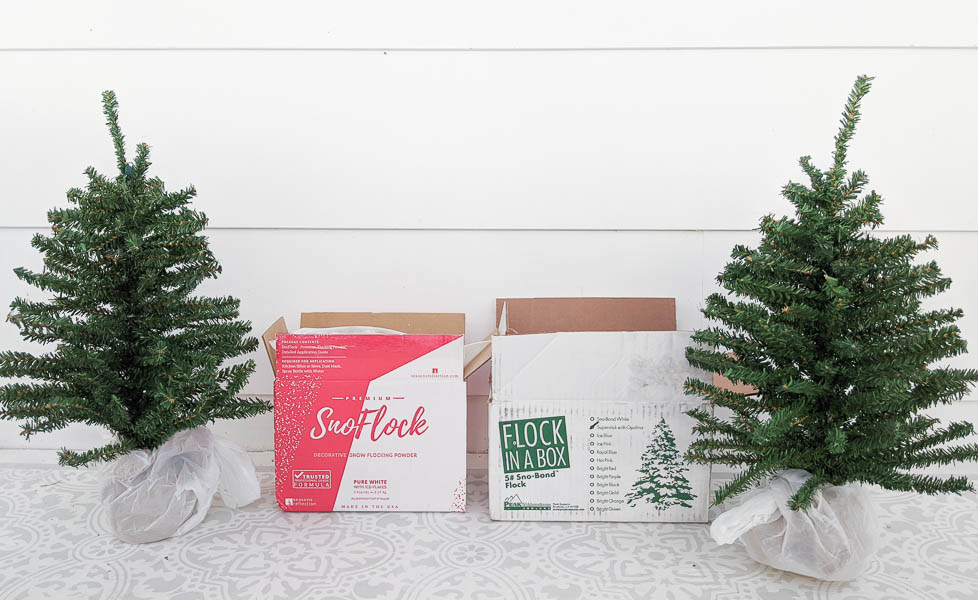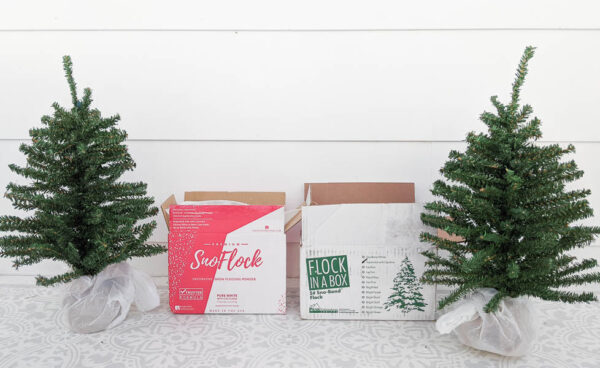 For this test, I purchased a five pound box of each flock and bought two identical mini Christmas trees to test them on.
I flocked one tree with the SnoFlock and the other tree with the Sno-Bond Flock in a Box. For comparison sake, I tried to flock each tree as equally as possible.
To figure out which flocking is truly the best, I'm breaking down my test into the categories of Packaging, Price and Availability, Ease of Use, Appearance, and Adhesion/Mess Factor.
Packaging
Both flocks arrived in a box with a sealed bag of flocking powder inside.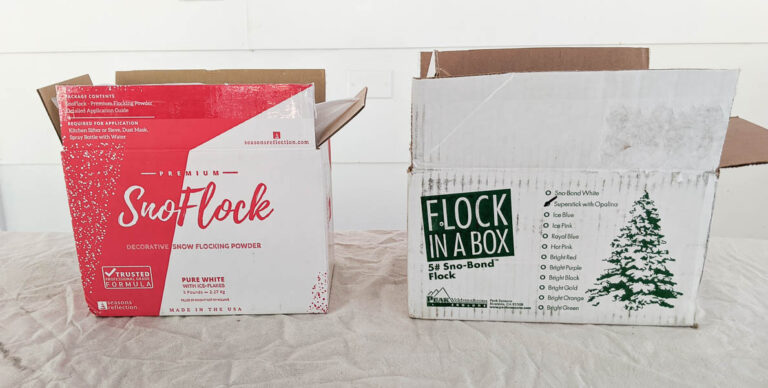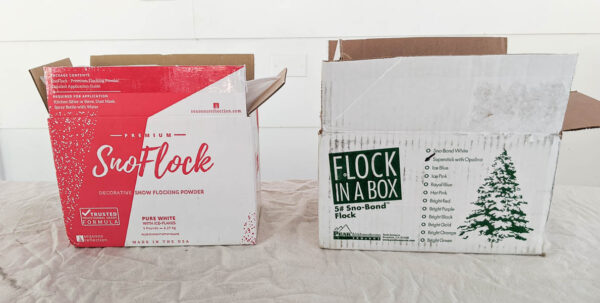 The only real difference in the packaging is the Sno Flock comes in a resealable bag, which makes it really easy to store any extra flock for future projects. Otherwise they are pretty even.
Winner: Tie
Availability and Cost
Both SnoFlock and Sno-Bond can be purchased on Amazon.
SnoFlock is currently available in either a 2 lb box or a 5 lb. box.
If you are planning to flock a full 7.5′ tree, two pounds is just not going to be quite enough. You will probably need most of two 2 lb. boxes to flock a full size Christmas tree.
Also, after having used SnoFlock for quite a few different projects over the past several years, I know they tend to sell out pretty regularly, especially the closer we get to Christmas.
Sno-Bond, on the other hand, is available in several different sizes. Currently, you can buy a 2 lb box, a 5 lb box, or a 25 lb box.
Like pretty much everything else, the more you buy, the better deal you get. The 25 lb box of Sno-Bond Flock is a phenomenal deal. (It isn't that much more than the cost of a 5 lb box!) If you are planning on flocking ALL the things, this is definitely the way to go.
Right now, the 2 lb. box of SnoFlock is less expensive than the 2 lb. box of Sno-Bond, but you would need at least two boxes to flock a full tree. And a 5 lb box of Sno-Bond is considerably less expensive than two 2 lb. boxes of SnoFlock.
(If you hate word problems and your head is starting to spin, I apologize. All you really need to know is Sno-Bond is the better deal).
Winner: Sno-Bond
Ease of Use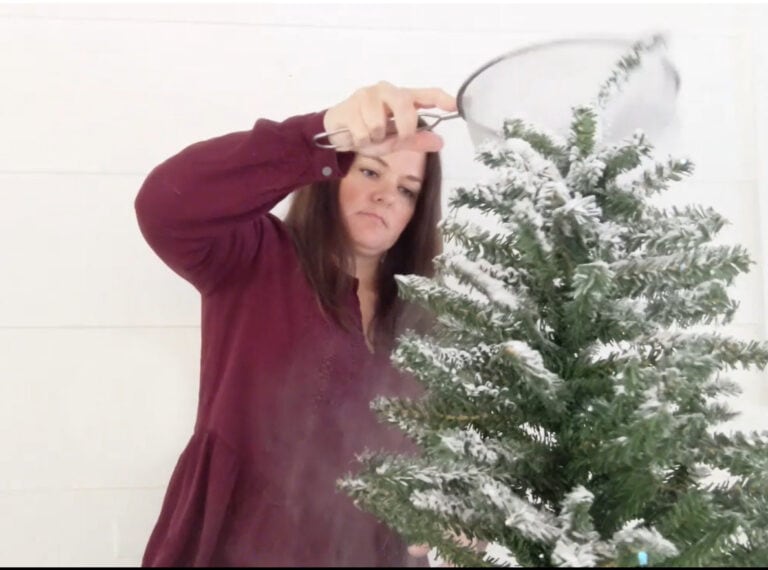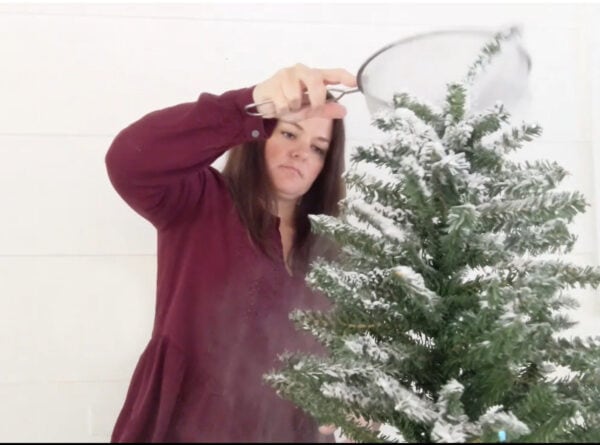 Honestly, they both went on the exact same way and both were very quick and easy to use.
Winner: Tie
Appearance
Out of the box, both flocking powders appear very similar. They both come as a lightweight white powder with iridescent flecks mixed in to add a bit of sparkle.
After flocking, both trees turned out beautifully!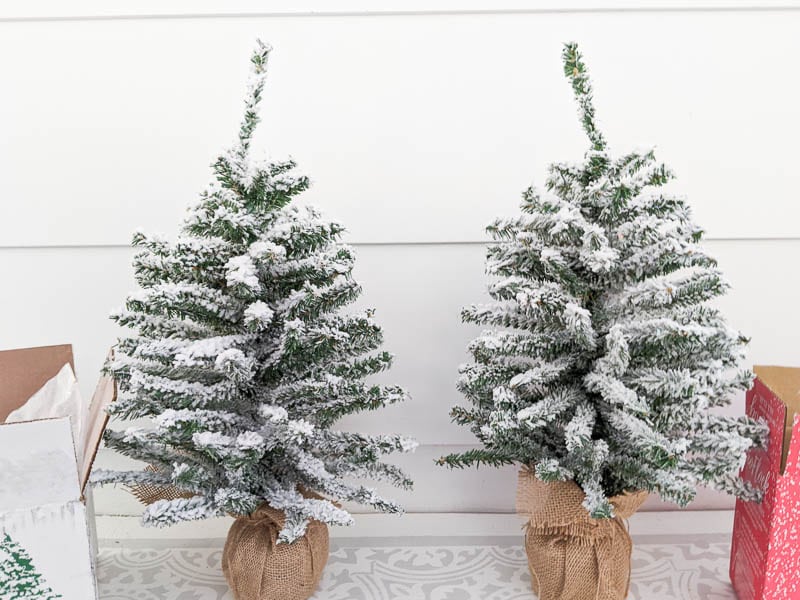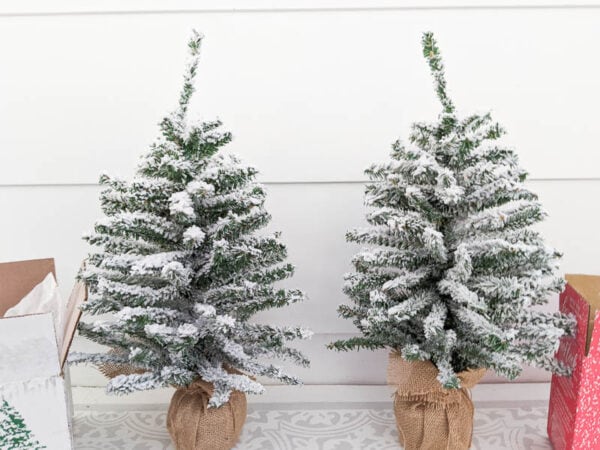 They each look very realistic up close. They both have a fluffy texture, a little bit of shimmer from the iridescent flakes, and just a bit of green peeking through just like a real tree.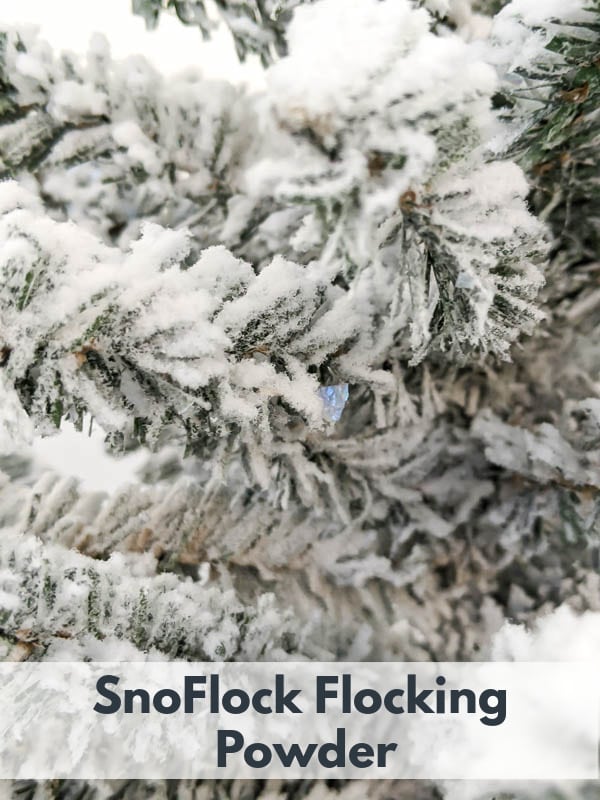 Basically they look just like the beautiful trees that you can buy.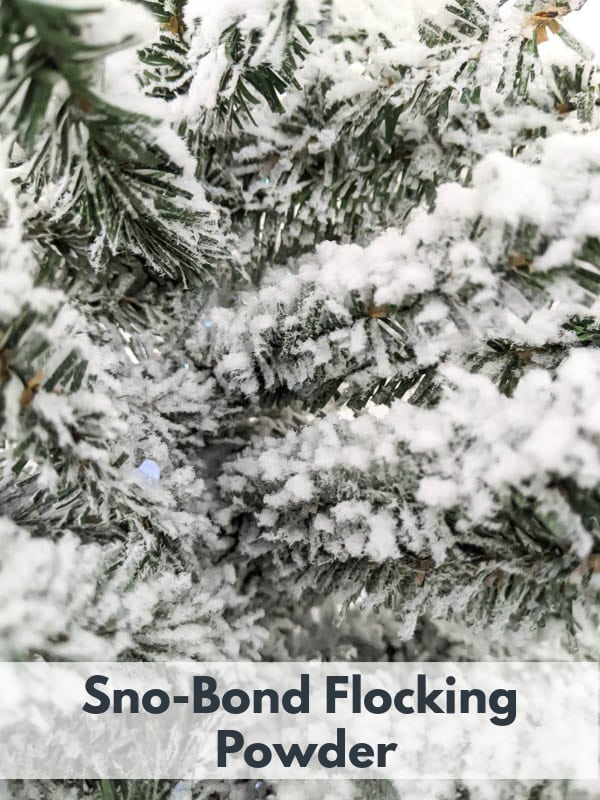 The only real difference I can see is the Sno Flock appears to have adhered a bit more thickly. As I mentioned, I did my best to flock them both evenly by flocking them as heavily as possible. But of course, I'm not perfect so human error could have played a part.
Regardless, they both look beautiful and the difference in the amount of flocking is miniscule.
Winner: Sno Flock (barely)
Adhesion/Mess Factor
One of the more annoying parts of a flocked tree is when the flocking doesn't adhere as well as it should and ends up all over your house. A bit of mess is inevitable with any flocking, but I wanted to see if there was a noticeable difference between the two flocks.
I waited a full week after flocking each tree and then put them to the test. I wanted to see how well the flocking stuck to the trees and how big a mess it made when disturbed.
I put a piece of black posterboard under each tree and then gave the branches of each tree a really good shake.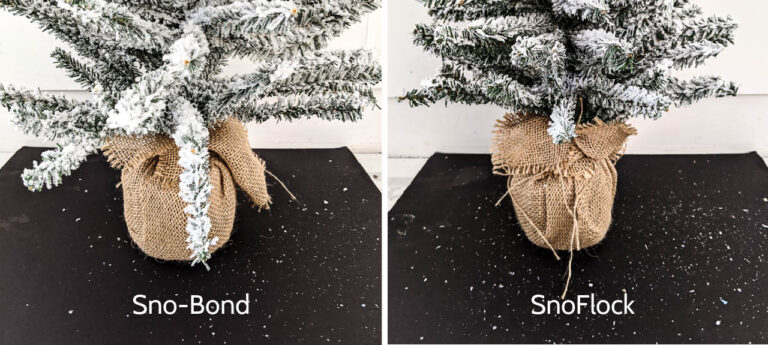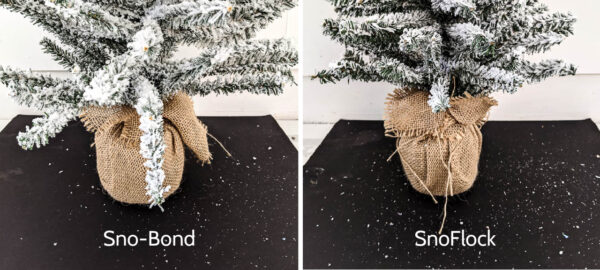 The SnoFlock tree definitely lost a bit more flocking than the Sno-Bond tree.
Winner: Sno-Bond
Final Verdict: Which is the Best Tree Flocking Powder?
So which one is the best? Well, I mean, honestly, they are both pretty fabulous.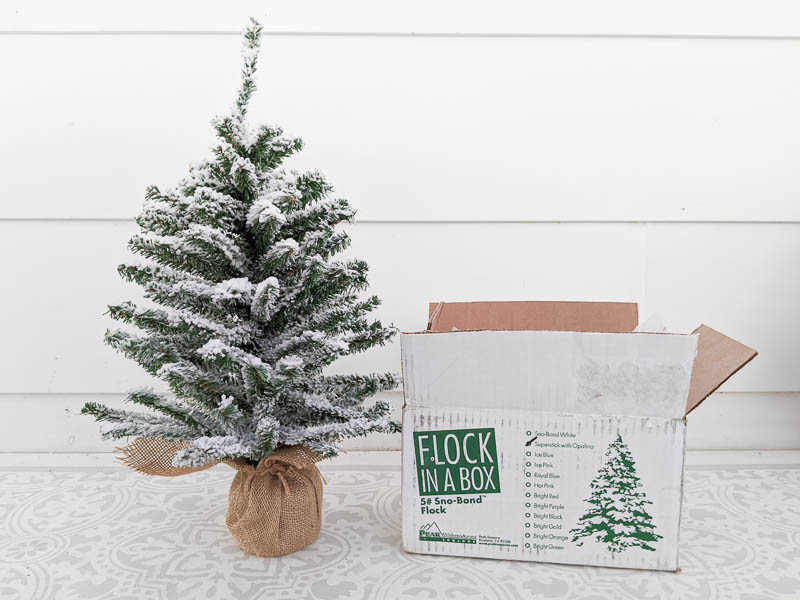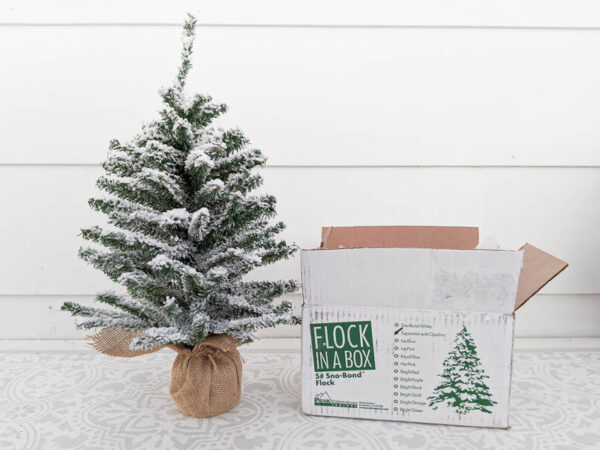 Both flocks are packaged well and are easy to apply. And both flocks do exactly what they are supposed to and look beautiful.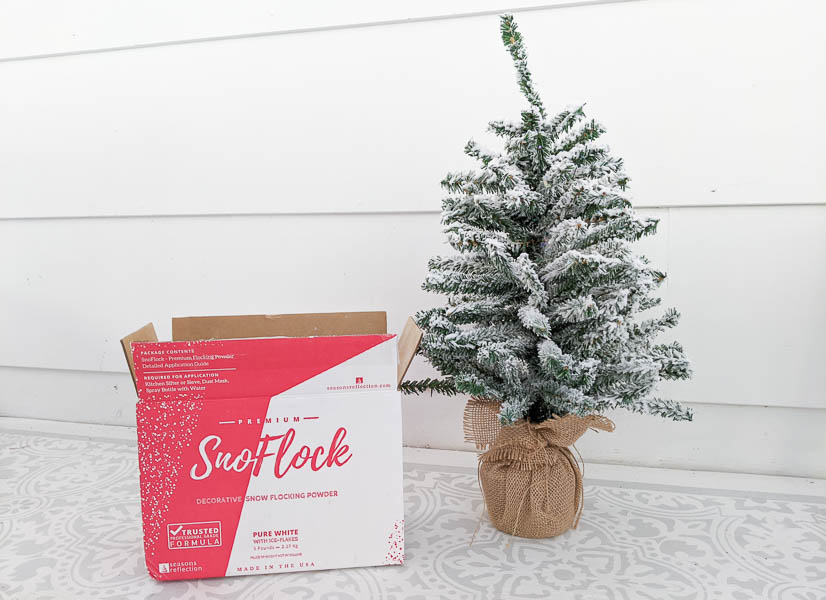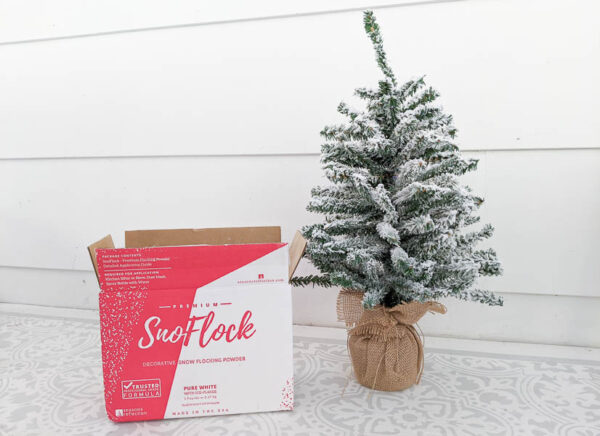 I was able to flock the tree a bit more thickly with the SnoFlock flocking powder for a slightly nicer, snowier look.
But the Sno-Bond flocking powder is available in more sizes at a better price and didn't come off quite as easily.
Based on all of these factors, if I have to choose just one best flocking powder, I would have to choose Sno-Bond.
With SnoFlock currently only available in a smaller size, Sno-Bond is a better choice because you can get the size you really need at the most affordable price.
But having said that, I truly feel confident both recommending and using either of these flocking powders in the future. They truly both give beautiful results.
In fact, I made a video of this flocking test and declared SnoFlock the slight winner before finishing my research on the current availability of each flock! So yes, I know that is pretty anticlimactic for a head-to-head test of which is the best, but they are just both really great products!
And even though, this isn't a dramatic conclusion, I still think this test was really valuable. In the past, there have been times I wanted to buy more SnoFlock but it was out of stock and I wasn't confident enough to buy a whole box of something untried. Now I know Sno-Bond really is just as good.
Winner: Sno-Bond Flock in a Box (by a hair)
Watch the Video: SnoFlock vs. Sno-Bond
I'd love for you to subscribe to my Youtube channel!
If you're looking for more details on all things flocking, I've got you covered with the posts below:
I'd love for you to pin this post on Pinterest!