I've scoured all of my favorite stencil shops for the best Christmas stencils for creating Christmas signs, pillows, and other decor.
Lately I've been thinking about decorating for Christmas. I'm not one to completely change up my Christmas decor every year – I love all the things I've made and collected over the years way too much to replace them.
But I do love to make a few new Christmas crafts to add to my collection each year.
I started thinking that I would love to make a new Christmas sign this year and fell down the rabbit hole of gorgeous Christmas stencils!
It probably comes as no surprise by now that I'm a big fan of stencils. Stencils are seriously one of the easiest ways to create custom wood signs and decor, even if you have messy handwriting and no artistic talent.
I searched through all of my favorite stencil shops and found some fantastic Christmas stencils.
And then I started thinking of all kinds of awesome ways to use them – to stencil wood signs, pillow covers, placemats, serving trays, chalkboards, so many ideas.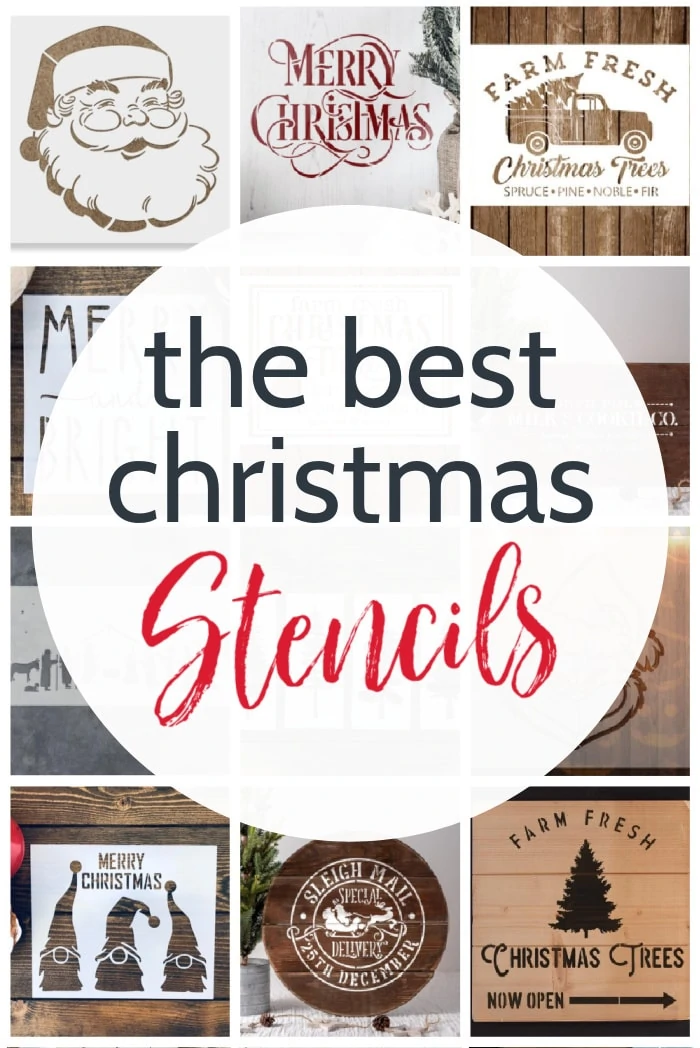 I'm still narrowing down what my first Christmas craft of the year is going to be, but I wanted to share my top picks for fun Christmas stencils. I know I'm probably not the only one who is more than ready to dive into a pile of Christmas crafts!
This post contains affiliate links which means if you make a purchase after clicking a link I will earn a small commission but it won't cost you a penny more. Click here to see my full disclosure policy.
The Best Christmas Stencils
All of the stencils I've included are reusable and ready to go. They don't require you to own a fancy cutting machine or anything special other than some paint and something to stencil!
I've tried to include a good mix of both classic Christmas designs and fun new favorites.
Now all you have to do is choose your stencil and start crafting! Personally, I'm thinking that jolly Santa face would look amazing on a pillow cover!
If you want a little more guidance, I've got a great step-by-step tutorial for stenciling on wood with lots of tricks for getting perfect stencil lines.
I'd love for you to pin this post on Pinterest!