I'm just a little bit in love with today's ornament.
There is something about the simplicity and the meaning that I just really love.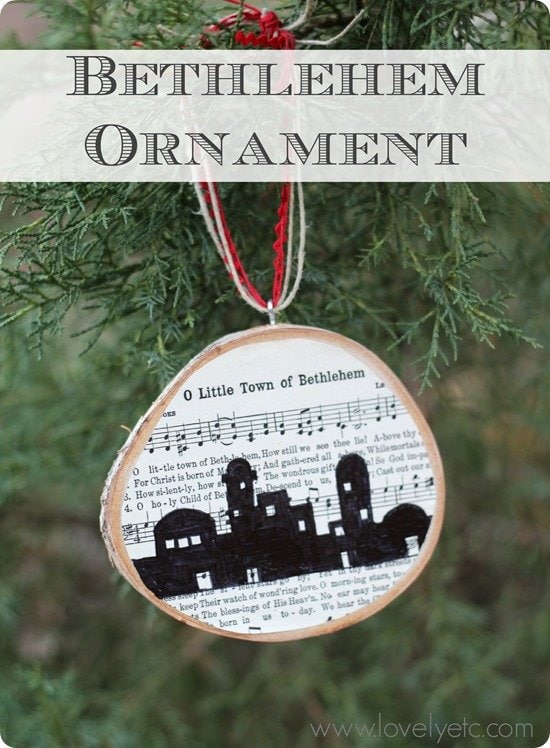 Clearly, to make this awesome little ornament, you need a copy of the song O Little Town of Bethlehem.  Mine is from an old hymnal.  (Did you realize hymnals have all the classic Christmas carols included?  So awesome for Christmas crafting!)  I tend to find hymnals by the dozens at estate sales, yard sales, and thrift stores.  Usually for about a buck each.  But I realize not everyone realized they needed to be on the lookout for an old hymnal.  Plus, I'm sure there are places where scoring an old hymnal isn't quite so easy as it is here in the South.
So I'm going to help you guys out.  I've got three of my favorite Christmas carols (O Little Town of Bethlehem, Joy to the World, and Silent Night) all ready for you to download and print for all your Christmas crafting needs.  And if you are looking for more great Christmas carol printables, I have nine more right here.)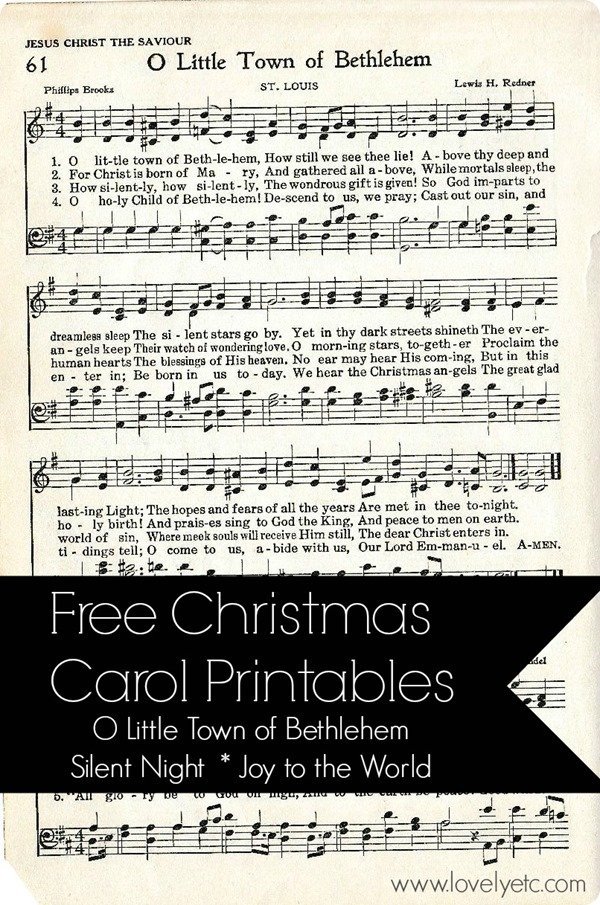 Just download your copies here.
So now that you have your very own copy of O Little Town of Bethlehem, on to the ornament making!
This post contains affiliate links.  See my full disclosure here.
Supplies
Tree slice (you can cut one from your yard or take the easy route and just buy some like I did)
Copy of O Little Town of Bethlehem  (free download above)
Matte Mod Podge and brush (matte is always a good choice for anything vintage inspired)
pencil
eye hook and string
Making the Ornament
The actual making of the ornament is pretty simple.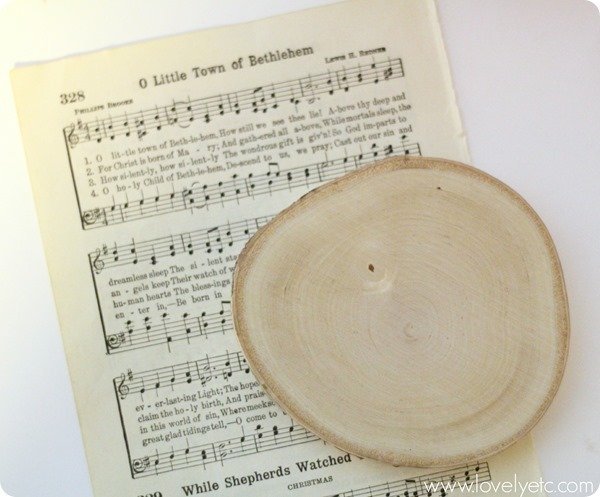 Trace your tree slice onto your copy of the song.  Cut your traced shape out, cutting it slightly small than the lines you drew so that a slight border of wood shows once it is attached.  Use Mod Podge to attach the song to the wood and then coat the top of the song with Mod Podge as well to seal it.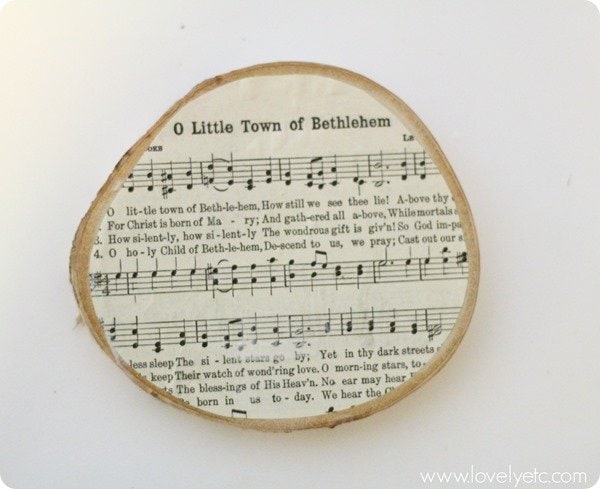 Once the Mod Podge has completely dried, draw your Bethlehem skyline onto the song with a pencil.  Fill in the skyline using a black sharpie.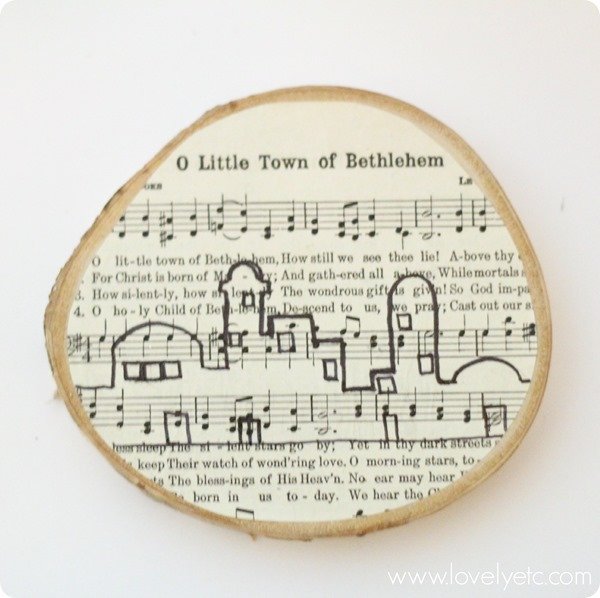 Screw an eye hook into the top of your ornament and hang with a string from your gorgeous Christmas tree!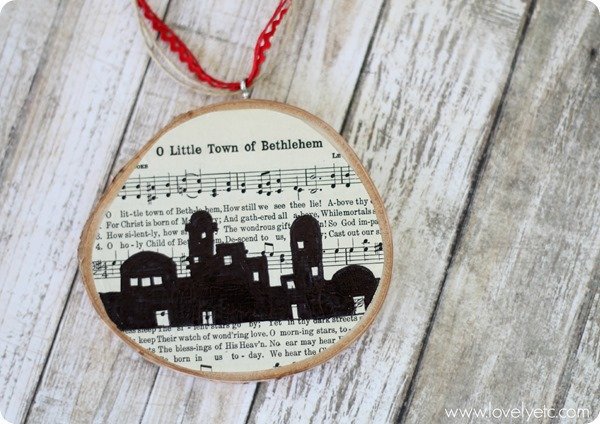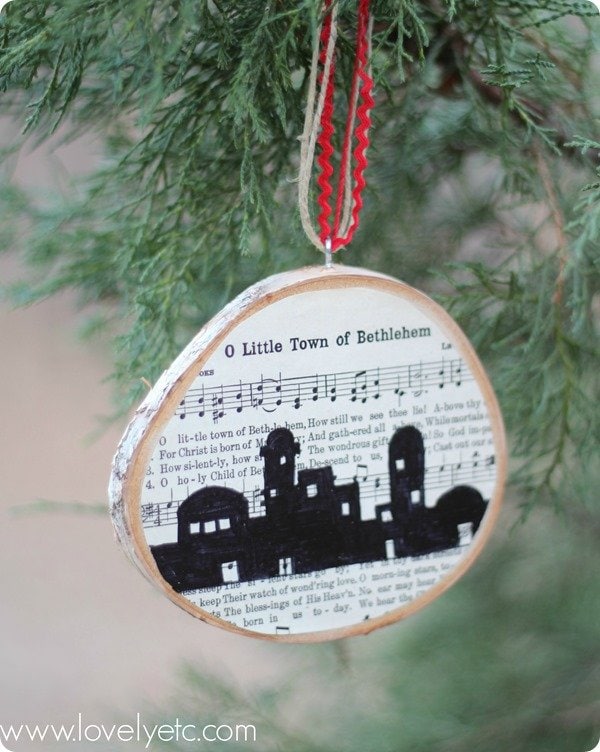 Be sure to check out my fellow bloggers' fabulous ornaments by clicking the links below.
Gold Leaf Polka Dot Ornament | The Happier Homemaker
Polymer Clay Snowflake Ornament | Remodelando la Casa
Clothes Pin Snowman Ornament | Serendipity Refined
3D Deer Head Ornament | Cherished Bliss
Glitter Monogram Ornament | It All Started With Paint
Simple Canvas Tree Ornament | Bigger Than The Three of Us
Painted Grinch Ornament | Mom 4 Real
Cupcake Sprinkles Ornament | All Things G&D
O Little Town of Bethlehem Ornament | Lovely Etc
Frosted Hot Glue Snowflake | Thrifty and Chic
Globe Ornament | Whats Ur Home Story
Felt Flower Ornament | May Richer Fuller Be
If you are looking for more Christmas ornament inspiration, you can see all of my handmade Christmas ornaments here.
And if you love Christmas music, you will definitely want to see my latest Christmas music DIY.  This one also has free printables!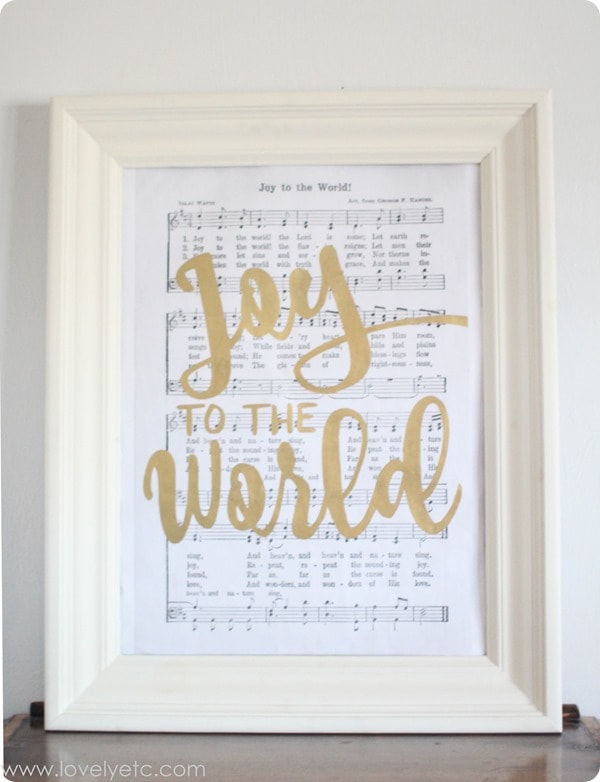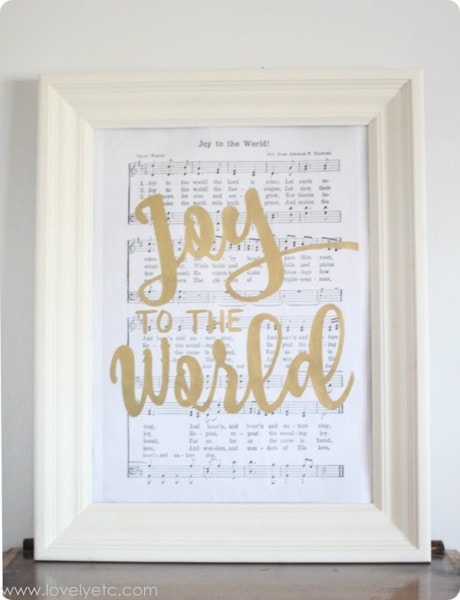 More Christmas posts you're going to love: