Learn everything you need to know to make gorgeous DIY wood signs including the best materials to use, easy ways to get perfect lettering, and how to frame your sign.
I have shared dozens of DIY wood signs here over the years and there are even more that never made it to the blog.
In fact, I used to have an Etsy shop where I sold handmade wooden signs.
But with all of the signs I've made, somehow I haven't ever shared a complete start-to-finish tutorial with all of my best tips and tricks for making beautiful DIY wood signs.
So today I am sharing how to make a fabulous wood sign, including four ways to letter a sign perfectly and how to build a simple wood frame.
And in case you are wondering, you absolutely do not have to own a Cricut or Silhouette or another cutting machine to make professional-looking signs.
All you really need are a few inexpensive supplies and a bit of know-how.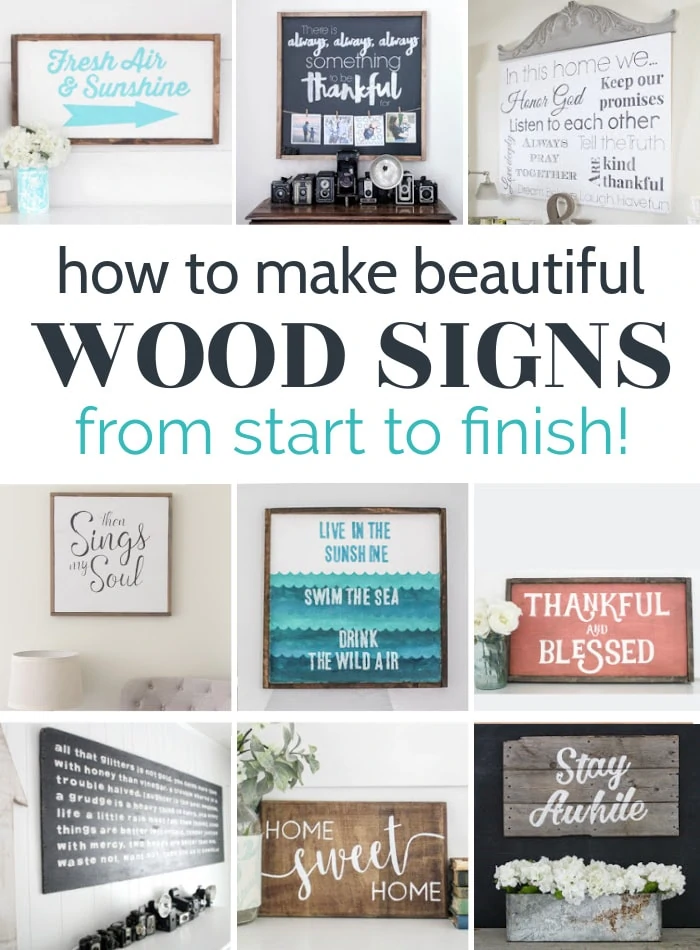 This post contains affiliate links; see my full disclosure here. This sign design and files are to be used for personal use only – not for commercial purposes or resale.
Materials
The materials you need will depend somewhat on which sign-painting method you choose, but this list will get you started.
wood sign base – I like to make signs from plain 3/4″ birch plywood. You can buy this pretty inexpensively at your local home improvement store. Craft stores also sell lots of pre-cut blank signs in all kinds of styles and sizes.
paint for the background of your sign – Any paint will work for this including small craft paints, paint samples, and chalk paint.

small foam paint roller

or a paintbrush – These are my favorite paintbrushes.
stencil or a printout of your sign design
Sharpie oil-based paint pens – These are one of my top tricks for making beautiful signs.
1″x2″ pine boards for making the wood frame
wood stain for the frame
Tools
hammer and finishing nails or a brad nailer

miter saw

or other saw for cutting wood frame pieces to size
How to make wooden signs
Choose your wood
My favorite sign-making material is basic birch plywood. It's inexpensive, has a smooth surface, and can be cut to any size you want.
You can buy birch plywood in 2'x2′ and 2'x4′ sheets at most home improvement stores.
If you want to make a smaller sign, you can usually have your plywood cut to a smaller size while you are in the store or you can do it yourself at home with a circular saw or table saw.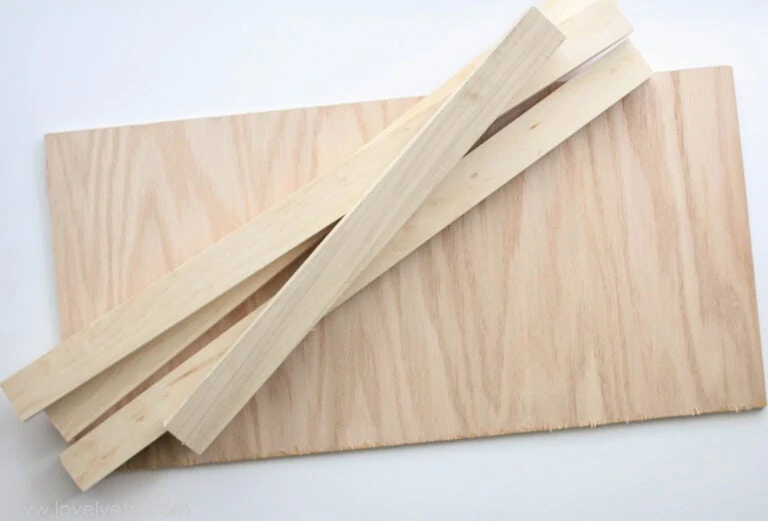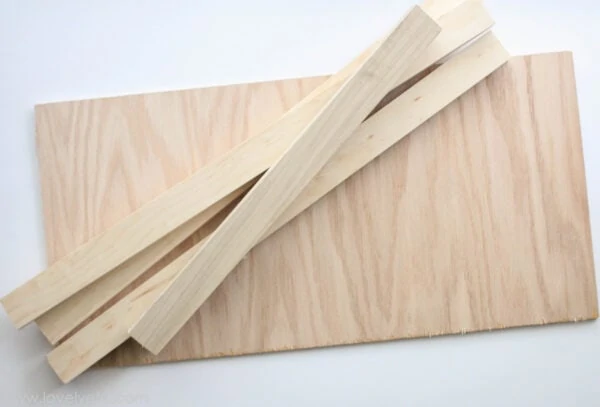 It may be really tempting to use thin 1/4″ plywood for making signs. I used to do this all the time because it was cheaper and nobody would be able to see how thick it was anyway.
Learn from my mistakes – don't do it! The thin plywood warps very easily over time and is also very difficult to attach a frame to.
I highly recommend only using 3/4″ plywood for making wood signs.
If you don't want to deal with cutting plywood, there are also all kinds of really cute blank signs you can buy at craft stores.
You can buy planked signs, framed signs, even signs in special shapes. I've linked some of my favorite styles below if you want to go that route.

Paint your sign
Once you've chosen the wood you are using for your sign, the next step is to paint it.
White is definitely the most popular color for painted signs, but you can use any color you want.
I've made quite a few signs with colorful backgrounds that I really love. You can also stain your sign instead of painting if you prefer.
A good paintbrush works just fine for painting signs or, if you are making a larger sign, you can use a small foam paint roller to speed things along.
Lettering your sign
The next step is to add the design to your sign. There are four main methods for lettering a wooden sign.
Stenciling a sign
One of the easiest ways to letter a gorgeous sign is to use a stencil. Stencils are great because anyone can get beautiful results even if you have terrible handwriting.
Stencils also eliminate the need to figure out a great saying and design for your sign because they come already designed and ready for sign-making.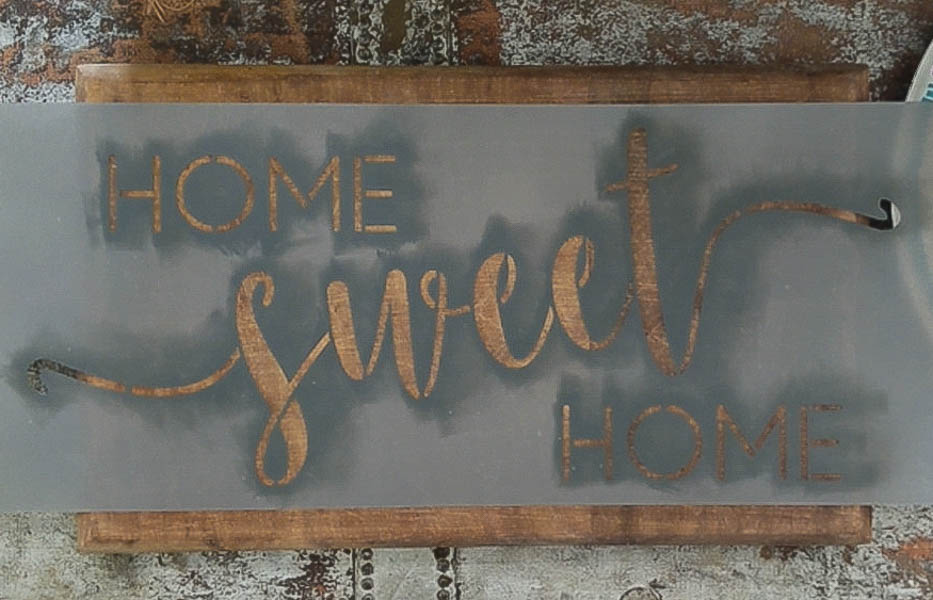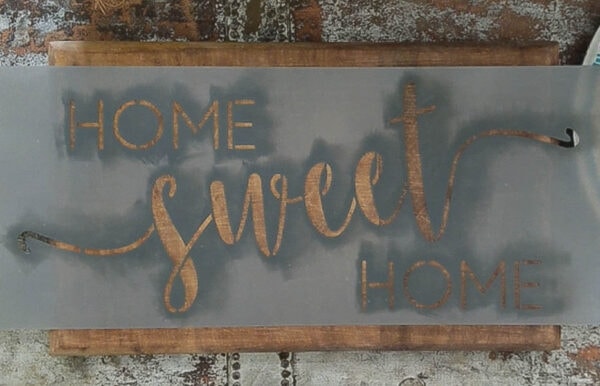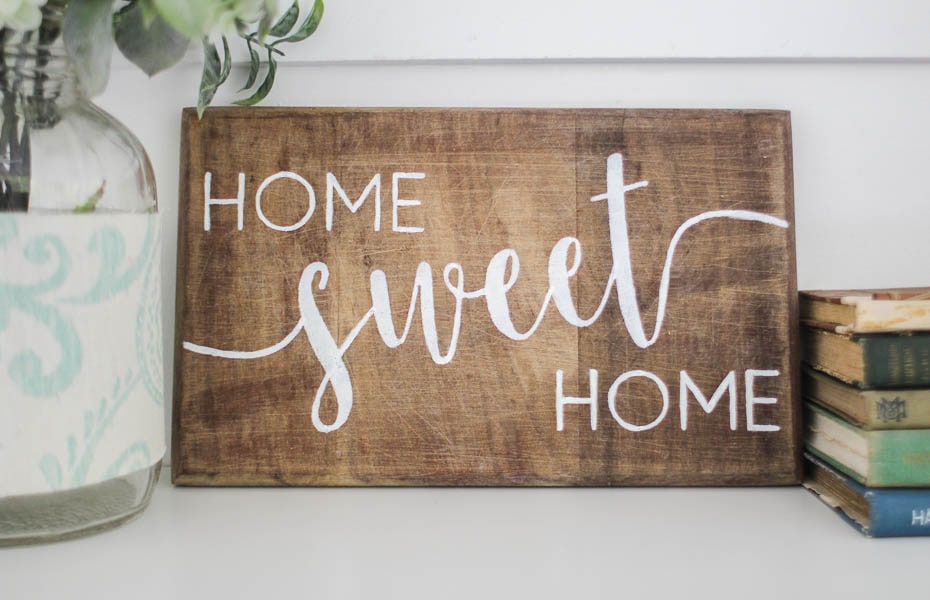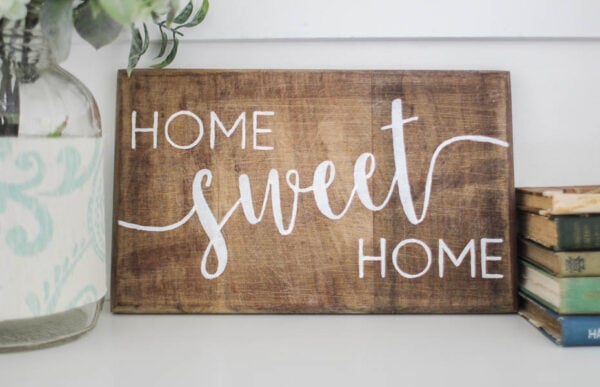 If you choose to stencil your sign, I have a post all about how to perfectly stencil wood signs and another post all about the different types of stencils for wood signs.
And I'm sharing some of my favorite stencils for wood signs below. Some of these stencil designs are really fantastic.
Favorite Stencils for Signs

Using a printed design for a sign
My personal favorite method is to print out a design and transfer it onto your sign.
I love this method because you have complete design control – your sign can say anything you want in any font you like.
You can design exactly what you want your sign to look like on your computer using Canva, PicMonkey,or even Microsoft Word.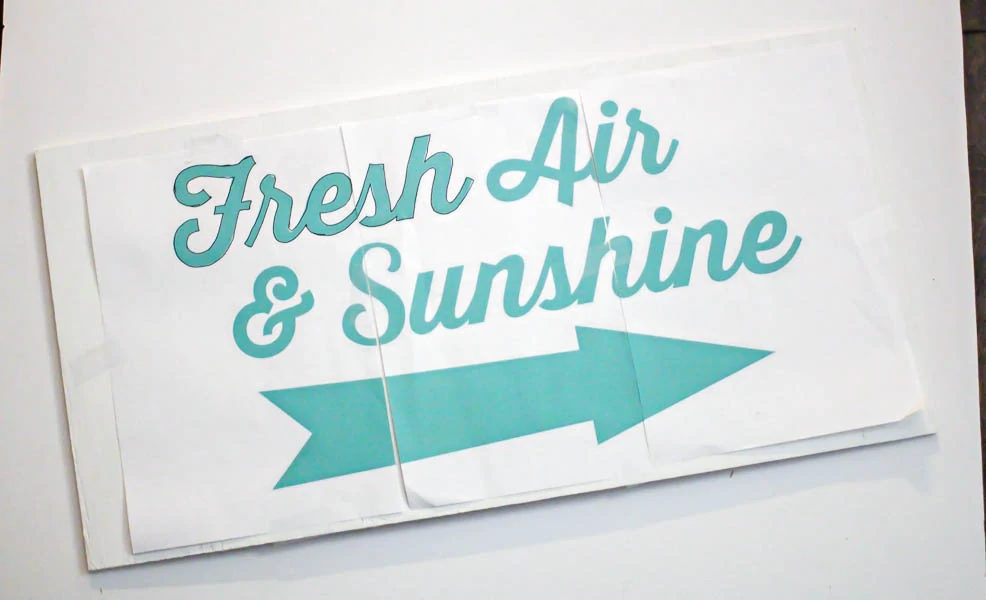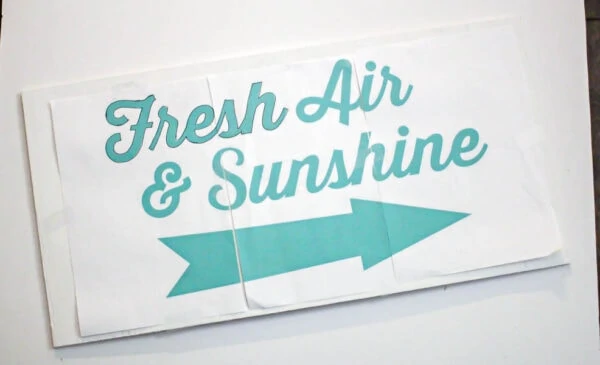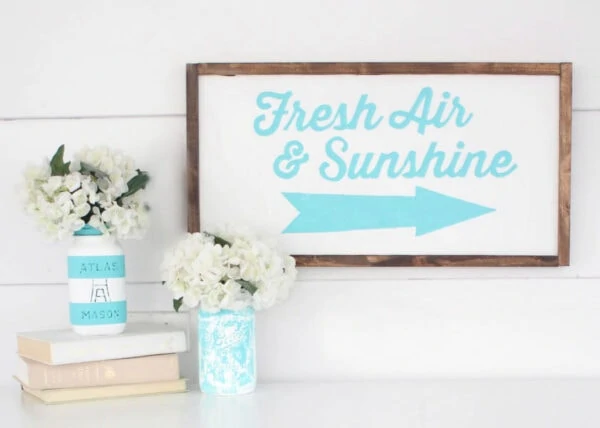 Then print it out and transfer it to your sign using a simple pencil transfer technique. I have step-by-step instructions for doing a pencil transfer if you've never done it before. It really is incredibly easy and requires zero design skill.
Making a sign with a vinyl cutting machine
In the past few years, Silhouettes and Cricuts have become very popular for sign-making. Both machines can cut designs out of adhesive vinyl that make for easy sign-making.
You can design your own sign or buy one of the hundreds of designs available on Etsy, cut out the design with your Silhouette or Cricut, and then use the vinyl letters similarly to how a stencil is used.
I don't typically use a cutting machine for sign-making, but Laura from The Turquoise Home has a great vinyl sign-making tutorial here.
Hand-lettering a sign
You can also hand-letter your sign if you have great handwriting. I would recommend using a pencil to draw the initial letters so you can erase any mistakes.
Paint your lettering
When you are transferring a design or hand-lettering, the absolute best 'paint' to use for painting the lettering on DIY signs is Sharpie oil-based paint pens.
A paint pen also makes for easy stenciling but if you are making a vinyl sign, the process is a bit different.
If you have used paint pens before, you probably have realized that not all paint pens are equal. Some are a downright mess to try to use.
I love the Sharpie oil-based ones because they write smoothly, have good coverage, and write well on both stained and painted wood.
They aren't perfect, but they work so much better than any other paint pens I have tried – especially if you are doing white lettering.
And using a paint pen is about 1000% easier than trying to paint perfect letters with a tiny little paintbrush. (I've used that method too and it is not my favorite!)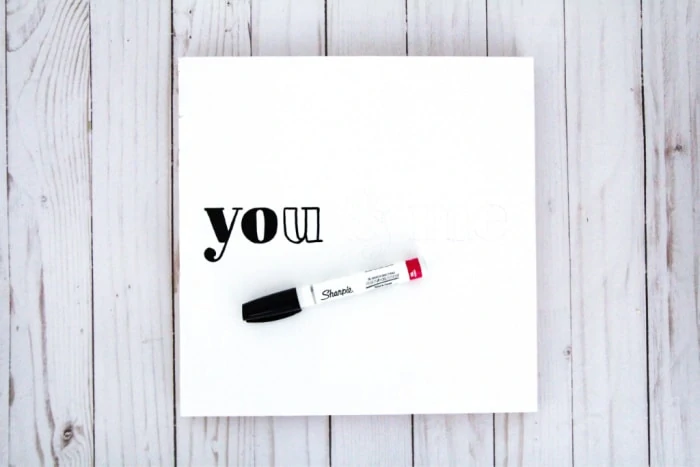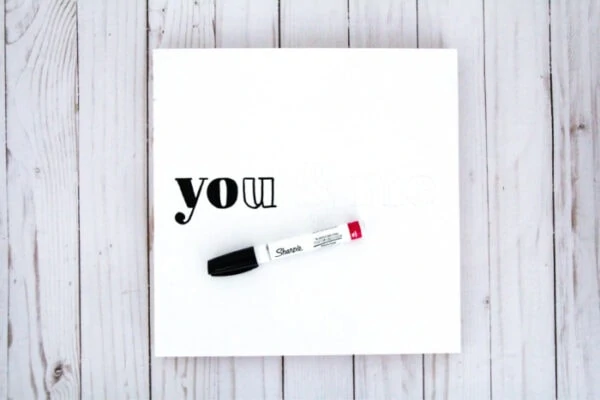 If you are hand-lettering or transferring a design to make your sign, you can use your paint pen to fill in the penciled design.
It's as easy as coloring in a coloring book.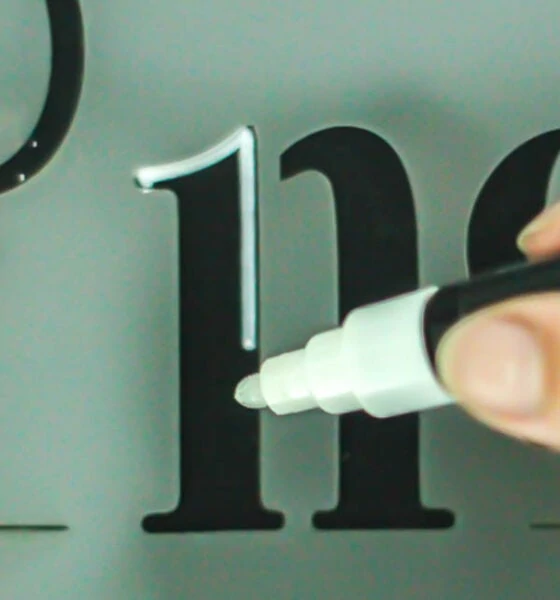 If you are stenciling a sign, you can simply use a paint pen in place of paint to stencil your sign.
How to frame your sign
When I first started making wooden signs years ago, I never added a frame.
Honestly, I wasn't sure how and I thought they looked fine without a frame.
And they did. But I love how a simple wood frame makes a DIY sign look truly finished.
And it turns out framing a wood sign is actually really easy.
You need a 1″x2″ pine board for your frame. Cut two pieces the height of your wooden sign plus 1.5 inches.
Cut two more pieces the width of your wooden sign.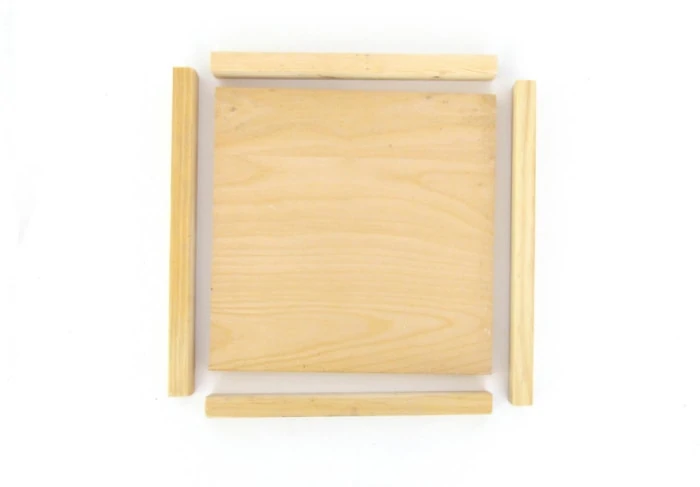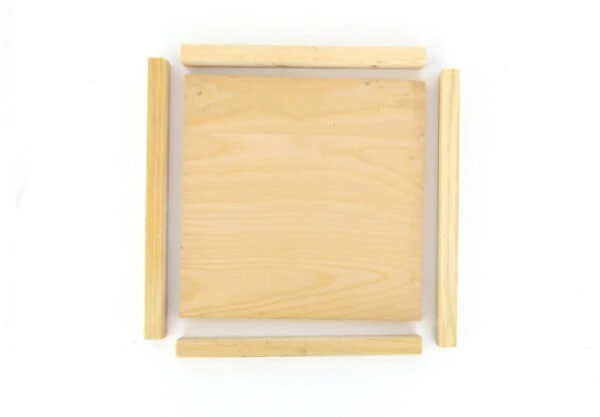 Use 220 grit sandpaper to smooth any rough edges and then use a clean cloth to stain your sign in the stain of your choice. (I used Minwax dark walnut for this frame.)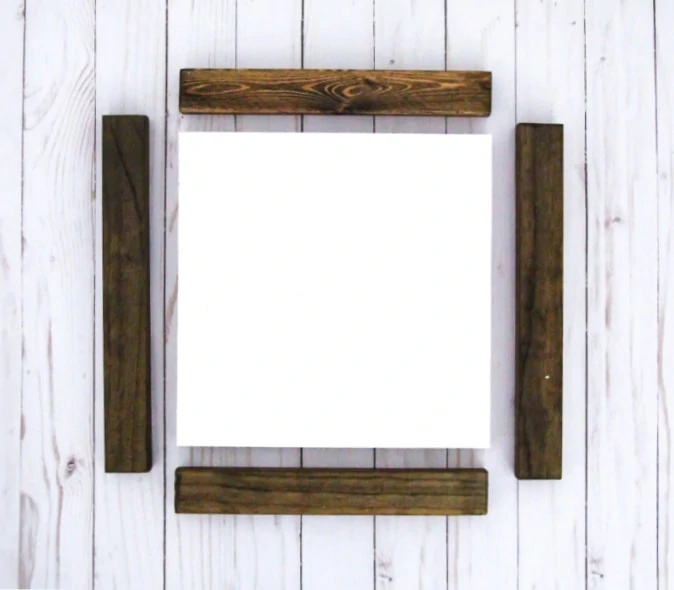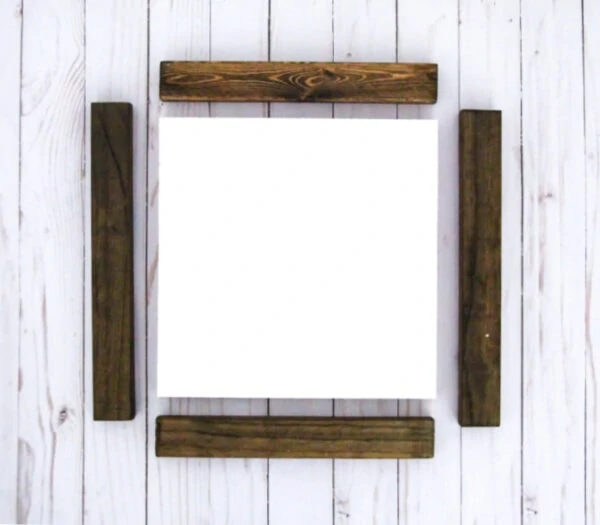 Once the stain has dried, lay your sign pieces out on a flat surface.
Use some wood glue and a hammer and finishing nails (or a brad nailer if you have one) to attach the top and bottom frame pieces to the sign.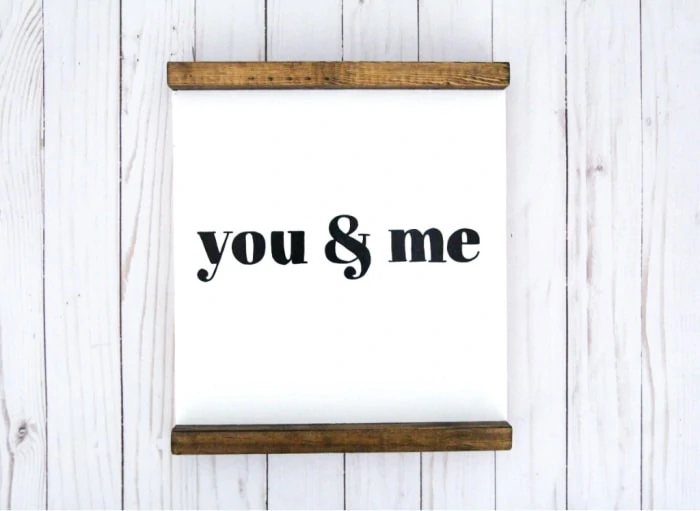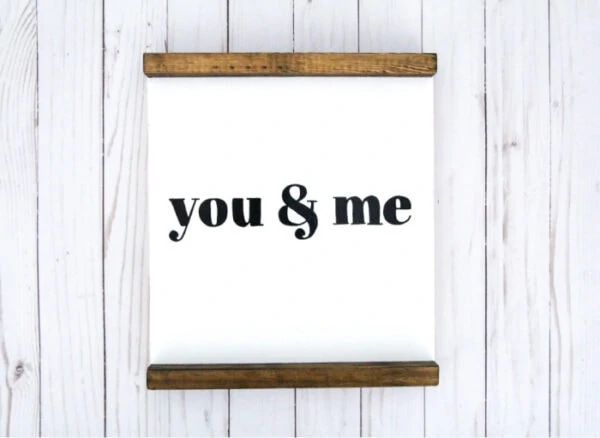 One nail in the center of each piece is enough for small signs; larger signs may need a couple of nails.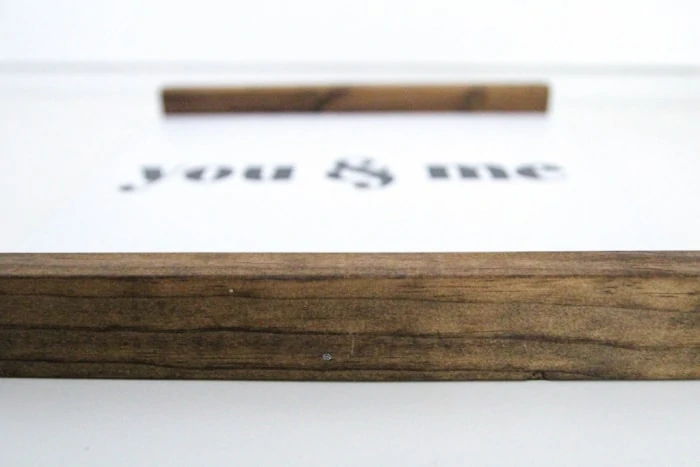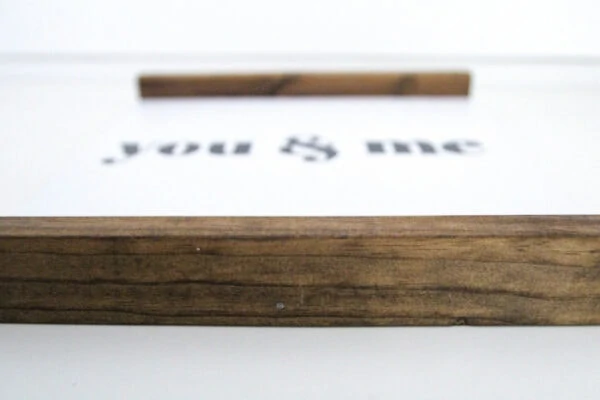 Then attach the two side pieces to the sign using a pair of finishing nails in each corner.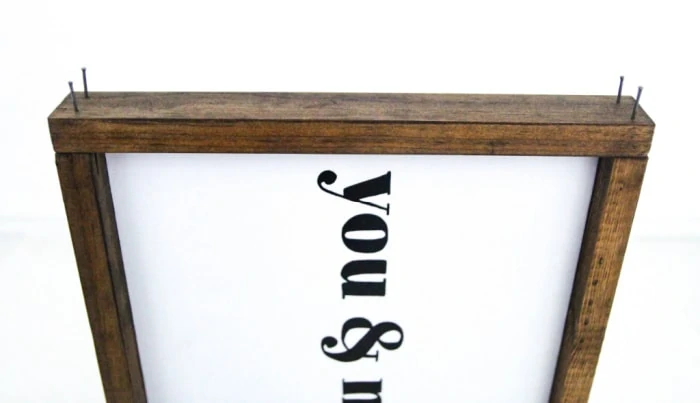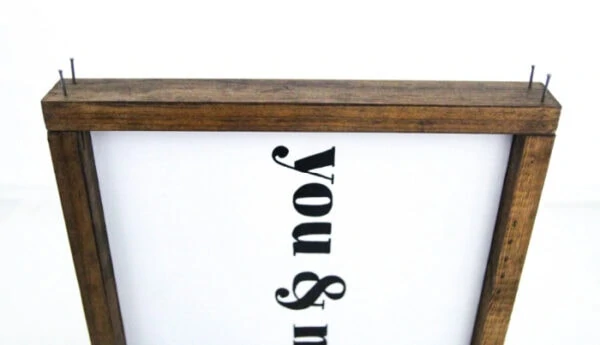 The last step is to attach a sawtooth picture hanger to the back for hanging.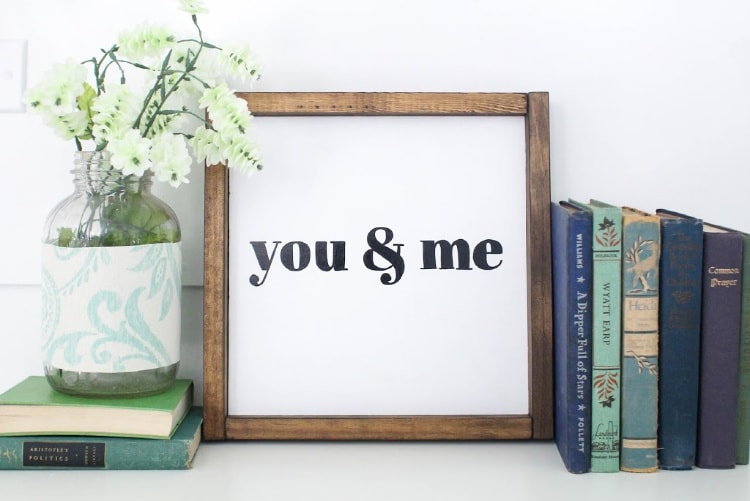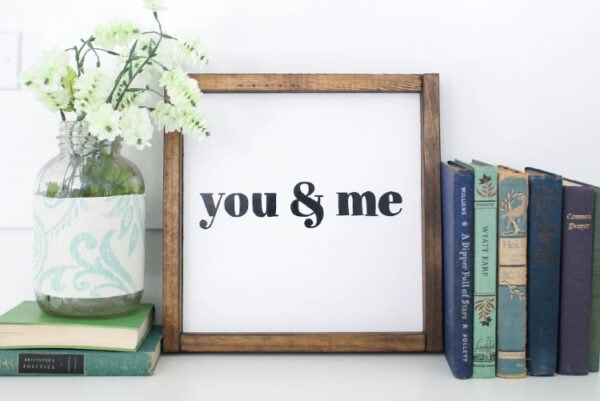 Favorite DIY Wood Signs
Now that you know everything about making amazing wood signs, I thought it would be helpful to share a bit of sign inspiration.
Of the dozens of DIY wood signs I've made, these are my favorites. Most of these signs have a tutorial linked below the photo, but there are a few that don't have full tutorials.
Most of the tutorials also include either a link to the stencil I used or a printable version of the design that you can print at home to make your own sign.
I hope you feel completely prepared now to dive into making your own wood signs!
And if not, please ask any questions you may have – I am always happy to help!
I'd love for you to share this post on Pinterest!