A couple of years ago I painted a wooden sign using one of my favorite quotes by Ralph Waldo Emerson. Live in the Sunshine, Swim the Sea, Drink the Wild Air. Which happens to perfectly express my plan to make this the best summer ever.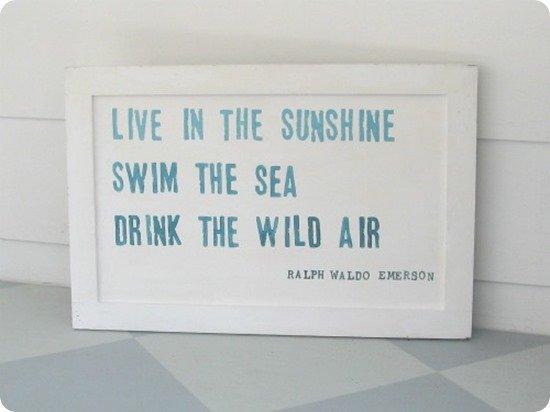 I loved that simple sign, but sadly, I sold it back in the days when I could more easily convince myself to part with the things I created. Ever since then I have been meaning to make another for our own home…but of course it couldn't look exactly the same. Who wants to make the same thing twice? So I put a little twist on it. And I love, love, love this latest version.
This is a Sponsored post written by me on behalf of FrogTape. All opinions are 100% mine.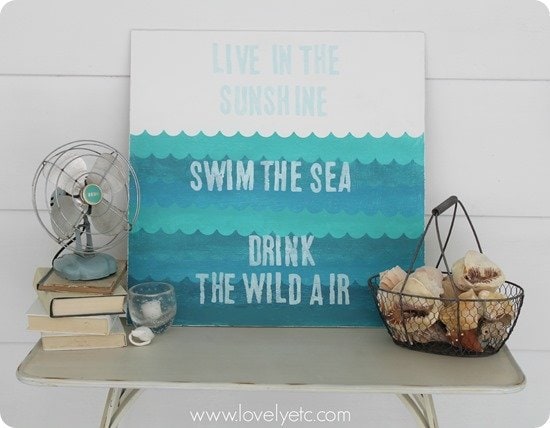 This sign was super easy to make. I started with a 2' x 2' square piece of plywood. You can pick one of these up precut at your local home improvement store for $5–$10. (Pay attention to the grain of your plywood; they carry some plywoods with a very heavily textured grain and others that are quite smooth. Just know that the more heavily grained wood will give your sign a more rustic look). I primed my plywood and painted it white.
Then the fun began. I gathered up my Shape Tape™, my alphabet stamps and all of my various turquoise and aqua paints (a borderline embarrassing amount as I shared on Instagram).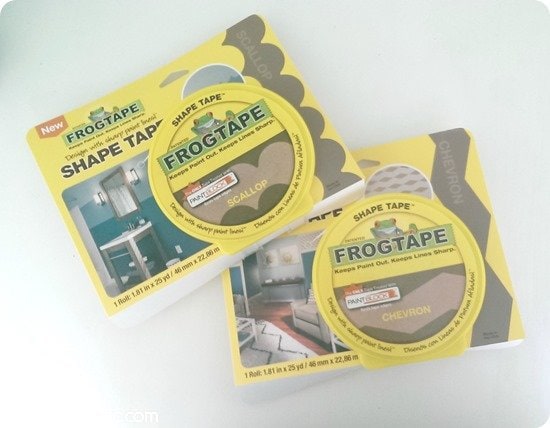 The awesome part about using FrogTape's Shape Tape for this project is painting the waves is sooo fast and easy. I was able to paint the entire thing in a matter of minutes.
Put a piece of scallop shape tape across your sign about one third of the way down from the top. The bottom of this piece of tape is going to form your first wave. I chose to paint under the shape tape all the way to the bottom of my sign to give my wave colors a little more depth. I was really happy when I pulled up the tape to see my lines were really crisp with no bleed through to deal with.
All FrogTape® is made with PaintBlock® Technology; a special polymer reacts with the water in latex paint and gels to form a micro-barrier that seals the edges of the tape. Which basically just means your paint won't bleed under the edges of the tape – which is awesome.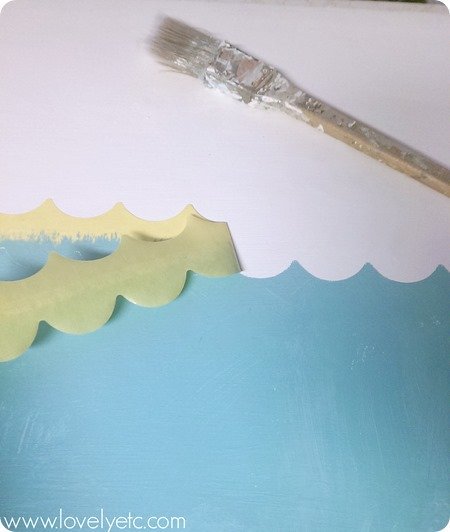 Position another piece of tape a few inches below the top of the waves and paint a second turquoise color below that piece. You don't have to paint each wave all the way to the bottom but you do want to make sure you paint enough that it will cover the entire area above your next wave. The thing that makes this super easy and fast is that the sea is all about imperfection. You don't need to worry about your tape being perfectly straight or your paint covering everything completely. I just painted one coat of each color and I love how the colors underneath peak through.
Once all the waves are done, it is time for the words. I used my favorite alphabet stamps with a very light blue paint for the letters.
Even though the words don't need to be perfect either, it is nice if they are more or less centered and straight. To do this, I taped a ruler to the sign to be my straight edge and measured to the center of the board (which I marked with a nearby screw). I started by stamping the center letter of the first line at the center mark and went from there.
And, as always, I couldn't resist a light sanding at the end to bring out the texture.
Did I mention I love it? Although it does have me yearning for a trip to the ocean. I decided earlier this week that I will get to the beach this year – even if I end up driving five hours each way for one afternoon on the shore. My soul needs to hear those waves and feel that breeze.
I'm thinking this sign may kick off a new gallery wall in the family room. But until that happens, I just had to play around with it and see how it looks with some of my favorite summer accessories.
Anyone else planning to live in the sunshine this summer? And have you tried Shape Tape™ yet? I've got tons of scallop and chevron Shape Tape™ left – any great ideas of what I could make with them? What would you make with them?