This DIY wooden growth chart is inexpensive, easy to make, and the perfect way to keep track of your growing family. And unlike many other growth charts, it is stylish enough to work in any room in the house.
I have been wanting to make a DIY growth chart for Griffin for awhile now.
But I didn't want anything cutesy or childish. I wanted this to be something our family will have around for a long time – to keep track of future children too, even grandchildren – so it needed to be something classic. But I also wanted it to have some personality.
Kind of a tall order for a simple DIY growth chart but I love how it turned out!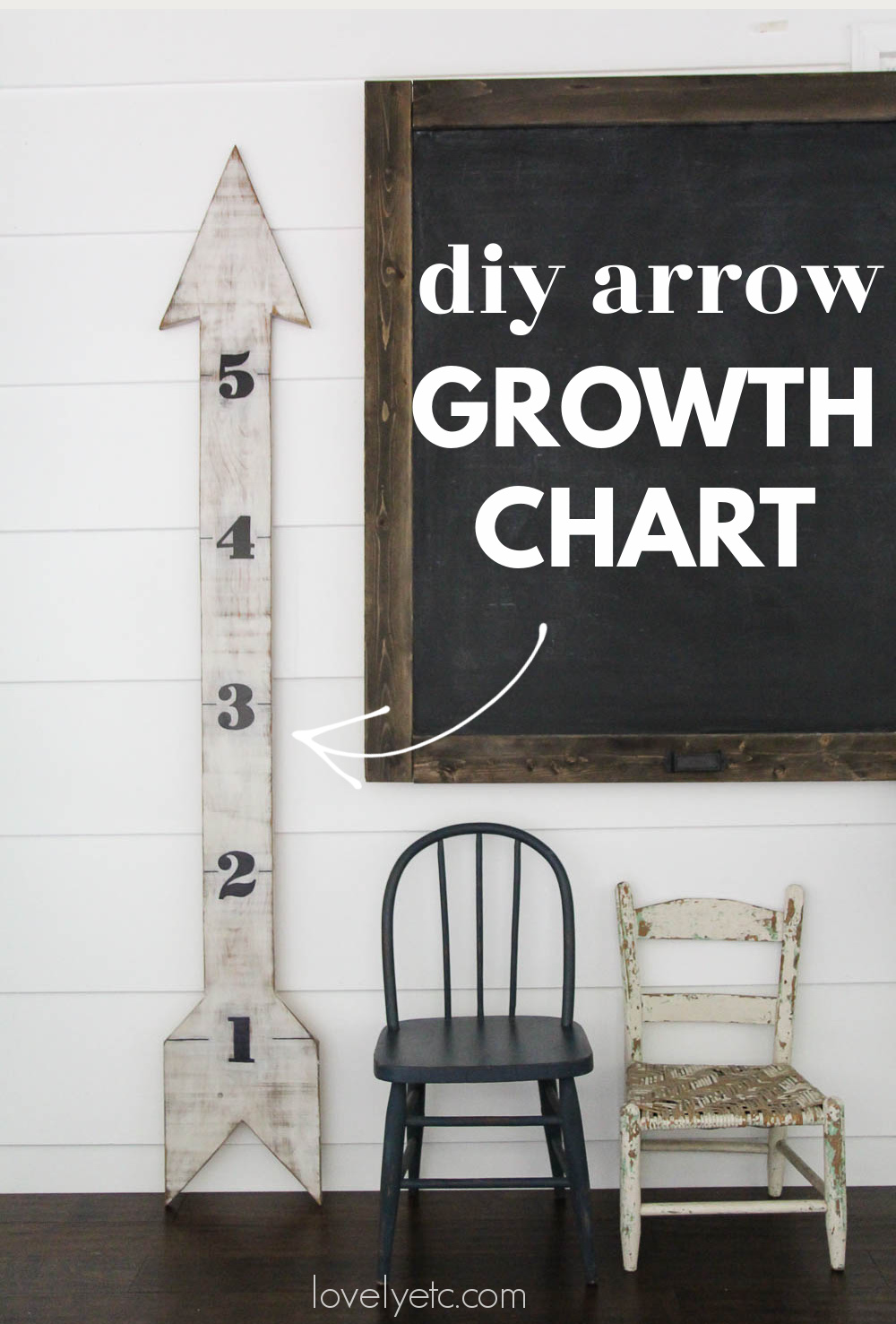 This post contains affiliate links which means if you make a purchase after clicking a link I will earn a small commission but it won't cost you a penny more. Click here to see my full disclosure policy.
Materials
1′ x 8′ wood plank – these are often labeled as shelf boards and cost around $15.
pencil
number stencil or printout of numbers in a pretty font
white paint and paint brush
dark stain and clean rag to apply it with – I used Minwax dark walnut stain to give my growth chart a weathered white finish.
mineral spirits – if you are doing a weathered wood paint finish
oil-based paint marker – Sharpie oil-based paint markers are the best paint markers for wood. I used both black and white on my growth chart and they worked beautifully.
Tools
How to Make a DIY Arrow Growth Chart
Dimensions
You can make your own arrow any size you like, but I am sharing the dimensions I used in case that helps you draw your own arrow shape.
My finished arrow is 6.5 feet high and 11 1/4 inches wide at the widest part of the arrowhead and the arrow's tail. The arrowhead is 14 inches tall and the tail section is 15 inches long. The skinny shaft of the arrow is 5 inches wide.
Cut the arrow shape.
Start by drawing an arrow shape onto your wood plank using a pencil and a straight edge.
Then cut it out with a jigsaw and sand any rough edges smooth.
Word to the wise: Before you go any further, lean you arrow against the wall so you can tell if it is standing straight.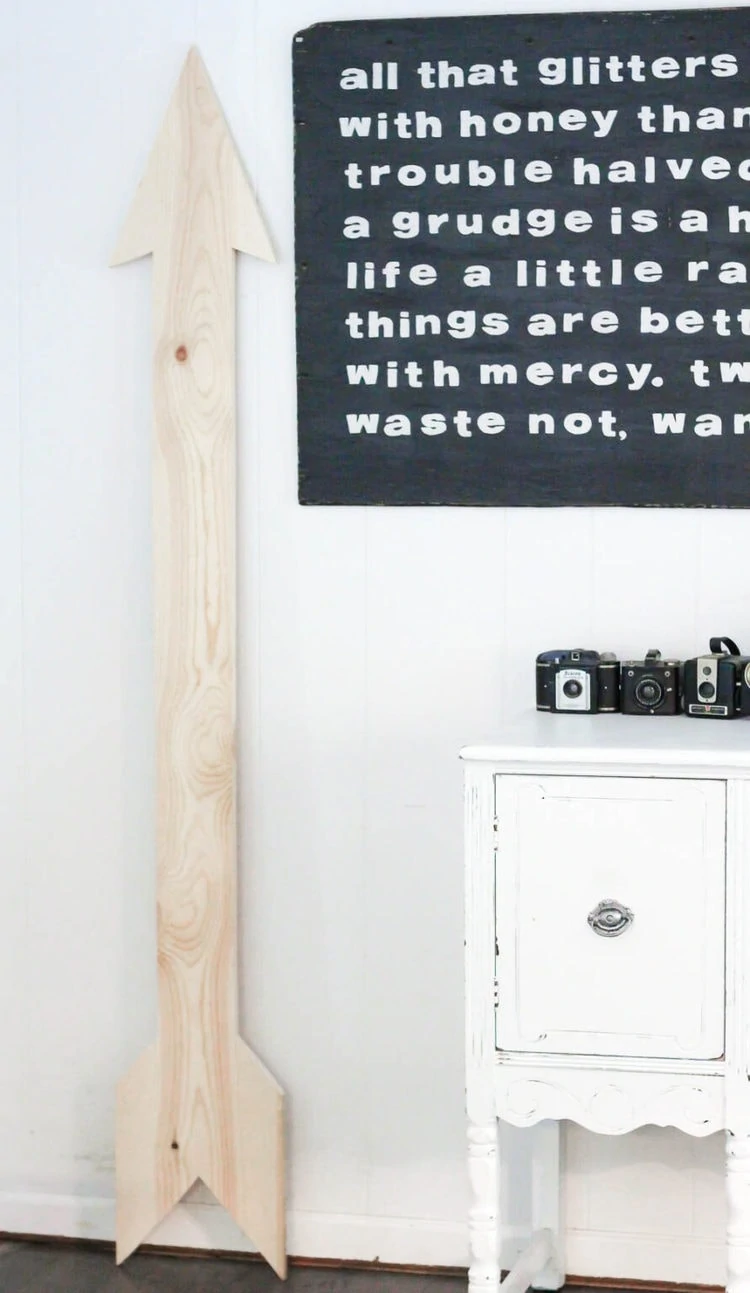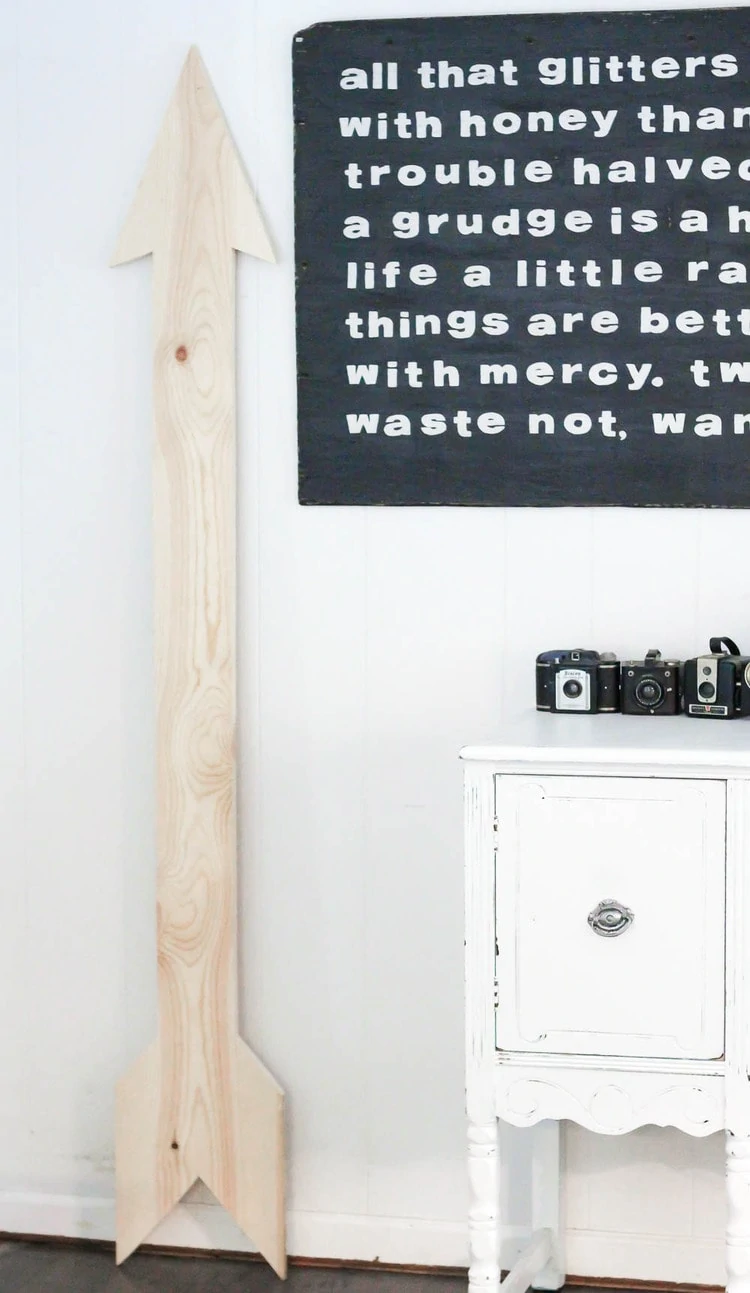 If it is a bit crooked, you can just trim one of your arrow 'tails' until it straightens out. (Yep, my arrow started out totally crooked but was easily fixed.)
Or if you want to keep things really simple, you can skip the arrow altogether and just cut your board to 6.5′ long. If you stick with a rectangle shape, you will end up with more of a ruler style growth chart.
Paint the growth chart.
You can finish your arrow with any color stain or paint you want. This weathered white finish is really easy but does require several steps.
First paint the entire arrow with one coat of the white paint of your choice and let it dry.
Lightly sand the arrow with 100 grit sandpaper to expose some of the raw wood and wood grain. Use a clean rag to wipe on a coat of dark stain.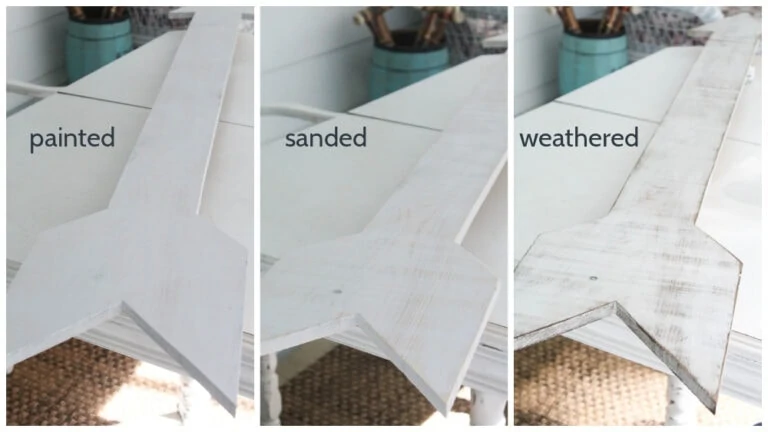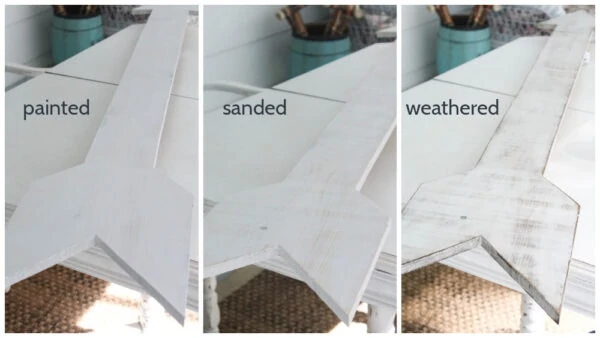 Pour a little mineral spirits onto a second clean cloth and wipe as much stain as possible off . Use a clean section rag each time you wipe it.
This will leave you with a perfectly weathered finish.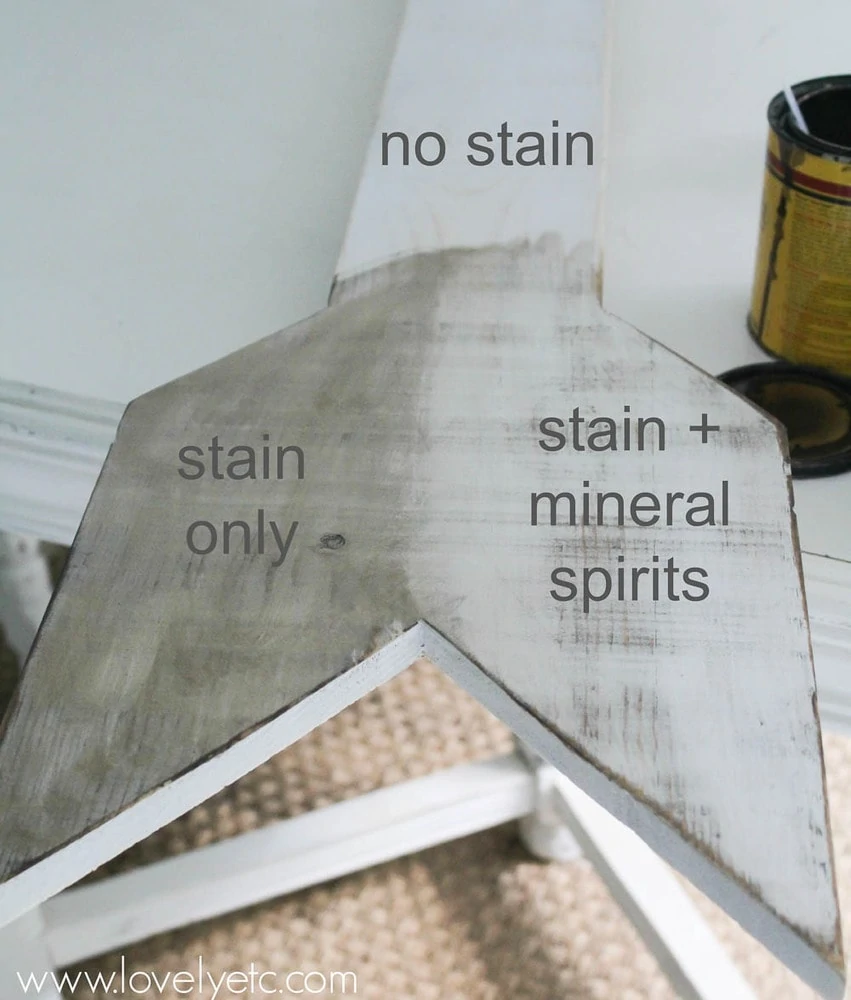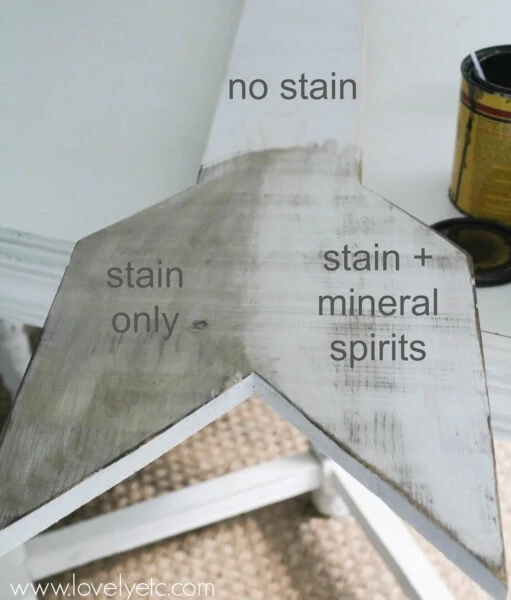 Add the numbers.
Use a tape measure and a pencil to mark every 12 inches from the bottom.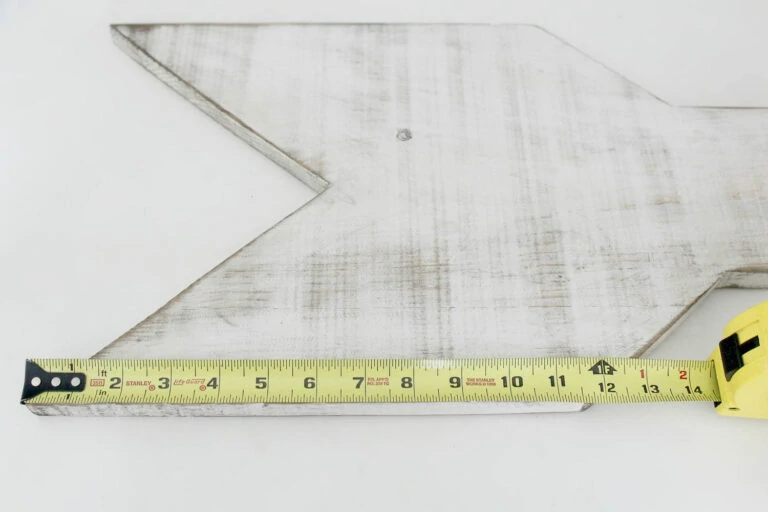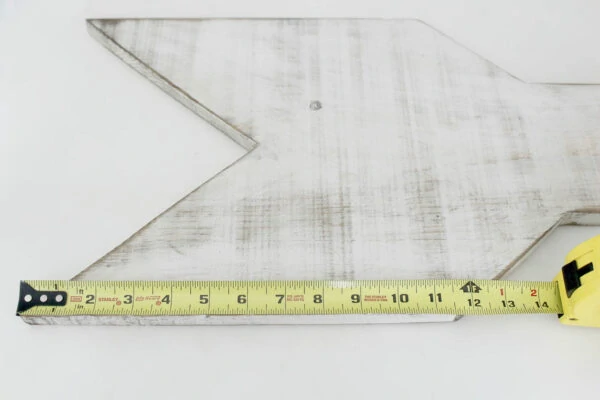 There are a few different ways you can add the numbers to your growth chart.
You can draw your numbers on freehand if you want.
But even if you don't have great handwriting, you can still get perfect numbers on your growth chart.
You can stencil your numbers on using a large number stencil like this one. (If you go that route, I have tips for getting perfect stencil lines on wood right here.)
Or you can print out the numbers in a font you like and do a simple pencil transfer. This makes it really easy to use any font in any size you like.
To do a pencil transfer, print out your numbers and then rub pencil all over the back of each number. Carefully tape them onto the arrow where you want them placed and then trace each number with the pencil. When you remove the paper, a faint pencil outline of the number will remain.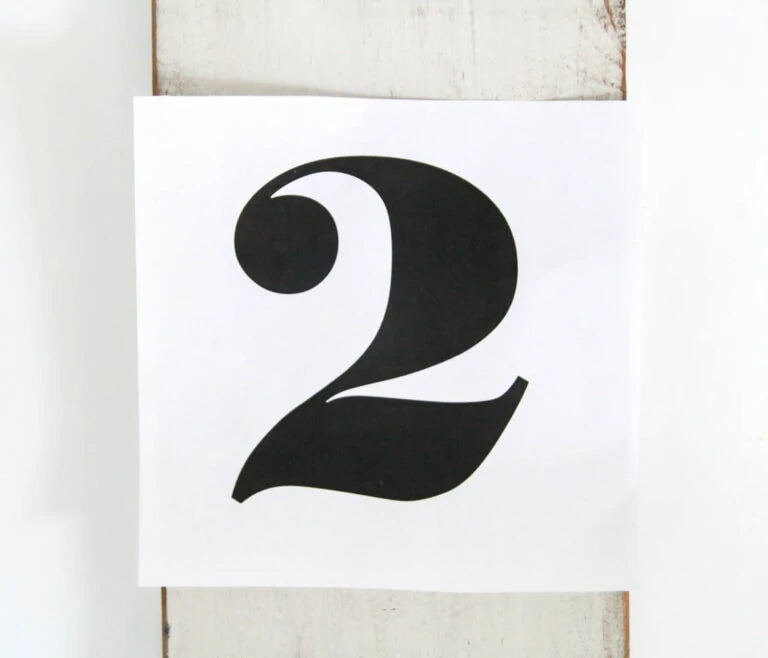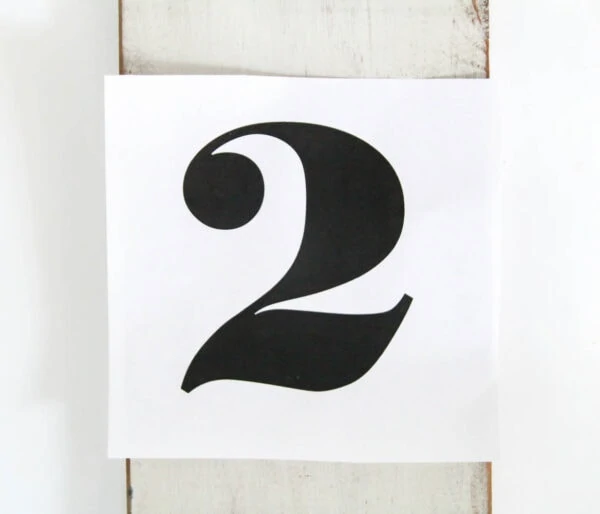 Use a Sharpie paint pen to fill in each of your numbers and also add tic marks next to each number at the exact measurement mark.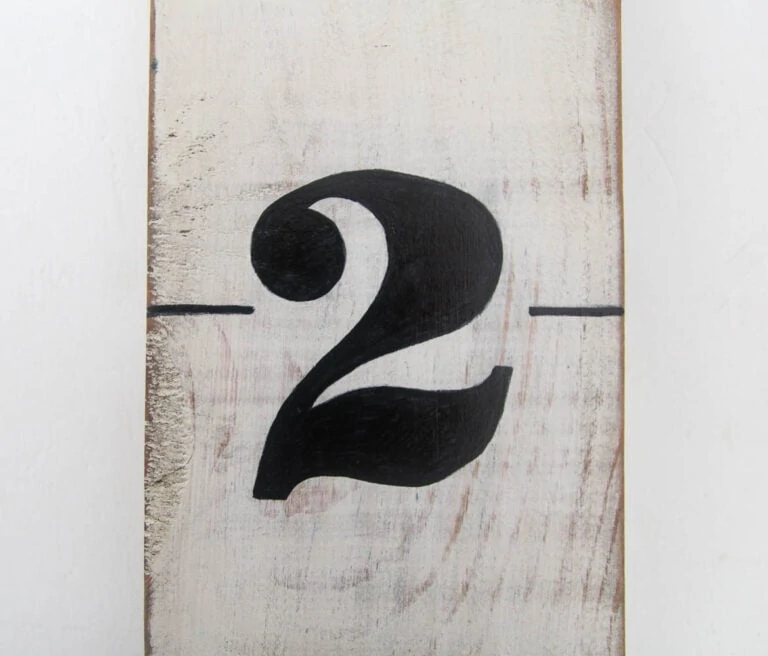 Once the paint pen dries, if you would like to soften it a bit, you can sand it lightly with 220 grit sandpaper.
Growth chart with white numbers.
Originally I went subtle with my growth chart numbers. I added them with a white paint marker and I really liked the white on white numbers. You could see the numbers perfectly but they weren't all in your face.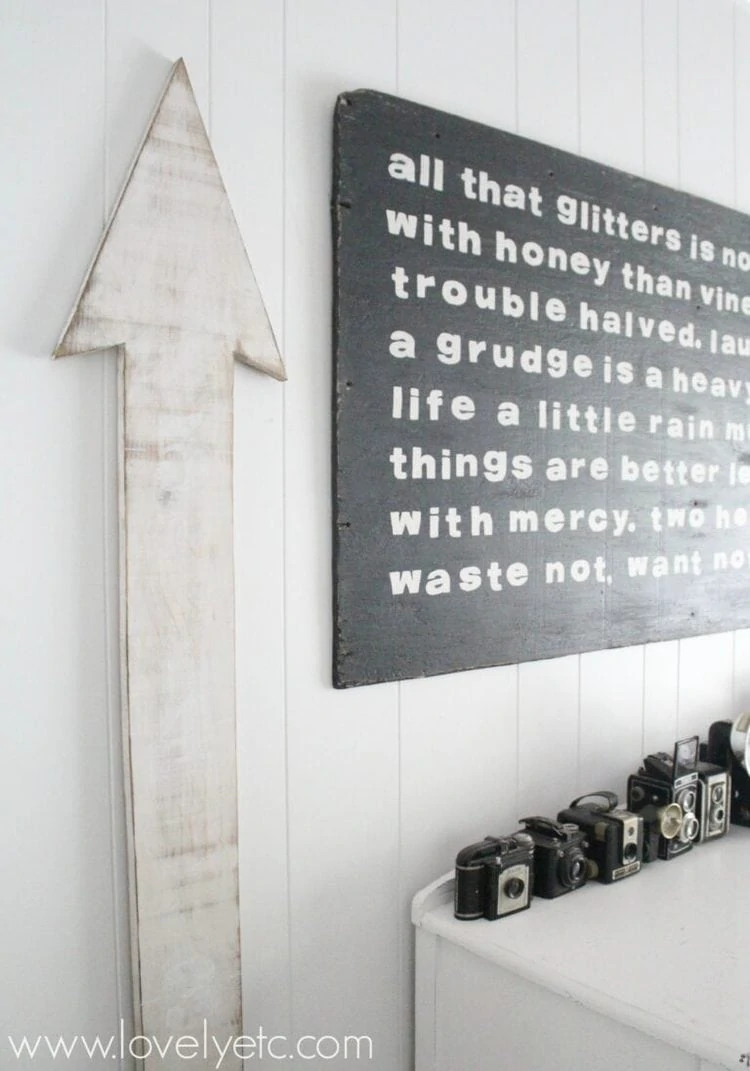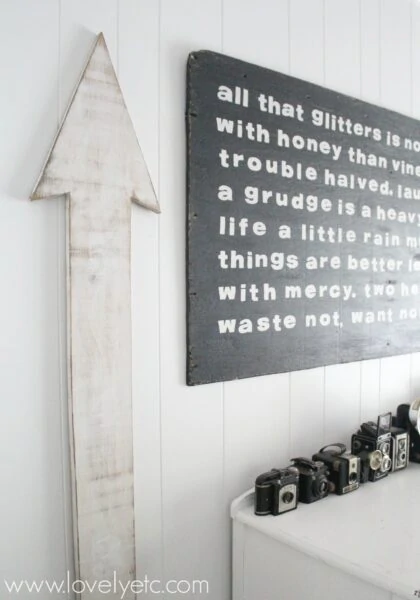 Growth chart with black numbers
But a few years later, I decided I wanted my numbers to stand out a bit more, so I redid them with a black paint marker.
And I think I like them this way even more. It isn't quite as subtle, but it still looks beautiful.
Be sure to secure your arrow to the wall to prevent tipping and you are ready to start taking measurements!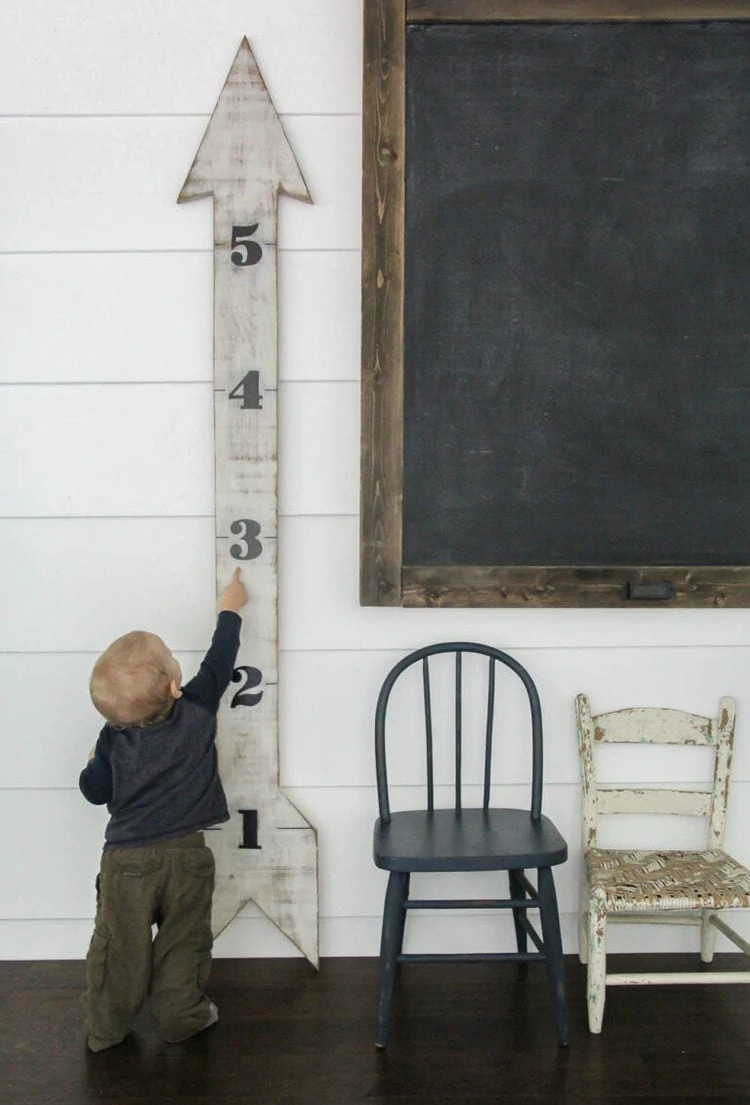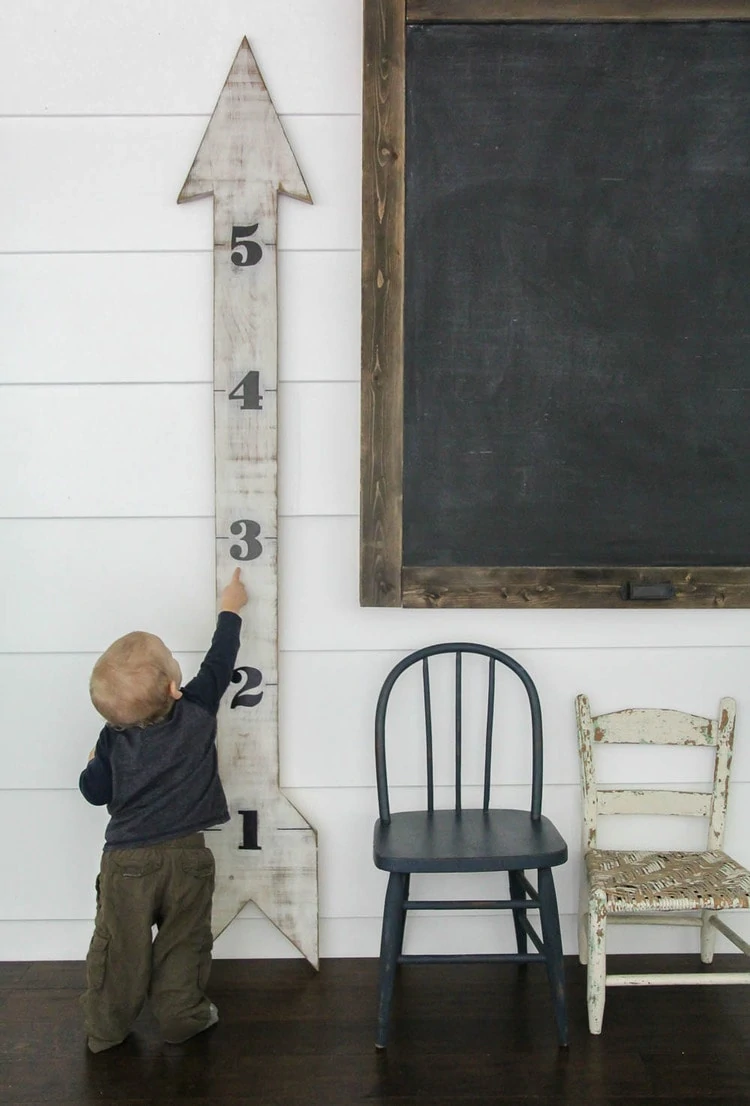 I love how it turned out and can definitely be happy having this hanging around the house for years to come.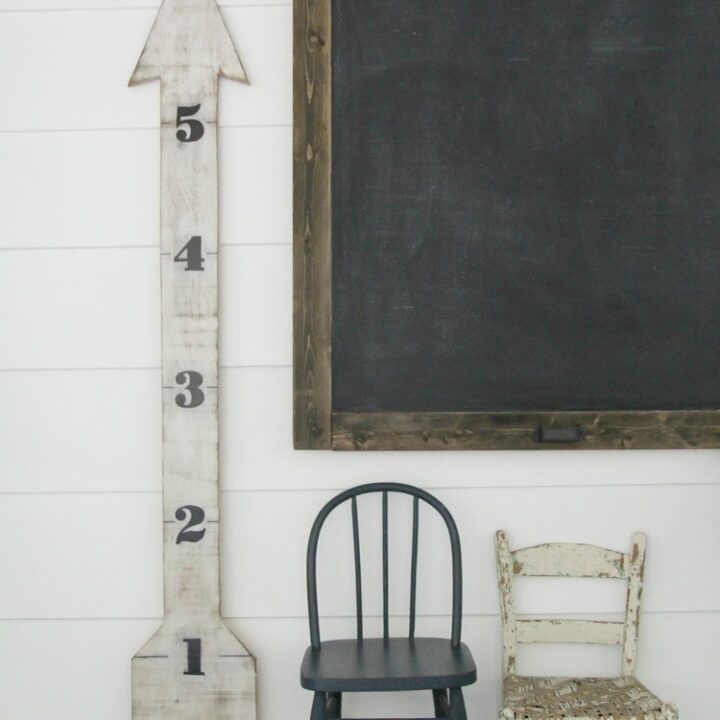 DIY Wooden Arrow Growth Chart
Make a DIY growth chart that can be a part of your home decor for years. This is a classic style that you will be happy to display, while also keeping track of your children's milestones.
Materials
1'x 8' shelf board
Pencil
Straight Edge
Sandpaper 100 grit
White Paint
Dark Stain
Clean Rag
Mineral Spirits
Sharpie Paint Pen
Tools
Jig saw
Tape Measure
Scissors
Instructions
Draw an arrow shape onto the board using a pencil and a straight edge.
Cut it out with a jig saw.
Sand any rough edges.
For a weathered white paint finish, paint the entire arrow with one coat of white paint and let it dry.
Lightly sand with 100 grit sandpaper.
Wipe on a coat of dark stain. Wipe the excess stain off using a clean rag dipped in mineral spirits.
Use a tape measure and pencil to mark where each number should go.
Print an outline of the numbers 1 through 6 in the font of your choice. Or use a number stencil if you prefer.
Trace each number onto the wood with a paint pen.
Recommended Products
As an Amazon Associate and member of other affiliate programs, I earn from qualifying purchases.
I'd love for you to pin this post on Pinterest!