This shop is part of a social shopper marketing insight campaign with Pollinate Media Group® and Sharpie, but all my opinions are my own. #pmedia #PaintYourWay http://my-disclosur.es/OBsstV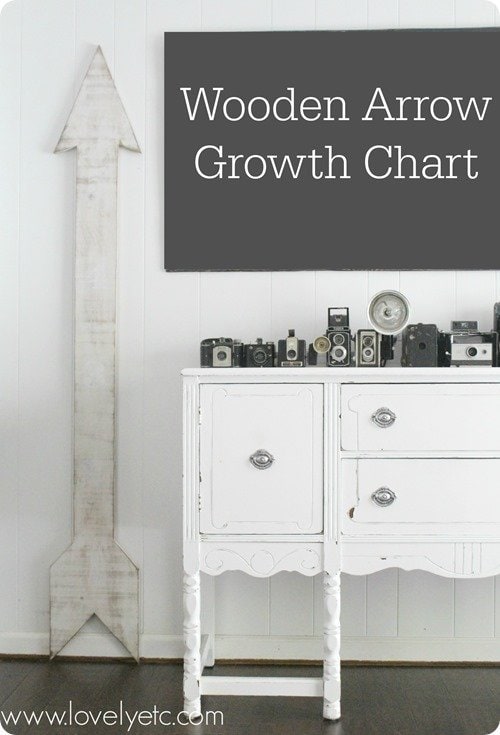 I am so excited to share with you Griffin's new giant wooden arrow growth chart!
I have been wanting to make a DIY growth chart for Griffin for awhile now. But I didn't want anything cutesy or childish; I wanted something grown-up enough to display in the family room. I want this to be something our family will have around for a long time – to keep track of future children too, even grandchildren – so it needed to be something classic. Nothing too trendy that I would want to hide away the next time I redecorate. But I also wanted it to have some personality.
I started with a 1'x 8' shelf board. (These cost about $15). I drew my arrow shape onto the board using a pencil and a straight edge and then cut it out with my trusty jigsaw and sanded the rough edges.
Word to the wise: Before you go any further, lean you arrow against the wall in a corner so you can tell if it is standing straight. If it is a bit crooked, you can just trim one of your arrow 'tails' until it straightens out. (Yep, my arrow started out totally crooked but was easily fixed.)

It turns out painting the perfect weathered finish is really simple. Paint the entire arrow with one coat of the white paint of your choice and let it dry. Lightly sand the arrow with 100 grit sandpaper to expose some of the raw wood and grain. Then use a clean rag to wipe on a coat of dark stain. Pour a little mineral spirits onto another clean cloth and wipe the excess stain off of the painted finish. This will leave you with a perfectly weathered finish.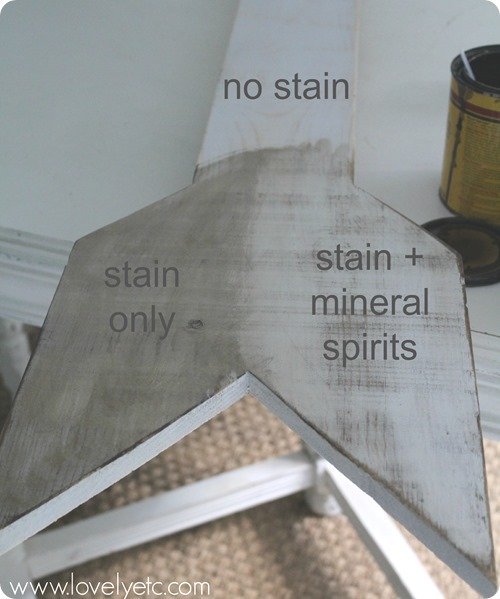 I decided to go really subtle with the growth chart numbers.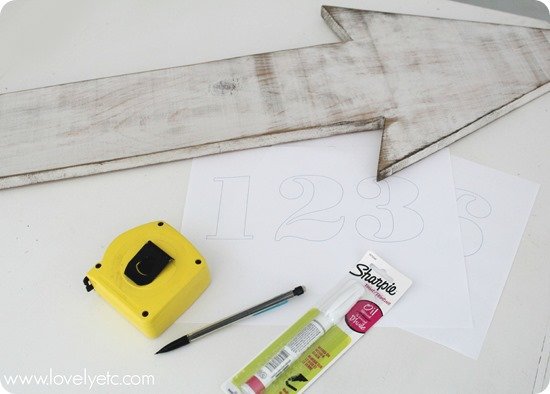 I chose to only mark my arrow at each foot mark, so I used a tape measure and a pencil to mark where each number should go.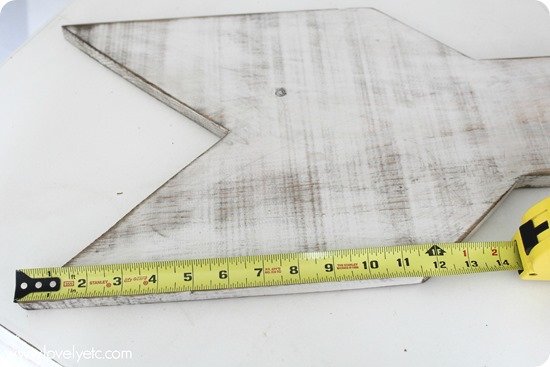 I printed an outline of the numbers I wanted to use. I cut out each number and used a white oil based Sharpie paint pen I picked up at Michaels to trace each number onto the wood. (Be sure to look out for some upcoming special deals on Sharpie paint pens in Michaels stores on online at michaels.com.) This made it so easy to paint on my numbers in exactly the font I wanted. I also added tic marks next to each number at the exact measurement mark.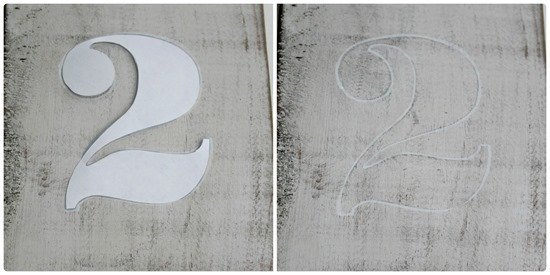 Once I had traced each number, I colored them in with my Sharpie paint pen. Don't worry about getting your coloring perfectly even; once everything is dry, just lightly sand each number with 150 grit sandpaper and it will even out nicely.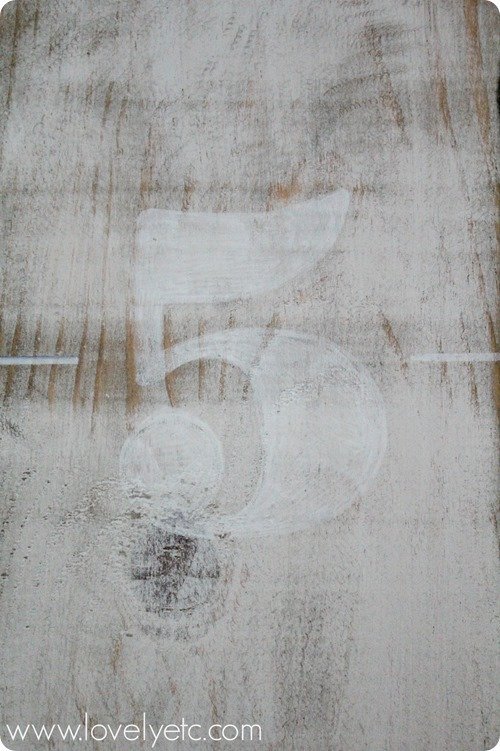 And that's it! I love the white on white numbers. You can see the numbers perfectly but they aren't all in your face. I'm going to be using my Sharpie paint pen to mark each new height on here too.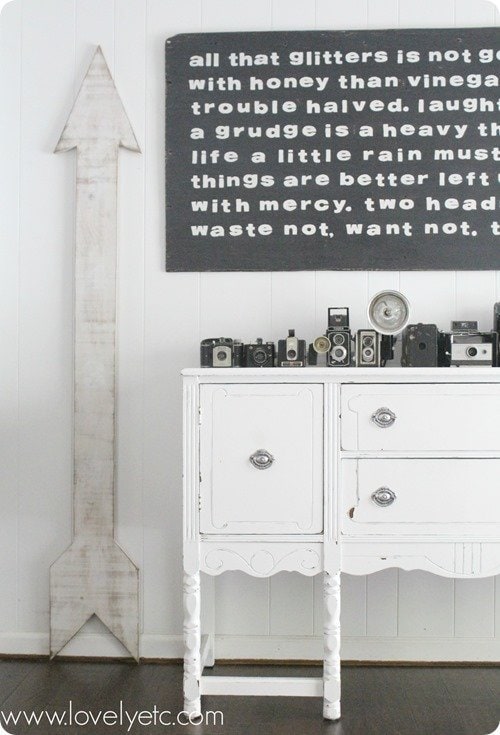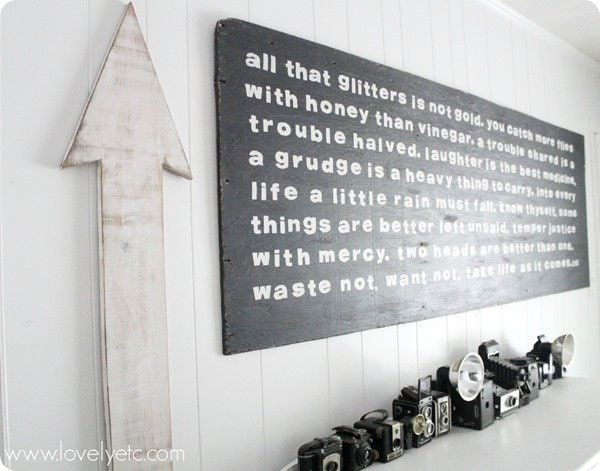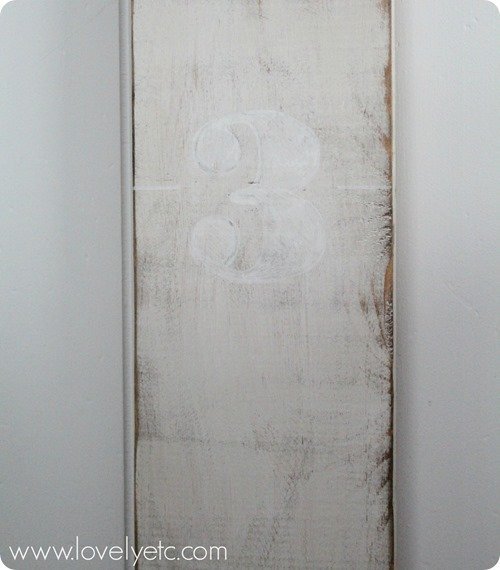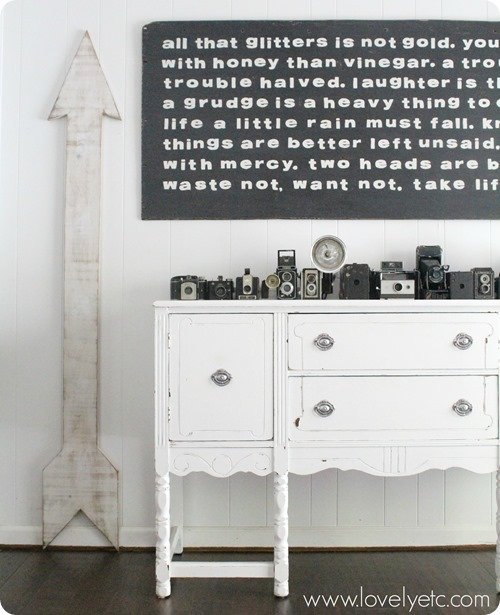 I love how it turned out and can definitely be happy having this hanging around the house for years to come.
Anyone else out there thinking about attempting a DIY growth chart? Or for that matter, I think a chunky wooden arrow like this would look pretty awesome just as wall décor even without kids around. And please tell me that I am not the only one who is still loving arrows!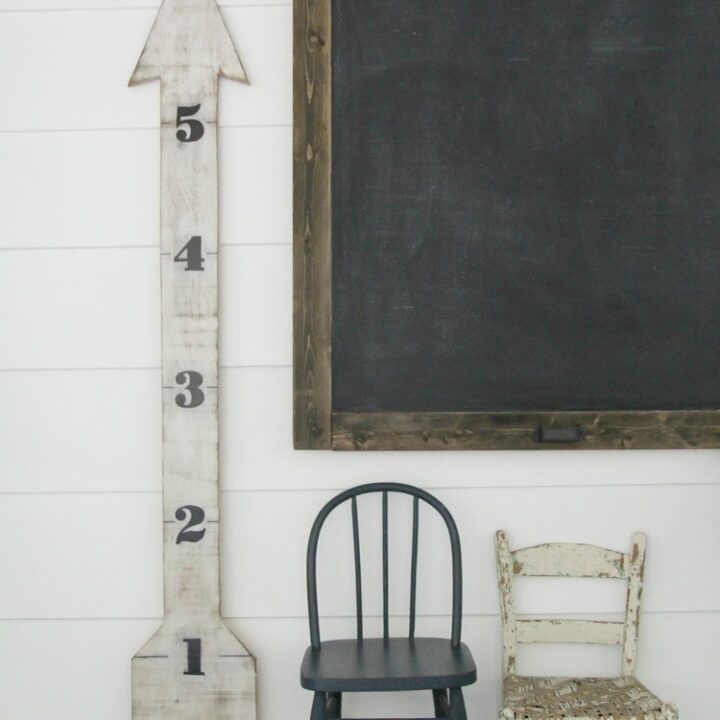 Giant Wooden Arrow Growth Chart
Yield: 1 Growth Chart

Prep Time: 1 minute

Active Time: 45 minutes

Total Time: 46 minutes

Difficulty: easy

Estimated Cost: $15-$20

Make a DIY growth chart that can be a part of your home decor for years. This is a classic style that you will be happy to display, while still keeping track of important steps in your children's lives.
Materials
1'x 8' shelf board
Pencil
Straight Edge
Sandpaper 100 grit
White Paint
Dark Stain
Clean Rag
Mineral Spirits
Sharpie Paint Pen
Tools
Jig saw
Tape Measure
Scissors
Instructions
Draw an arrow shape onto the board using a pencil and a straight edge.
Cut it out with a jig saw.
Sand any rough edges.
For a weathered white paint finish, paint the entire arrow with one coat of white paint and let it dry.
Lightly sand with 100 grit sandpaper.
Wipe on a coat of dark stain. Wipe the excess stain off using a clean rag dipped in mineral spirits.
Use a tape measure and pencil to mark where each number should go.
Print an outline of the numbers 1 through 6 in the font of your choice. Or use a number stencil if you prefer.
Trace each number onto the wood with the paint pen.
Recommended Products
As an Amazon Associate and member of other affiliate programs, I earn from qualifying purchases.