Learn how to paint any dresser with my tried-and-true method for painting furniture with a beautiful paint finish that will stand the test of time.
I've been looking for a piece of furniture for a blank wall in our family room for several months.
We used to have our kids' DIY play kitchen there but I'd moved it to my boys' bedroom, leaving a big open space.
I stalked Facebook marketplace and Craigslist for several weeks before realizing I already had a piece of furniture stashed away in the basement that just might work.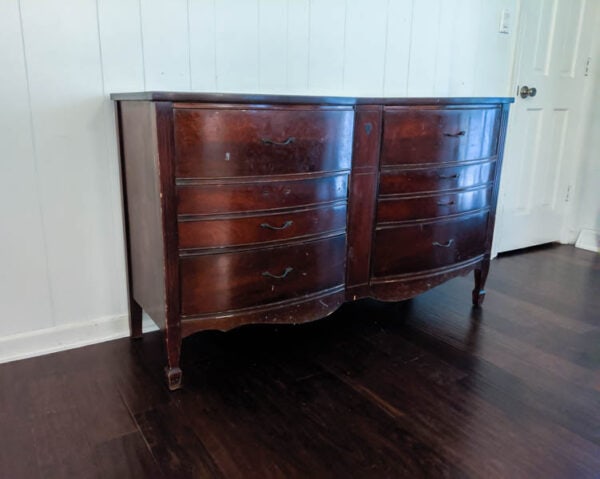 Obviously, this dresser is meant to be bedroom furniture; but when I moved it into place, it was a perfect fit for this space.
My favorite thing about long, low dressers like this is how well they can work in almost any room as a buffet, a console table, or simply extra storage.
This particular dresser was covered in scratches, scuffs, and water rings, but I love the simple, classic lines.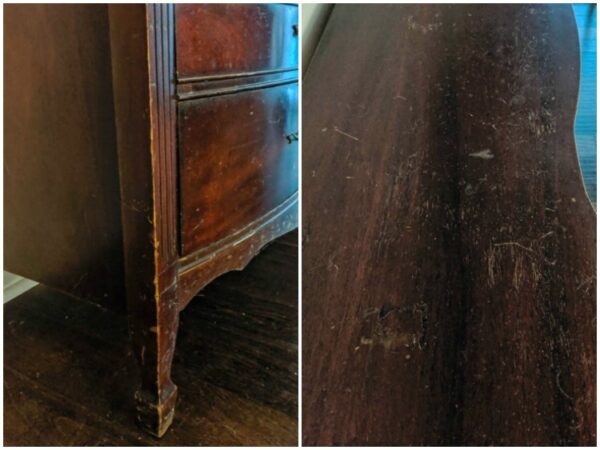 I knew it could be a beautiful piece again with a simple paint job.
I'm sharing the steps I used to turn this dresser back into a beauty with a simple paint job.
This same exact method will work on any type of dresser.
After painting many different types of furniture and making many mistakes, I have figured out a simple process for ensuring I get a perfect paint finish every time.
This method works for any type of wood, any type of furniture, and even any type of paint.
And most importantly, it gives a paint finish that will last – even in a house with three little boys!
Because there is nothing worse than spending hours painting a piece of furniture only to have it chipped and scratched within weeks.
Also, after several months on hiatus, my fellow Furniture Flippers are back in action sharing their own latest furniture DIYs. You can find them all at the bottom of this post.
This post contains affiliate links which means if you make a purchase after clicking a link I will earn a small commission but it won't cost you a penny more. Click here to see my full disclosure policy.
Materials for painting a dresser
How to paint a dresser
Preparing the dresser
The most important part of any furniture painting project is the prep.
Start by removing the hardware and setting it aside.
There may be some hardware that isn't removable – keyholes, decorating pieces, or stubborn drawer pulls.
You can carefully cover any hardware that can't be removed with painter's tape.
Give your dresser a really good cleaning. As tempting as it may be, don't skip this step.
Any dust, grease, or residue on your dresser will prevent the paint from adhering.
I like to use Krud Kutter PrePaint Cleaner for cleaning. It's quick, thorough, and doesn't have to be rinsed off.
I've also used a simple mixture of water and dawn dish soap in the past and that also works well.
Once everything is cleaned, do a quick assessment of your dresser.
Are there broken parts that need to be repaired? Peeling veneer that needs to be removed?
If so, make any necessary repairs.
This is a good time to decide what type of hardware you want to use on your dresser once it is painted.
You don't have to choose the exact hardware yet, but you need to know if you will be able to reuse the holes from the original hardware.
If you will not be reusing the old holes, fill them with wood filler. At the same time, you can also fill any deep scratches and dents with wood filler.
I chose to reuse the hardware for my dresser so I didn't need to fill the holes.
There were, however, circular scratches around each of my drawer pulls, likely from hardware that was used at some point in the past, that needed to be filled.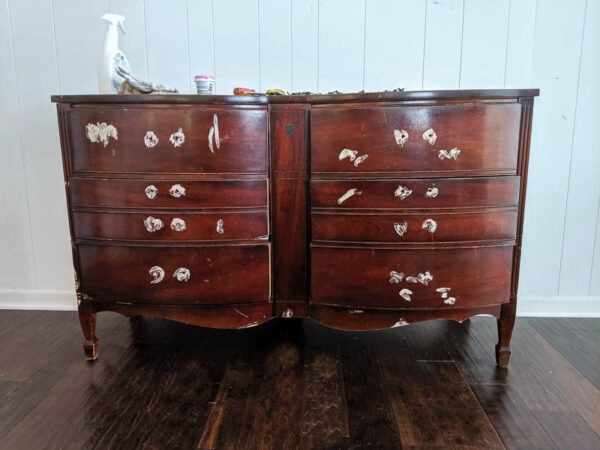 Once the wood filler has fully dried, sand it smooth with 220 grit sandpaper. At the same time, you can sand any rough spots.
You may need to do a second round of wood filler to get a completely smooth surface.
Then use a clean rag to wipe away the dust from sanding.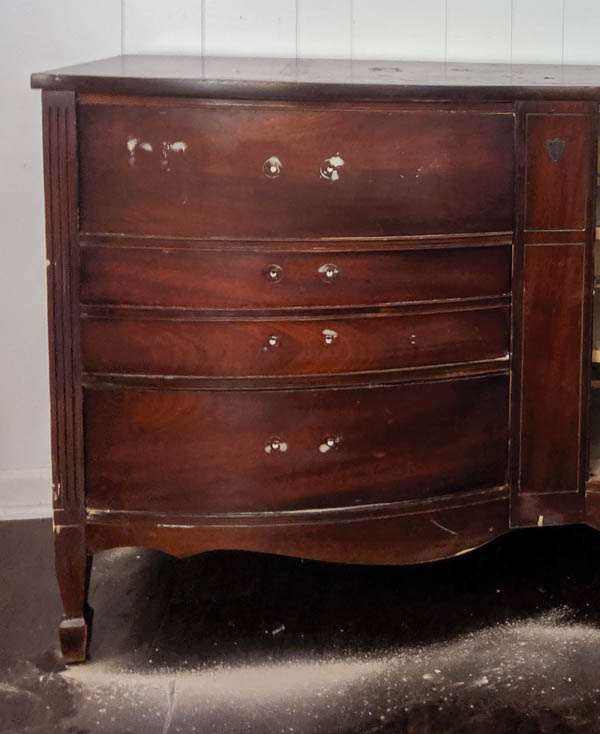 Priming the Dresser
Once your dresser is prepped for paint, the next step is primer.
But wait, why are we using primer? You don't need to use primer when you use chalk paint!
Well, that is true – sort of. You do not need a primer to make chalk paint stick to your furniture.
However, primer also does another important job when painting furniture: it helps seal in the wood tannins that love to ruin a beautiful paint job.
Have you ever painted a piece of furniture a beautiful, bright white only to have it start yellowing?
The majority of the time, this is caused by wood tannins.
Even if the yellowing doesn't show up until the very last coat of paint, it's still likely caused by wood tannins.
To prevent this, you need to seal in the wood tannins before you start painting. A water-based primer will not work for this.
There are a couple of products that do work, but by far my favorite is a good oil-based primer.
I use Zinsser Cover Stain oil-based primer all the time and it has never failed me.
And yes, you can use any paint over an oil-based primer including latex paint or chalk paint.
Have more primer questions? Primer can be confusing but it is so important for a great paint finish, so I wrote a guide answering all of the common primer questions.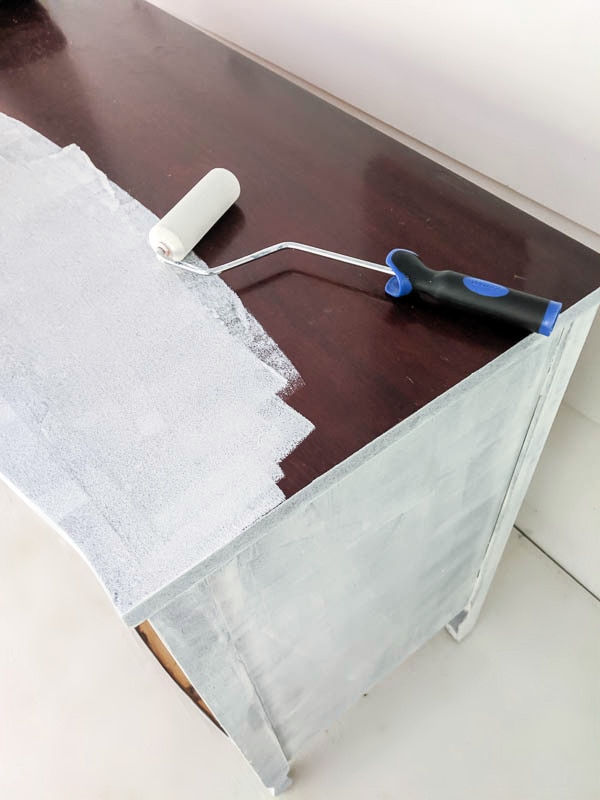 I find it easiest to remove the drawers before priming and painting.
Use a paintbrush to apply primer to detailed areas and hard-to-reach places and then use a small foam roller to apply primer to all of the large, flat surfaces.
You can use a paintbrush for the whole thing if you prefer, but using a roller saves a lot of time and often gives a smoother finish.
Don't be alarmed if the primer coat looks really splotchy and bad – that's totally normal.
Once you add paint, it will start to look much better.
Since we are using an oil-based primer, you will need to clean your paintbrush using mineral spirits.
You cannot clean oil-based products with water.
If you get some on your skin, I have found that baby oil or an oil-based facial cleaner works well to help wash them off.
Painting the dresser
Finally, it is time for the paint! As I mentioned before, you can really use any type of paint using this method.
Plain latex paint will work just fine, as will chalk paints and other specialty furniture paints.
If you want a bit more guidance on which paint to use, I have a whole post about the best paints for furniture.
For this dresser, I used Dixie Belle chalk paint. I've used many brands of chalk paint, but this was my first time using Dixie Belle and I really liked it.
It went on smoothly and covered well.
I had a really hard time choosing a color for my dresser. I knew I wanted to use a light, bright color since it would be in a room that doesn't get a lot of natural light.
But I didn't want to paint it white since it would be against a big white wall. I ended up making a custom color by mixing the Dixie Belle colors French Linen and Cotton.
It's a putty/greige color and is a great light, neutral color that still stands out against all the white.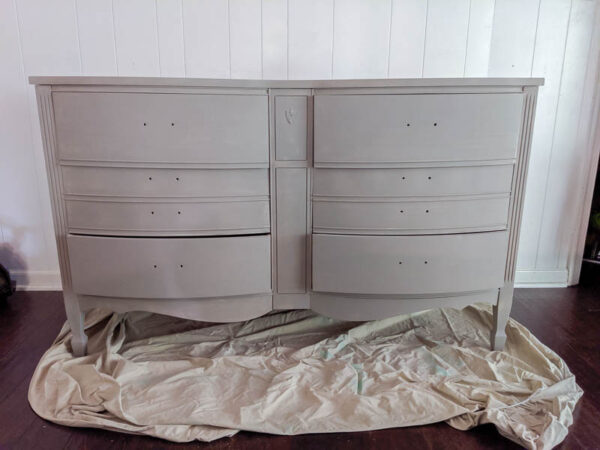 You can apply your paint the same way you did the primer.
Use a paintbrush for edges and small details and a foam roller to paint the large, flat surfaces.
You will probably need two coats of paint to get even coverage.
Sealing the dresser
Sealing your painted furniture is one of the most important things you can do to make sure your paint finish lasts. (I learned this lesson the hard way!)
Furniture painted with latex paint and chalk paint always needs to be sealed.
There are some other awesome furniture paints out there that claim they do not have to be sealed.
And they don't. However, they will last much longer with a good sealer on top.
A good sealer or topcoat will protect your beautiful paint finish from scratches, chips, scuffs, and stains.
Sealers also protect your paint finish from water and create a surface that is easy to clean.
My favorite sealer to use on painted furniture is General Finishes High Performance Top Coat.
It is easy to apply, holds up well, and works well over all types of paints and sealers.
Want to see more sealer options? Check out my guide to the best and worst sealers for painted furniture.
I typically apply my sealer using a good, quality paintbrush. This time I decided to try something different.
I used the Dixie Belle blue sponge applicator and I'm a big fan. The sealer went on incredibly smoothly with absolutely no brush marks.
I will definitely be using this again in the future. (I don't recommend a roller for applying sealers; they sometimes leave behind air bubbles and it is generally harder to get a smooth finish.)
Replacing the hardware
Once the sealer is fully dry, you can gently add your drawer pulls and other hardware.
You can also remove the painter's tape from any hardware that couldn't be removed.
Be very careful removing the painter's tape because it is easy to accidentally pull off some of the paint as well.
If you have a stubborn piece of tape that seems sealed in place, carefully use a razor blade or other sharp surface to cut around the edge where the painter's tape meets the painted surface before removing the tape.
For my own dresser makeover, I chose to reuse the hardware it came with.
I kind of liked the simple shape and of course, not needing to buy new hardware was a money-saver.
I did give them a bit of an update though. I dry-brushed the hardware with DecoArt Metallics champagne gold paint.
This is one of my favorite gold paints because it is very subtle and not too brassy.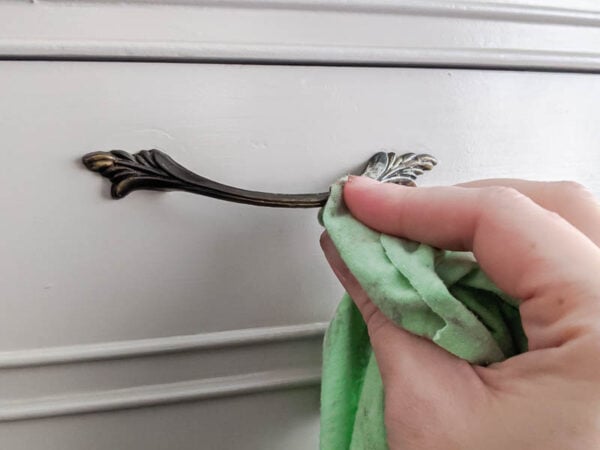 To apply the paint, I dipped a clean rag lightly into the paint and then wiped off any excess before lightly dabbing it onto the hardware.
The original black still shows through but I think the touch of gold gives just the right amount of shine and style.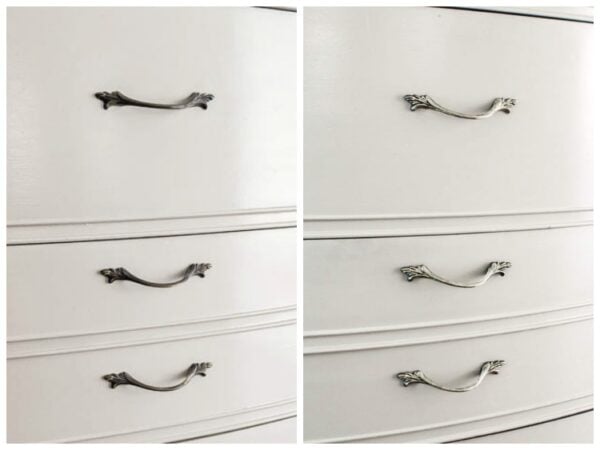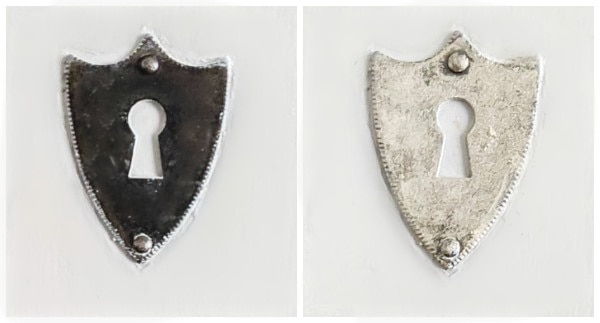 Be extra gentle with your dresser for the first several weeks after you finish painting it. It typically takes paint 21-30 days to fully cure or harden.
During those first few weeks, it is especially easy to accidentally scratch the paint finish, even after using a good sealer.
Painted Dresser Reveal
And here's how my sweet little dresser looks now: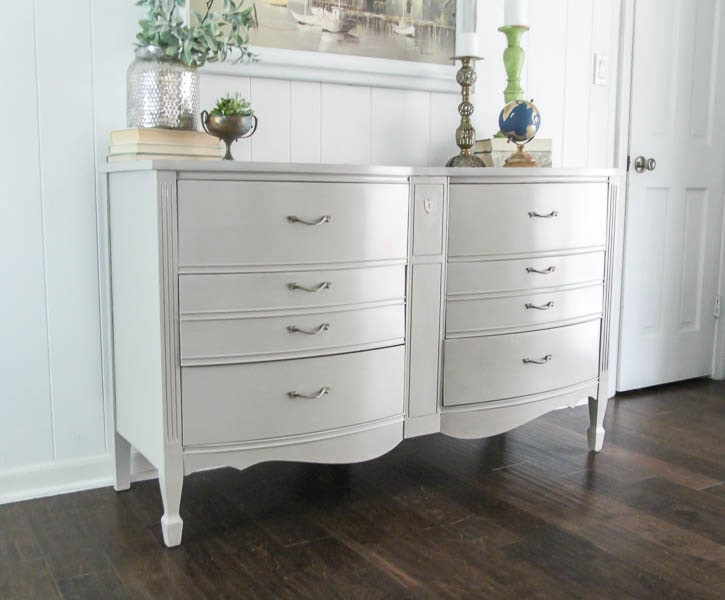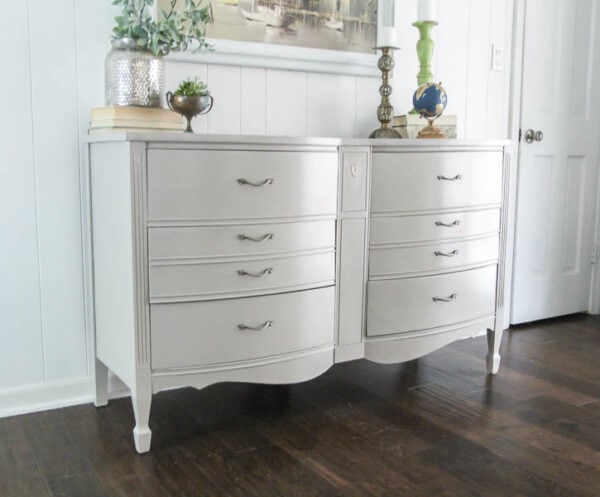 I absolutely love how this painted dresser turned out. The simple, fresh paint really accentuates the classic lines and shape.
And the color is the perfect non-white neutral.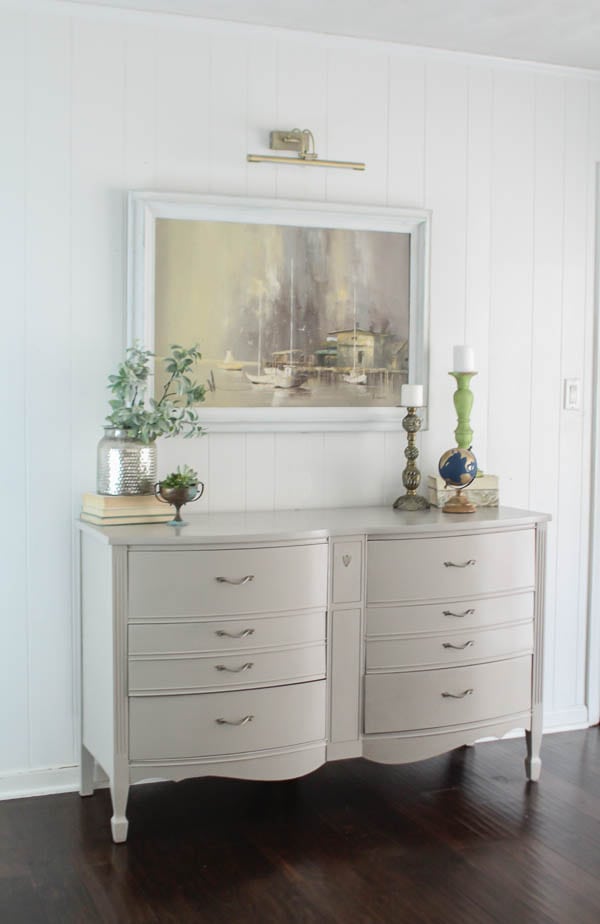 Here's the before and after – talk about a huge improvement!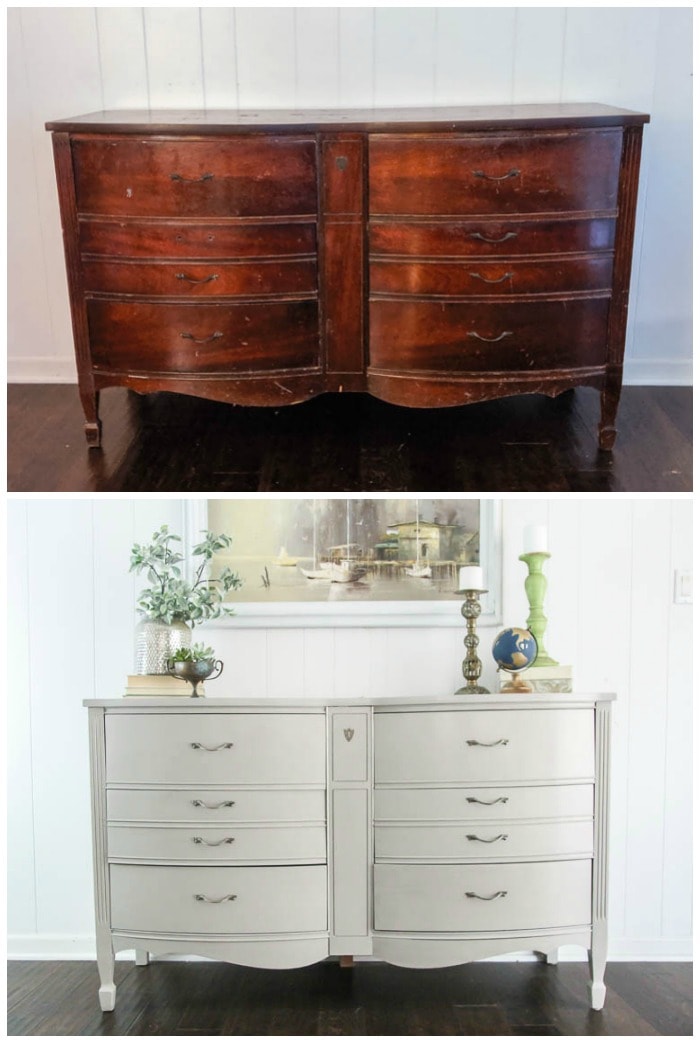 At first, I was planning to hang a mirror over the dresser, but when I tried it, the dresser/mirror combination was giving off really strong bedroom vibes.
Not what I was going for.
Instead, I hung this pretty painting I found at a yard sale and a brass picture light over it.
I love this combo and I think it definitely helps the dresser look right at home in our family room.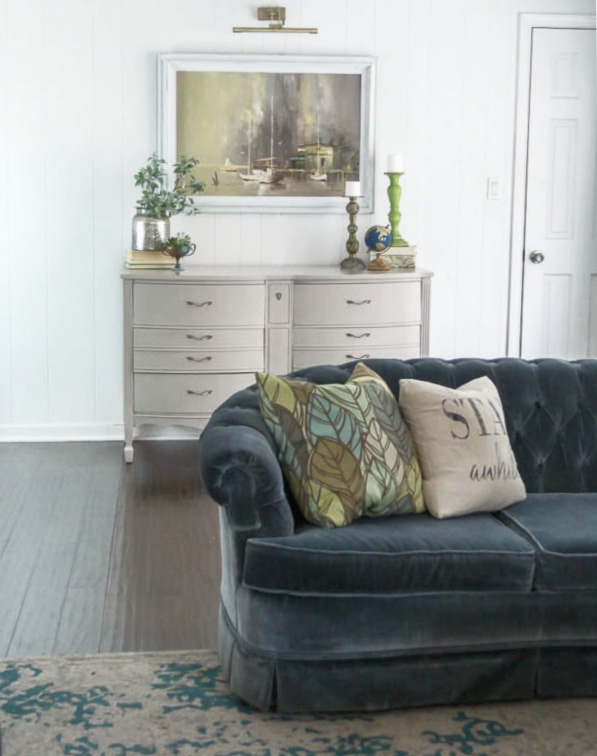 More Furniture DIYs
Ready to see what my fellow Furniture Flippers are up to this month? Just click the links below to visit each furniture DIY.
I'd love for you to pin this post on Pinterest!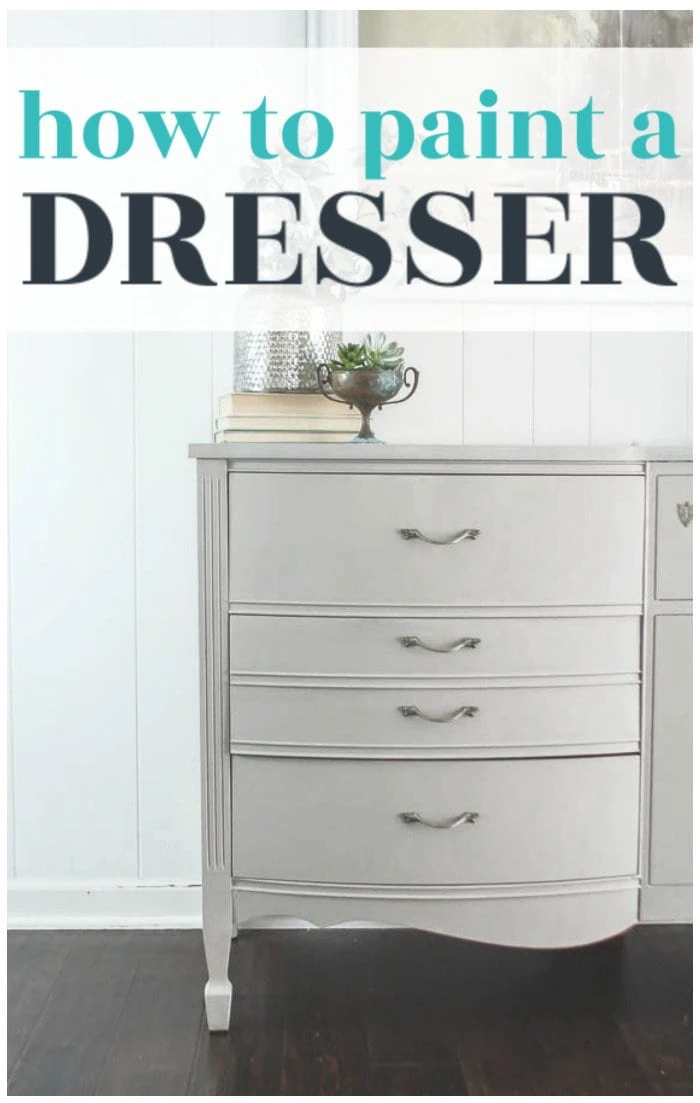 Happy painting!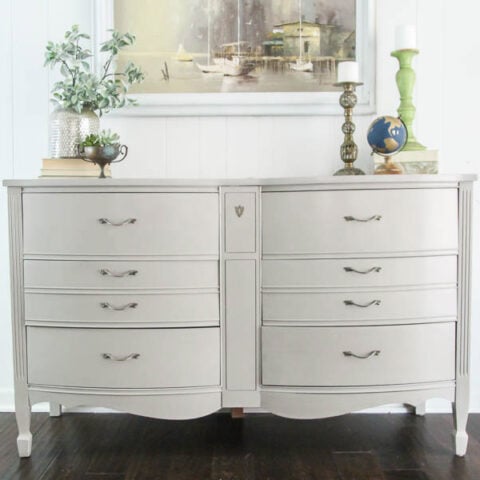 How To Paint A Dresser That Will Last
Paint a dresser or other furniture with a gorgeous paint finish that will last for years to come. Learn this easy painting method.
Materials
Cleaner
Rag or paper towels
Painter's tape
Wood filler
220 grit sandpaper
Oi- based primer
Paint
Sealer
Blue sponge for applying sealer
Tools
Paintbrushes
Foam roller and paint tray
Instructions
Remove the hardware and set it aside.
Give your dresser a good cleaning with Krud Kutter PrePaint Cleaner.
Make any necessary repairs to the dresser.
Use wood filler to fill in any holes. Smooth with sandpaper.
Prime the dresser with Zinsser Cover Stain oil-based primer using a paintbrush for small areas and a foam roller for large areas.
Begin painting by using a paint brush for edges and small details, and a foam roller for large, flat surfaces.
Allow paint to dry and add a second coat.
Apply a sealer using a good, quality paintbrush, or with a sponge applicator.
Once sealer is dry, add the drawer pulls and hardware.