This small pantry makeover is full of simple and inexpensive ideas for small pantry organization that truly work for our family of five. Our small pantry closet is now bright, organized, and all-around a much more pleasant space!
I knew our pantry was a disaster. It was disorganized, it was hard to find anything on the deep shelves, and the flooring and walls were an ugly mess.
But even knowing all of that, I was not prepared for how much I would love our freshly cleaned and organized pantry.
I thought it would be a nice change and make finding what I need for dinner easier. And it certainly does make cooking dinner easier, but it is way more than just a nice change.
I freaking love our new pantry! I never thought I would say that. I love it so much that I really wish I had done this years ago.
It's bright and fresh.
I can see everything we have in seconds.
It's easy to find exactly what I need.
It's easy for my kids and husband to find what they need – and actually put things where they go.
Unloading groceries is much faster than before.
And it's just so much prettier!
This post contains affiliate links which means if you make a purchase after clicking a link I will earn a small commission but it won't cost you a penny more. Click here to see my full disclosure policy.
Our pantry before the makeover
Here's how the pantry started out a couple of weeks ago: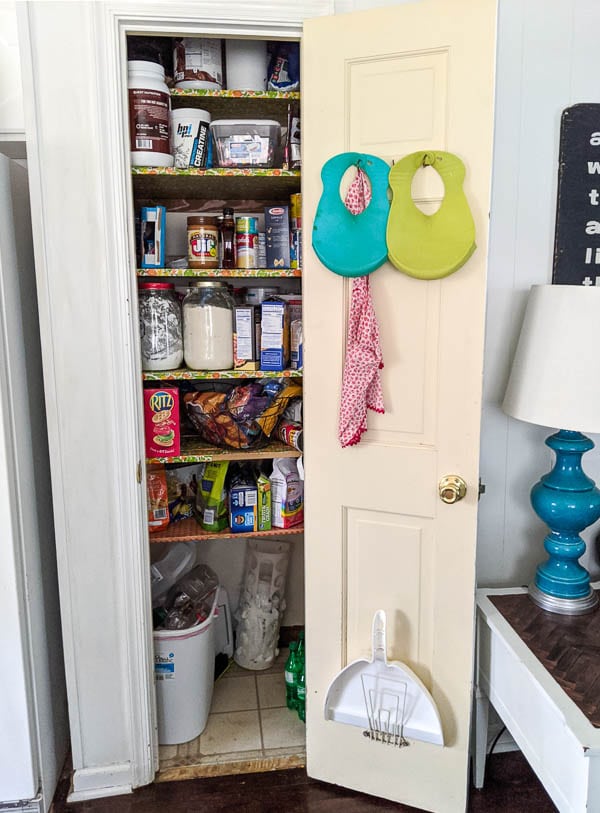 There were quite a few problems.
It was dark and dingy and the flooring needed to be updated to match the rest of the kitchen.
The shelves were too deep and too close together. It was really hard to see what food we had and things were constantly getting lost in the back.
There wasn't any real organization and it took way too long to find things.
Updating the pantry floor and walls
I started by removing everything from the pantry, including the shelves.
Then I got to work removing the three layers of old flooring. This job was a major pain, took a ton of elbow grease, and reminded me exactly why I didn't tackle this earlier.


Once the old flooring was gone, I laid the new hardwood flooring. Luckily, we still had some extra pieces from when I installed the flooring in the kitchen several years ago.
The walls and door got a fresh coat of paint. (Since I knew that door was painted with oil-based paint, I made sure to follow the correct process for painting over oil-based paint with latex. It's one of those things that I've messed up before and swore to never do again!)
Even though the walls were already whitish, a fresh coat of paint made such a huge difference.
Once the paint was dry, I replaced the baseboards and painted them white as well. I even replaced the old shiny brass doorknob with a black one to match the rest of the house.
I was determined to give the pantry the gold star treatment this time around!
Rearranging the deep pantry shelves
Then I got to work on the shelves.
I knew it wasn't going to work to keep those extra deep shelves. Originally the shelves were two feet wide and almost two feet deep.
They were way too deep to see the things in the back without constantly having to shuffle everything around.
I also knew I wanted to space some of the shelves out a bit more. They were just too close together which made it even harder to see what was on them.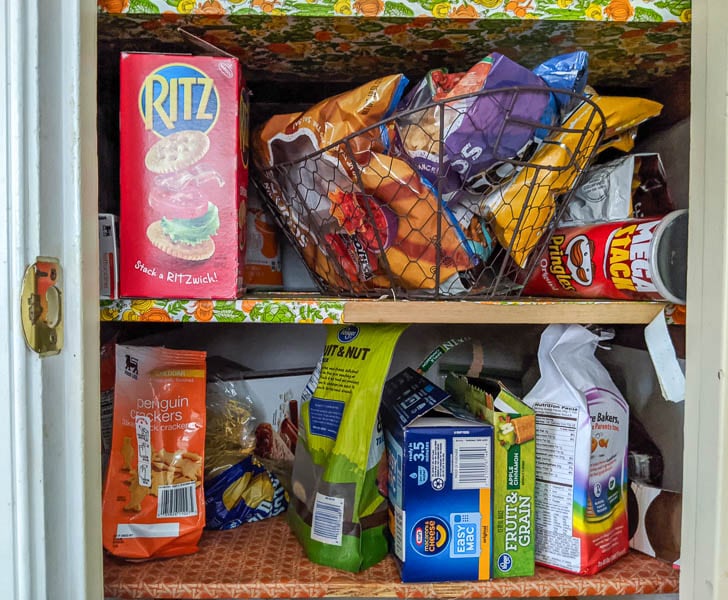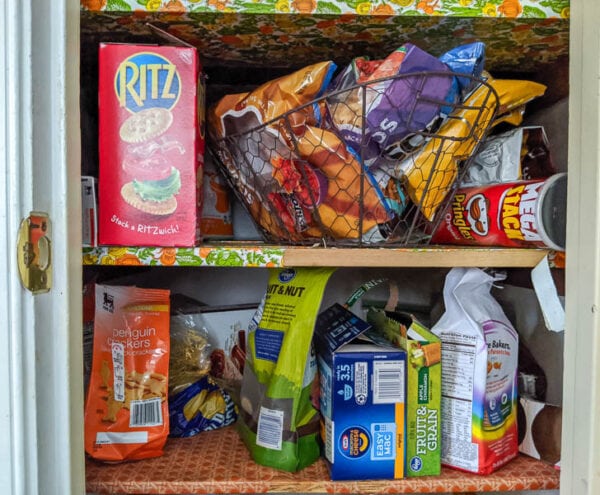 Our pantry shelves are each supported by 1″x 2″ boards on each sidewall. I removed the supports that were too close together and spaced them a bit further out so that each shelf is now 11 inches apart.
I also decided to make my shelves 15″ deep instead of the 21″ they were before.
I was able to save money by reusing the original shelf boards. Each of the deep shelves was actually made of a bunch of smaller planks laid next to one another.
I rearranged the boards and simply left out the ones I didn't need. I did need to use my table saw to cut down a couple of boards so that each shelf is the same depth.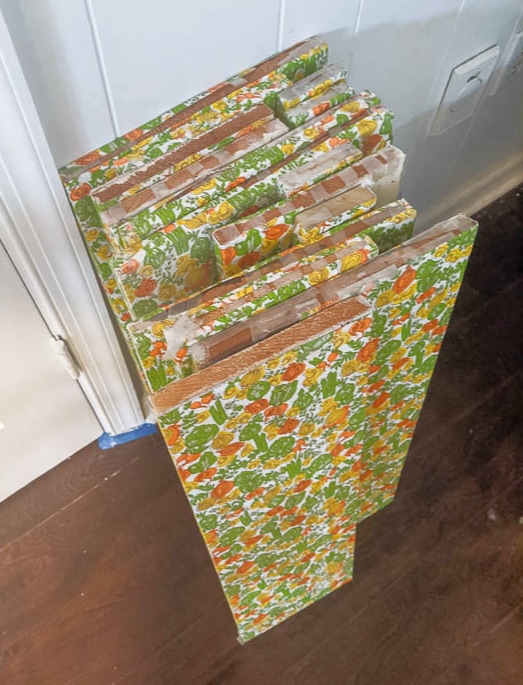 I removed all of the old green and orange shelf liners to find a collection of misfit boards in all colors. Apparently, the last owner of our home was also into reusing what you have.
So I primed and painted each shelf bright white and they looked brand new.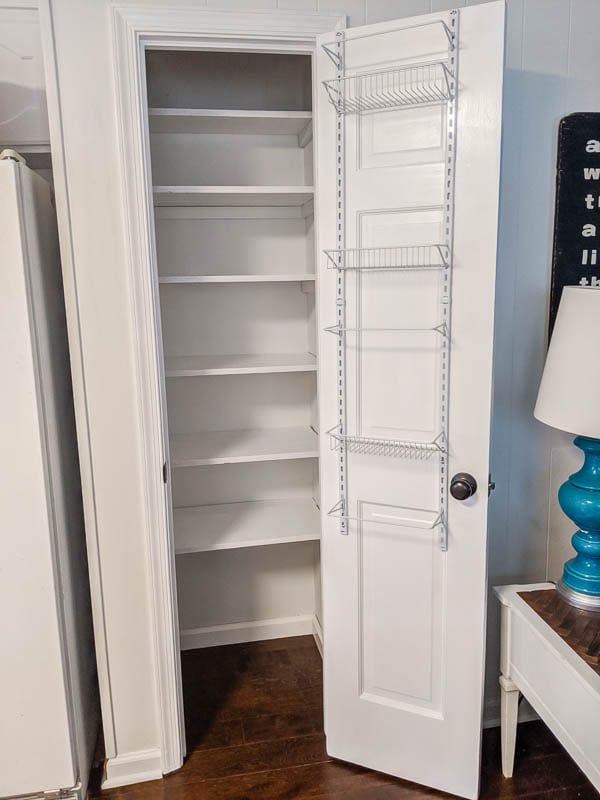 I also added additional storage to the inside of the door which was just wasted space before. I bought these 12 inch wide shelves from Amazon and they work perfectly for our tiny door.
I also added just a touch of character to the outside of the door. I couldn't resist this adorable little pantry sign.
And I've been looking for a home for this beautifully preserved boxwood wreath a friend gave me for Christmas.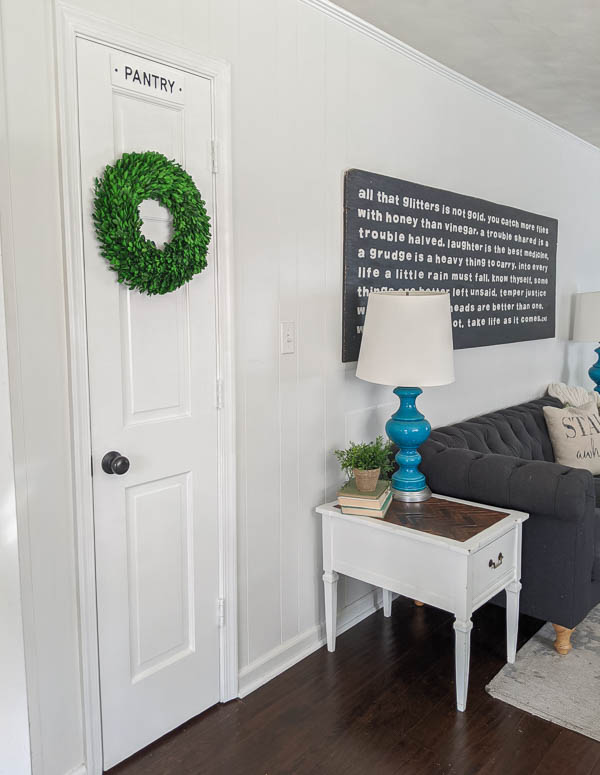 How to Organize a Small Pantry
Once everything was fresh and clean, it was time for the most important part – organizing everything!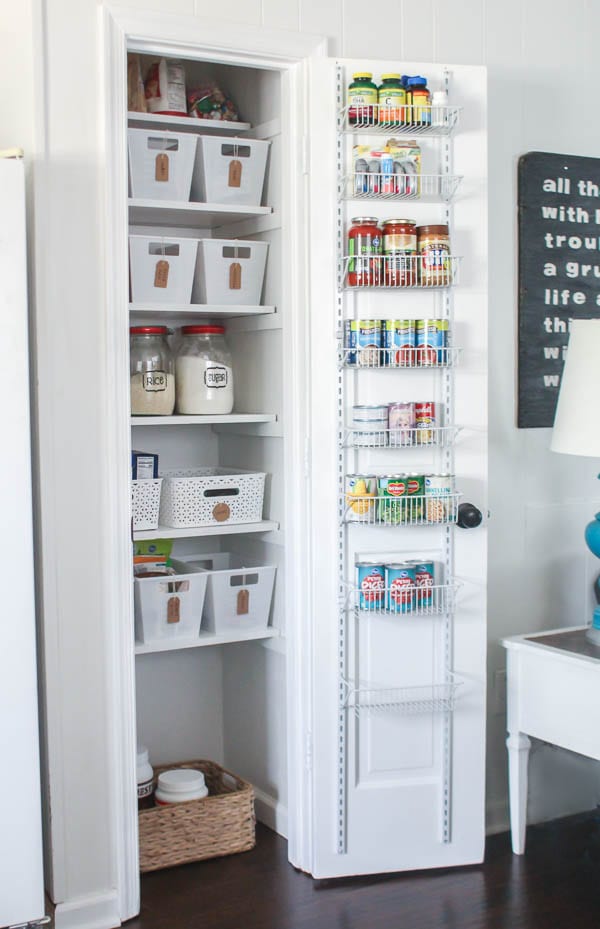 As I mentioned when I shared my plans for this pantry update, I had a few organizational goals in mind.
We needed it to be easy to find everything.
It needed to be fast and easy to put groceries away.
We needed a system that's simple enough that my children and my husband could help maintain it. (AKA, it wouldn't be destroyed in a day.)
My main strategy was to group like things together in baskets and bins so that they can be found quickly.
I also wanted to make sure that the kids' snacks were on the bottom shelf while things I don't want them to get for themselves like candy was tucked away on the top shelf.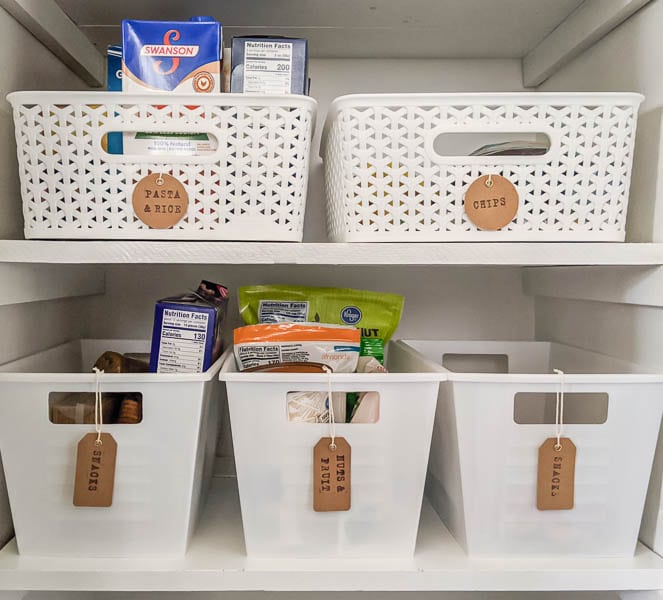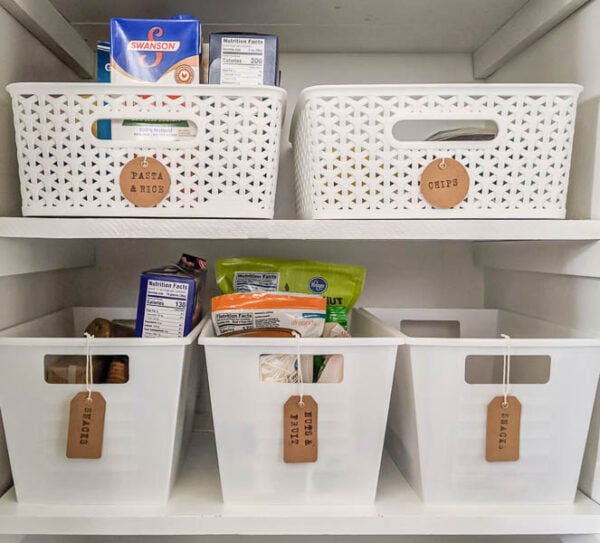 I really debated which things it would be helpful to take out of the original packaging. While I want things to be pretty and easy to find, I also do not want to make unloading groceries take any longer than it has to.
I already keep flour, sugar, oats, etc. in glass jars, and that works well. I also decided to take individually packaged items like granola bars out of their boxes and dump them all into a bin.
This has been such a huge space-saver. We used to always have 4 or 5 half-empty boxes of various bars, crackers, and other snacks taking up space. Now everything fits neatly in one small bin.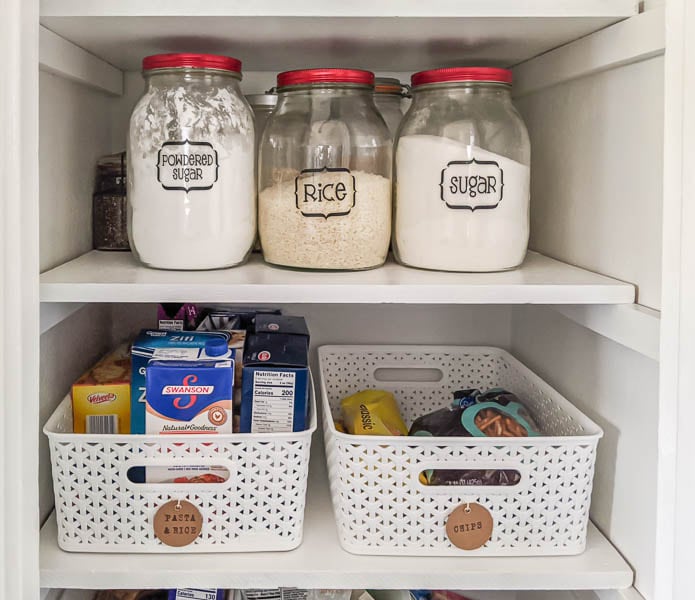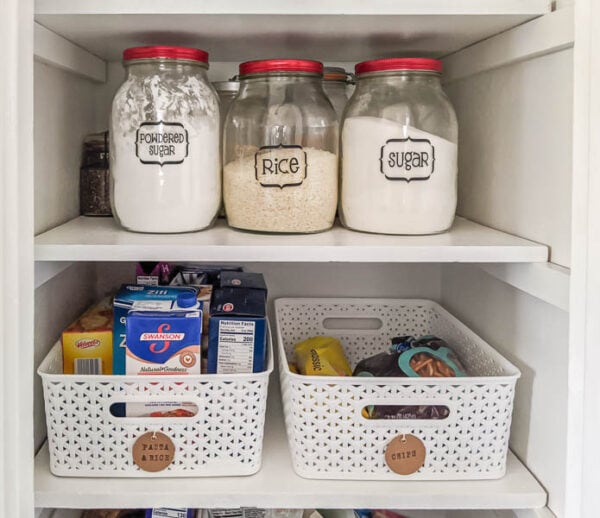 I chose not to pour chips, cereal, or pasta into reusable containers. As beautiful as it looks having rows and rows of matching clear containers, it was just going to take too much time without making it any easier to actually use those items.
The door organizer is the perfect size to hold cans, jars, and bottles.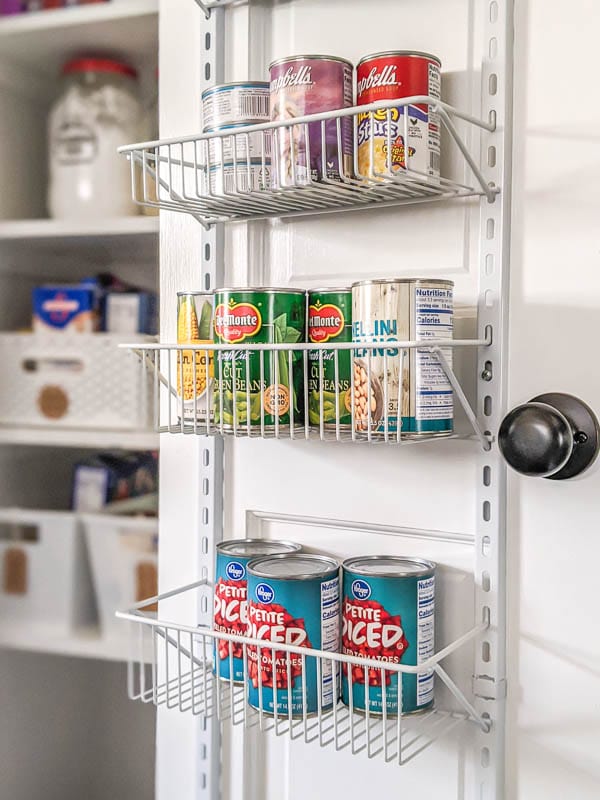 I was a little worried that losing the extra shelf depth would make it really difficult to fit all of our food inside. But the additional door storage helped offset any storage that was lost.
Inexpensive Pantry Storage Containers
As far as the bins themselves, the white locker-style bins are one of my favorite money-saving tricks. They are from Dollar Tree and they are perfect.
I use them for everything from storing toys to office supplies to crafting stuff. And now for pantry organization as well.
Dollar Tree has had these for several years not but they don't always have the plain white ones. A lot of times they just have brightly colored bins so whenever I see the white, I grab a whole stack!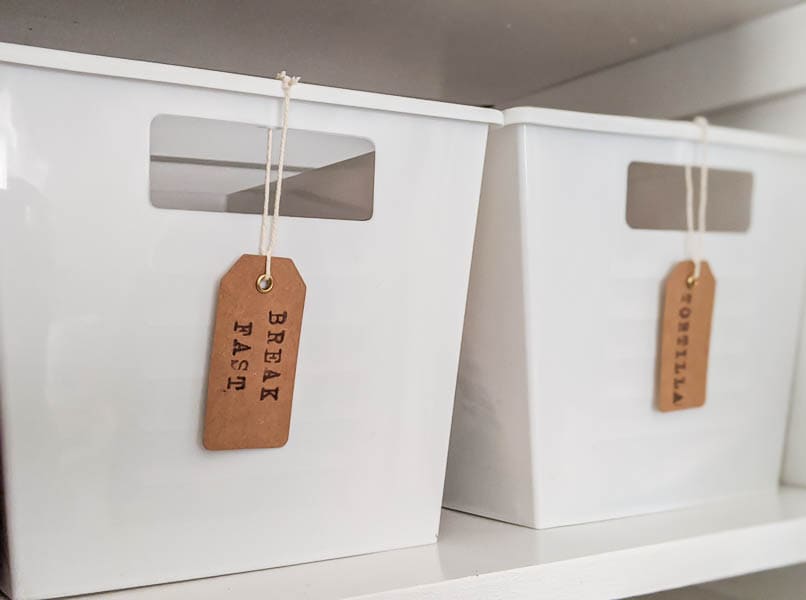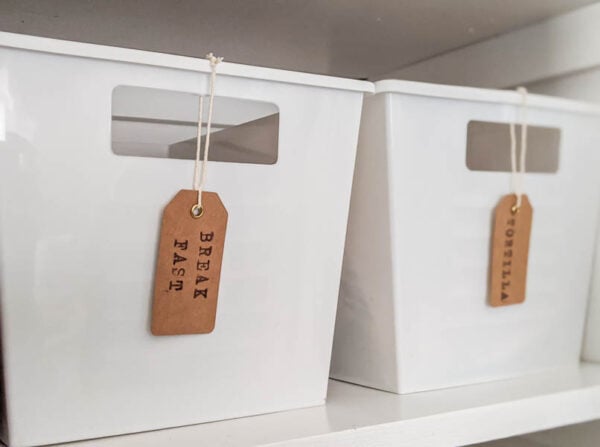 The two basket-weave white bins are another favorite from Target. These go on sale for $5 each pretty frequently.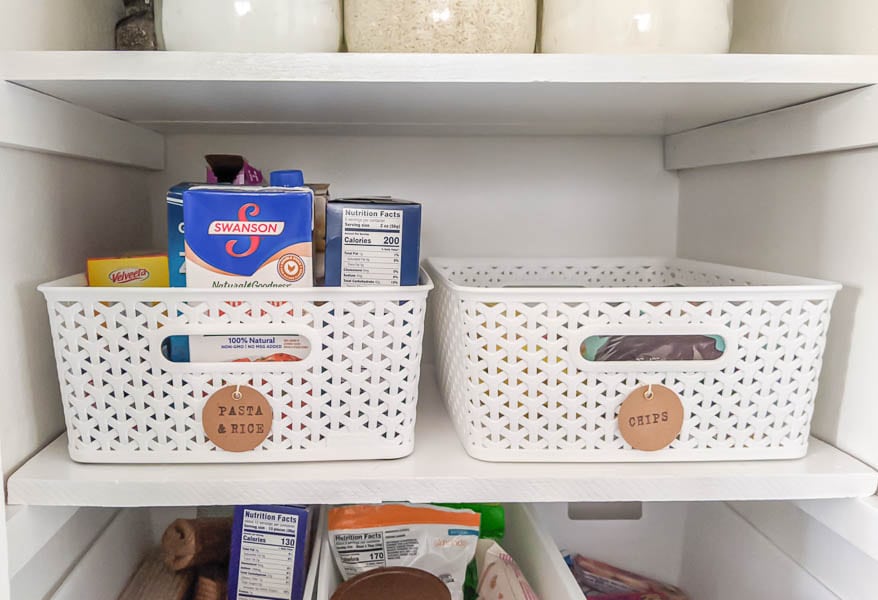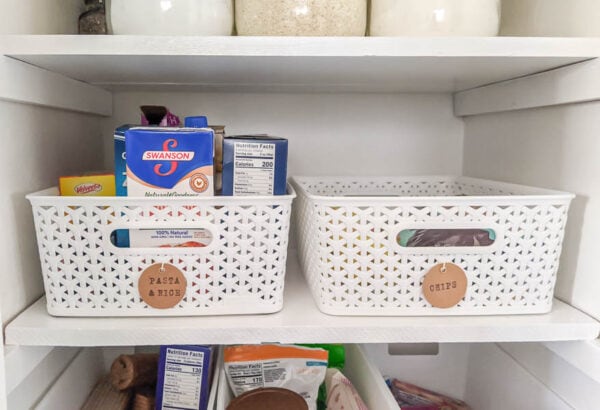 I also already had the large jars holding the baking goods. Large, air-tight jars are one of the things I am always on the lookout for at yard sales and thrift stores.
They are usually a dollar or less and they are so handy for storing all kinds of things from flour to leftovers to art supplies.
(I've had my jar labels for several years and they are no longer available. There are lots of similar clear jar labels available on Amazon.)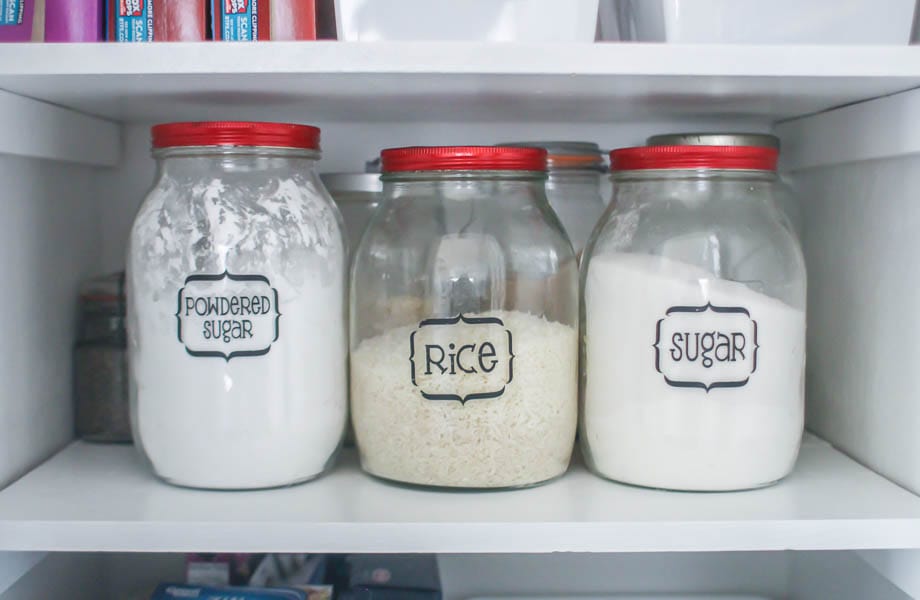 The final step was labeling each bin. They probably would have been fine without labels but it was a bit of extra insurance for whenever someone else helps put things away. I wanted it to be as easy as possible to keep things organized.
I bought a set of plain kraft tags and used alphabet stamps to add the words. I'm not sure exactly how long these will last – especially the ones of the bottom row that the kids are constantly getting in.
But for now, they seem to be holding their own.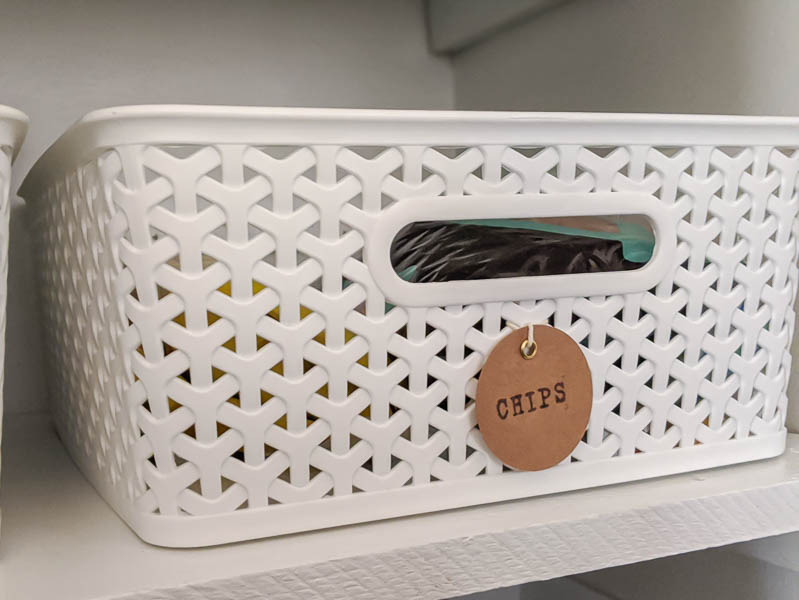 The Benefits of an Organized Pantry
It's been two weeks since I completed this pantry makeover and not only does it look beautiful, so far it is functioning exactly as I had hoped.
The kids can easily help themselves to snacks without making a huge mess. Making the grocery list is so much faster since I can quickly see exactly what we have.
Putting groceries away also takes less time. Even though it takes a couple of minutes to put things where they go and empty the granola bars and snacks into the bins, it's still so much faster than all the searching I had to do before, trying to find space to fit everything.
And everyone in the house quickly learned where everything goes and has been putting things back without a problem.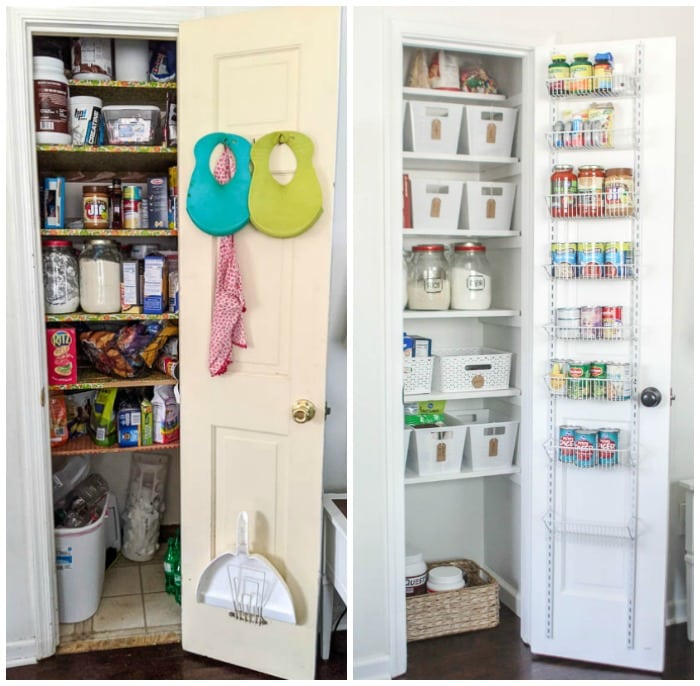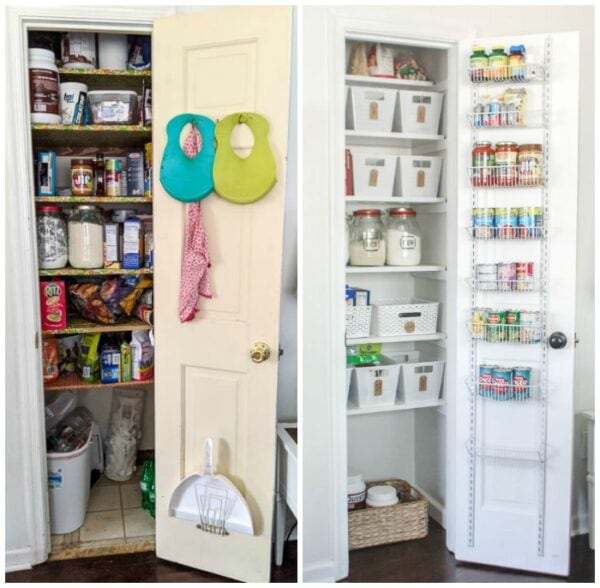 In fact, I'm loving the pantry so much, I've got a long list of other organizing projects I want to get to. I just tackled the junk drawer in our kitchen and I think I may take on the fridge next.
Pantry Source List
I'd love for you to pin this post on Pinterest!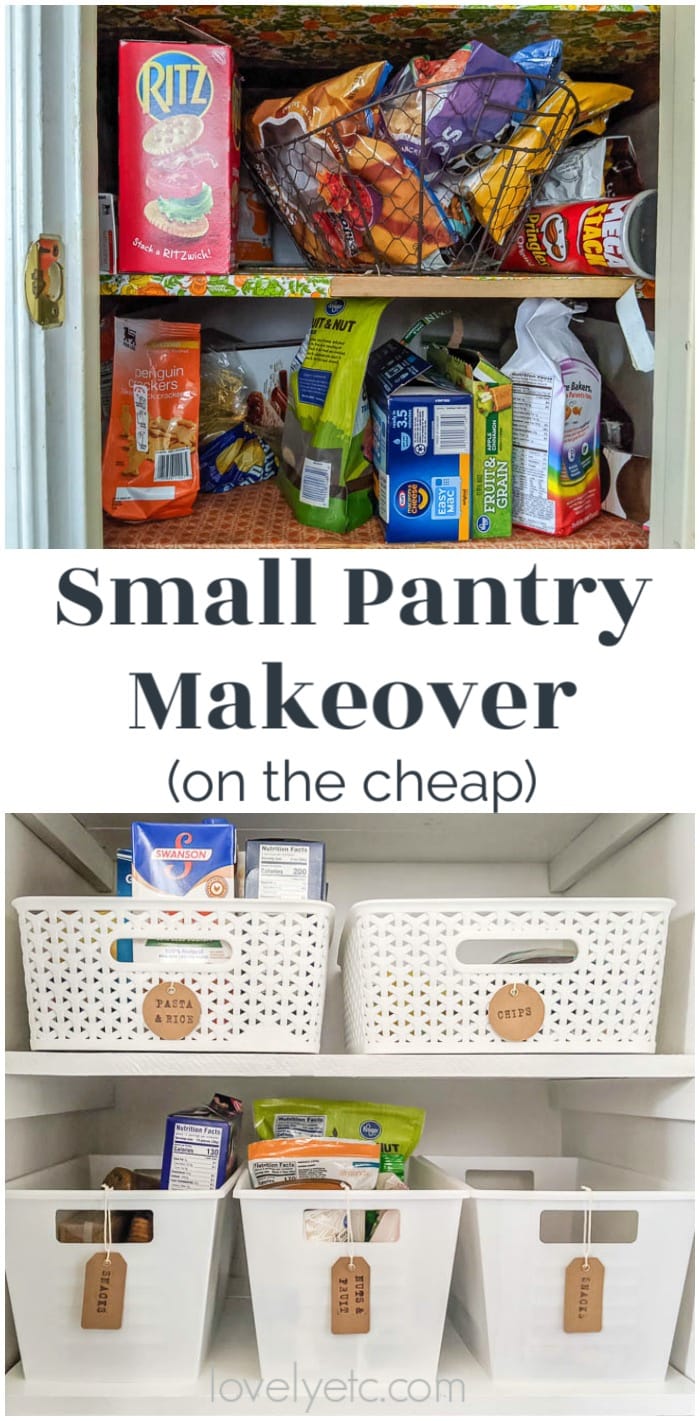 And if you want even more small pantry ideas, I gathered 25 of my favorite small pantry makeovers and they are full of smart organization ideas. It's definitely worth browsing!