10 smart ideas for finding yards of beautiful cheap fabric. Find the fabric you want for all your projects without spending a fortune.
I love gorgeous fabric, but it can be incredibly expensive! Yes I knew this before – but I am still shocked all over again every time I go searching for the perfect fabric for a project. And when I need a lot – like for making curtains or slipcovers or reupholstering furniture – it is especially problematic.
$25 a yard may seem manageable in order to get that amazing fabric you REALLY love…until you realize you need 6 yards. Which means $150 plus tax…and shipping.
And suddenly your sweet DIY project is going to cost way more than just buying something ready-made. Ouch.
Luckily I have spent the past few years meticulously sharpening my skills for being cheap while still having awesome stuff. So I have picked up a few tricks for getting large amounts of great fabric at a fraction of the usual cost and today I am sharing all of my secrets!
This post contains affiliate links which means if you make a purchase after clicking a link I will earn a small commission but it won't cost you a penny more. Click here to see my full disclosure policy.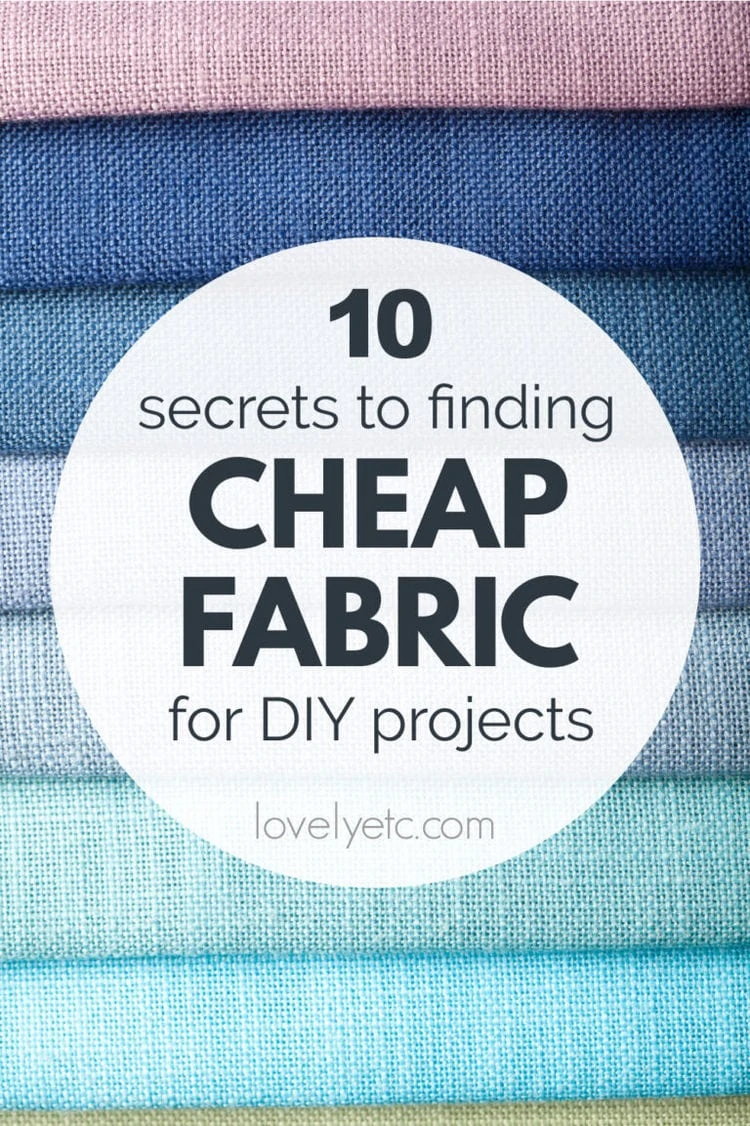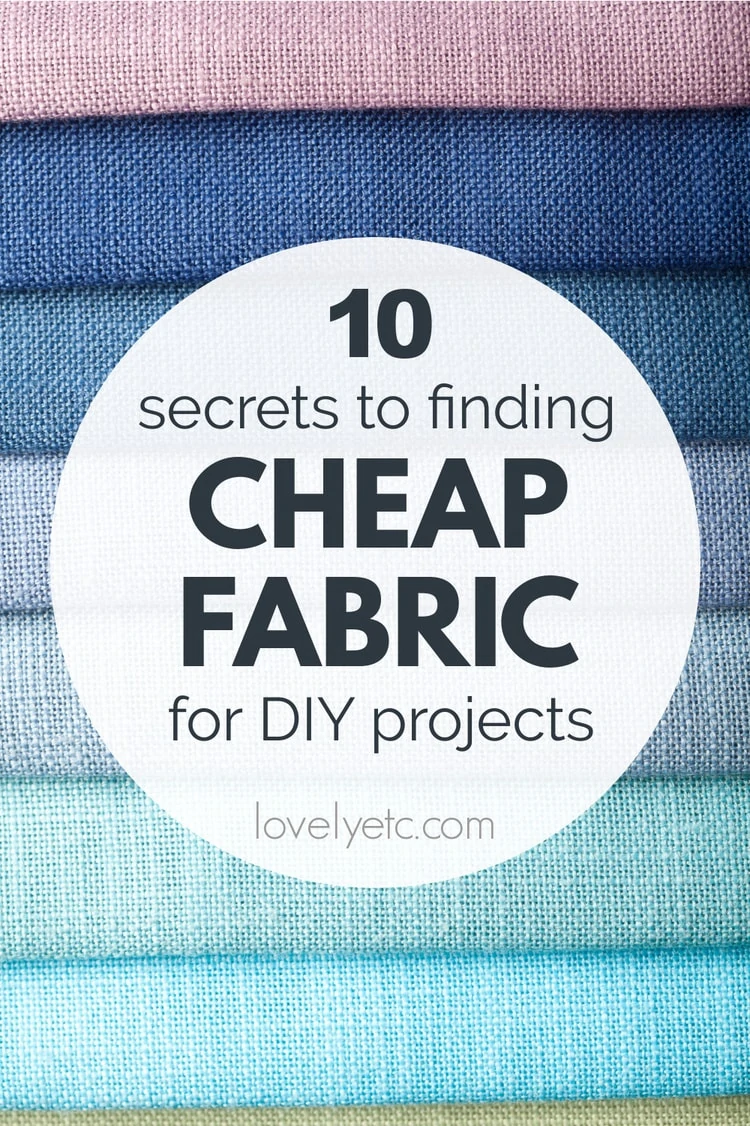 Warning: You have to be prepared to think outside the box to find the awesome deals. If it was obvious, everyone would be doing it!
Start at a fabric store – but don't buy anything there.
Visiting a fabric store might seem obvious – except we aren't going to the fabric store to buy fabric. We are just looking.
Before you can get creative with where you buy fabric, you need to get some basic knowledge. The main thing you want to pay attention to are the different weights of fabric.
In general, heavier fabrics are more durable. Pay attention to the weight of fabric in the home décor section versus the fabrics for making quilts or clothes. The home décor and upholstery fabric is much thicker and heavier. Feeling the difference will give you an idea of what you are looking for to meet your own particular fabric needs.
Actually buy your fabric at places other than fabric stores.
Yes, fabric stores are the obvious place to find fabric and the easy place. But certainly not the cheapest.
Think about the places you find cheap things for other parts of your home. Yard sales, thrift stores, Homegoods, TJMaxx, Marshalls, Target, Ikea.
Now you are probably thinking I have overlooked an important fact – it is nearly impossible to find large amounts of nice fabric at yard sales and thrift stores and most of those other places don't even sell fabric. That brings me to the next point.
Think outside the fabric bolt.
You can buy fabric – even large amounts – without buying it by the yard. There are dozens of other forms fabric takes.
Skirts and Dresses
If you do not need a lot of yardage, skirts and dresses are a great way to get fabulous designer fabric for pillow covers or other small projects. You can find great clothing at thrift stores or on clearance racks or just use your own castoffs.
Since all you want is the fabric, it totally doesn't matter if the fit is odd or the cut is strange. All you care about is the beautiful fabric.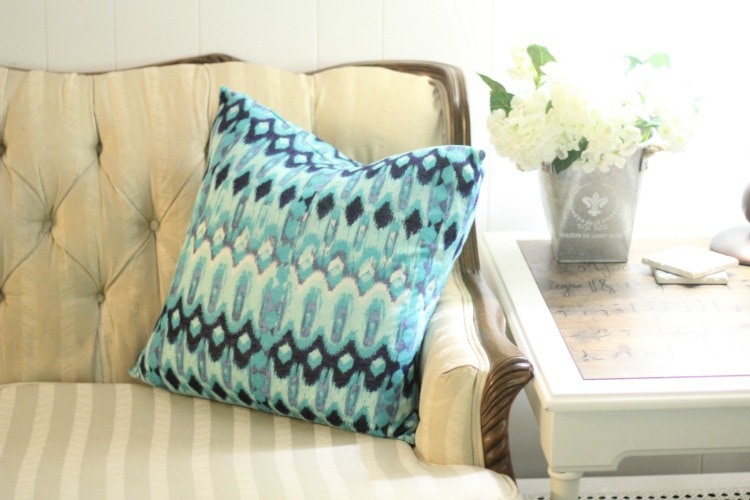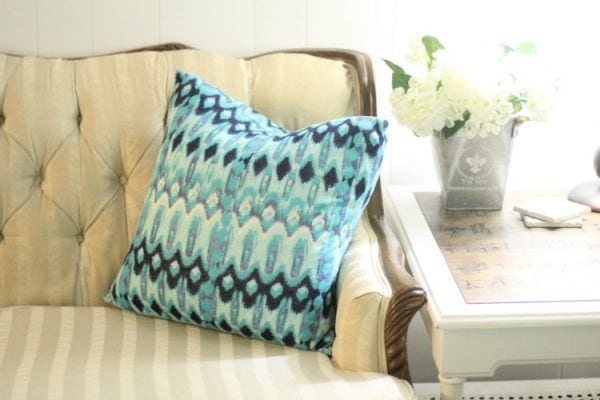 Gorgeous pillow made from a thrift store dress
Sheets
If you do not need a super heavy-duty fabric, look for pretty sheets. Vintage sheets in particular come in lots of really beautiful patterns and sheet sets offer several yards of fabric. Plus sheets are perfect if you need fabric that is wider than a typical bolt of fabric from the store.
Curtains
Again, lots and lots of yardage. And if you find these at a retail store rather than second-hand, you can even buy multiple panels to get extra large amounts. Plus curtains come in lots of beautiful colors and fabrics – everything from printed cotton to luxurious silk.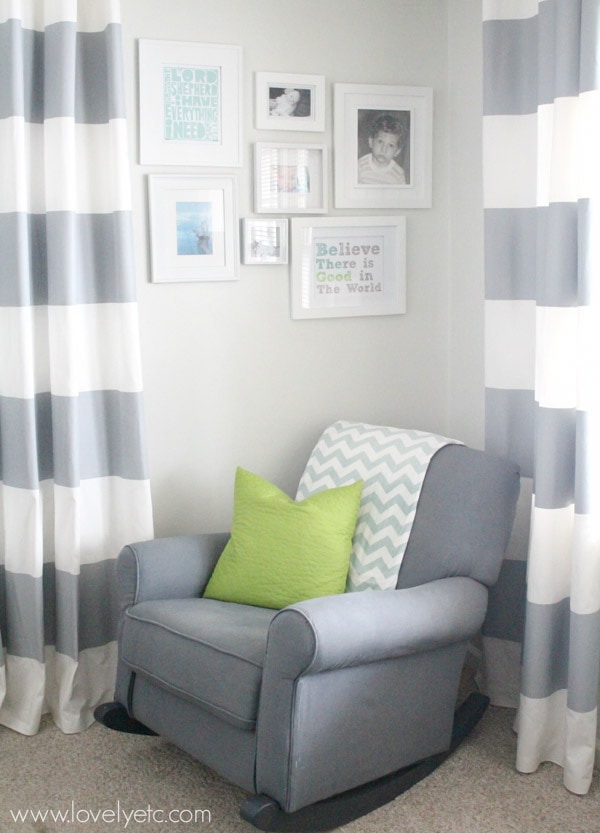 Armchair reupholstered using clearance curtain panels
Shower Curtains
Shower curtains are similar to window curtains but with an added bonus. A lot of shower curtains are made of a fabric very similar to outdoor fabric. It makes sense – both shower curtains and outdoor fabric are made to withstand wet conditions.
Plus, shower curtains come in so many fabulous prints and patterns. My favorite place to find great ones at a good price is TJMaxx, Marshalls, of HomeGoods.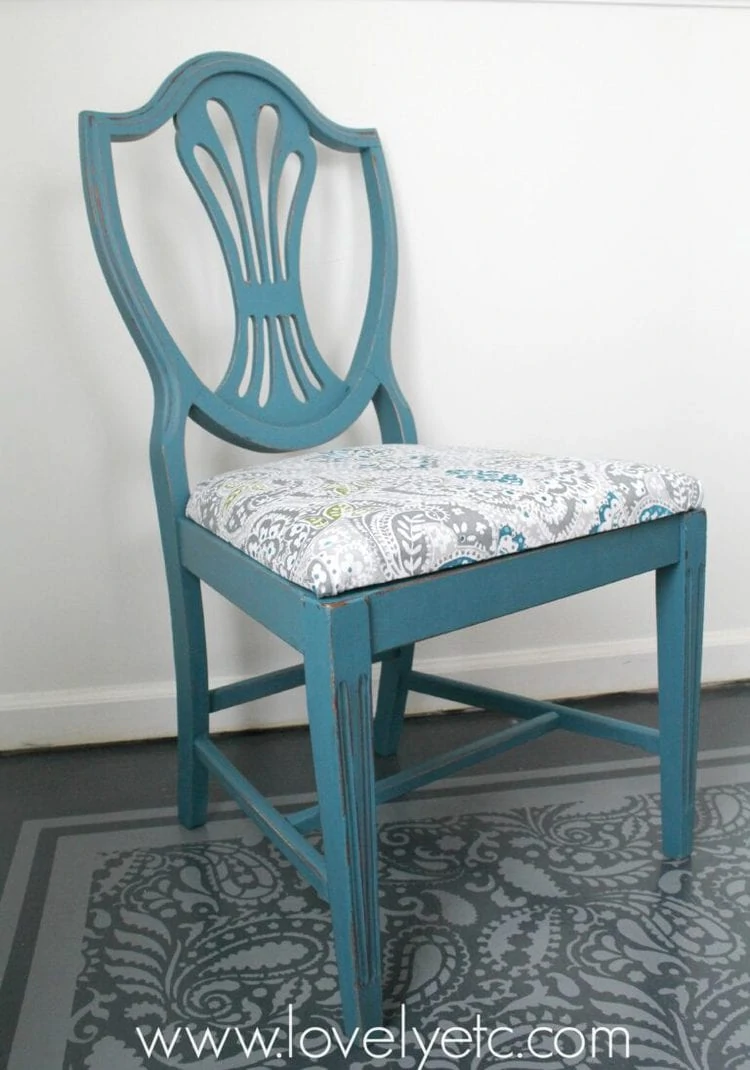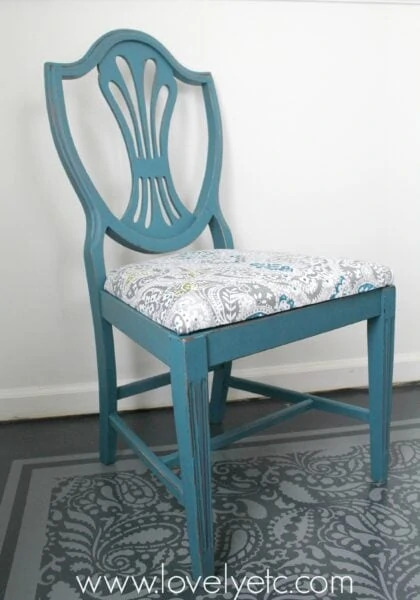 Dining chairs reupholstered using a shower curtain
Tablecloths
Tons of yardage and lots of beautiful patterns. Plus many tablecloths are made of pretty durable stuff.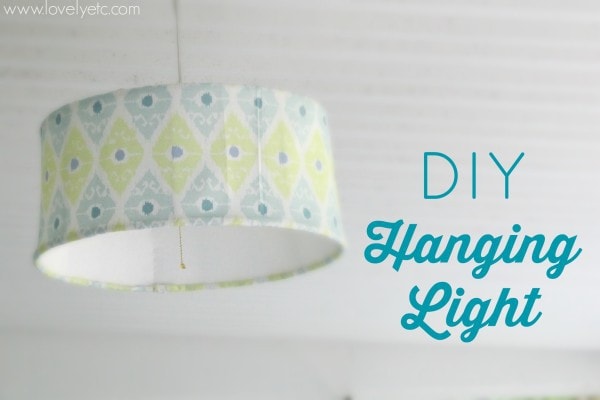 DIY drum shade pendant using a tablecloth
Drop cloths
Drop cloths are another fabulous way to get a huge piece of fabric for cheap. Drop cloth is perfect for home decor and upholstery because it is so durable. It is also incredibly cheap. Most drop cloth has the gorgeous look of natural linen but you can also bleach it or dye it for a different look.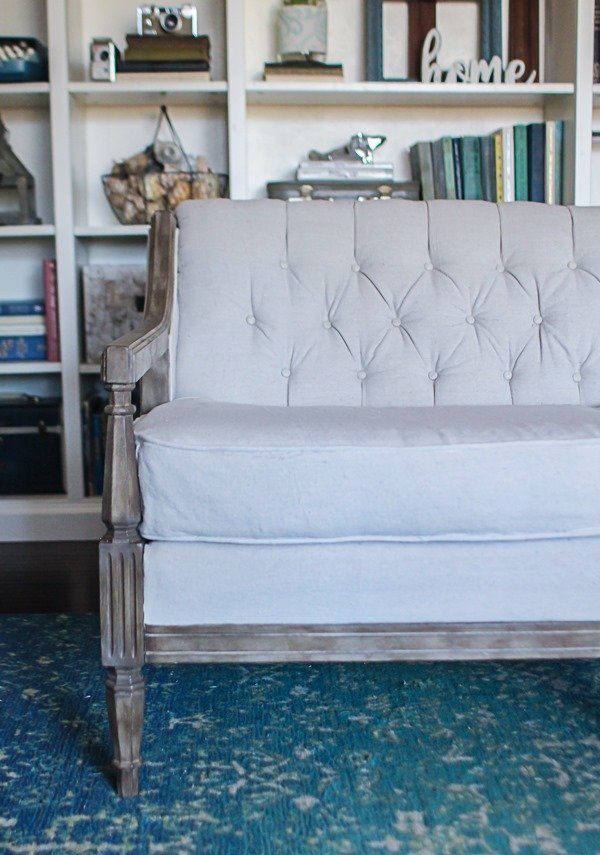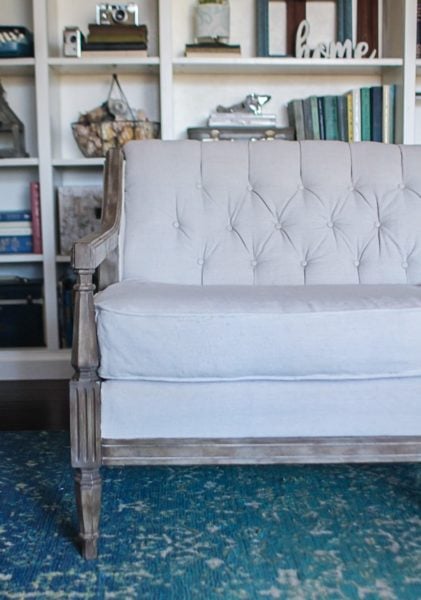 Vintage Couch reupholstered with drop cloth
Make it your own.
But what if you search high and low and think outside the box and still can't find what you are looking for? Even though I'm cheap, I still want what I want, not some sad compromise.
Even if you can't find fabric you love at a price you like, you can still make it happen. You can turn any inexpensive fabric into something amazing with a little DIY magic.
Dye it
Fabric dye is a fabulous way to quickly and easily change the color of just about any fabric. You can dye the whole thing a completely new color or use fabric dye to create a unique look. Just keep in mind that natural fabrics like cotton and silk are much easier to dye than synthetics like polyester.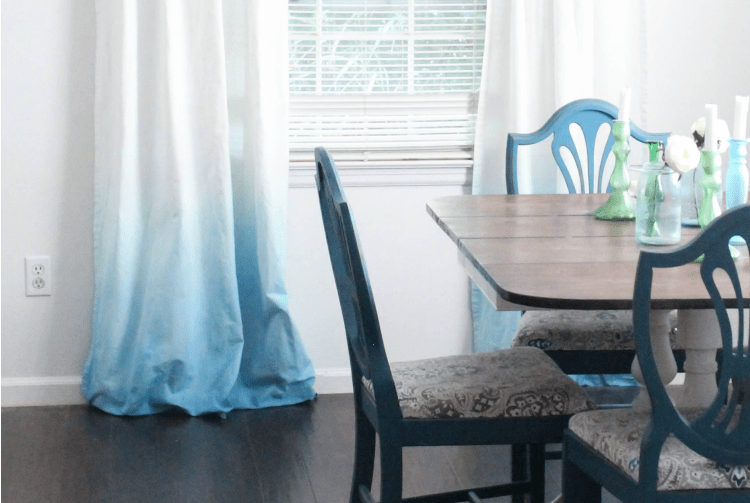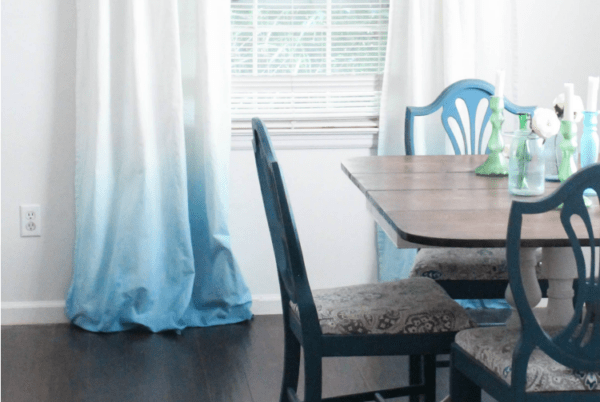 DIY ombre curtains using fabric dye
Paint it
I used to think painting fabric was a major no-no. But after painting pillow covers, curtains, and even a duvet cover, I know better now.
You really can paint fabric with great, non-crunchy results. You can use special fabric paint, but my favorite way is to mix fabric medium with regular craft paint. You can paint rugs, curtains, even upholstered furniture.
If you want more info, check out this post on the best methods and paints for painting fabric.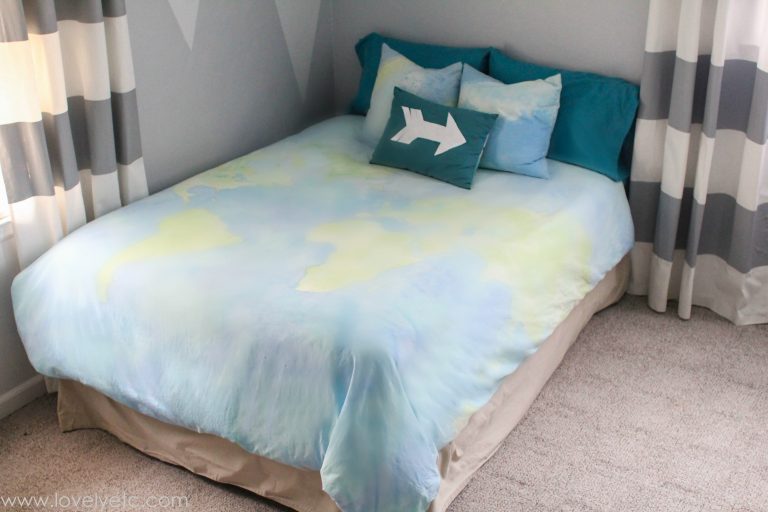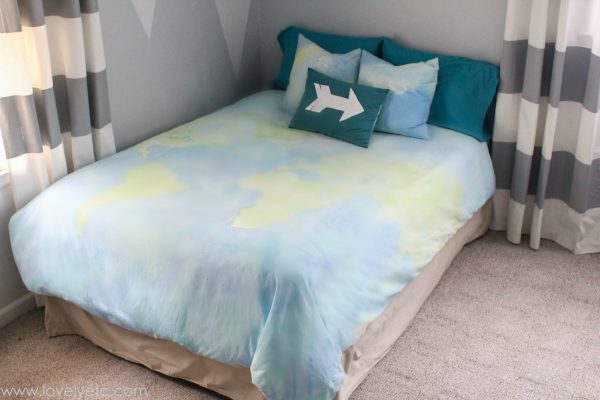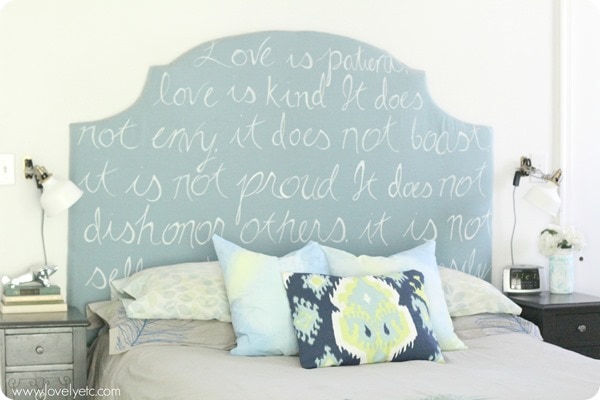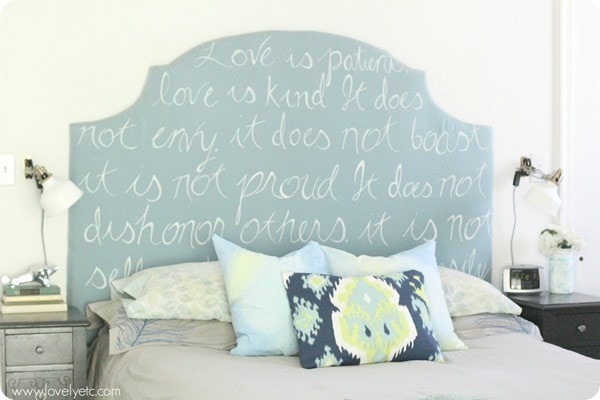 DIY upholstered headboard personalized with paint pen
Stencil It
Take your fabric painting a step further and use a stencil. There are tons of beautiful stencils out there or you can make your own using freezer paper.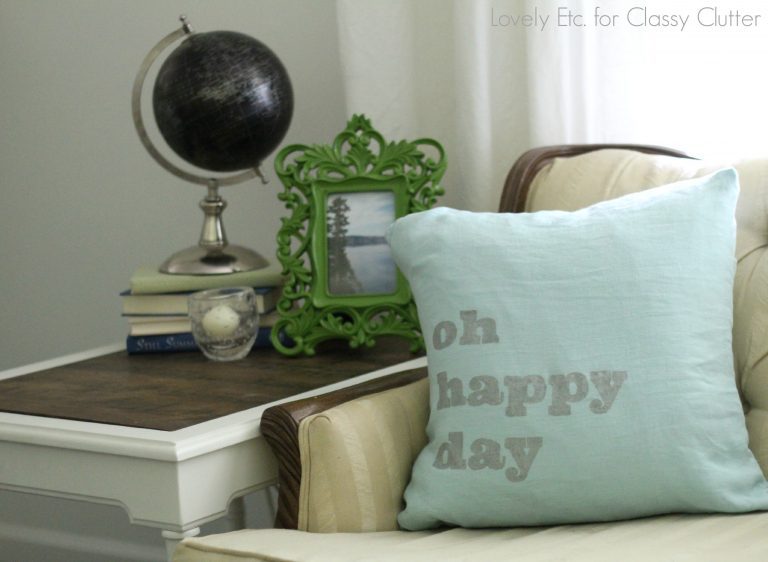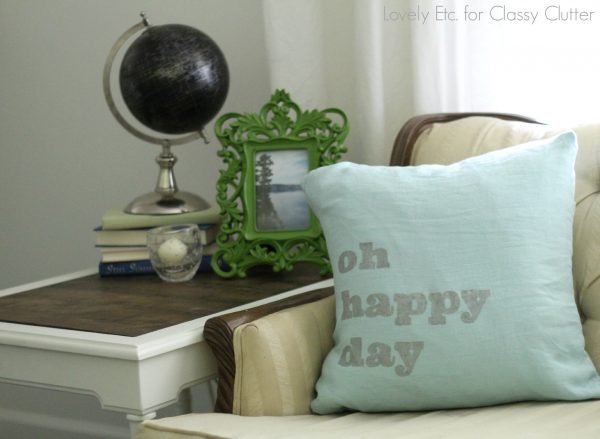 Freezer paper stenciled pillow
And those, my friend, are the tricks I use to get yards and yards of great fabric for cheap.
What about you? What evil genius ways have you discovered to get cheap fabric?
More posts I think you'll like:
I'd love for you to pin this post on Pinterest!