I am excited to be kicking off a new series today!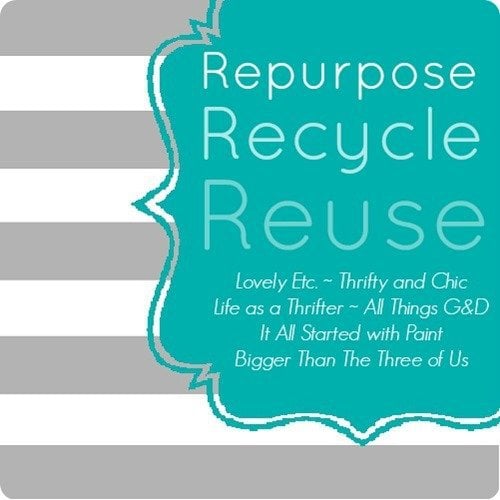 In case you haven't noticed, I absolutely love turning something outdated, unnecessary, or just plain ugly into something beautiful and useful. Repurposed projects are my absolute favorite! So I gathered five of my favorite like-minded bloggers together to each bring you a brand new repurposed, recycled, or reused project every month on the first Wednesday of the month. We've also created a new board on Pinterest just for sharing our favorite repurposed, recycled, reused projects. So if you love repurposed projects as much as me, you are definitely going to want to follow along.
And I am super excited about the project I have to share with you today. Now I do realize it doesn't look so repurposed at first glance. Ok, probably not at second glance either.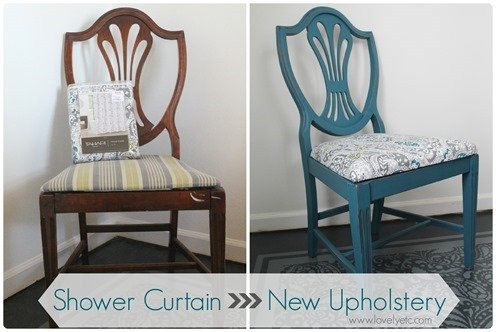 "Wow, you repurposed chairs as…chairs." Hmmm.
But I promise, there was some repurposing involved with that fabulous fabric on the seat cushions. I picked up these chairs at a yard sale last year for a steal. $30 for a set of four solid wood chairs! They weren't without their issues though. This was definitely a case of wood looking much nicer in photos than in real life. There were tons of scratches and random paint splatters on them as well as some major drips from whoever originally stained and finished them. Not to mention the graying seats that provided all of about a millimeter of cushion.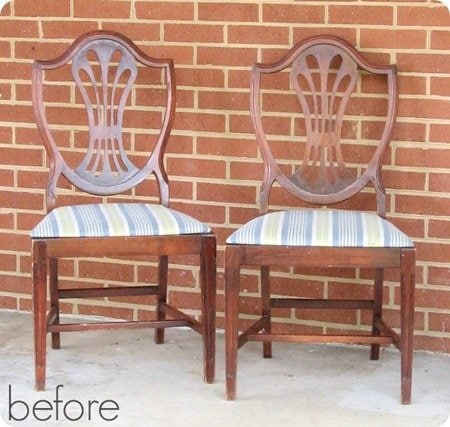 I wasn't exactly sure what color I wanted to go with these chairs until I came across this gorgeous shower curtain at TJMaxx. I knew this shower curtain would be perfect repurposed as seat cushions for my chairs. Plus, where else are you going to find several yards of designer upholstery-weight fabric for only $15?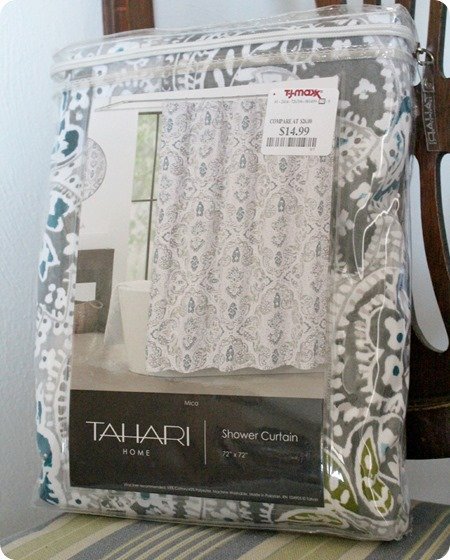 After using a bit of wood glue to tighten up all the loose, wobbly bits, I removed the seats from the chairs and then painted them with two coats of Valspar 'nightscape' paint. I'm a sucker for texture, so I followed up with some 180 grit sandpaper around the edges.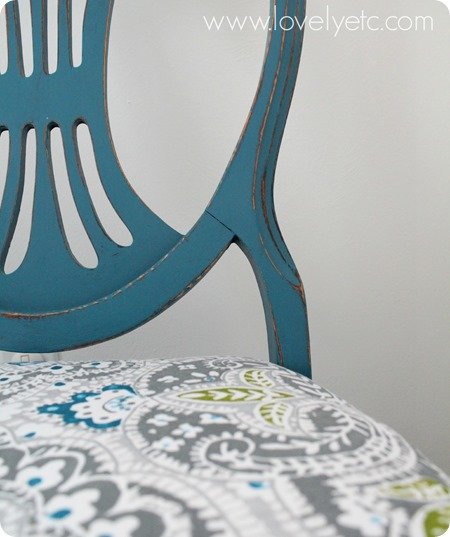 Then it was time for that fabulous shower curtain. I wanted to make sure the turquoise color in the fabric was featured on each seat cover, so I lined everything up carefully before cutting anything. To make sure I cut plenty of fabric to wrap all the way around the seats, I used the old dirty fabric that was originally on the seats as a template.
And bonus – the shower curtain was so big, I have enough fabric for another sweet upholstery project I have planned!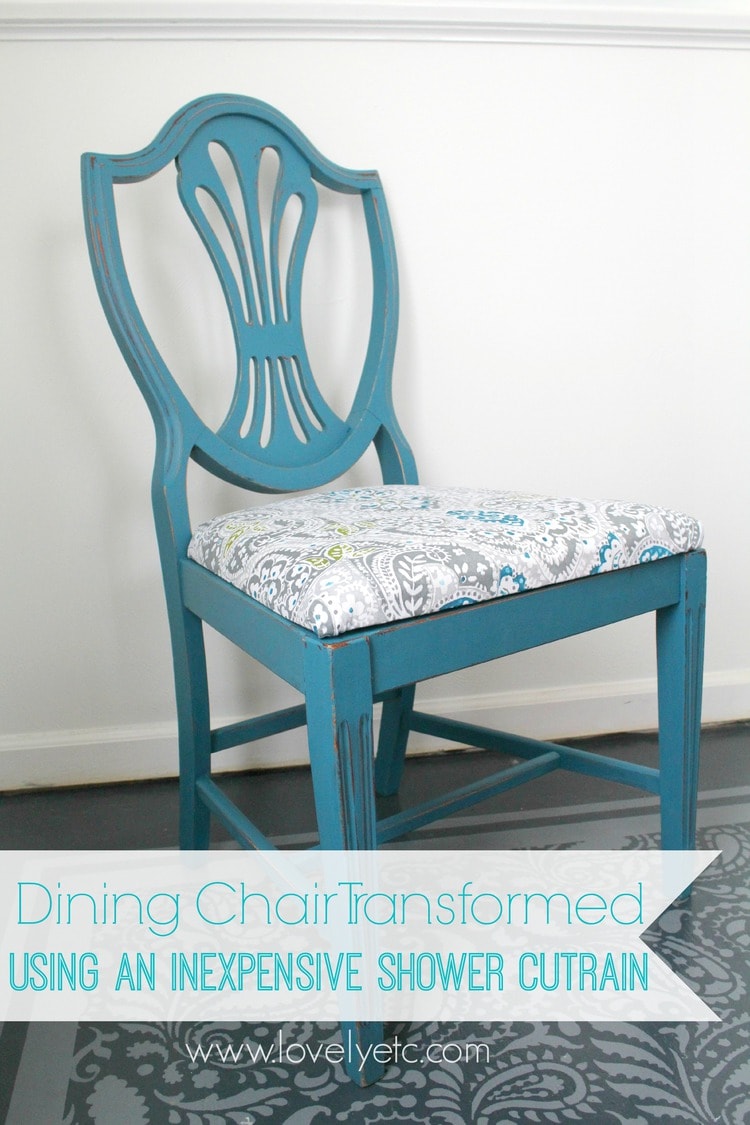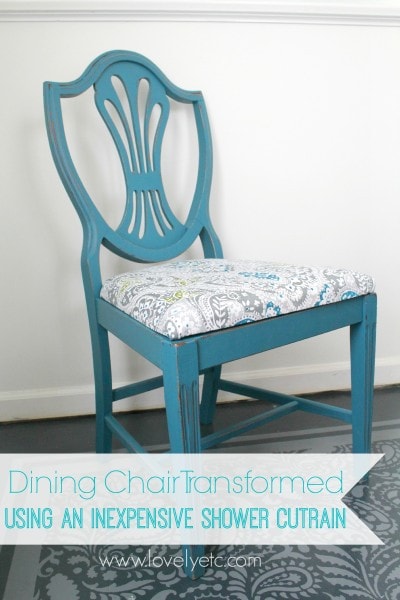 Those seats definitely needed a bit of a boost in the padding department, so I turned to my upholstery go to: memory foam egg crate mattress pads. These are so cushy and relatively inexpensive. For this project, I just used some pieces left over from my upholstered headboard. I traced the chair bottoms on to the mattress pads and then cut them out with regular scissors.
Then it was time to put everything back together. To recover a chair seat, lay out your fabric followed by your padding and the seat bottom. Then just pull the fabric edges over everything and staple them to the bottom of the seat with a staple gun. Just make sure to pull everything nice and tight as you are stapling.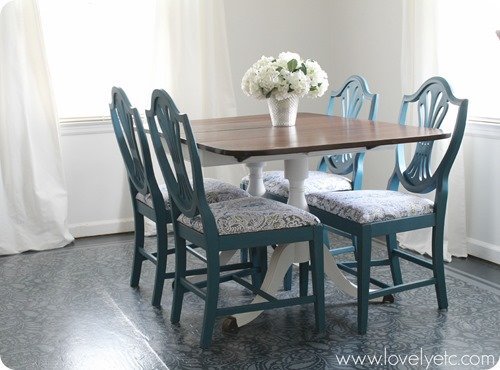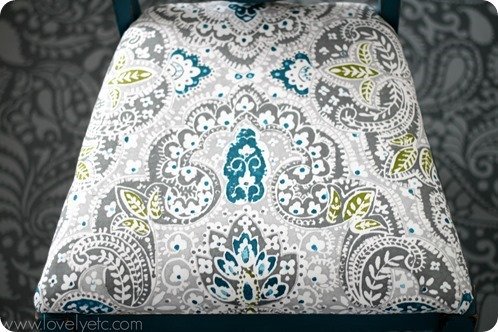 And now they are both gorgeous and sooo comfortable. The seats may seem a little busy next to the paisley floor but they actually complement each other quite well. And hey, I am working on being bold and taking some chances after all!
And now the fun part. Check out these other gorgeous Repurposed, Recycled, Reused projects.
Turn Old Shirts Into Lampshade Covers – Thrifty and Chic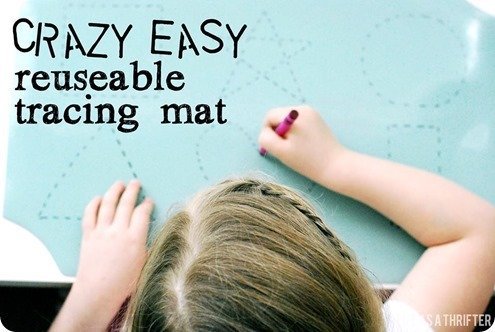 Crazy Easy Reuseable Tracing Mats – Life as a Thrifter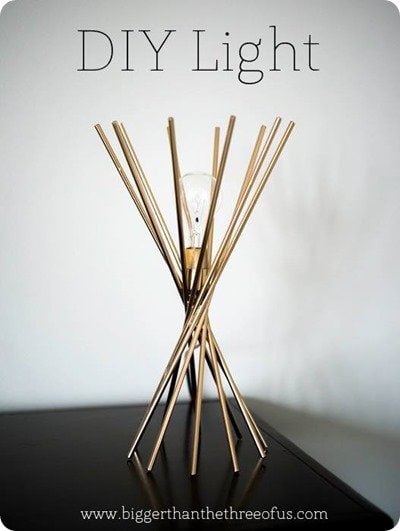 Make a lamp out of a candlestick – Bigger Than The Three of Us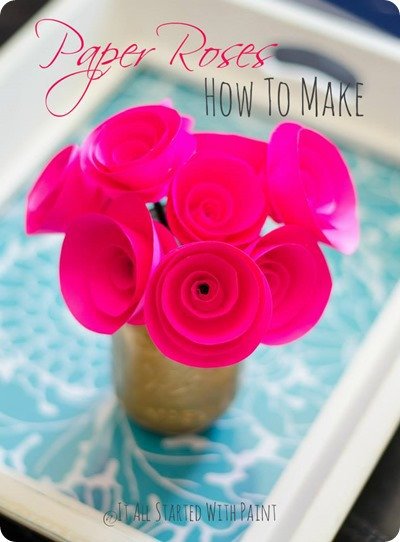 Paper Flowers – It All Started With Paint
Easy DIY Valentine Poppers – All Things G&D
And don't forget to follow our Repurpose, Recycle, Reuse board on Pinterest!