Photo canvases are wonderful; they elevate your family photos to real art. But they are expensive. Even when they are majorly on sale. I once saw 8×10 photo canvases at the amazing rock bottom price of $5 each. I was about to buy a whole bunch of them, when I did some quick research and found out the shipping was $15. Each. Twenty dollars isn't so bad for a photo canvas, but if you are wanting to buy more than one it adds up fast.
Luckily many wonderfully creative and inventive people have figured out ways to DIY their own photo canvas. Just search for DIY photo canvas on Pinterest and you will see hundreds of results come up. I perused a few different tutorials and decided to go for it…..with less than stellar results.
Apparently making a DIY photo canvas is easy…the hard part is making one that looks, well, good.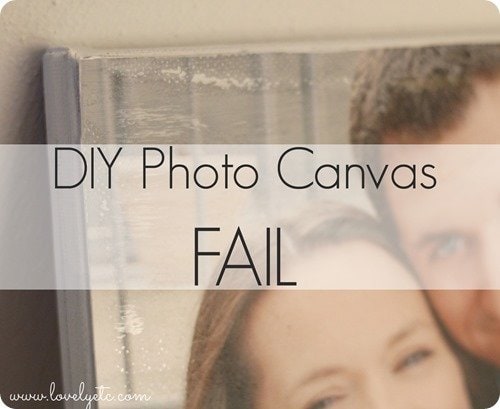 So here are my tips on how to make a huge failure of your DIY photo canvas.
Be sure to paint the edges of your canvas white.

Since I am all about saving a buck, I decided to reuse a canvas I had previously painted but wasn't loving. (That may have been my only great idea of this whole project). I decided to paint the edges white to blend in with some white picture frames that I planned to hang with my photo canvas. FAIL. Since blank canvases are white, painting the edges white left it looking like, well, a photo stuck on a blank canvas. While that may be pretty close to what it actually is, it is the opposite of what I wanted it to look like. '
Use a photo printed on photo paper.
Once I painted the edges of my canvas, I used mod podge to attach my photo to the front of the canvas. I already had an 8 x 10 photo that I had been planning to frame so I figured why not just use that. Why was that a terrible idea? Let me count the ways: The paper was too thick. The photo was too shiny. The paper was too hard to cut. And on and on.
Always rush to trim your photo before the mod podge completely dries.

After attaching the photo, I trimmed the edges to better fit the canvas with an X-acto knife. Trying to trim moist paper is a terrible idea. Moist paper doesn't cut, it rips.
Make sure you use a dull X-acto knife to trim your photo.
Not much explanation needed here. More ripping.
Finally, you need to really skimp on the Mod Podge.
Canvases are not glossy – at all. So I tried to tone down my very glossy photo with some matte Mod Podge. That was actually a really great idea…except I was almost out of matte Mod Podge. I tried to make it stretch as much as possible but I just didn't have enough. Which left my canvas riddled with random shiny streaks.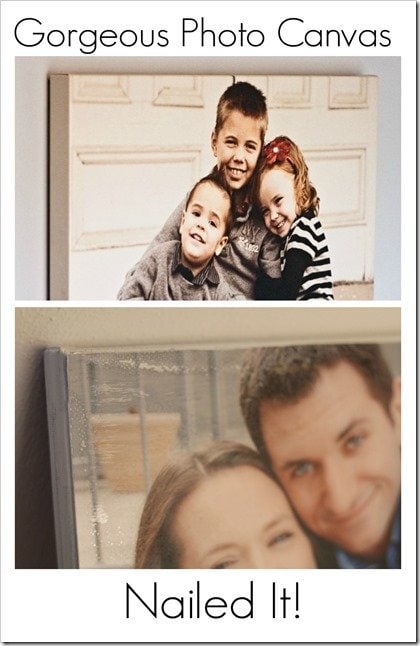 I am working on a new DIY photo canvas that actually looks good… without having to stand across the room and squint. But in the meantime, hopefully these tips will help you avoid making my same mistakes. And it's always nice to know that you aren't the only one whose projects don't always turn out so great.
So what has been your biggest crafting fail? Anyone have any tips for successfully making a photo canvas?