Little children and interior design don't always get along. Case in point, if you follow along with me on Facebook, you saw what happened when my son came across a quart of blue paint in my dining room this weekend. (And if you don't follow me on Facebook, I would love it if you would!)
Aside from the messes and destruction they bring, kids also come with lots and lots of stuff. Lots. And let's face it, most of that stuff is not so pretty to look at. Fun, but not pretty.
I wanted to get Griffin some sort of riding toy for Christmas and I found the perfect little car at a local consignment store for just a few dollars. The only problem – it was hideously ugly.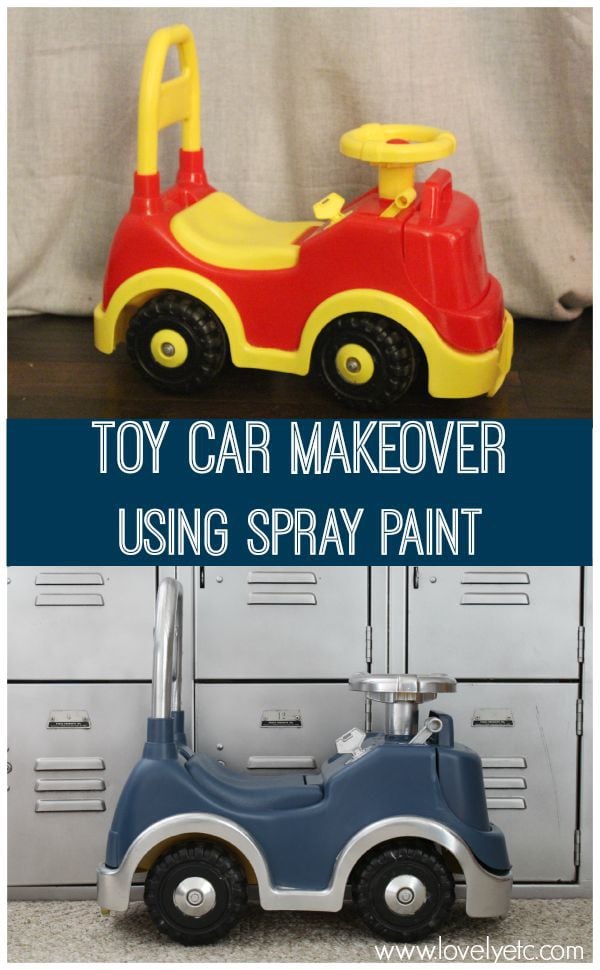 Now I am not delusional enough to think my thirteen month old could care less whether his toys are cute or not. But I know this thing is going to be hanging around our family room for many months. And that Ronald McDonald red and yellow color scheme it had going on was a bit blinding. So I decided to do something about it.
A bit of spray primer and paint and it was a whole new car!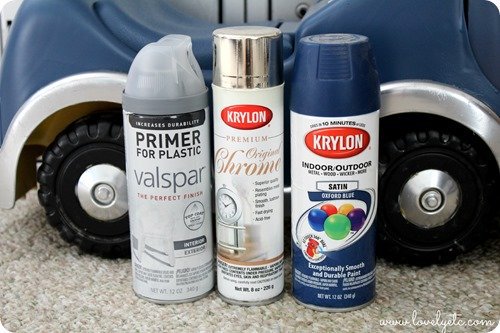 I used painter's tape and plastic bags to cover the tires since I wanted them to stay black. Then I sprayed the entire car with spray primer for plastic. After priming, paint your smaller details. I used an amazing chrome spray paint I already had on hand (after checking the label and seeing that it can be used on plastic). I love this chrome spray paint because it gives a much shinier color than typical metal spray paints so it looks more like real metal.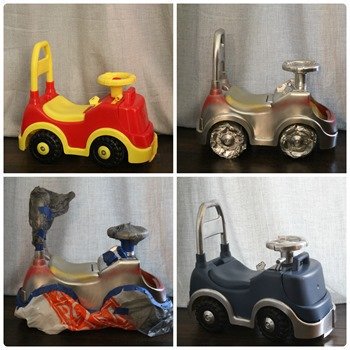 Once that dried, I used more tape and plastic bags to cover everything I wanted to stay chrome and painted the body of the car with some oxford blue spray paint that I also happened to have leftover from another project.
And I ended up with a sweet little ride for my sweet little boy. And not only is it no longer an eyesore, I actually really like it.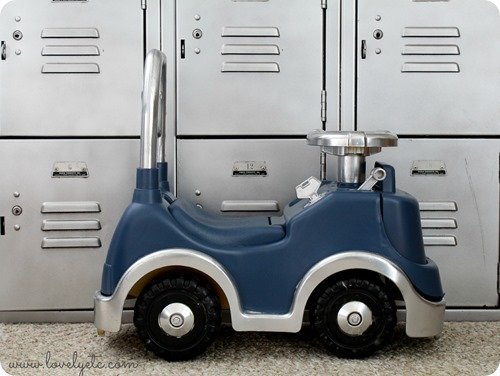 So does Griffin.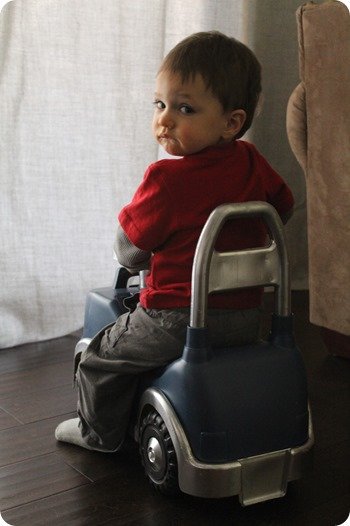 (Disclaimer: I'm not about to become a psycho mom who only allows toys that match the décor, but it is nice to not have to look at that yellow and red monstrosity everyday.)
What do you think – pretty awesome gift for a little boy right? How do you deal with all the toys and paraphernalia kids come with? Have you ever given a toy a makeover – or wished you could?