I like to think of myself as an organized person. And for the most part it is true.
But…
There is one thorn in my side. One area that never seems to get organized no matter what I do. Not only is it not organized, it is pretty much an ongoing disaster area. For lack of a better description, let's just call it the mail pile. Papers, papers everywhere. Mail to be dealt with, junk mail to be thrown away, receipts, checks, bills, flyers, coupons… If this is how things are now, I can only imagine how it will be when Griffin is old enough to have school papers. (Let me tell you, I work at an elementary school – I see the massive amounts of paper we are sending home every week for parents to deal with. It is insane.)
So far my plan for dealing with it basically consists of piling all papers on the buffet until it is a huge eyesore and then spending a few hours sorting through everything and filing it away.
And then the next day, beginning the huge, ugly pile all over again. Insanity; it is literally insanity.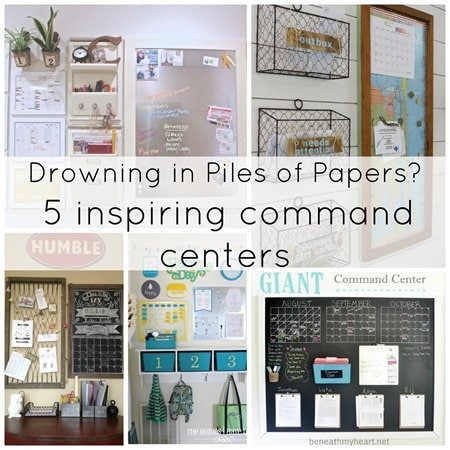 I am sure I am not alone in this never ending fight against mounds of paper, so I rounded up some of the absolute best command centers I could find to share with you. I was on the lookout for something practical to corral the masses of papers, something unique, and, of course, something stylish. And after a bit of searching, I found five command centers that are pretty darn amazing. In fact, they are so amazing, I may just be feeling a bit inspired to do something about my own paper problem!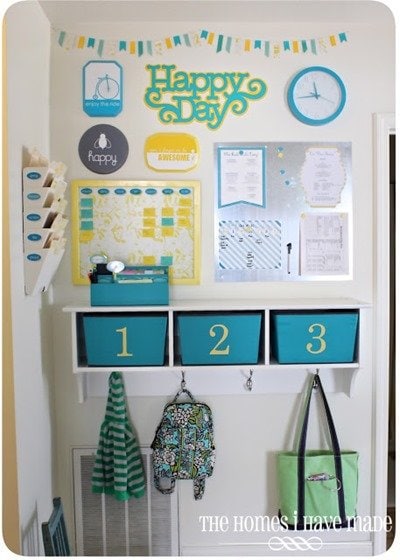 Megan from The Homes I Have Made put together this super cheerful command center. I love how this version is full of both style and storage with a magnetic board, schedules, paper files, and organizing bins. There seems to be a place for everything from coupons to school papers. And the colorful graphic elements just make me want to smile.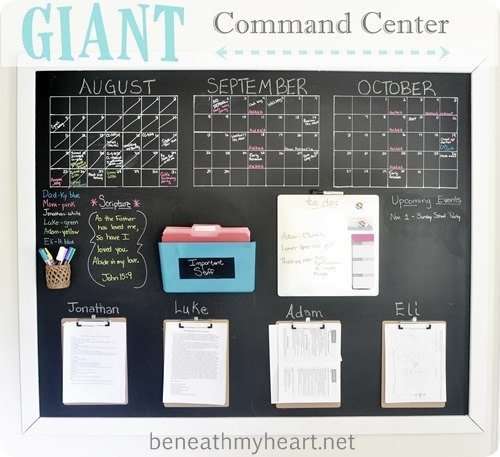 Love this giant chalkboard version from Traci at Beneath my Heart. Three calendars help you keep track of everything coming up, there is plenty of room for writing notes, and each child has their own clipboard to wrangle those school papers.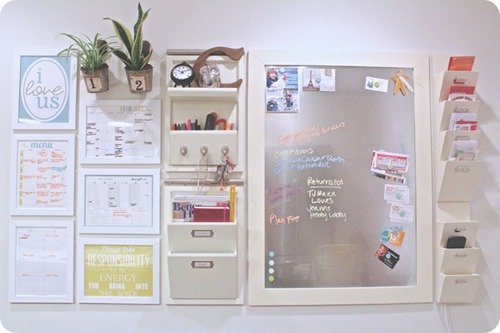 Love this gorgeous center full of loads and loads of storage from Valerie at The Caldwell Project. This baby includes everything from tons of paper storage, to a DIY magnet board, a calendar, meal planner, and some adorable printables. Plus, they built those small pockets themselves which is pretty awesome.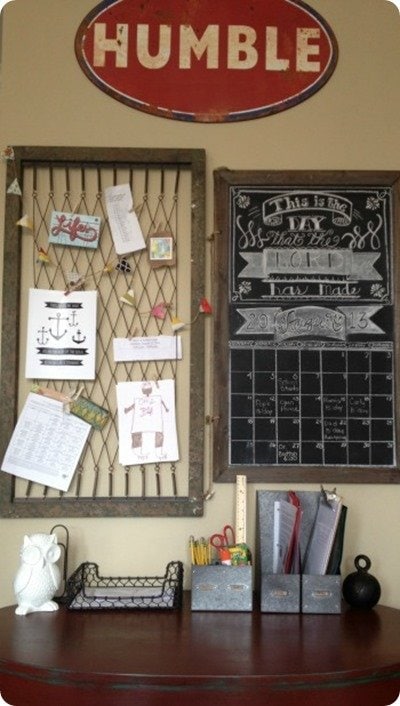 This cozy version was dreamed up by Gretchen at Patina House and Studio. I especially love the baby bed mattress spring as a bulletin board, though the chalkboard calendar is also pretty sweet. (Ok, so is the Humble sign – I just can't pick a favorite part). Plus metal bins on the tabletop help tame the paper piles.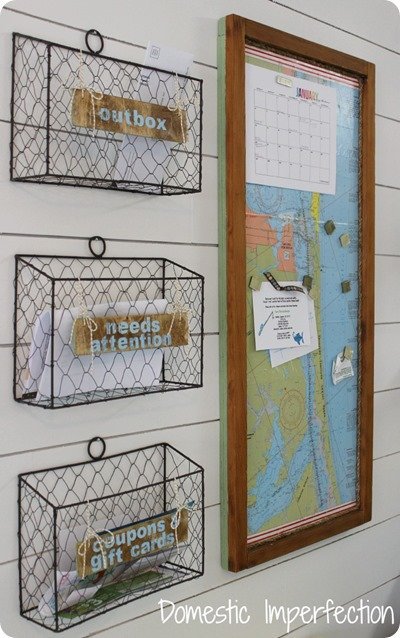 Ashley at Domestic Imperfection put together this simple organization center. The wire bins corral mail and other random papers and the map is actually a magnet board. So stylish.
As I sit here typing this post, I can see my own messy pile of papers out of the corner of my eye. Taunting me. Or maybe they are really just pleading with me to get them all put together and prettified.
Please tell me I am not the only one drowning in mail and other random papers? How do you deal with yours – are you a piler or a filer? Or do you have your own sweet command center?
**Update! I finally got my own command center all put together and it has been a game-changer! I also put together a guide for creating your own fabulous command center that you are definitely going to want to check out.**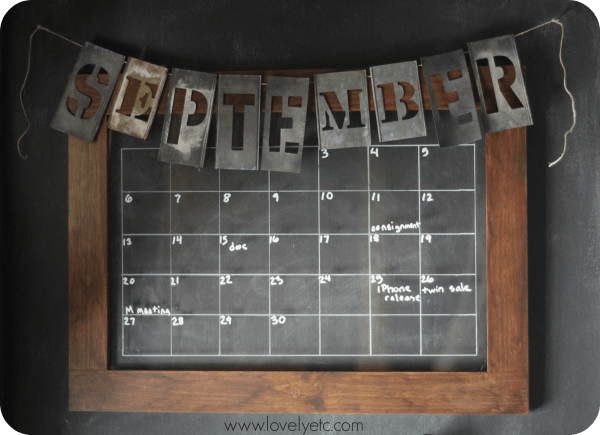 My Industrial Family Command Center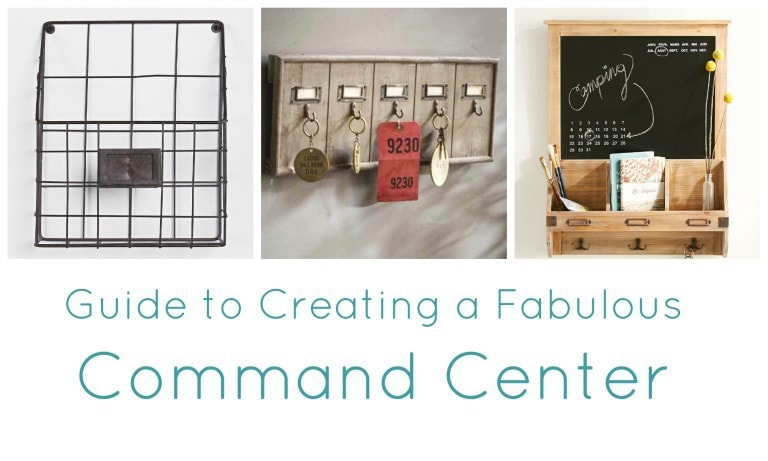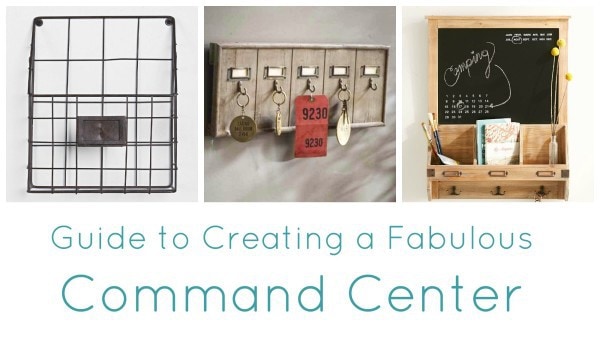 Guide to Creating a Fabulous Command Center