My baby is one! So hard to believe!
He actually turned one on Thanksgiving day. Pretty fitting since his sweet self and his safe birth are at the top of my thankful list this year. In the busyness of the holiday season, I never got to share his sweet birthday party decorations.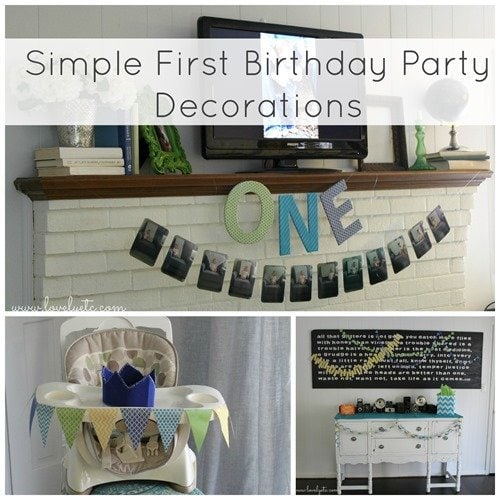 Let me say up front I am not much of a party planner. Decorating for an event that I know will only last a few hours just doesn't get me jazzed the way other decorating does. Who wants to spend a lot of time or money on decorations that will likely end up in the trash after just a few hours? This mama certainly ain't got no time for that.
But on the other hand, it was his first birthday. I just couldn't let it pass by without making things a little special. So I set out to put together some party decorations that are easy, inexpensive, and meaningful.
I see lots of truly amazing kids parties on Pinterest with creative themes and tons of details. But I'm not really a theme kind of girl. So instead I just stuck with a loose color scheme of blue, green, and yellow. The majority of the party décor was put together with a pack of scrapbook paper and some fishing line. It doesn't get much more basic than that!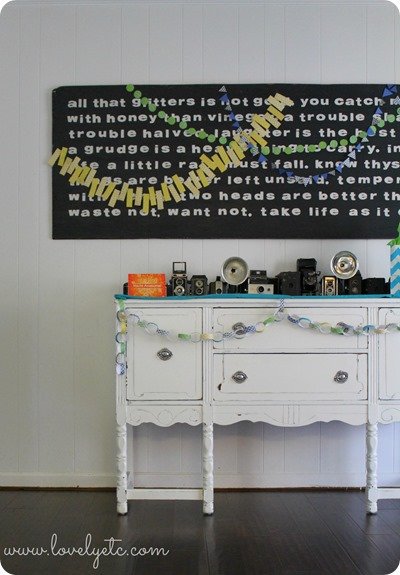 I chose the buffet at the end of the family room to be the gift table. Using my trusty scrapbook paper I made three banners to layer over my wise old sayings sign – one in each of the party colors. I also put together a paper chain to hang from the front of the buffet and folded a piece of scrap fabric to use as a small table runner.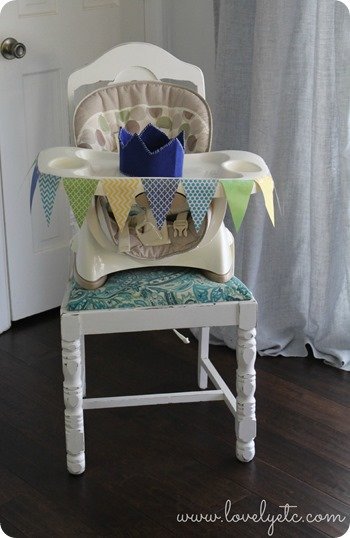 I used more scrapbook paper to create a banner to go around Griffin's high chair. This is so easy to make – simply cut out triangles and tape them to the high chair tray. I also decided to make Griffin a special birthday crown. Using this tutorial from Hellobee, I made the crown out of a scrap piece of felt and some contrasting embroidery thread. This little crown was actually one of my favorites of all of his decorations. It cost less than a dollar and took about an hour to make. And it was so sweet.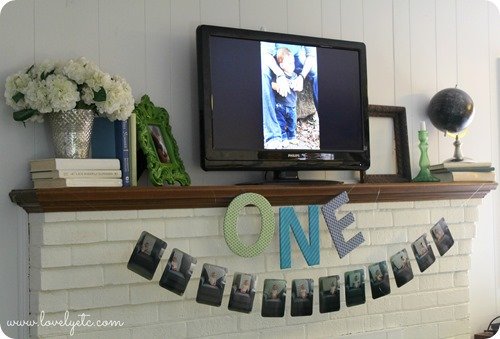 The mantle was another favorite spot. I didn't fool with moving anything that was already on the mantle – it all happened to match the color scheme already. The ONE letters were simply $1 cardboard letters from Michaels that I covered in scrapbook paper and taped to some fishing line. I also made a banner from Griffin's monthly photos to show how the little guy had grown. To make the photos into a banner, I had some 4 x 6 prints made, rounded the corners with a scrapbook punch, and taped them to fishing line.
Since we have our TV on our mantle, it seemed like the perfect opportunity to incorporate some more photos of Griffin. I made a quick slide show of some of my favorite photos of him from the year and played it on the TV during the party.
And there you have it – Griffin's simple, inexpensive first birthday party decorations. Everything put together cost less than $20 and most of the decorations can be used again for other parties.
And of course I have to share a photo of the birthday boy in his crown. I didn't really have time to take many pictures at the party but here is one of him on his actual birthday.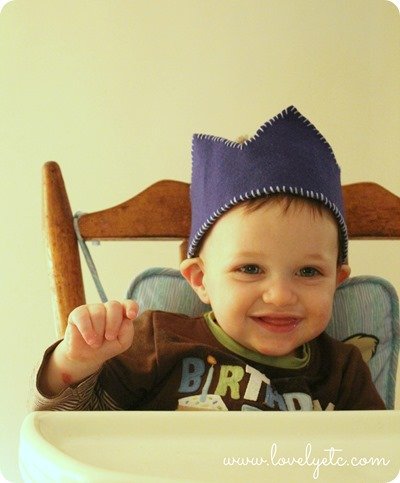 Love that sweet smile! So what about you – do you love to plan elaborate parties or do you keep the party decorating to a minimum? What are your go-to party decorations? Anyone have other tips for simple party décor?