Take risks. Be bold. Live intentionally. However you want to phrase it, it pretty much boils down to the same thing. Instead of sitting around thinking about what you would love to do, get up and start doing it. So simple…and yet so very, very hard to do sometimes.
A few days ago, I shared my goals from last year. And while I feel like I pretty much rocked them (go me!), there was one that didn't go quite as planned – take risks. This year, instead of making a whole list of goals, I've decided to focus on one thing: being bold. And when you get right down to the heart of the matter, being bold really means being okay with failing. You see, I have a horrible pattern.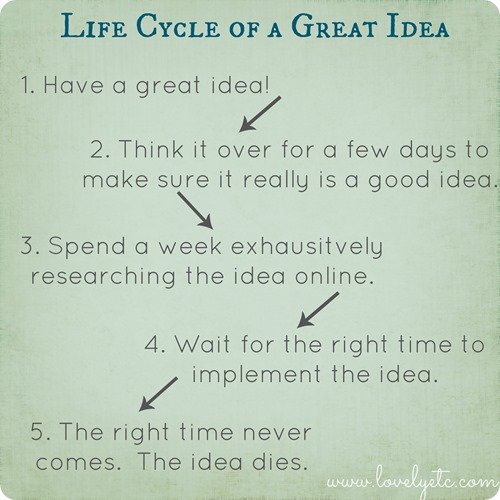 I've spent some time wondering why this happens and I think it all comes down to fear. Namely, the fear of failure. You see, I am a terrible perfectionist. If I don't think something is going to work out, I don't want to waste my time trying. You may have noticed, there hasn't been nearly as much DIY happening lately at Lovely Etc. Because I have very limited time for DIY, I want to make sure I don't waste a moment of it. So I don't start any projects unless I know they are going to turn out perfectly…which means, I pretty much don't start anything. Lame.
The same thing happens in other parts of my life. I want to take a really cool vacation… but we probably won't be able to afford it, so why even try. Or I want to get together with friends I haven't seen in awhile…but I'm sure they are busy so just forget it. Or I want to paint the ceiling an awesome color…but it probably won't turn out that great anyway, so why bother. Seriously. When I write it out like that, it seems like about the dumbest way to live imaginable. But I tell myself those things all the time.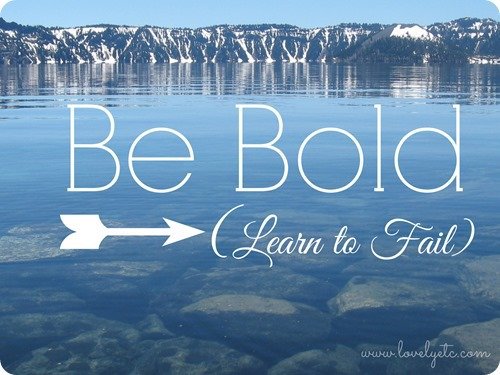 This year, my goal is to learn to fail. To learn that it is really okay to try for something awesome and end up with something awful. It is easy to make sure you never, ever fail at anything. But when you do that, you miss out on pretty much everything great. I'm done with mediocre. I'm ready for lots of awesome. And a bit of awful as well.
Who's with me?