I am so happy to finally be able to share the nursery freshly updated for baby Lincoln! Whew, I was getting worried I wouldn't have it finished before he headed off to college! Ok, maybe not, but in all seriousness, sweet Lincoln is 10 months old and I literally just finished making a few updates in the nursery. Lincoln is the third (and final) sweet baby boy to use this nursery in the last five years and the room was already pretty adorable. But I still wanted to change things up a bit so he could have his own sweet space; plus, I couldn't pass up one last chance to design a nursery since they are arguably the most fun rooms to decorate.
So why exactly did it take me so long? Time was a huge factor. Putting together an adorable nursery was certainly much easier when I didn't already have three little boys underfoot. Also, it took me awhile to figure out exactly what I wanted to do. I wanted to update the room just for Lincoln, but I also didn't want to change a bunch of stuff that I already loved just for the sake of changing it.
Alright, enough talking. Here's the newly updated nursery!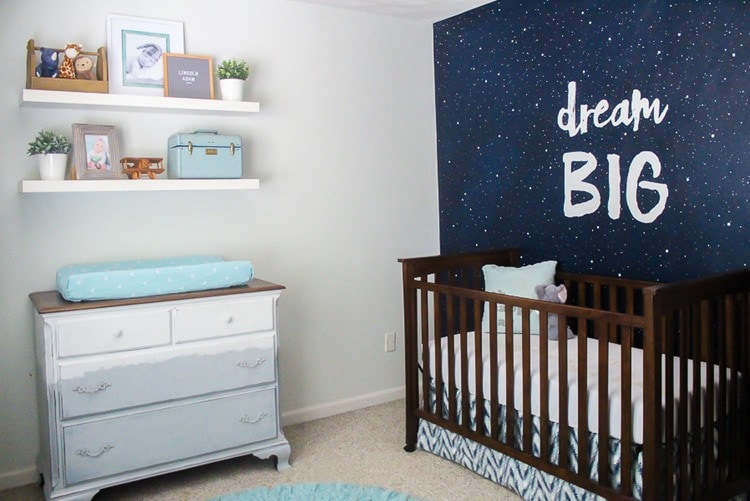 A pretty sweet, stylish space if I do say so myself!
This nursery was really already a super cute space but there were a few things that were definitely ready for a change. The big starry wall mural stayed of course. It was just too great and too much work to paint over for no reason. I seriously considered painting the crib white or gray to pop more against that wall. But the fear of ruining the baby's sleep schedule during the painting process won out and I left it alone.
(And of course, those pillows aren't usually in the crib. Baby safety always, always, always trumps design. I just threw them in there for some photos because the crib was looking super bare and after scoping out Pinterest, that's apparently the thing to do.)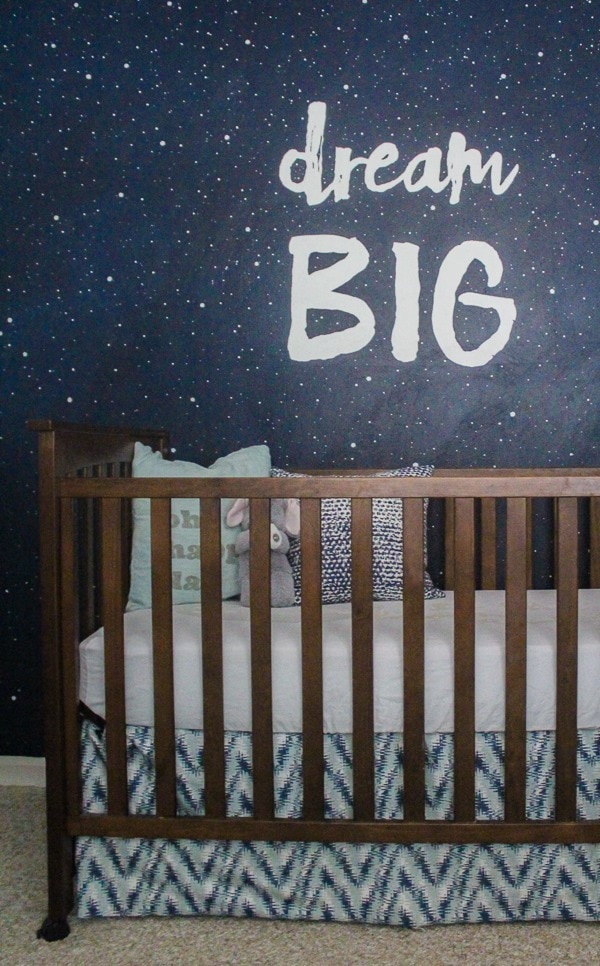 The dresser and floating shelves have been in this exact spot for all three boys' nurseries. In fact the layout of the entire room really hasn't changed – the whole if it ain't broke, don't fix it thing. But the dresser did get a new paint job each and every time. This latest ombre paint job and updated hardware is definitely my favorite. (You can read all about how I painted it right here.)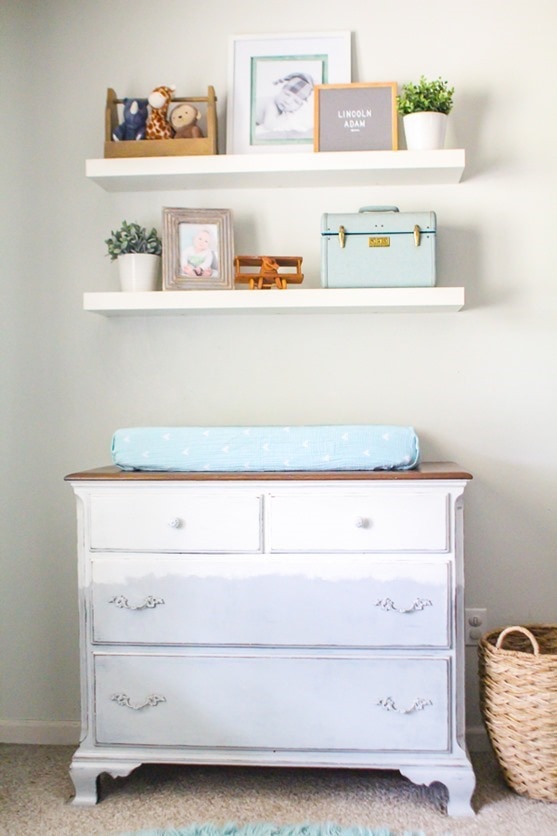 The IKEA floating shelves haven't moved but I did restyle them with some fun new finds including a letterboard and a few adorable photos of Lincoln himself. There's also a cute vintage train case up there. These little suitcases are my favorite way to hide away some of the less than cute stuff in plain sight. And since I couldn't find a changing pad cover that I loved, I just wrapped one of our adorable muslin blankets around the changing pad. It works great and looks absolutely adorable.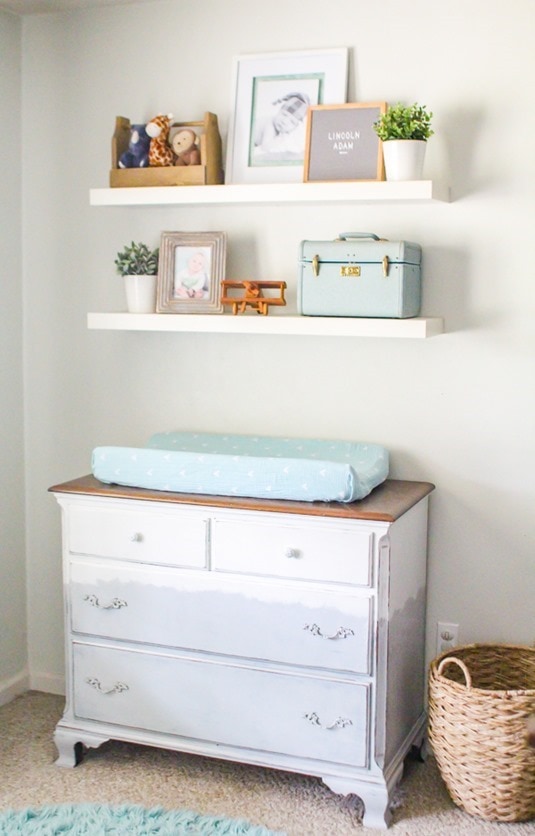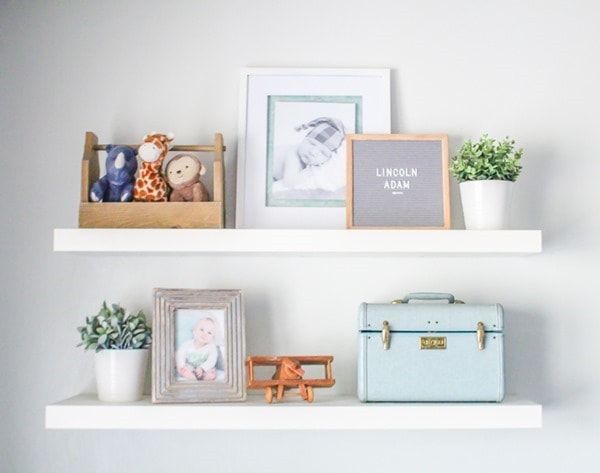 I sewed those curtains for baby #2 and decided they were worth keeping. I still love the fun navy and white print.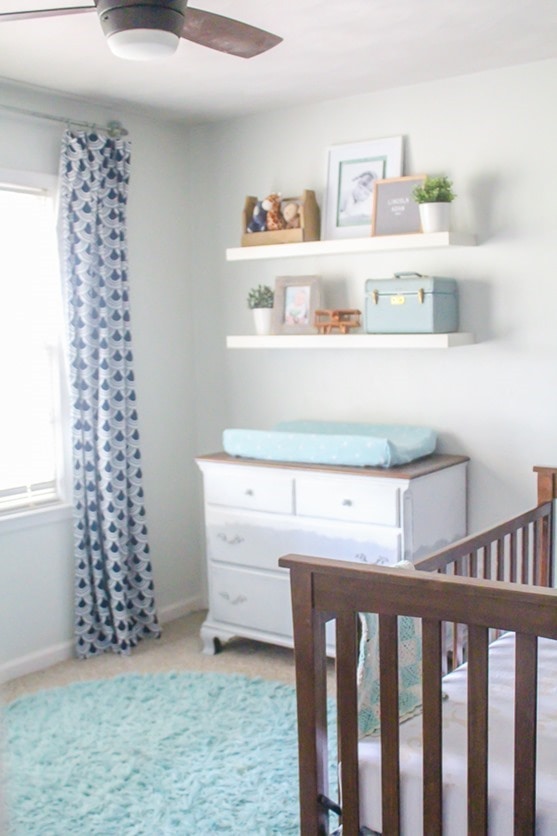 I reupholstered this big old Craigslist rocker myself back in 2012. It has held it's own admirably but after more than five years of rocking sweet babies multiple times a day, the fabric is starting to get really worn in a few places. Since this is likely our last little baby, I really didn't want to have to replace it, so I threw a pretty blanket scarf over it instead. Problem solved.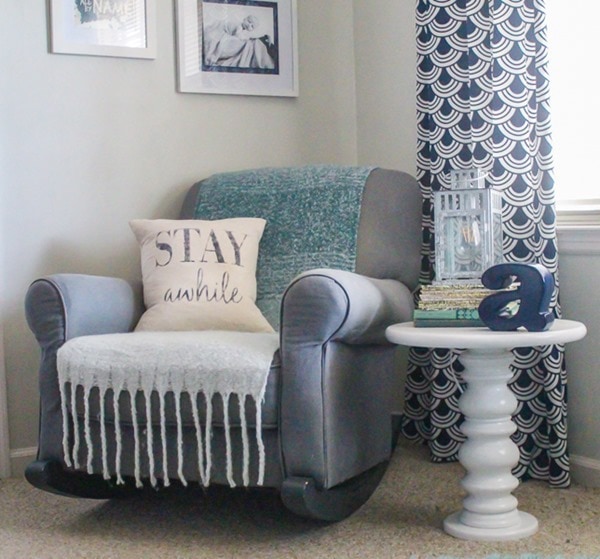 This cute white pedestal table is a new addition as well. I never really loved the table that was in here before so I made this cute little guy to replace it. This was a really fun upcycle project that I can't wait to share. (You'll never guess what I made this table from!) And I moved my favorite DIY lantern lamp in here as well. It's a little hard to see in these pictures, but that cute little lamp seriously looks good absolutely anywhere!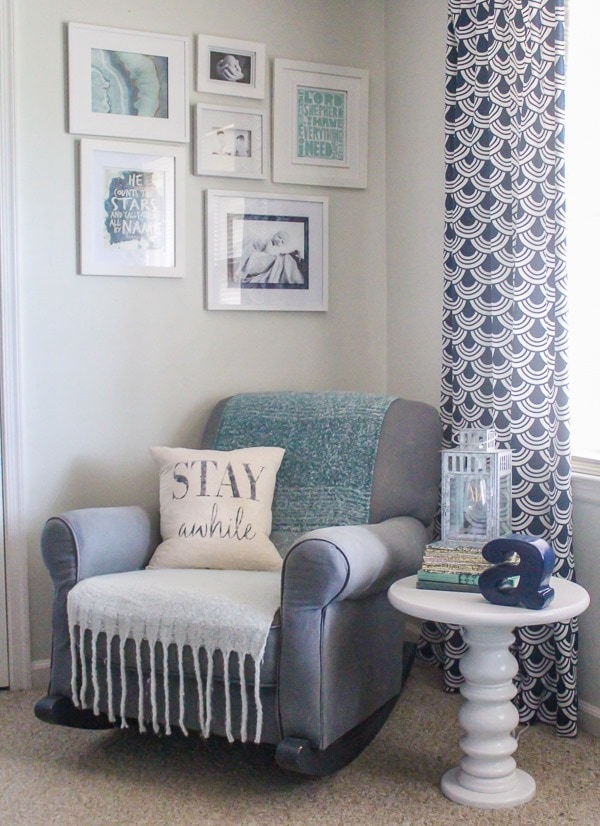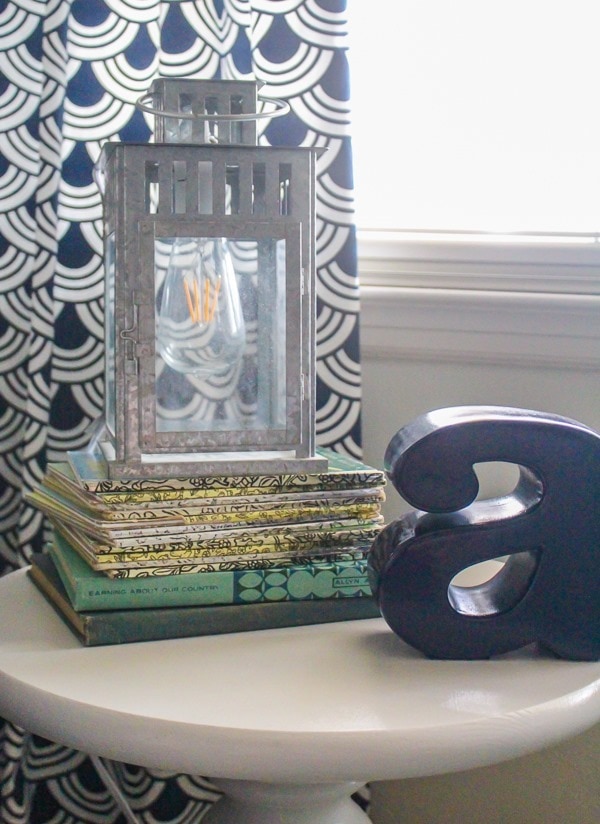 I also switched out the art in the gallery wall with some new prints along with some sweet black and white baby photos. That navy print that says "He Counts the Stars and Calls them by name" is my favorite! And that abstract/geode art is just a cool piece of scrapbook paper I found at Michaels. I stuck it in a nice frame with a mat and now it looks like a gorgeous piece of art rather than a piece of basic paper that cost less than a buck. The pretty navy mat around the bottom photo is also just a piece of marbled scrapbook paper. Looking at them, you would seriously never know.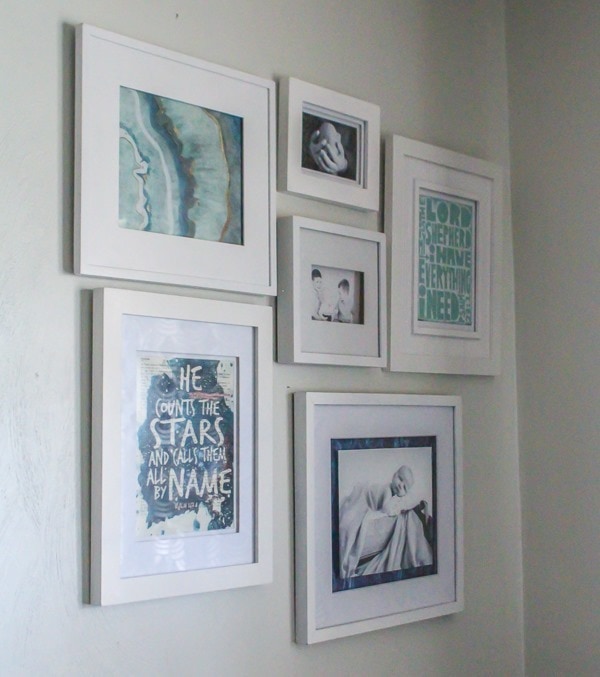 Just a few simple changes, but the room definitely feels fresh and new again!
And I have a handy guide for you of almost everything in the room and where you can either buy it or find the tutorial to make it.
This post contains affiliate links which means if you make a purchase after clicking a link I will earn a small commission but it won't cost you a penny more. Click here to see my full disclosure policy
Source List and Tutorials
Wall Mural – DIY, tutorial here (it's way easier than it looks)
Crib – Graco Dakota 4 in 1 crib which is sadly no longer sold. This newer version is also very classic.
Ombre painted dresser – DIY, tutorial here
Floating shelves – Lack shelves from Ikea
Curtains – DIY using the fabric Swell Navy by Michael Miller, tutorial here
Industrial curtain rod– a DIY using simple supplies from the hardware store, tutorial here
Glider – I found the glider on Craigslist and reupholstered it. This cushy gray rocker is very similar – no reupholstery required.
Pedestal Table – DIY, tutorial here
Galvanized Lantern Lamp – DIY, tutorial here
Crib skirt – DIY using Premiere Prints Rhodes Premier Navy
Pillow covers –
Gallery Wall frames –from Michaels
He Counts the Stars print – from Amazon Handmade
Gray letterboard – similar available on Amazon here
Ombre throw – (it's actually a big scarf!) Available on Amazon here.
Rug – I found this rug at a consignment sale but this beauty from Overstock is very similar.
Paint colors: Navy wall: Sherwin Williams Anchors Aweigh, Other walls: Allen +Roth Day Spa, Stars and Dream Big: Behr Day Spa (Yep, funny story – The lighter Day Spa was supposed to be touch up paint for the walls but was clearly not the same color. Luckily I found another use for it!)
Pin it for later!