It's nursery reveal day!
I am so excited to show you how Asher's navy and gray nursery came together! It doesn't really look anything like the plan I made, but in my opinion it is a thousand times better. I guess sometimes planning everything first is key and sometimes things just have to happen as they will.
What is funny is that this is the most neutral and arguably the most sophisticated room in our home – not exactly what you think of when you think nursery. But I absolutely love it and I'm proud to have created such a beautiful room for my beautiful baby boy.
This isn't one of those transformations with a hideous before picture. I think the before was actually pretty great but I wanted my second-born to have his own special space instead of a straight up hand me down. (Believe me, he gets plenty of those as it is!) I also wanted to be practical and not spend a fortune. It was a resounding success on that front – I spent a grand total of $85 turning this room into a completely new nursery with just a few key changes. (And the original nursery cost less than $400 to begin with so this room was a steal all around!)
Nursery Version One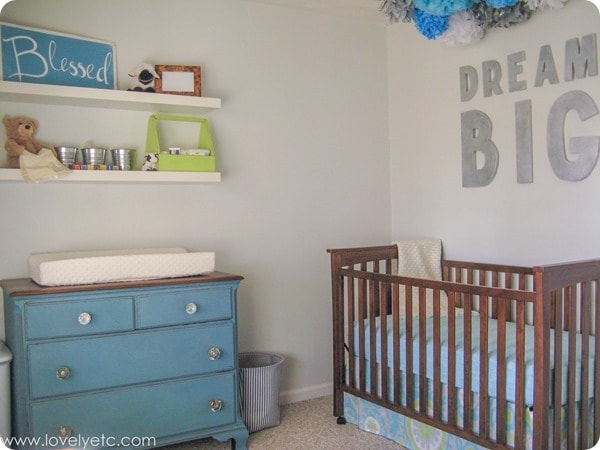 Nursery Version Two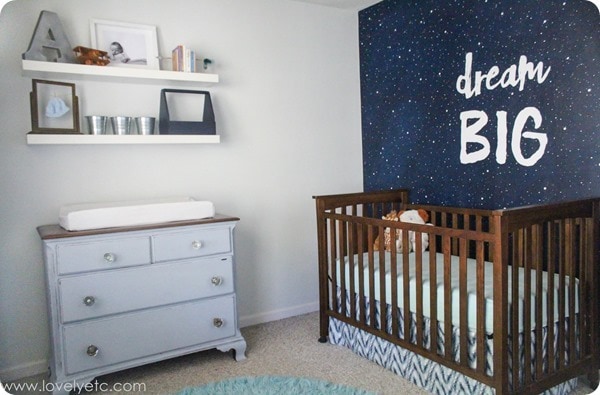 I love both nurseries but it is amazing to me how different the two nurseries look, even though very few things actually changed. The main wall color, crib, dresser, shelves, glider, rug, curtain rod, gallery wall frames, ceiling fan, and some of the accessories are all from the original nursery. The only things that changed were new curtains, a new crib skirt, different art in the galley wall, a different side table, and some new accessories. Plus the dresser and one wall were painted.
But man, what a difference! Here is how the rest of the room looks now. (You fan find the full source list and links to DIY tutorials at end of the post.)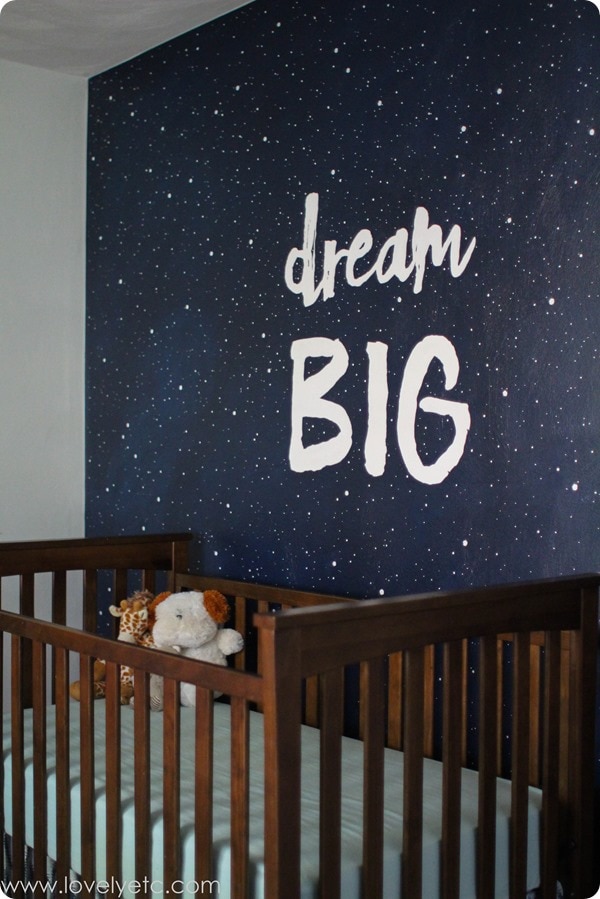 I shared a detailed tutorial for the night sky mural here. It was pretty simple to make and super cheap, using only two sample cans of paint. (Love those huge Sherwin Williams paint samples!). But there were definitely a few key things I did to make sure it didn't end up just looking like a navy wall with polka dots.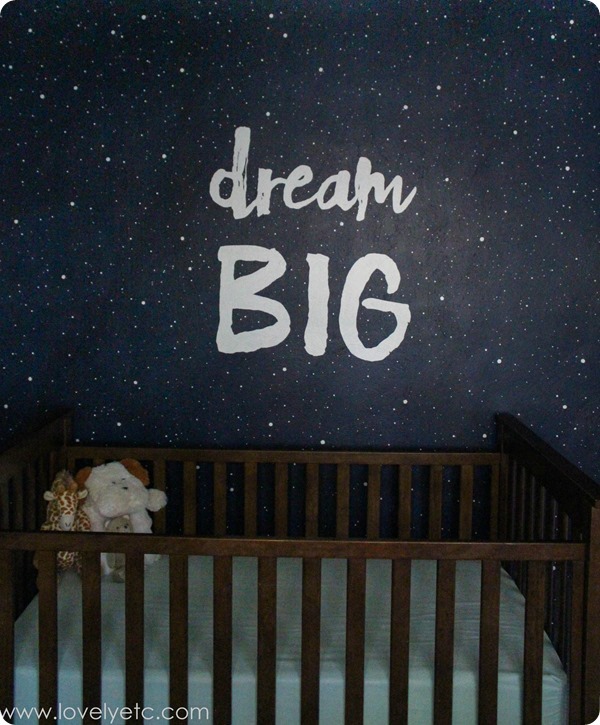 Plus, bonus points because little Asher loves to stare at this wall and anything that keeps him content and in bed a little longer in the morning is wonderful!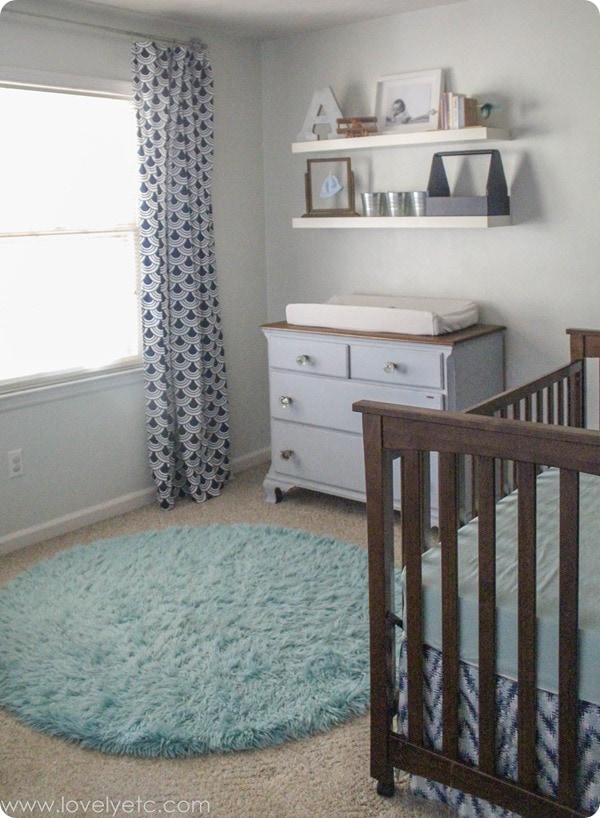 I know it seems like that dark navy wall would probably make this little room feel dark and heavy, but it really isn't a problem because the rest of the room is nice and light.
The dresser, shelves, and rug are from the original nursery but the curtains are a new addition and they were so easy to make. Even for a novice seamstress like myself. (My sewing machine and I do NOT play well together.)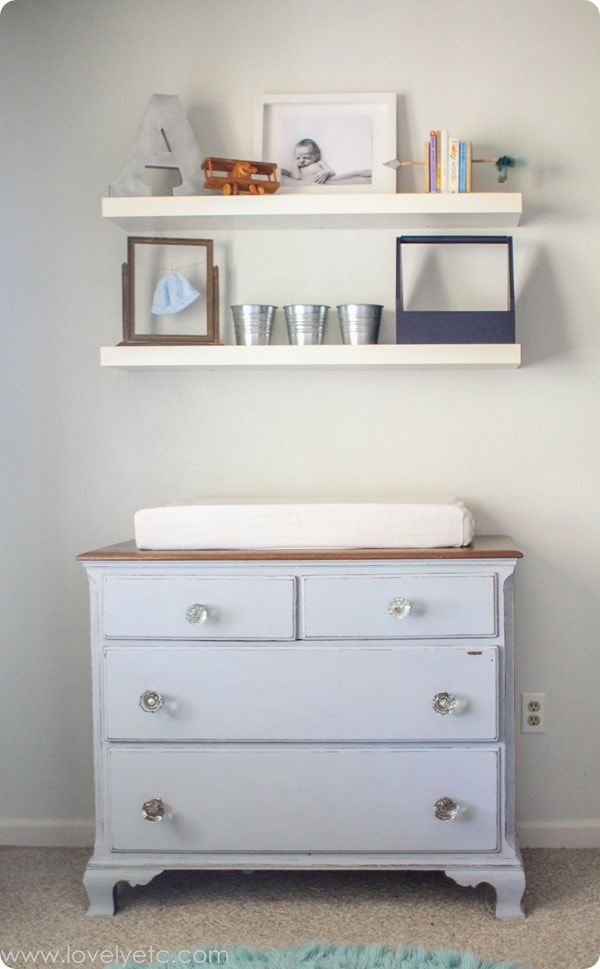 I'm still loving the vintage glass doorknobs that I added to this dresser. For nursery 2.0, I just updated the paint color from blue to pale gray.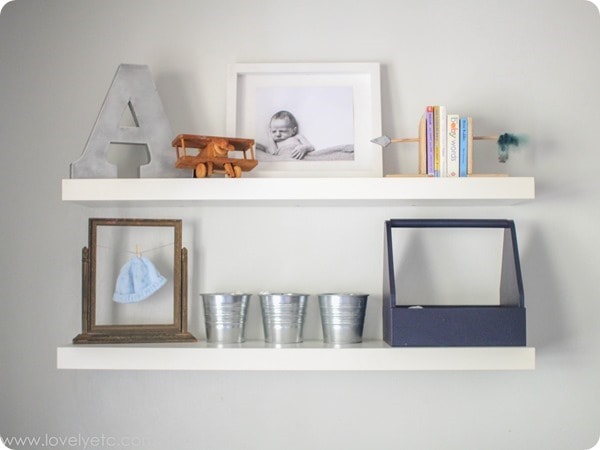 These shelves hold a great little mix of storage and style. The mini buckets hold ointments, nailclippers, etc. and the wooden tote is for storing wipes and lotion. The top shelf is just an A for Asher, a wooden toy plane, and a picture of the little man himself. And I decided to move my DIY arrow bookends in here to hold board books – I love how they add a little more fun to the room.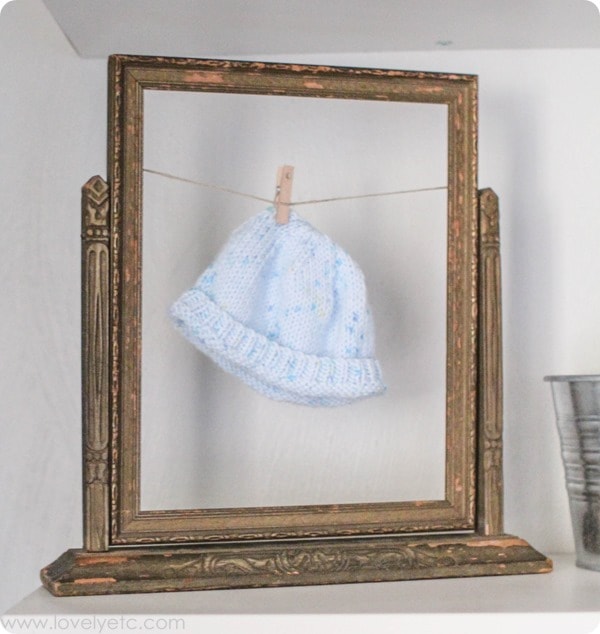 This is the tiny little hat Asher wore in the hospital – I love how sweet it looks hanging in this antique frame.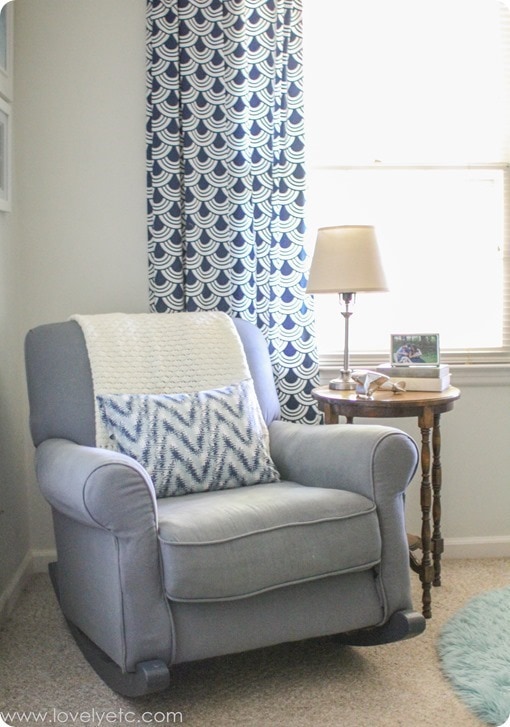 I reupholstered this glider using clearance curtain panels for the previous nursery. This time around I just added a pillow in the same awesome fabric that the crib skirt is made of as well as a baby blanket my grandmother crocheted. The little table used to be in our living room. (It was a steal to begin with – only three bucks at a yard sale!) And the lamp, old books, photo, and vintage Avon bottle plane were gathered from other parts of the house.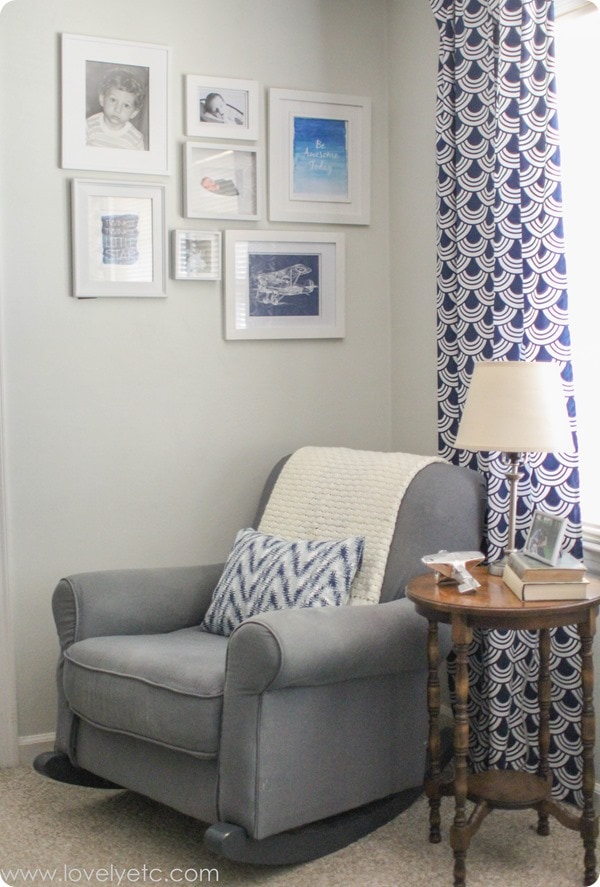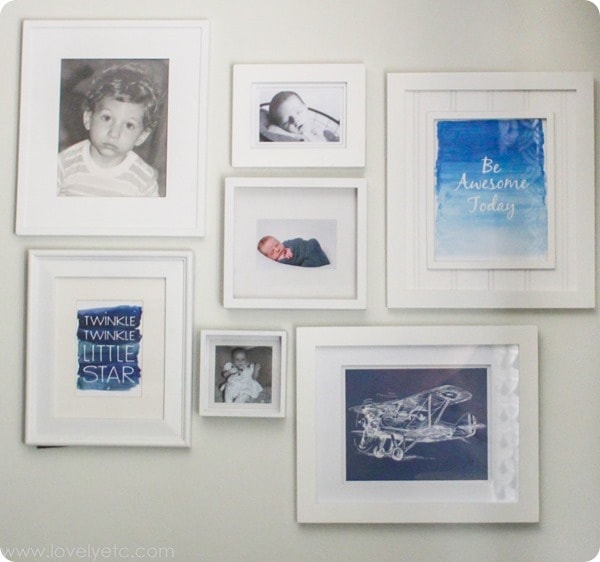 I just love this little gallery wall. I didn't go with the navy, black, and white color scheme on purpose, but I love the way it turned out. The mix of colors just looks so classic in the simple white frames. The three blue prints are all free printables and there are two baby photos of Asher and one each of my husband and I.
Even though many of these things were in the room already, I am going to share a complete source list for the entire room, including links to tutorials for all of the DIY projects. One of my biggest tricks for keeping costs down is to shop secondhand as much as possible, so there are quite a few yard sale finds here. Of course, you probably can't find the exact items I did, but I tried to find something similar at a good price to link to when possible.
This post contains some affiliate links – when you buy stuff you like, you also support future projects on Lovely Etc. at no additional cost. See my full disclosure here.
Source List
Paint colors: Navy wall: Sherwin Williams Anchors Aweigh, Other walls: Allen +Roth Day Spa, Stars and Dream Big: Behr Day Spa (Yep, funny story – The lighter Day Spa was supposed to be touch up paint for the walls but was clearly not the same color. Luckily I found another use for it!)
Crib – Graco Dakota 4 in 1 crib which is sadly no longer sold. This newer version is also very classic.
Crib skirt and pillow– DIY using Premiere Prints Rhodes Premier Navy
Dresser – a free hand me down, the glass doorknobs were scored at a yard sale, and the new paint color is Yesteryear by Americana Décor Chalky Finish Paints. These glass knobs at Amazon are similar and they are a steal!
Floating shelves – Lack shelves from Ikea
Arrow bookends – DIY, tutorial here
Curtains – DIY using the fabric Swell Navy by Michael Miller, tutorial here
Industrial curtain rod– a DIY using simple supplies from the hardware store, tutorial here
Glider – I found the glider on Craigslist and reupholstered it. The fabric was ultra cheap because I used some curtains I found on clearance and dyed. This sweet gray glider is similar – no reupholstery required.
Gallery Wall frames –from Michaels
Free Printables – Twinkle, Twinkle, Be Awesome Today, Airplane sketch
Rug – I found this rug at a consignment sale but this beauty from Overstock is very similar.
Small table, accessories, crib sheets and changing pad cover – all scored at yard sales
And that's the nursery! I'm totally in love with this room and I would love for you to share on Pinterest or Facebook!