Hey friends, I am sharing a super happy and easy project over at Classy Clutter today.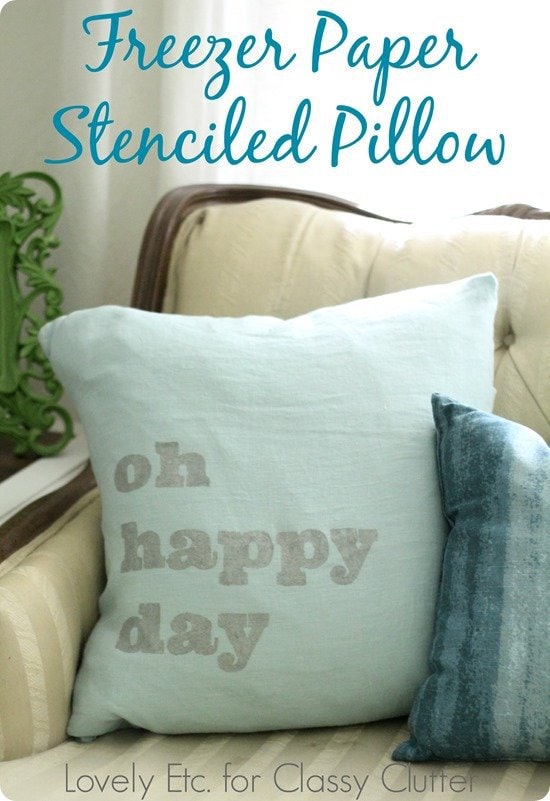 Who knows the gospel song, Oh Happy Day? I bet a lot of you do – it's a classic! Well, that song is the inspiration behind today's project.
I've been itching to make a few new pillows lately. Now, I will try to DIY just about anything, but I am not a great seamstress. When the sewing machine comes out of the closet, things get crazy. I seem to be incapable of sewing the simplest of things without a big tangled up nest of thread being involved.
So if I am considering sewing something, it had better be something pretty special. So I broke out the "Oh Happy Day". Not only is it a great reminder to embrace joy, it's a song I used to sing in a gospel choir I was in during college.
(Incidentally, that choir is how I met my husband – so needless to say it holds a special place in my heart.)
And I'm going to let you in on a little secret. This was actually another big fat fail at first. I actually made two pillows. With the first pillow, I tried to avoid the whole sewing thing by using no sew tape. I also decided to use liquid silver leaf to give my letters a little extra pizazz.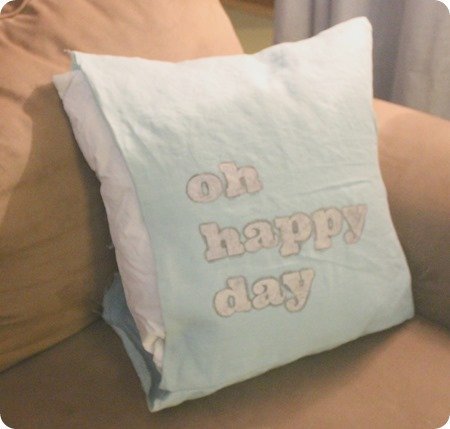 The liquid silver leaf had a mind of its own and when I added the insert, the whole side busted open.
Whop-whop.
Luckily, I didn't give up there. I pulled out the sewing machine and actually managed to sew a second pillow without any major catastrophes. Yay me! And I went with a different method for the letters – less shiny but much neater. For all the details on the right way to make this pillow, head over to Classy Clutter.
Anyone have any tips to avoid that whole tangled nest of thread next time I attempt to sew?