Our bathroom renovation is really shaping up to be gorgeous guys! I am so excited to share some after pictures with you, but we just aren't there yet. Instead, I thought I would share our biggest decision of this whole reno with you – the decision to hire contractors. I am a DIY kind of girl through and through. I like to tackle things on my own. I like to save money by not having to pay for expensive skilled laborers. And I don't particularly enjoy having strangers in my home. Which pretty much explains why I like to tackled almost every project on my own.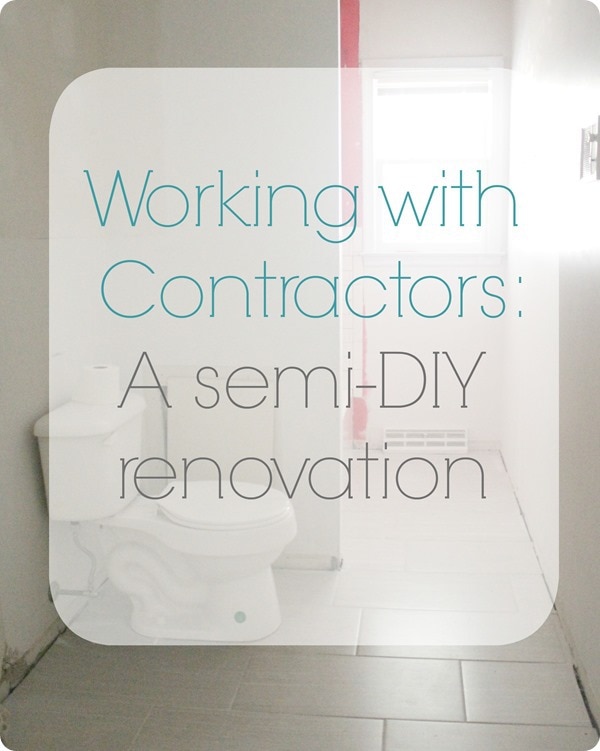 Unfortunately, I knew from the beginning I was going to need help with this bathroom project. There are a lot of things I will attempt to tackle myself – even if I have never done them before. However, anything related to the structure or safety of our house is off limits. I'm not willing to put our family at risk to save a little money on repairs. And this bathroom renovation definitely falls into this category.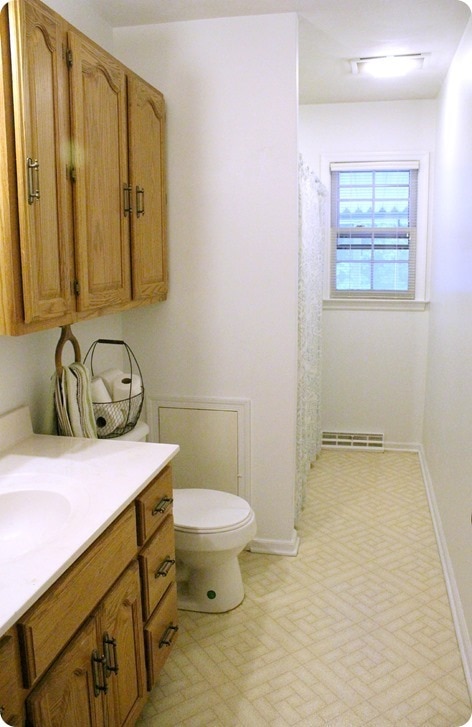 Bathroom before
The whole renovation started because we had water damage. What we had been told was a little bit of damage caused by old caulk around the tub turned out to actually be major damage to the vanity, bathtub surround, and flooring caused by the disintegration of our pipes. We apparently had really nice copper plumbing pipes – that did not play nicely with all the minerals in our local water. The water basically ate holes all throughout our water pipes, including the ones in the walls. Re-plumbing our house was clearly not something I was prepared to tackle myself; particularly not with a toddler and a baby underfoot.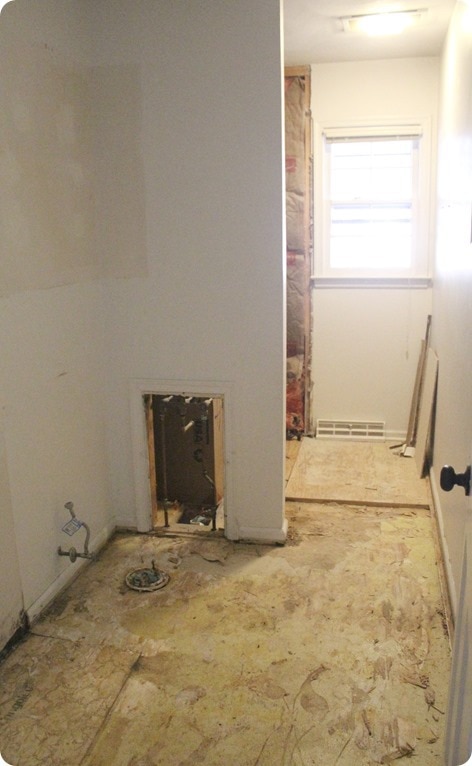 After demo – yikes!
So we knew hiring professional help was a must. But at the same time, we really did need to save money on this project. So instead of just letting the pros handle the whole project start to finish, we worked out more of a hybrid plan. We hired a professional company to demo everything damaged, replace all of the swiss cheese pipes with PVC, replace the subflooring, prepare the shower surround to be retiled, and tile the floor. Then with all the dirty work done, we would be able to paint the walls and trim, tile the shower, and add our upcycled vanity, new lighting, and new shelving.
(Just so we are clear, I am using the term 'we' here very loosely. My husband is neither handy or interested in home beautifying, while I am both. So this bathroom reno is really my thing and I'm cool with that.)
Basically, we let the professionals do all the dirty, structural and plumbing work and then once they finished, I tackled the more manageable finishing work. At first, I questioned whether we should have handled the demo ourselves since it doesn't exactly take a lot of skill. But after seeing that it took two men a full day and a half of hard work to get everything out of there, I was thrilled that we didn't have to do that part ourselves.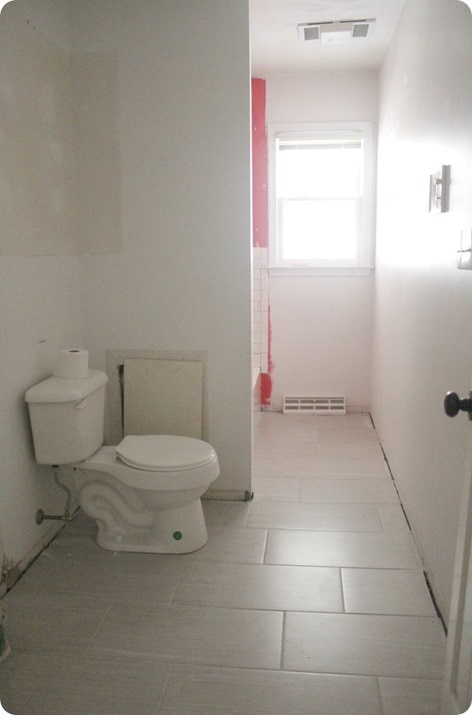 After the contractors finished their work
Check out all the posts related to our DIY bathroom renovation below:
Modern Farmhouse Bathroom Reveal with budget and source list
Vintage Dresser Bathroom Vanity
How to make a dresser into a bathroom vanity: the nitty gritty
Cheap and easy board and batten
Working with contractors: A semi DIY bathroom renovation
The cheapest bathroom mirror ever
Installing tile: smart tips for beginners
Choosing the perfect paint color