Learn how to paint sliding glass doors; it's a quick, easy update that makes a huge difference.
Progress in the family room is still moving slowly considering we currently have a big hole in the wall around the fireplace.
Even so, I did manage to address a major eyesore this weekend.
We have sliding glass doors in our family room that lead out onto the screened porch.
They are great because they let in tons of light and give a great view of the backyard. Unfortunately, they are really ugly.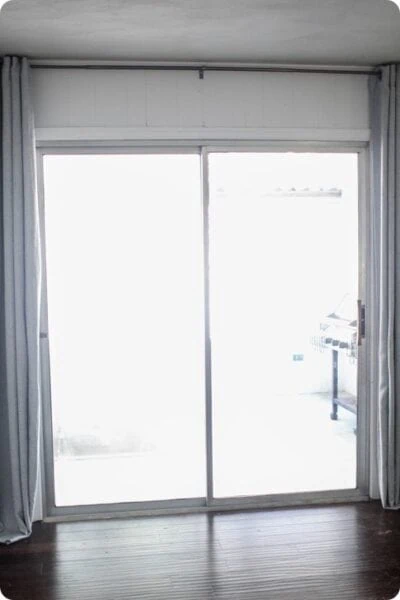 The door frames are unpainted aluminum with an oversized wooden handle.
They look unfinished and just plain ugly, and finally, after 8 years of living here, I did something about it this weekend.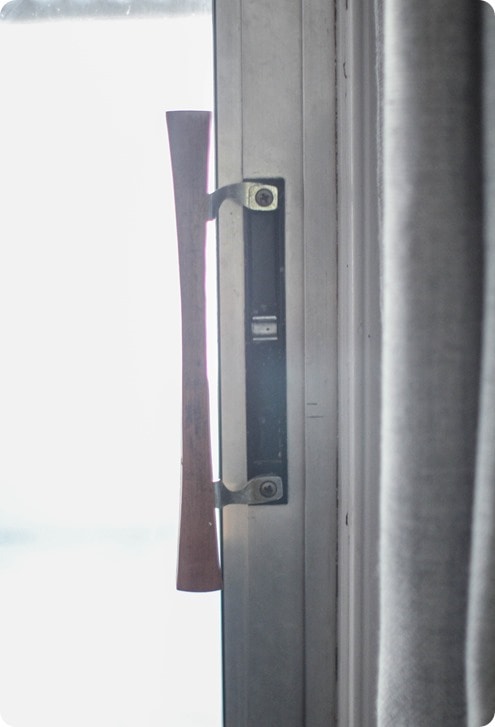 I painted them! And now they fade into the background and you hardly notice them at all – which is exactly what I wanted!
Instead of noticing the ugly doors, now your eyes go straight to the pretty view. Perfect!
I used spray paint to paint the doors because I have always had the best luck with spray paint sticking to the metal.
So far, so good! I will keep you updated on how this holds up. The only part I am concerned about is the bottom section of the track where the door actually moves back and forth.
(UPDATE: The paint has held up so well over the past few years, I recently painted the exterior of my doors as well as my aluminum windows.)
How to Paint Sliding Glass Doors
The first step is to clean the sliding doors and the track really well. My door tracks had quite the build up of dirt and other gunk.
I used a good multi-purpose cleaner (Method all-purpose cleaner) along with paper towels and q-tips to get in the little nooks and crannies.
Once the frame was clean and dry, it was time to start taping. Because I was using spray paint to paint indoors, I wanted to be sure to protect everything in the vicinity.
I removed the curtains that were framing the door.
I used painter's tape to tape off the border of each piece of glass and then covered the rest of the glass with old wrapping paper.
(Extra wrapping paper is something I always seem to have plenty of and it works great as a drop cloth in a pinch. Plus, it is super lightweight so very easy to tape onto vertical surfaces.)
I also carefully taped off the outside border of the door frame and used more wrapping paper to protect the walls all around the door.
I made about a 12 inch border of wrapping paper on all sides and that was plenty.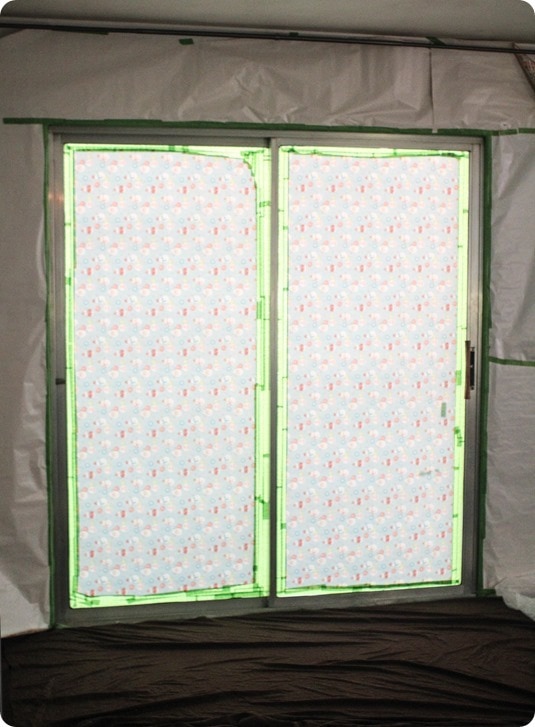 I also protected the floor by taping an old sheet in place over the hardwoods.
I was able to protect the entire area immediately in front of where I was painting, but I wish I had used more old sheets to protect the rest of the flooring in that half of the room.
I didn't get actual paint on the floors but whenever you spray paint, dust from the spray settles on everything in the area.
When I was finished, I had a lot of paint dust to clean off of my dark hardwoods. Not ideal.
I double checked that everything was well-protected and then sprayed a light, even coat of spray primer over all the metal parts of the doorframe.
Always make sure to take safety precautions when spray-painting, especially indoors.
Open lots of windows and doors for good ventilation and wear a protective mask.
I used Rustoleum spray primer for clean metal (as opposed to rusty metal) but any spray primer made specifically for metal will work.
Spray paints can be really finicky so always make sure to follow the directions on the can.
My primer said to coat with paint within one hour or after 48 hours, so I made sure to start painting after about 30 minutes.
I used Rustoleum satin spray paint in white.
It works on metal and can be used indoors and outdoors. I sprayed three thin coats of spray paint, waiting around 15 minutes between each coat.
Then I pulled off all the tape and wrapping paper (and wiped up all the dust) and got to see my new white, unoffensive sliding doors.
So much better!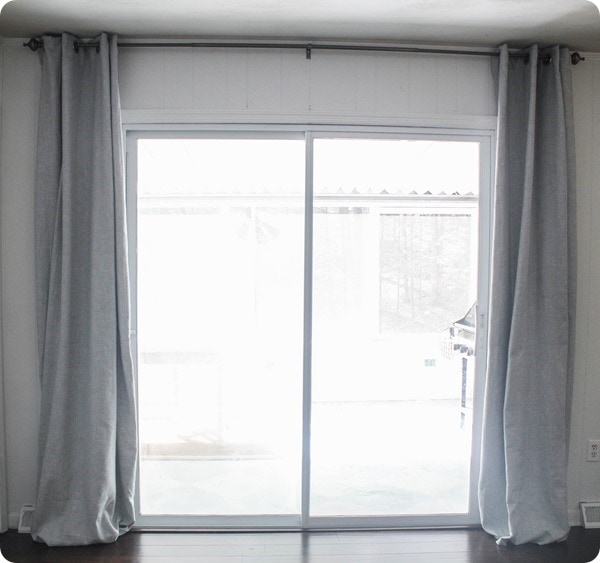 There were a few small spots where some paint slipped through the tape onto the glass.
A razor easily scrapes these small areas off.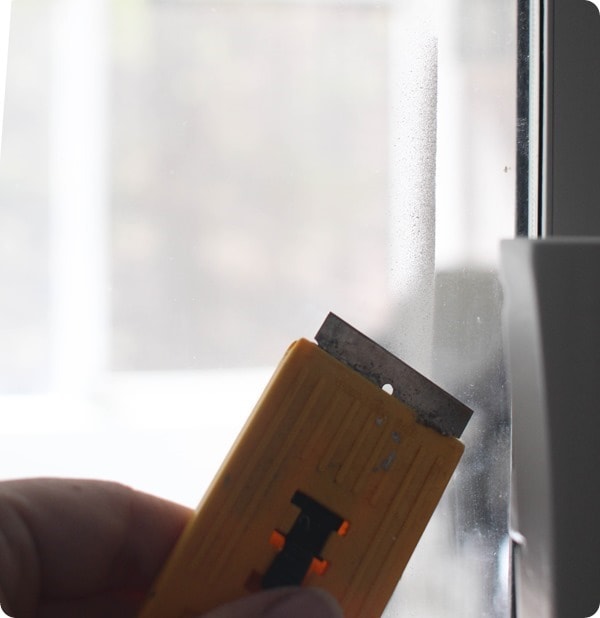 I chose to paint the entire awful handle white as well. I may end up changing out the handle, but for now the white is a major improvement.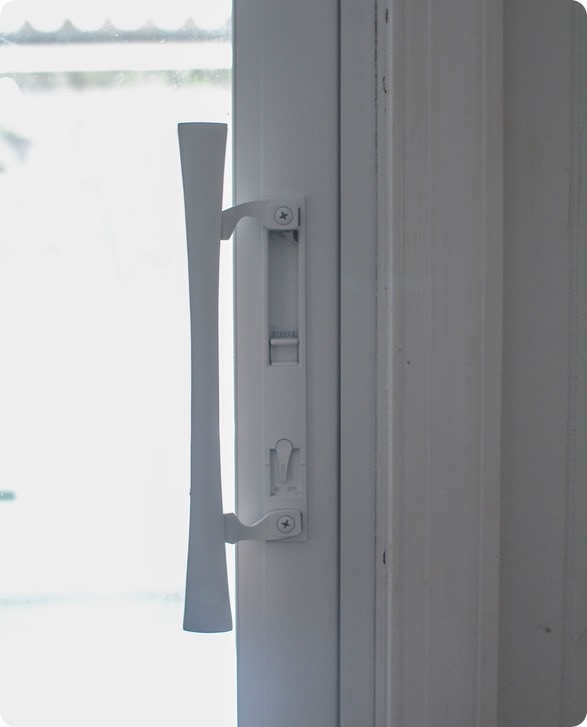 And that's one more eyesore banished from the family room.
Now if I can just get that big hole in the wall taken care of, we'll be in business!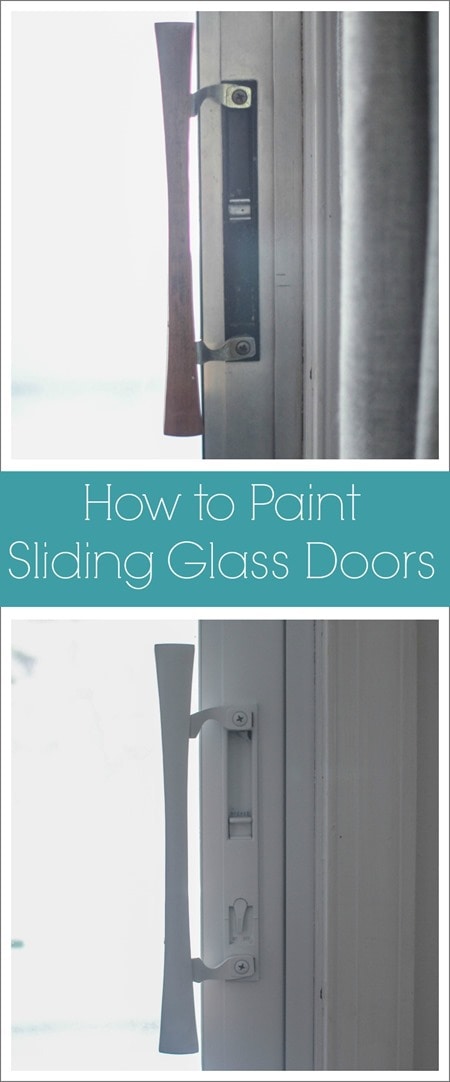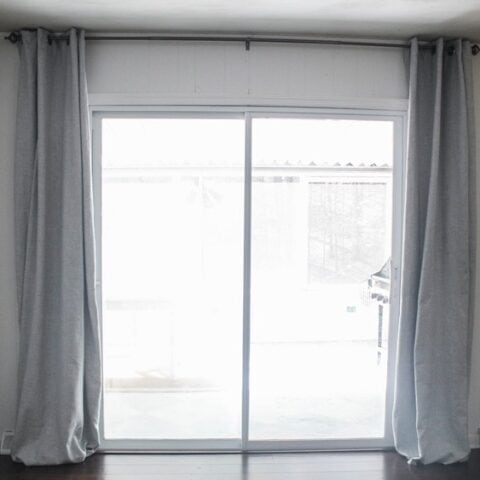 Painted Sliding Glass Doors: One Less Eyesore
Yield:
1 Sliding Glass Door
Total Time:
1 hour
15 minutes
Paint is a simple and budget-friendly way to give outdated sliding glass doors new life.
Materials
Painter's Tape
Old Wrapping Paper
Rustoleum Spray Primer
Rustoleum Satin Spray Paint
Multi-purpose Cleaner
Old Sheet
Instructions
Use the multi-purpose cleaner to clean the doors and sliding track really well.
Secure old wrapping paper to the border of each piece of glass with painter's tape.
Tape off the outside border of the door frame with more wrapping paper.
Cover the floor with an old sheet.
Spray a light, even coat of spray primer over all the metal parts of the doorframe.
Let dry.
Spray three thin coats of spray paint, waiting around 15 minutes between each coat.
Recommended Products
As an Amazon Associate and member of other affiliate programs, I earn from qualifying purchases.