I've been getting quite a few questions about our stenciled backsplash , so I thought it would be helpful to share my tricks for choosing the best backsplash stencils along with some really gorgeous tile stencil options.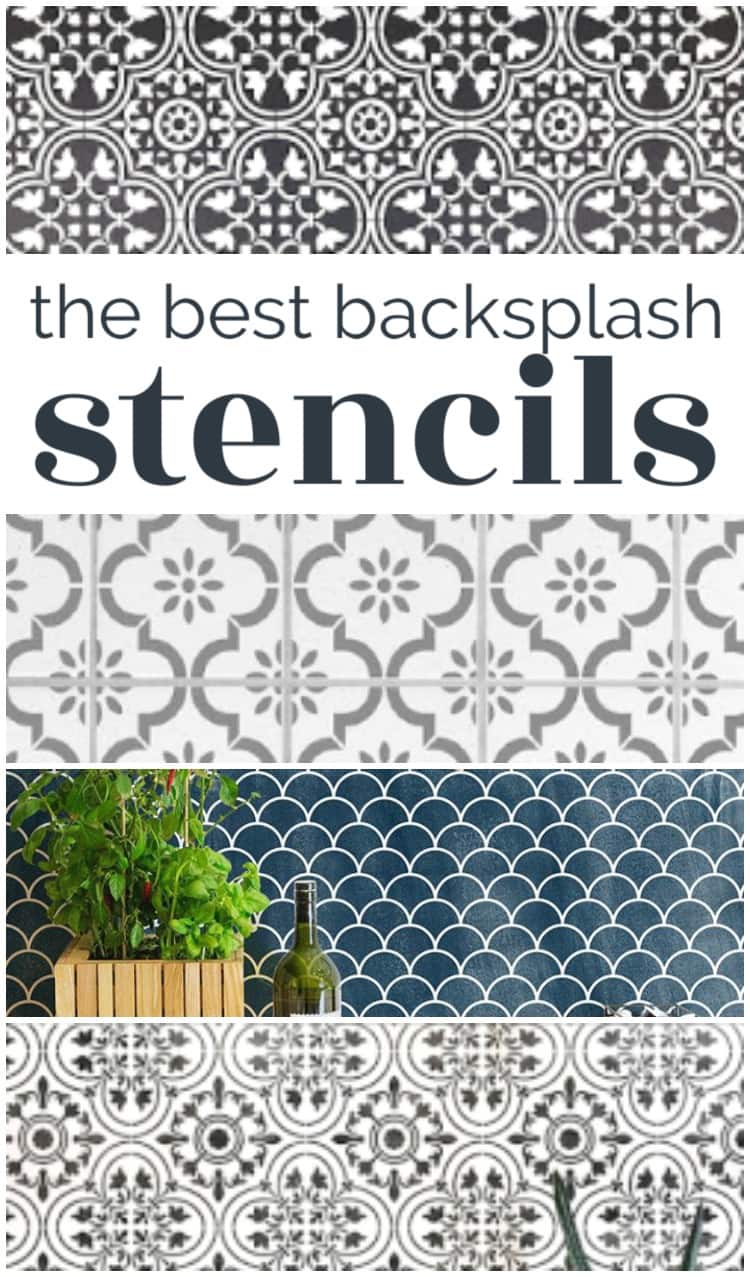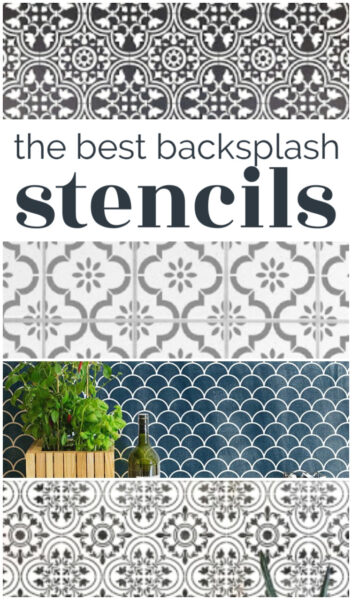 This post contains affiliate links which means if you make a purchase after clicking a link I will earn a small commission but it won't cost you a penny more. Click here to see my full disclosure policy.
My own stenciled backsplash
I first stenciled my kitchen backsplash a couple of years ago using this antique tile stencil.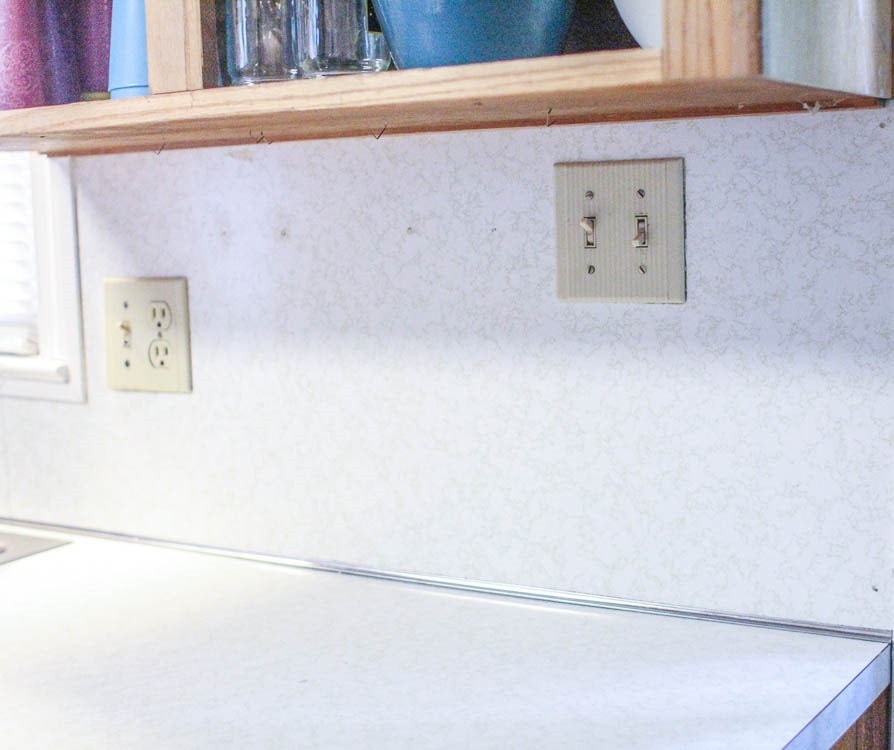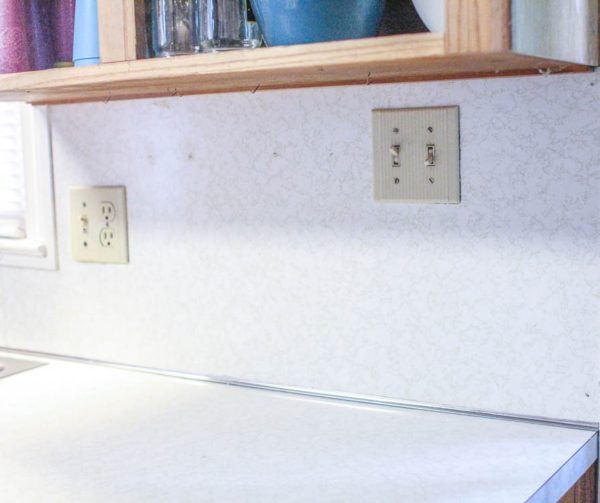 Before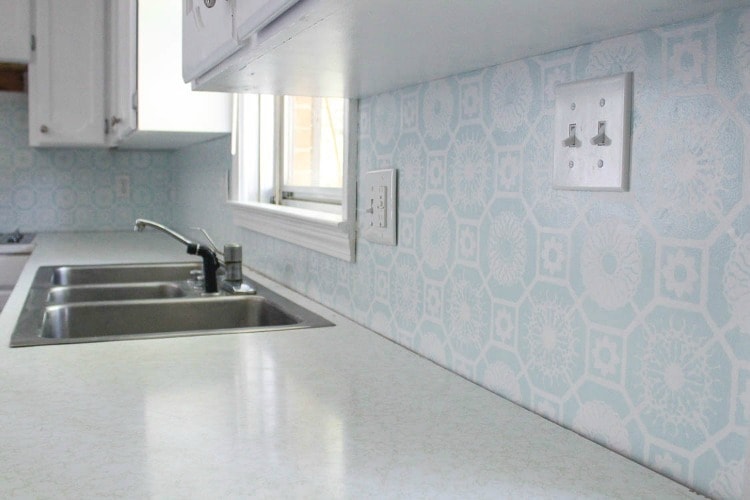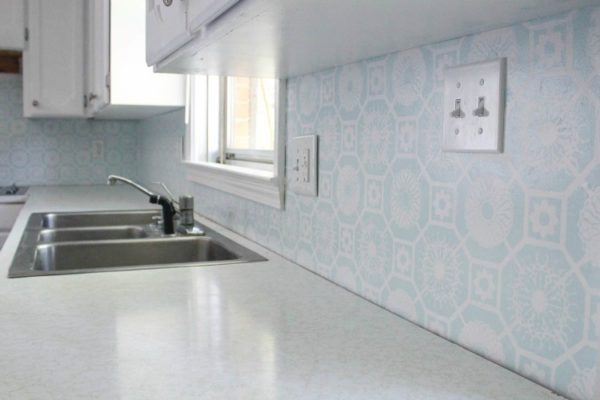 After
It was a very inexpensive way to change our ugly laminate backsplash and that change alone made a huge difference in our dated kitchen.
But as I finished up the other projects in our budget kitchen makeover, something wasn't quite right. As much as I love a bright, white kitchen, our kitchen was looking entirely too white. There was no real contrast to draw your eye.
I decided to repaint the backsplash using the same gorgeous blue I painted the fireplace in our adjoining family room: Sherwin Williams Blue Mystery. And since I was making changes, I decided to give a new stencil a try as well and used this Santa Ana tile stencil.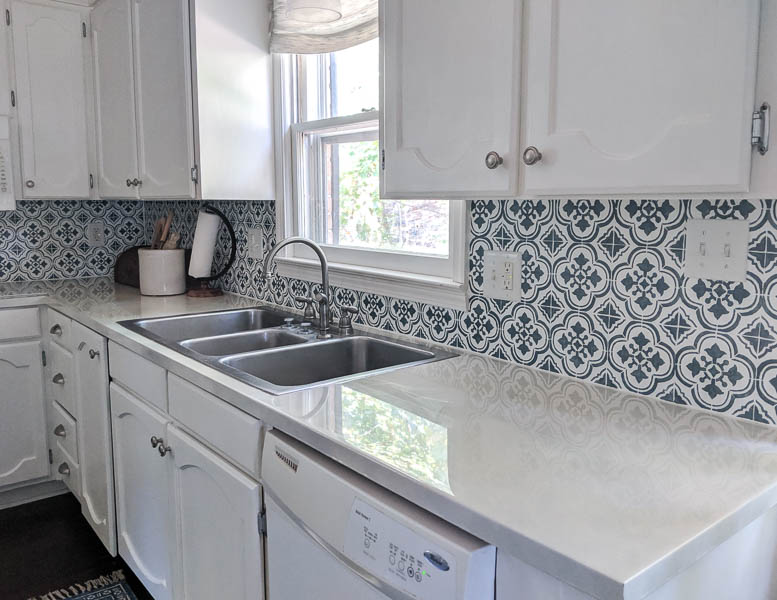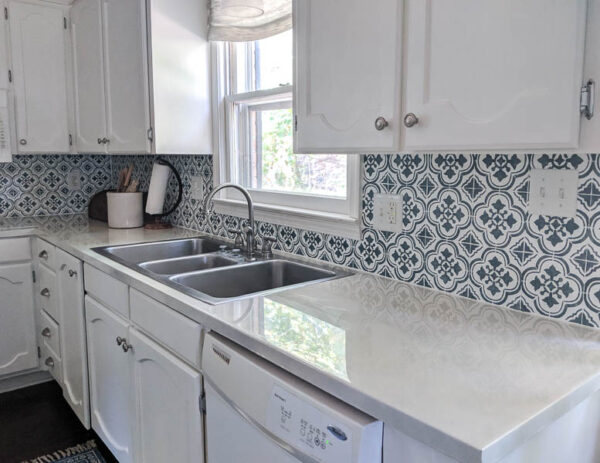 And I loved this second stenciled backsplash even more!
Stenciling a backsplash is such an affordable way to update your kitchen. And my own stenciled backsplashes have held up so well and been super easy to clean. My first backsplash lasted a full two years without a single problem before I decided to repaint it.
Tips for choosing the perfect backsplash stencil
There are some gorgeous tile stencils these days, but there are a few important factors to keep in mind when choosing the perfect stencil for your kitchen.
What type of stencil you choose will depend largely on what type of backsplash you are stenciling. Do you have a solid surface backsplash like drywall or laminate? Or do you have a tile backsplash that you want to update with paint?
Solid surface backsplash stencils
If you are stenciling a solid surface, you have a bit more flexibility in your stencil choice. You don't have to worry about matching your stencil to your current tiles, so the 'tiles' on your stencil can be any shape or size.
The 'tiles' on the stencil I used are approximately 6 inch squares. This is the perfect size for a traditional backsplash like mine. If you have open shelving or more open wall space and are extending your backsplash higher, you can get away with a larger size 'tile'.
Tiled backsplash stencils
If you are stenciling a backsplash that is already tiled, your process will look slightly different. Instead of stenciling large areas as I did, you will stencil each tile individually. You can see how Hailey Duncan Home stenciled her tile backsplash here if you want to see an example of how this works.
You want to choose a stencil that is the same size as the tiles on your backsplash so that it lines up well. Many tile stencils are available in multiple sizes for exactly this reason.
Beautiful Backsplash Stencil Options
I've gathered the most beautiful tile stencils I could find below. And I've indicated below which stencils are available in multiple sizes so that it will be easier to find options that might fit your specific backsplash.
(Just click the pic or the link below to see more info about each stencil.)
| | | |
| --- | --- | --- |
| available in many sizes | available in many sizes | |
| available in 4 sizes | | available in 4 sizes |
| available in 3 sizes | | |
| available in many sizes | available in 3 sizes | available in many sizes |
Want more stencil inspiration?
The Absolute Best Floor Stencils
How to Stencil Anything: 3 Secrets to Perfect Results Every Time
How to Clean Stencils the Fast and Easy Way
More budget Kitchen makeover projects I think you'll love:
20 Must See DIY Kitchen Backsplash Ideas
Budget Kitchen Makeover Reveal
Painted countertops: How to paint your countertops to look like marble
Where to buy inexpensive cabinet knobs and pulls
I'd love for you to pin this post to Pinterest!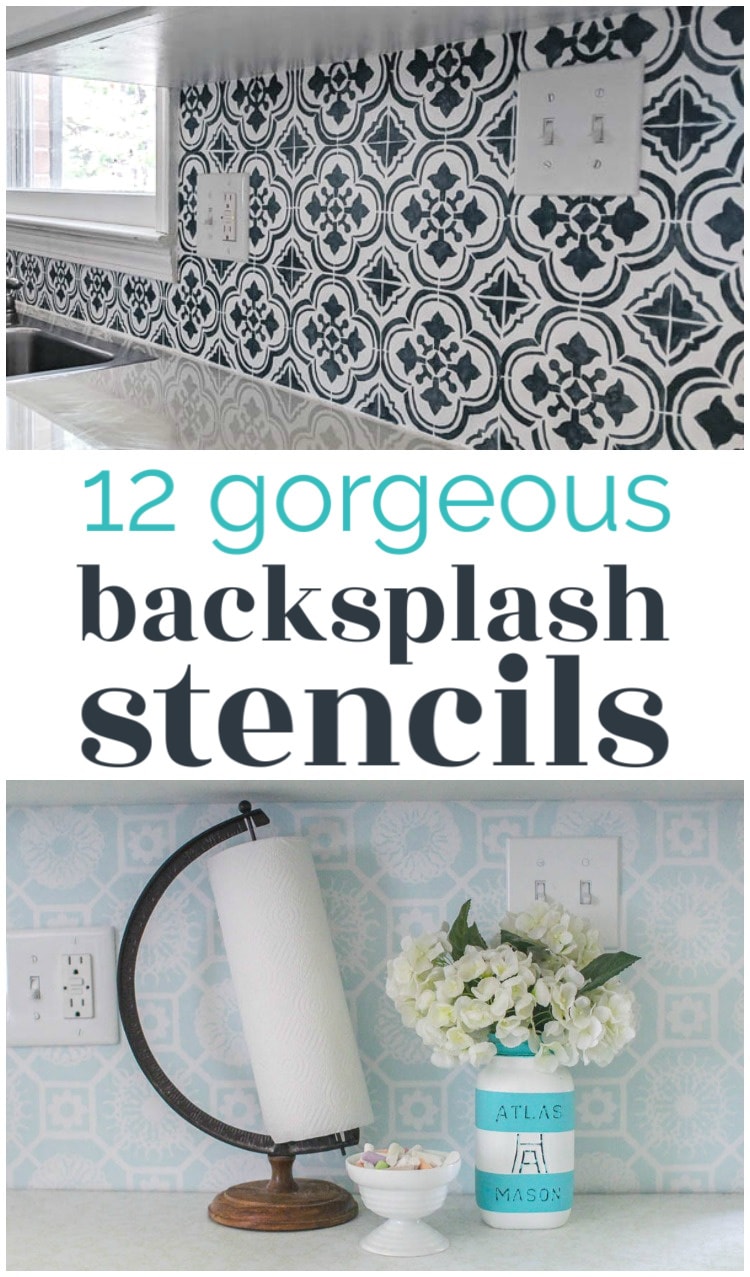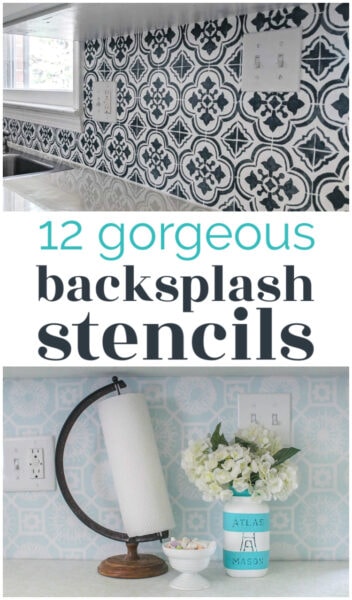 Happy stenciling!