I have been getting lots of questions about my stenciled floors, so I thought it would be helpful to share my tricks for choosing the best floor stencils along with some of my top tips for stenciling your own floors.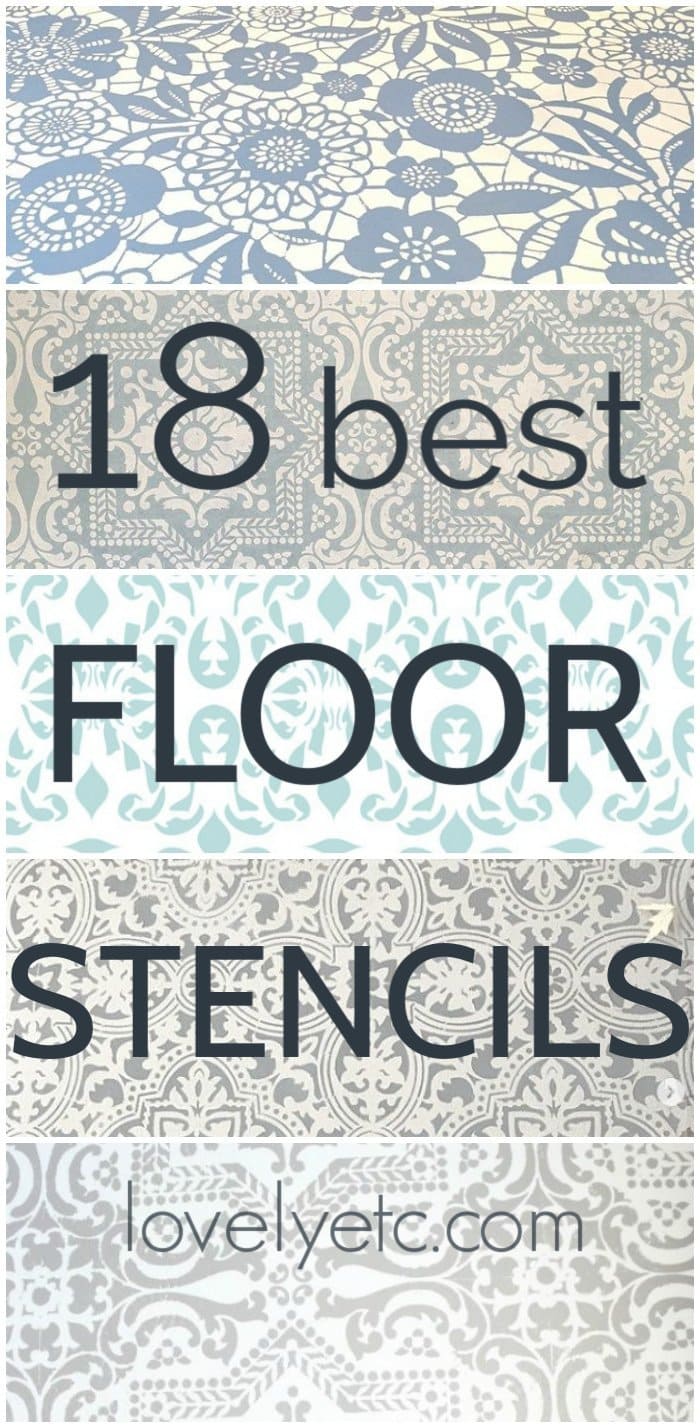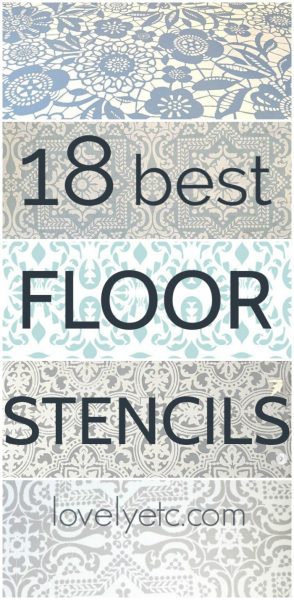 This post contains affiliate links. See my full disclosure here.
Choosing the best floor stencils
Ok, so really any wall stencil can technically be used as a floor stencil, but there are a few key details that make some stencils perfect floor stencils, while others are not.
The best floor stencils are big. I'm talking about the actual physical stencil itself here; ideally it should be at least 20"x20". This makes it much faster and easier to stencil a large area like a floor.
They have a large repeating pattern. A teeny tiny pattern will get lost on a large surface like a floor.
They have enough detail to hide any imperfections in your paint job. Also to hide stray crumbs in the future. That's why I haven't included stencils with lots of very crisp, straight lines.
Those patterns can be beautiful on a floor, but any tiny mistake or imperfection will stand out like crazy. This includes tiny flaws in your painting, but also the flaws that are inevitably part of the old floors you are stenciling over.
Plus, the beauty of using a stencil is that it's easy to paint a very detailed pattern quickly. And all of those details add interest as well as hiding problem spots.
The best floor stencils are beautiful and stylish (of course). Painted floors can always be repainted, but once you've put in the work to paint them, you'll want to keep them around for awhile.
A great floor stencil will have a beautiful pattern that flows with your decorating style without being overly trendy. The great thing is there are plenty of gorgeous stencils out there these days so whether you love farmhouse style, traditional decor, or something more modern, there's a stencil that's perfect for you.
The paisley stencil I used to paint my own floors hits all of these points and that is part of why I love it so much! But there are also plenty of other stencils that I think would make gorgeous stenciled floors. (If only I had enough rooms to use them all!) These are my top picks.
(Just click the pic or the link below to see more info about each stencil.)
| | | |
| --- | --- | --- |
| | | |
| | | |
| | | |
| | | |
| | | |
| | | |
Tips for Perfectly Stenciled Floors
Okay, so now that you're drooling over all of those gorgeous floor stencil choices, I also have some great tips to make the whole stenciling process go smoothly.
Since I first shared my stenciled floors, I've gotten tons of questions about the exact process I used. Even though I shared a tutorial of the entire painting process, you guys want more! Mostly I think everyone just wants to know that if they take on a big project like this, it's going to turn out well. And I completely get that, so here are my completely honest answers to the questions I have been asked the most about painting and stenciling floors.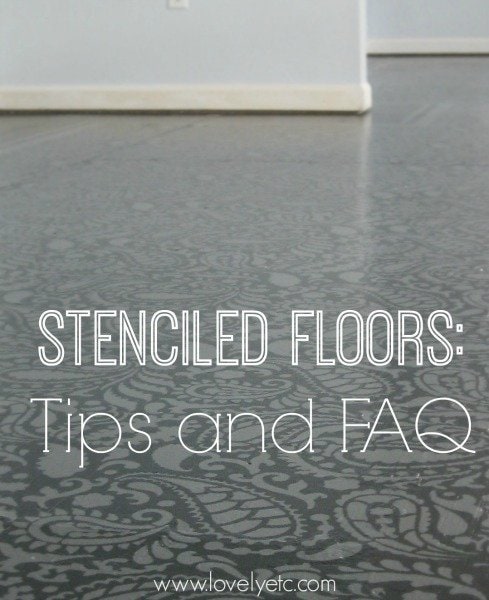 What kind of paint did you use to stencil your floor?
I used porch and floor paint which I highly recommend. I used Valspar porch and floor paint, but almost every paint line makes a porch and floor paint.
Porch and floor paint is great because it is self-leveling and is specifically formulated to hold up to the wear and tear of people walking all over it. (You can read about my entire floor painting process and all of the specific materials I recommend right here.)
Did you use a brush or a roller to paint with the stencil?
I used a small foam roller
to paint the stenciled area. Make sure to use a roller made for smooth surfaces – they often say they are for doors and trim. Roll your roller in the paint but be sure not to overload it – you do not want it dripping paint.
Then before actually painting over the stencil, you need to remove any extra paint. I just used a paper plate with several paper towels on top and rolled the roller over it a few times. It is important you don't have too much paint on your roller so it doesn't squish under the stencil.
Then lightly roll your roller over your stencil. This goes MUCH faster than you would think.
If you are nervous, you can always practice first on a scrap piece of wood or even a piece of poster board. This will help give you an idea of how much paint you need to use before you actually start painting your floor.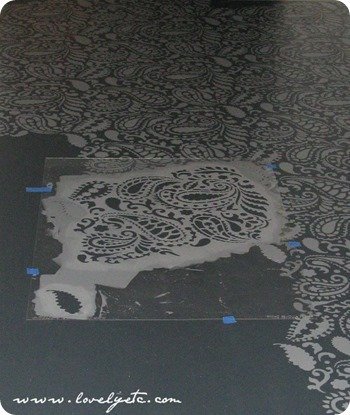 How do you keep from smudging the paint when you move the stencil?
When you have your stencil in place, secure it to the floor with a few pieces of painter's tape. As long as you don't overload your stencil with way too much paint, the paint actually dries pretty quickly.
When you are ready to move the stencil to the next section, gently untape it and lift it straight up and then place it gently at the next section. As long as you don't slide your stencil through the fresh paint, you shouldn't have smudging problems.
How often did you clean your stencil?
Cleaning the stencil was honestly the most annoying parts of the whole process. I definitely did not clean it in between each section – that would have taken f.o.r.e.v.e.r. However, I did have to clean it a few times during the process.
After awhile, dried paint starts to build up around all of the edges of the stencil which begins to make your stenciled design look less crisp. When I noticed that happening, I would stop and clean my stencil.
I found this very frustrating and there may be a better way but I ended up cleaning my stencil in the sink. I sprayed it with water and wiped it down with an old washcloth to get off all of the old paint.
Then I peeled off all the remaining bits of paint with my fingers – since it was latex it peeled off in little sheets. As I said, this was the most annoying part so I only cleaned it when absolutely necessary – maybe three or four times for the entire floor.
What paint colors are best for stenciled floors?
What paint colors you use are totally up to you. In general I think neutral colors are a great idea because neutral floors will allow you to be more free when you are choosing furniture and decor for your room. Plus you are less likely to get tired of neutral colors than something very bold.
But, that being said, it's your house so choose whatever colors you want! If you've always wanted some bold turquoise floors, this is your chance to give it a go without blowing a ton of money.
The other thing to consider is that you will need at least two different paint colors – one for the background and one for the stencil. You can choose two colors that are very similar to one another for a more subtle look or two high contrast colors (like black and white) for more drama. Want more specific ideas? Check out the pics in the recommended stencils above for lots of possible color combos.
By the way, I used the Valspar colors Chimney Smoke and Crucible for my own stenciled floors. The two colors are fairly neutral and not too high contrast.
Do you have any regrets about stenciling your floor?
Not a single one.

And if you haven't yet, be sure to check out these other posts for more answers to your questions about painting floors:
Amazing Painted Plywood Subfloor: A How To
Painted Plywood Floors Update: The Good, The Bad, and The Ugly
Painted Plywood Subfloor: Three Years Later, The Final Update
15 Gorgeous Painted Floors: Ideas for Every Type of Flooring
Have a wonderful week!