After testing five different methods, I'm sharing the fastest, most effective way to remove stubborn glued-down carpet.
When we began pulling up the carpet in our family room, we were met with a most unfortunate surprise – under the carpet and carpet pad was another layer of carpet.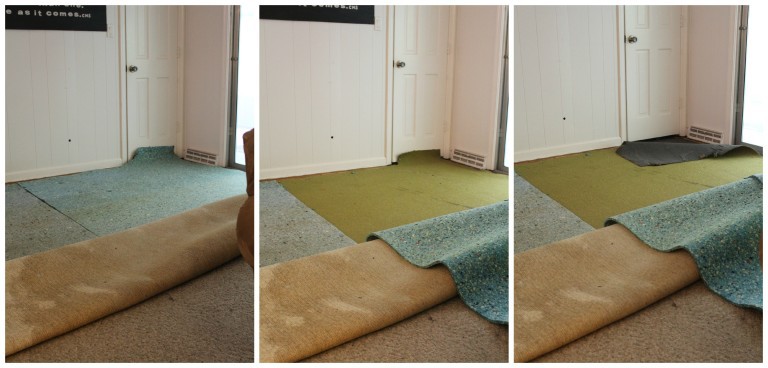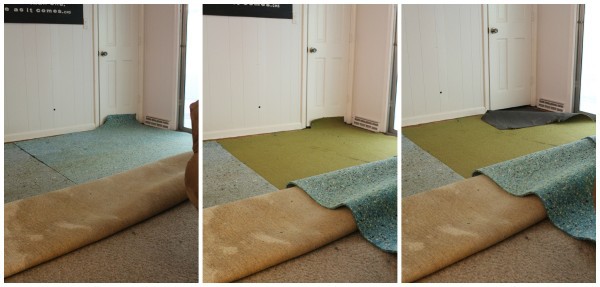 This carpet was a very stiff carpet with a black foamy backing. It was almost like indoor/outdoor carpet and it was glued firmly to the plywood subfloor.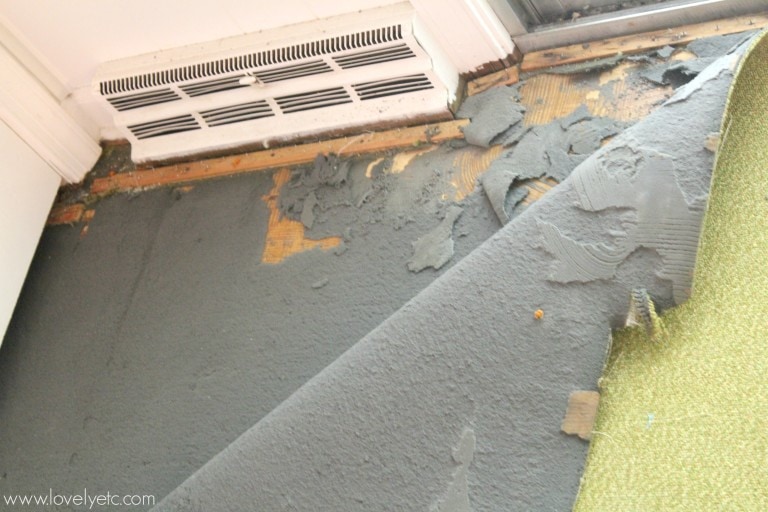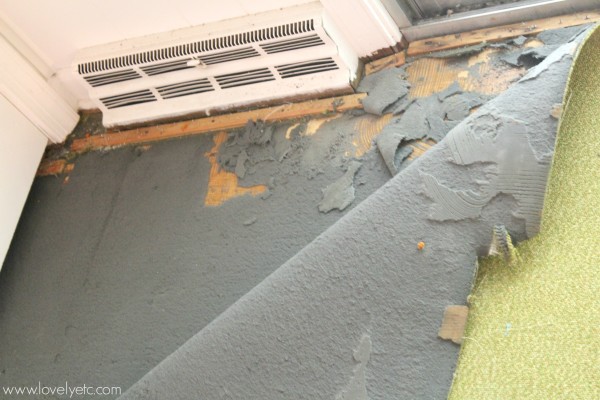 How to remove glued down carpet
This post contains affiliate links which means if you make a purchase after clicking a link I will earn a small commission but it won't cost you a penny more. Click here to see my full disclosure policy.
It turns out it is very difficult to remove glued down carpet. It does not come up easily. In fact, it does its very best to remain firmly in place.
First, we used a utility knife to cut the carpet into strips and peeled each strip of carpet up. This effectively removed the top layer of carpet and padding, but left behind a pretty thick layer of black foam.
Of all of the things I tried, the best way to deal with this foam was simply to use elbow grease and a scraper and scrape it off. Luckily, other than giving me a pretty good arm workout, it wasn't particularly difficult.
The real test was the black adhesive residue that was still left behind, stuck to the subfloor. I turned to the Internet and immediately got started researching the most painless way to get the nasty stuff up.
I found lots of suggestions:
Boiling water/steam
Murphy's Oil Soap
Mineral Spirits
Paint stripper and other various chemicals
Scrapers
Dry Ice
I started out testing all of the recommended materials I already had on hand: boiling water, Murphy's soap, Citristrip paint stripper, and mineral spirits.
Along with these I used a hand scraper with a razor type tip (similar to this one from Amazon).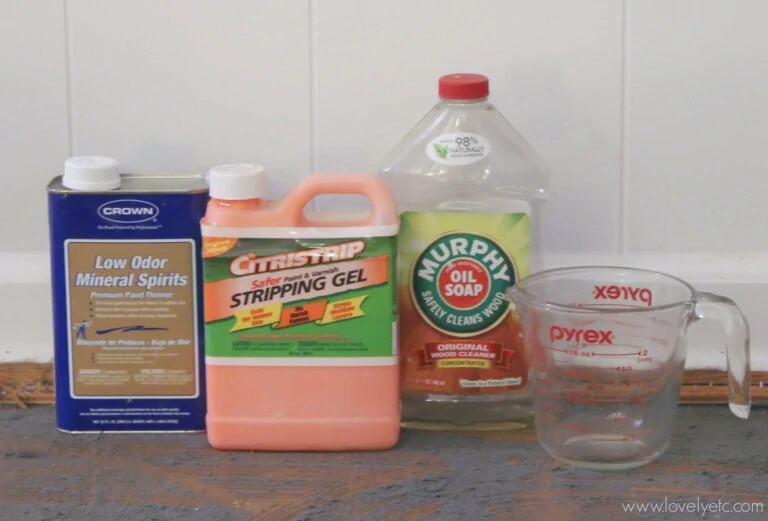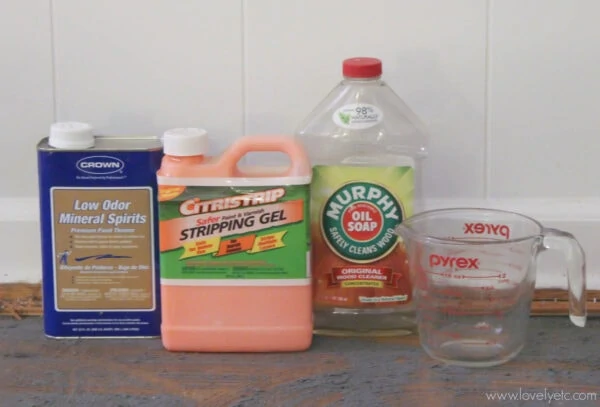 Murphy's Soap
I mixed the Murphy's Soap with some water and wiped it on with a rag and then scraped.
When it did not come up well, I waited half an hour and then scraped some more.
It really didn't seem to make any difference. The Murphy's soap did not help at all. I didn't really expect it to, but someone had recommended it and I figured it was worth a try.
Verdict: The Murphy' soap was a complete fail.
Citristrip and Mineral Spirits
I applied each of these to different areas with a rag, waited half an hour and then scraped.
These gave very similar results and they both definitely made a difference. I was able to scrape the adhesive off, but it still required a lot of time and elbow grease. Doing the entire room this way would have taken days, maybe even weeks.
Verdict: Citristrip and Mineral Spirits both worked to remove the adhesive, but it was painfully slow.
Boiling Water
First I tried just pouring the boiling water on the floor and scraping. No difference.
Then I read a tip to pour the boiling water on a towel on the floor and let it soak for about an hour.
When I tried it this way, the results were much better. This actually worked even better than the chemical strippers. Add that to the fact it involves no harmful chemicals and was free and I was sold.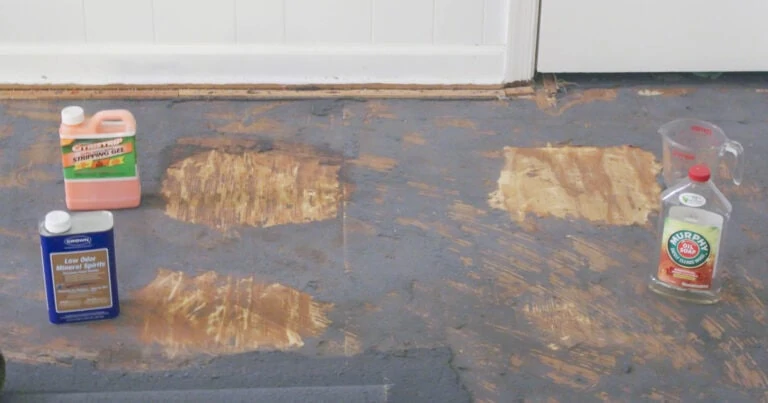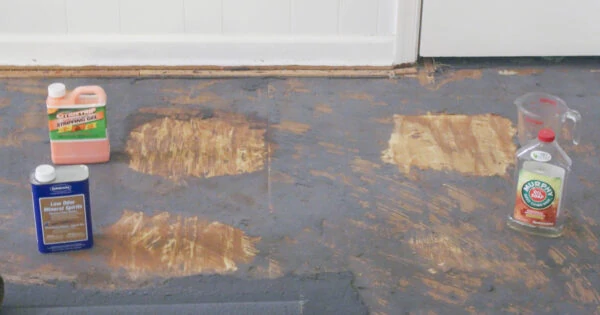 Steam
After my original test, I decided to go with the boiling water method. I brainstormed a little more and decided I could probably tweak my method a little and get faster results.
So I tried using my iron on the steam setting to loosen the adhesive before scraping and also borrowed a Shark steam mop to try.
Both of these worked pretty well. However, even though it was working, I had a really large room to do and it was going really slowly.
I was starting to wonder if I would ever finish… so I decided to try another method I hadn't been able to test out originally – a chemical adhesive remover called Sentinel 747. It is available at Home Depot for around $20.
Sentinel 747
I tried the Sentinel 747 out on a small area of the floor and it was amazing.
It worked much better and faster than the steam method so this is the method I decided to use to finally complete the rest of the room.
My room is around 250 square feet so I ended up needing three jugs for a total of around $60 but it was definitely worth the expense.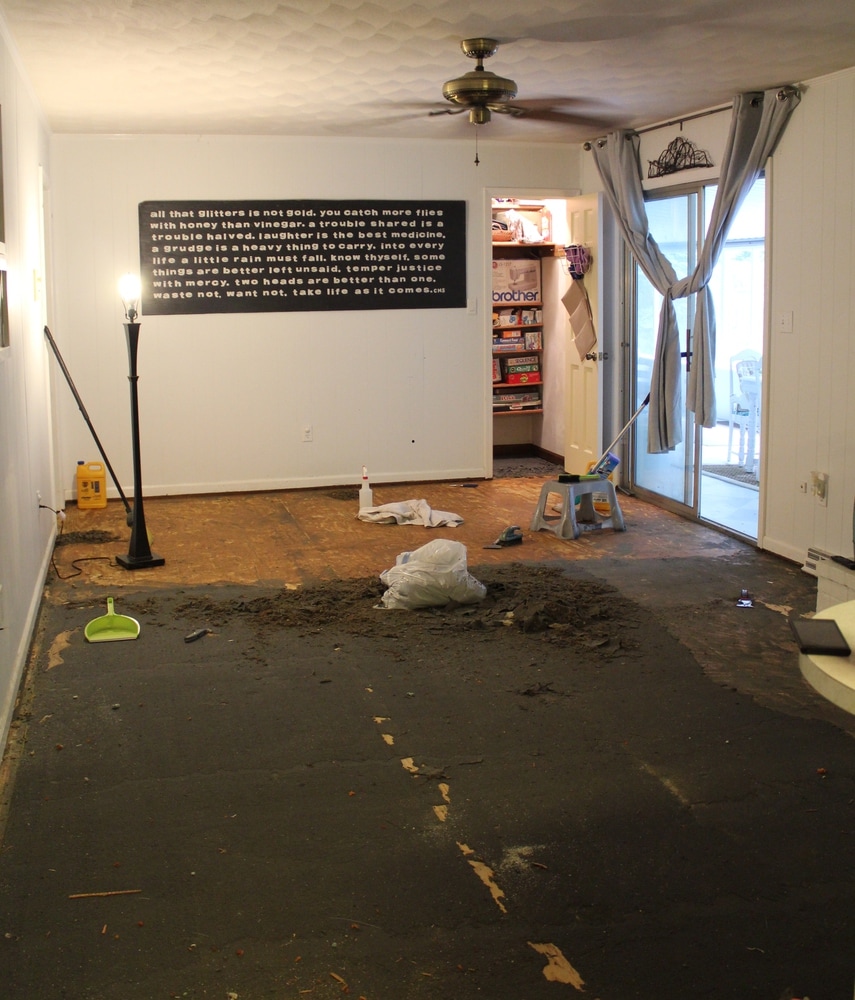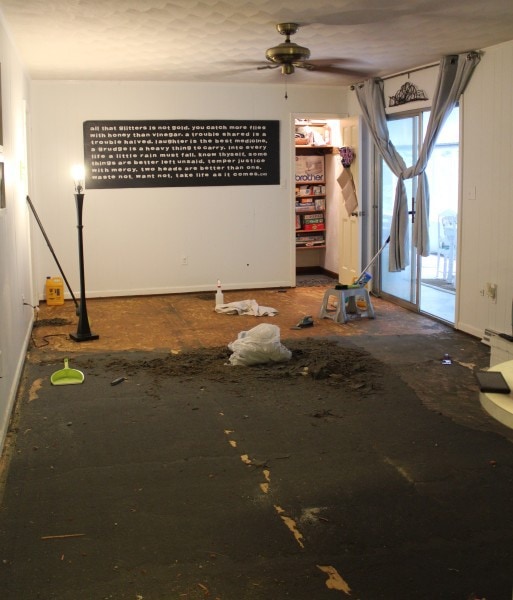 Successfully Removing Carpet Adhesive
Materials:
My final method looked something like this: After scraping up the foam backing, I poured some of the Sentinel on a small area of the floor and spread it around with an old mop.
After letting it soak for 15-20 minutes, I scrubbed it lightly with a wire brush and then used my scraper to scrape all of the adhesive off.
Wherever there were stubborn areas that didn't come off right away, I just repeated the process.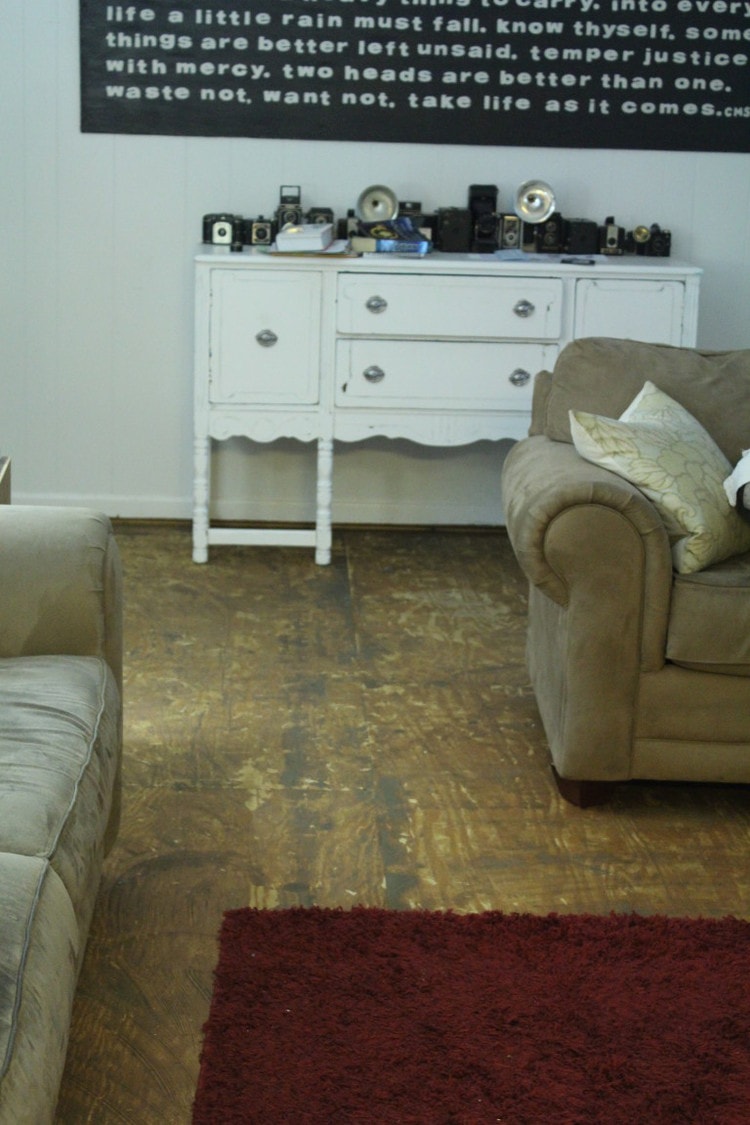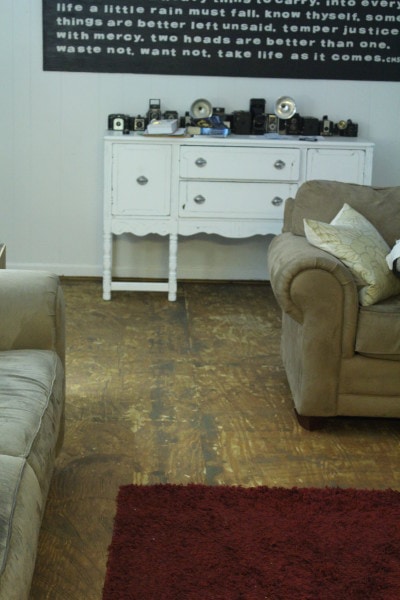 Yay for that job being over!
As you can see, we went ahead and moved our furniture back into the room as well as a rug we had in storage. We still had a few more problems to tackle in adjoining rooms before laying our new floors and not having anywhere to sit was getting pretty old.
Now to work on bringing the kitchen floor down to the same level so that our wood floors will be seamless between the two rooms. Nothing is ever easy in DIY, that's for sure.
And if you are looking for a super cheap flooring idea, you've got to check out my painted subfloors.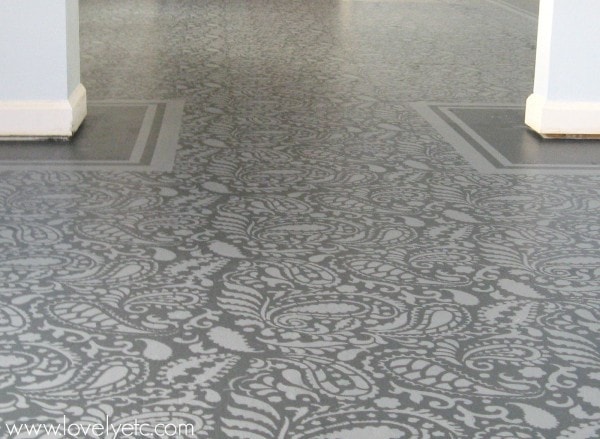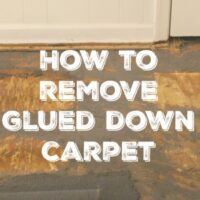 How To Remove Glued-Down Carpet
Total Time:
6 hours
30 minutes
Learn how to remove glued down carpet using the fastest method. After testing five different methods, I found this to be the best way.
Materials
Sentinel Adhesive Remover
Old Mop
Tools
Hand Scraper
Utility Knife
Wire Brush
Instructions
Use a utility knife to cut the carpet into strips and peel each strip of carpet up.
Scrape up the foam backing using a hand scraper.
Pour some Sentinel on a small area and spread it around with an old mop.
Let it soak for 15-20 minutes.
Scrub it lightly with a wire brush and use your scraper to scrape all of the adhesive off.
Repeat the process until it is all removed.
Recommended Products
As an Amazon Associate and member of other affiliate programs, I earn from qualifying purchases.