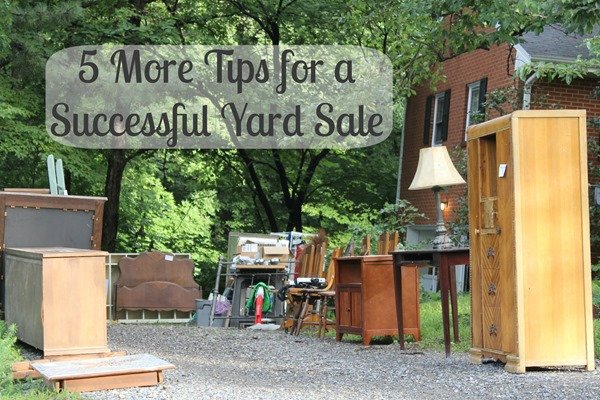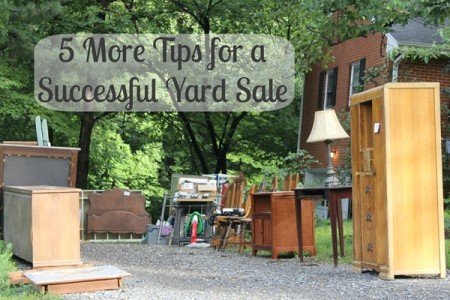 Last summer I shared my tips for having a hugely successful yard sale. So when we had another big sale this past weekend, I made sure to follow my own advice.
Thankfully, we were able to have another hugely successful sale. Especially considering we had the sale under threatening skies following a week of rain and flooding. Not exactly ideal conditions. But we had done a lot of maneuvering to make sure my husband was off work and we had a babysitter for both days of the sale so I reeeallllly didn't want to have to reschedule.
While I definitely stand by all of my advice from last summer's post, I wanted to add a few things I figured out this time around. (I hope I don't sound like a know-it all but yard sales are kind of my thing so I consider myself as somewhat of an expert on yard sale buying and selling.)
Make your sale stand out from the others.
I love yard sales so I peruse the yard sale ads on Craigslist every week. I often see ads that say something like this:
Yard sale at 1111 Elm Ave. Various items.
Or
Yard sale. 1111 Elm Ave. Something for everyone.
The second one is marginally better but seriously? Neither is in the least enticing. There is no way I am going to drive out of my way to go to a sale where I can find various items. You need to tell people why they should take the time to come to your sale instead of doing all of the other things they could be doing. Make it sound exciting. And while you do not need to list every single item for sale, you should at least give an idea of what they will find.
One of my Craigslist ads said this:
Awesome yard sale this Friday and Saturday at 7AM.
You do not want to miss this sale –it is going to be huge and amazing. Seriously pretty much something for everyone. And fantastic prices – that is the point of a yard sale after all.
A few of the items for sale include
• Tons of vintage furniture — wardrobe, dressers, beds, chairs, bedroom suite, etc.
• Other cool old stuff
• Some non-vintage furniture too — desk, TV stand, chairs, cubbies
• Paintings, chalkboards, frames
• Baby boy clothes, mostly 0-6 months, (lots, some brand new)
• Other miscellaneous baby stuff
• Electronics – NES (original Nintendo) with controllers and games, Xbox 360 games, Tomtom GPS, wireless Internet router
• Shower doors
• Hammock with stand
• A free violin plus a bunch of other free stuff
• Heaps of other stuff
Side note: A huge pet peeve of mine is when people advertise that they will have adult and childrens cloths at their sale. Cloths are pieces of fabric. Clothes are the things we wear. That may make me a huge snob, but seriously, it makes me cringe every time.
Have good signs.
I talked about this last time but it is sooo important. Make your signs eye-catching. There are lots of ways to make yard sale signs. I made mine using neon yellow posterboard with big black letters. They really catch your eye from the road and are easy to read because of the contrast. Also try to make your signs stand out. It is easy to ignore an ordinary yard sale sign but when the sign promises an awesome sale, it is just too tempting not to see for yourself.
Also, this year because of the impending rain I mentioned earlier, I came up with the ingenious idea of laminating my signs. You could easily take your signs to a teacher supply store or office supply store and have them laminated cheap. But I was stuck at home with a sleeping baby, so I just used clear packing tape to do a little DIY laminating. It worked great – the signs held up amazingly and are all ready to be used again in the future.
Start early.
This is so key. Start your sale on the earliest day and time that yard sales occur in your area. This is probably a regional thing, but in our area, yard sales either start on Friday or Saturday. And they begin at 7 or 8. I used to just have sales on Saturday, but the last two years, I started Friday and it has made the hugest difference. Both times, I made five times as much money Friday as I did Saturday. And I made way more than when I used to do a Saturday only sale – Seriously, I am talking way more. (I realize this is incredibly unfair to yard salers who have to work on Friday, but that's just how things are).
Also, I have tried to start the sale at 8 in the past but I found lots of people still come at 7 anyway. I could tell them to leave or wait, but the whole point is to sell stuff and make money so it is pretty hard to turn away paying customers. So I decided just to give in and start at 7. You will also make the largest portion of your profit in the first two hours of your sale. You may not be an early morning person but the die-hard buyers are. So you just have to go with it.
Put big, eye-catching stuff near the road…but know there is a good chance nobody will buy it.
This is a real catch-22. You really need some big eye-catching stuff like furniture to make your sale look impressive and get people to stop. (Must avoid the dreaded drive-by, where the potential shopper deems your stuff unworthy and just keeps driving). However, you should also accept there is a good chance nobody is going to buy this furniture. I have found that most people don't want to deal with lugging big, heavy furniture home. Plus, most people don't buy furniture on a whim. (I certainly have, but most don't). So don't be too disappointed when you have some of your big heavy items left at the end. (We started out with 8 really large items and still had four at the end of the sale.) My strategy to overcome this is to take pictures of the leftover furniture before it gets crammed back in the basement and post them on Craigslist. If you are lucky, someone may come that same day. We ended up selling our leftover furniture that way by the day after the sale. If you really aren't worried about the money and just want it gone, leave it by the road with a free sign. It will very quickly be off your hands.
Draw attention to the items you really want to sell.
If you have some really great stuff that nobody is really even looking at, figure out a way to show it off so it gets some attention. For small items, move them to the front. Take a frame out of a stack and set it up. Place your nicest books on top of the stack. Take all of the little knick-knacks off of a nice table you are trying to sell. We had a nice hammock and stand for sale that nobody was even giving a second look, so we decided to put it together. As soon as we did, everybody was interested. (Heck, it looked so inviting I started to think I might like to keep it for myself.)
I hope these tips help you have a hugely successful yard sale that is worth the time and effort.
You may also be interested in these other posts related to taming the yard sale beast.
How to Have a Hugely Successful Yard Sale
Shop Yard Sales Like a Pro
Yard Sale Like a Pro: Have a Plan
Yard Sale Like a Pro: What I Buy
The Nice Girl's Guide to Haggling
See The Potential
What are your best tips for having a great yard sale? Do you do anything that really helps get people buying? Or maybe something that just makes it a little more enjoyable?
Carrie