Painting furniture is most definitely one of the cheapest and most creative ways to furnish your home. Today I'm thrilled to have one of the queens of furniture refinishing here to share some of her best furniture painting finishes. Kandice from Just the Woods is here to share some truly gorgeous and creative finishes for taking your painted furniture to the next level. Get ready to be inspired!
---
Hi, I'm Kandice and I blog over at Just the Woods about all things painted furniture along with a sprinkle of other things from simple DIY projects to room renovations and builds. I'm so excited to be guest posting over here with Carrie at Lovely Etc. It's always fun to meet someone that you share the same passions and joys with, like decorating and upcycling.
Today I want to share with you a few examples of how you can use different finishes, methods or styles to update your furniture with paint. I've become somewhat obsessed with going against the grain and trying to add just a little extra to my painted furniture projects. Some come with ease and some bring many challenges.

Layers
Adding layers to your painted furniture gives you a super unique finish that most likely will never be the same twice. This ornate cabinet started off plain and brown, but not anymore! How to Paint Furniture in Layers gives a step by step tutorial as well as a quick video on how to update your furniture with layers.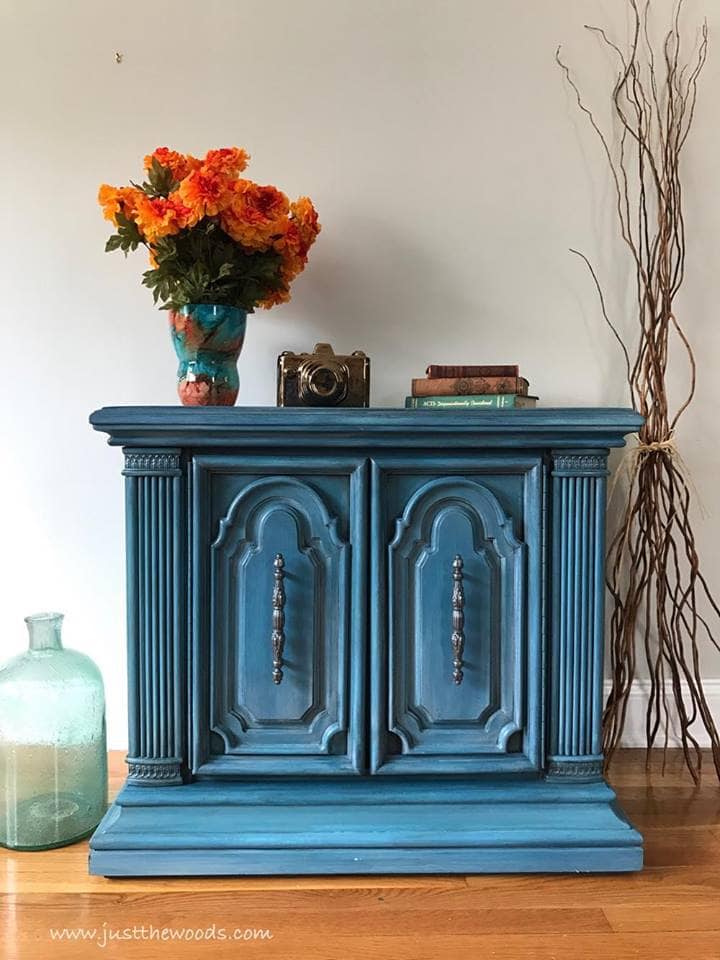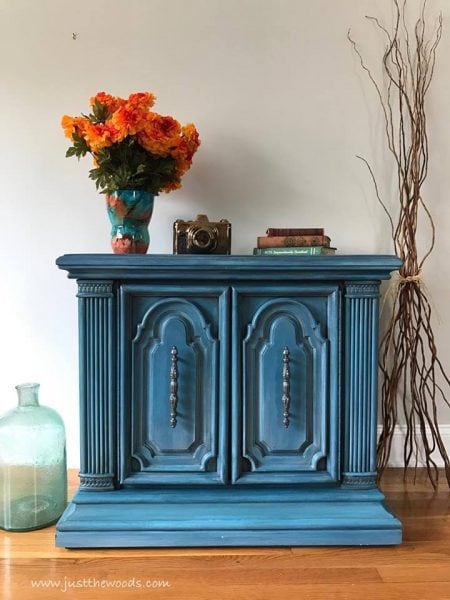 Image Transfers
Adding an image transfer to a painted furniture project is not only easier than it may appear, but it also takes the makeover to an entirely different level. Here are two prime examples:
This vintage buffet was simple and flat. I bet you wouldn't even give it a second look if you saw it at a yard sale in its "before" stage. But after a bit of work and an added image transfer it has a completely different appearance. You can see more here: French Image Transfer on Vintage Buffet.
Another piece that received an image transfer as part of its makeover was this modern and sleek media console. It was simple and dark and its owner wanted something lighter and softer. After being completely taken apart, this Painted Media Console with Image Transfer is completely transformed.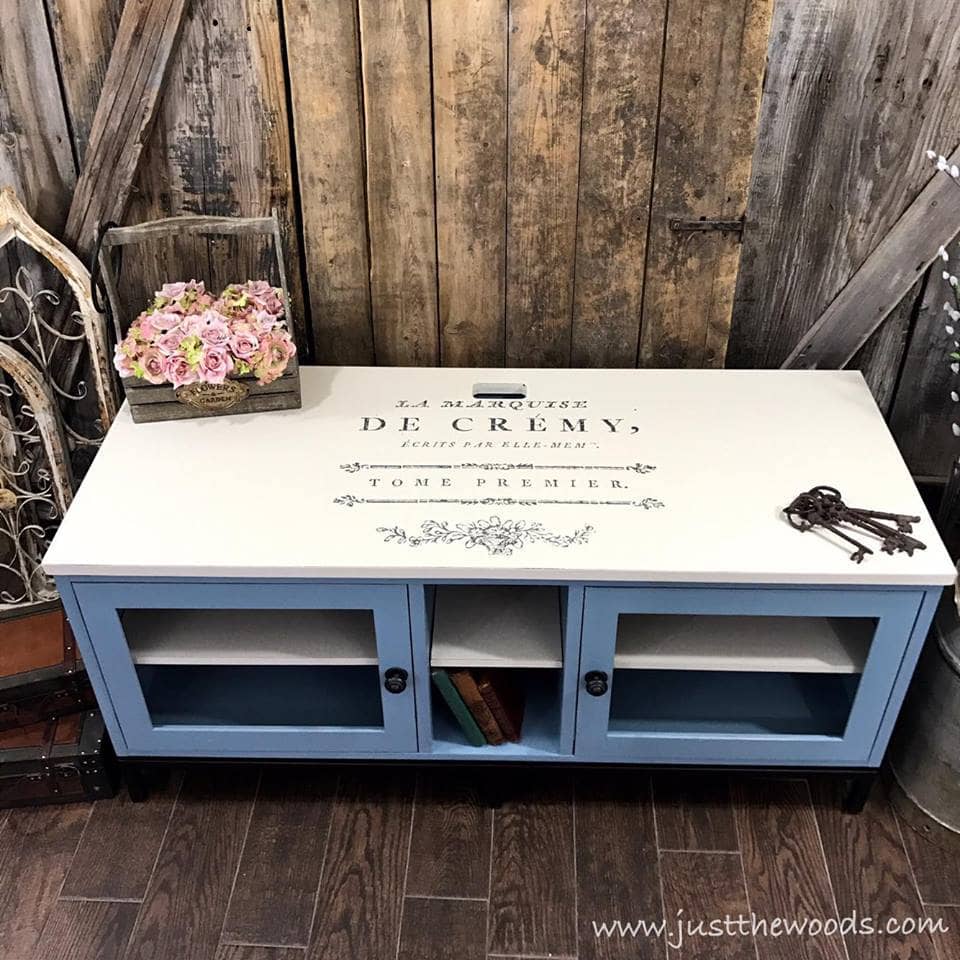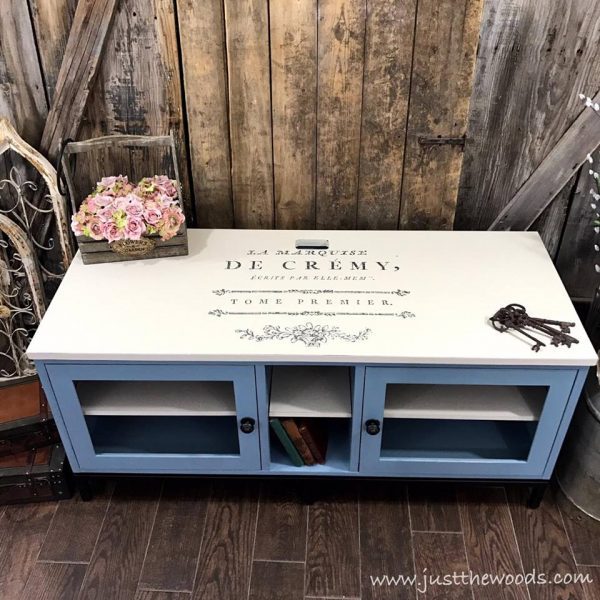 Upholstery Tacks
This method for updating your furniture is not for the faint of heart, and not for the impatient either. To be honest, it was a lot of work but totally worth it! If you want to tackle something similar, I have a full video tutorial as well as a step-by-step tutorial sharing the good, the bad, and the things that can wrong along with ways to fix them. Find it all here: Make your Furniture Extraordinary with Upholstery Tacks.
Decoupage
Decoupage is one of my true loves. Between fabric, wallpaper, napkins and tissue paper the options are endless. There are so many different ways to update your furniture using decoupage. I won't bombard you with all of my decoupage furniture projects, instead I will simply narrow it down to one of my favorites. This china cabinet is now in my living room. It was so much fun to have creative freedom with this Painted China Cabinet with Decoupage Backing.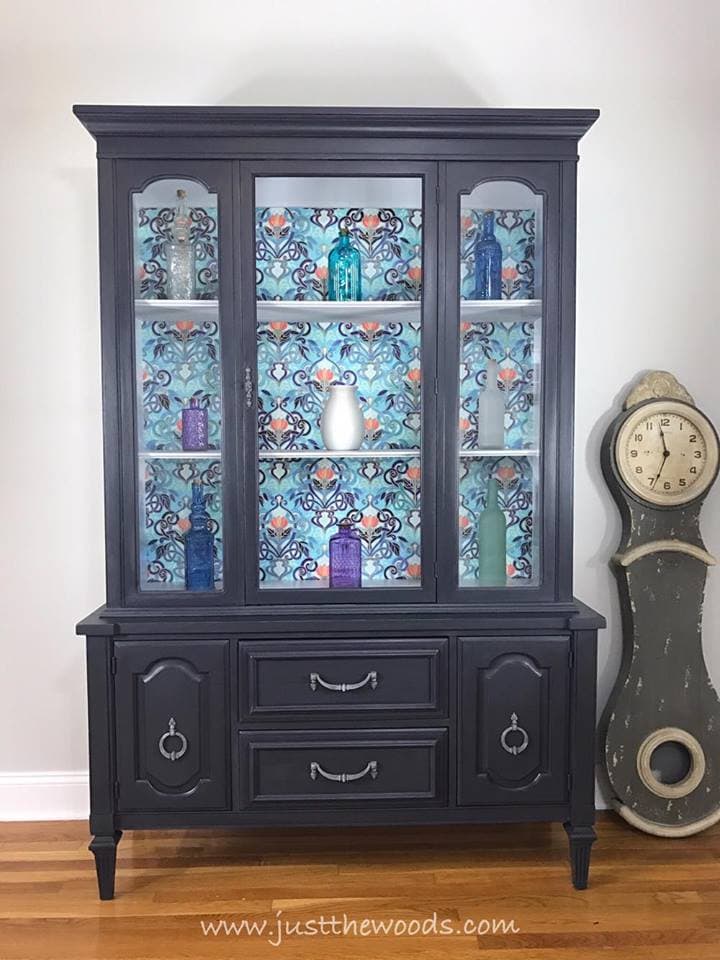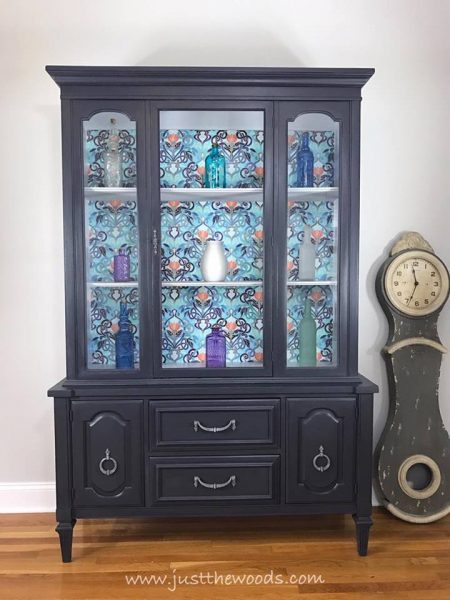 Stencils
Adding a stencil pattern to a painted furniture makeover is an easy way to update your furniture whether you use an all over stencil or a single image. This vintage credenza was shiny and flat. With a bold red finish and taupe floral design on top, it became the focal point of the room. See the project here: Cranberry Credenza with Stencil Top
Bold Color
Color isn't necessarily a finish or style but in a world where so many things are white and gray, its okay to update your furniture in bold color. My living room, for example, is quite bold, yet all the colors manage to work together wonderfully.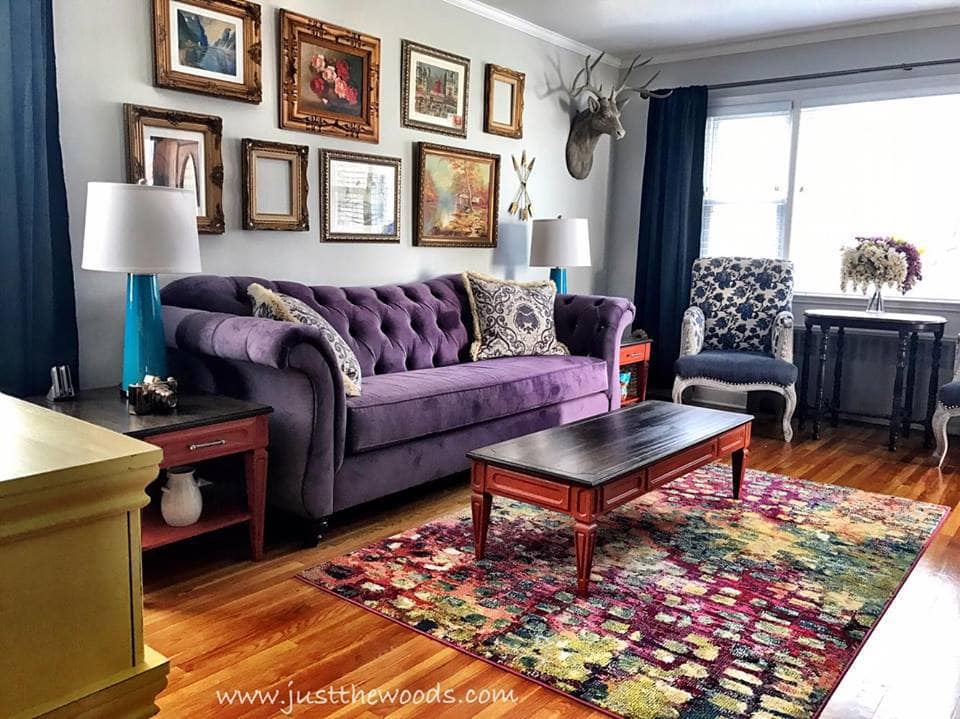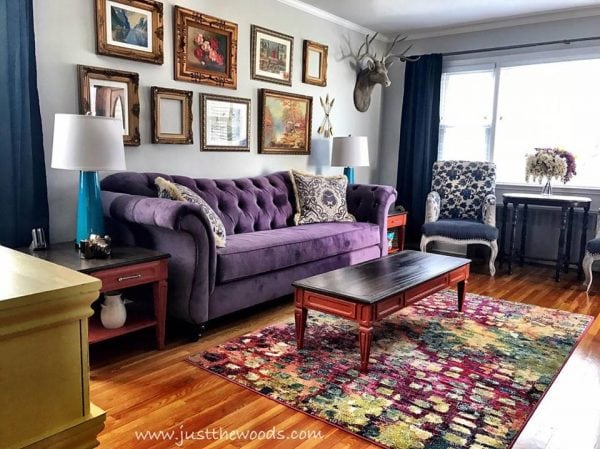 The media console in our living room was not our style, so we decided to give it a bright and bold makeover. You can check it out here: Painted Media Console in Sunshine Yellow.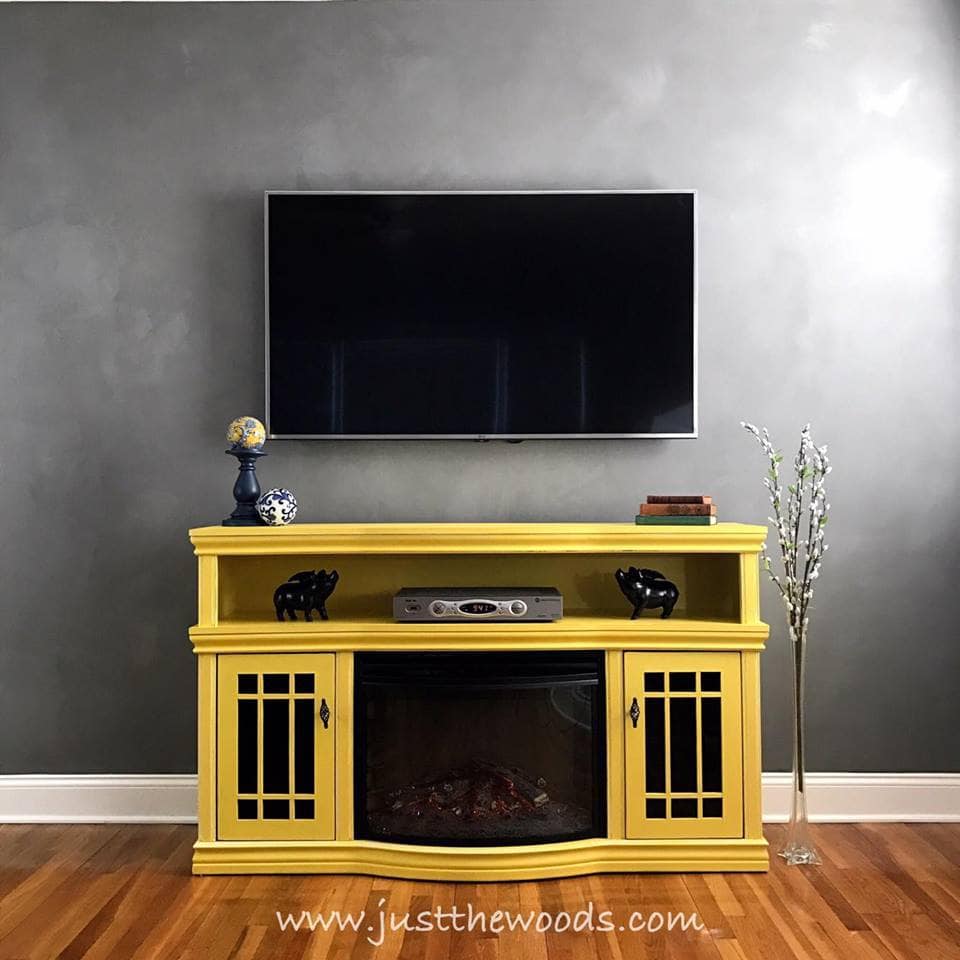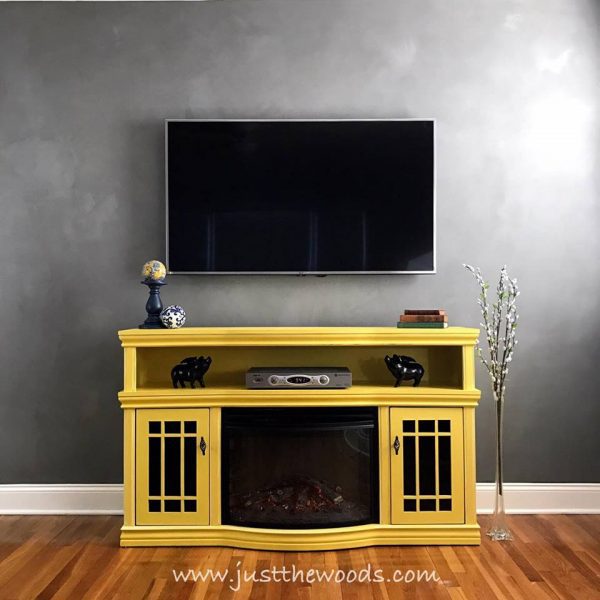 I hope you've enjoyed these different ways to update your furniture and thanks for letting me hang out with you guys over here on Lovely Etc. For more furniture makeovers, tips, tricks, and DIY:
Hop on over and Follow Just the Woods:
FACEBOOK * INSTAGRAM * PINTEREST
Subscribe to Just the Woods' mailing list here: SIGN ME UP