You guys know I am all about getting creative and creating a beautiful home on a budget. I firmly believe you can transform the home you already have into a home you absolutely love without spending a ton of money. And the talented Randi from A Fresh-Squeezed Life has the same philosophy. She's here today sharing her best tips to give your home gorgeous farmhouse style on a tiny budget. And her home is gorgeous, so she definitely knows what she is talking about.
Over the next few weeks, I've got some seriously creative ladies lined up to share some of the best DIY projects, budget decor, and mind-blowing trash to treasure projects out there. And while they are inspiring you guys (and me) with their smart ideas and beautiful homes, I'll be figuring out life as a mom of three. More specifically, three boys under five. (One thing I know – it won't be boring!) Baby boy #3 will be here any day now and I am ready! In the meantime, you're going to love Randi's gorgeous home and her budget-friendly tips!
---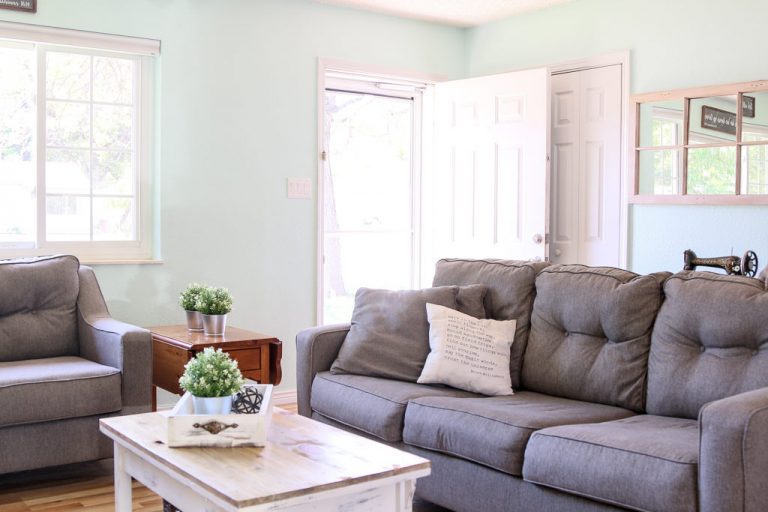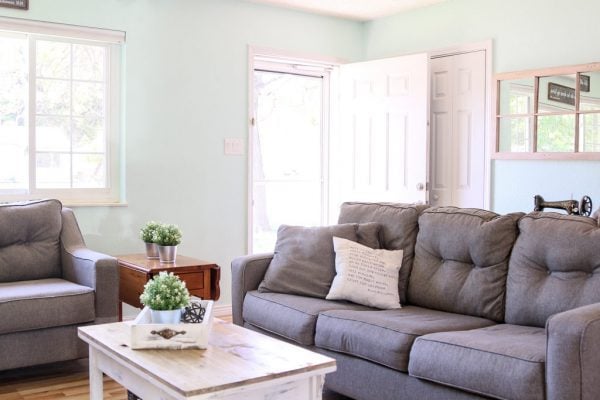 Hello! My name is Randi and I blog over at A Fresh-Squeezed Life where I love to chat about making pretty things and creating the home you love on a budget. My daughter and I live in sunny Colorado where we recently moved into our very own house. We moved from the 3,200 square foot house we had lived in for 15+ years, to a tiny 1,000 square foot house of our own. The same amount of determination that I have put into making a brand new life for myself is going into making a wonderful little house for my girl and me to live in. I believe that if you put your mind to it, you can make your living circumstances wonderful.
Creating farmhouse style on a budget is all about using what you have to the fullest.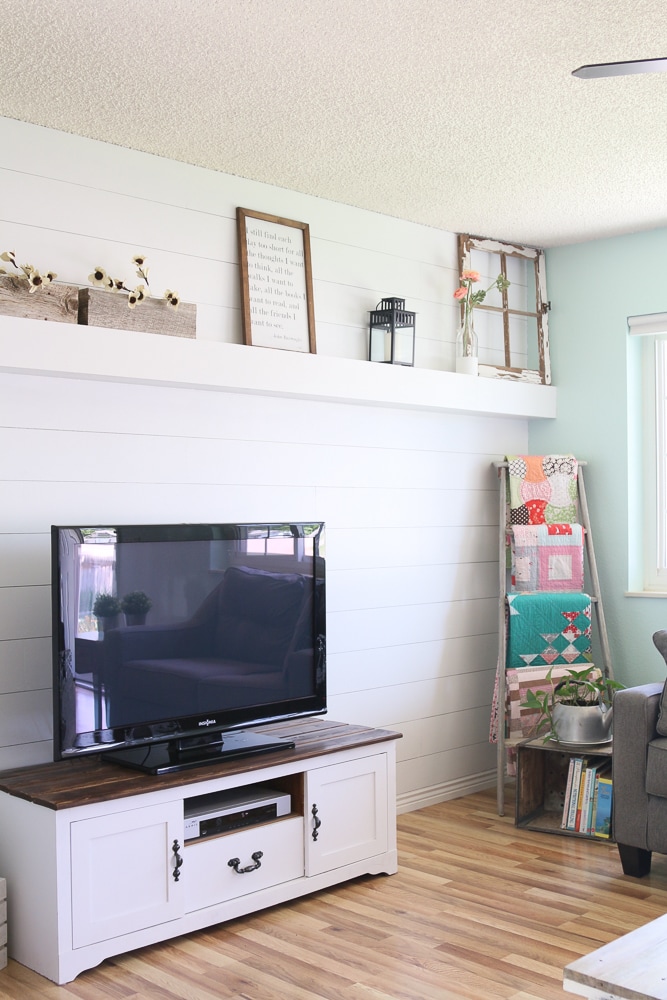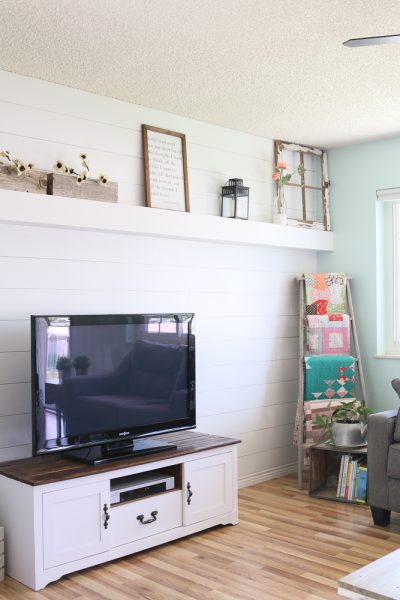 Open up your space with paint:
When we first moved in, the living room walls were a pretty shade of dark blue, but since the room is small, the dark color just made it seem even smaller. My taste is definitely more along the lines of bright whites with some color sprinkled in, so I started with a planked feature wall. I love the visual interest it provides along with the reflective quality of the white paint. There is no direct sunlight that comes into my house because of nice tall trees, so reflecting the light is necessary unless I want the room dark.
Make the items you need:
For storing my quilts, I bought an old ladder for $3 at a yard sale, and I sawed off the back and created a quilt ladder. I love that it adds a pop of color and needed storage. The key to living in a small house is to make decorative items pretty AND functional. There is no room for excess!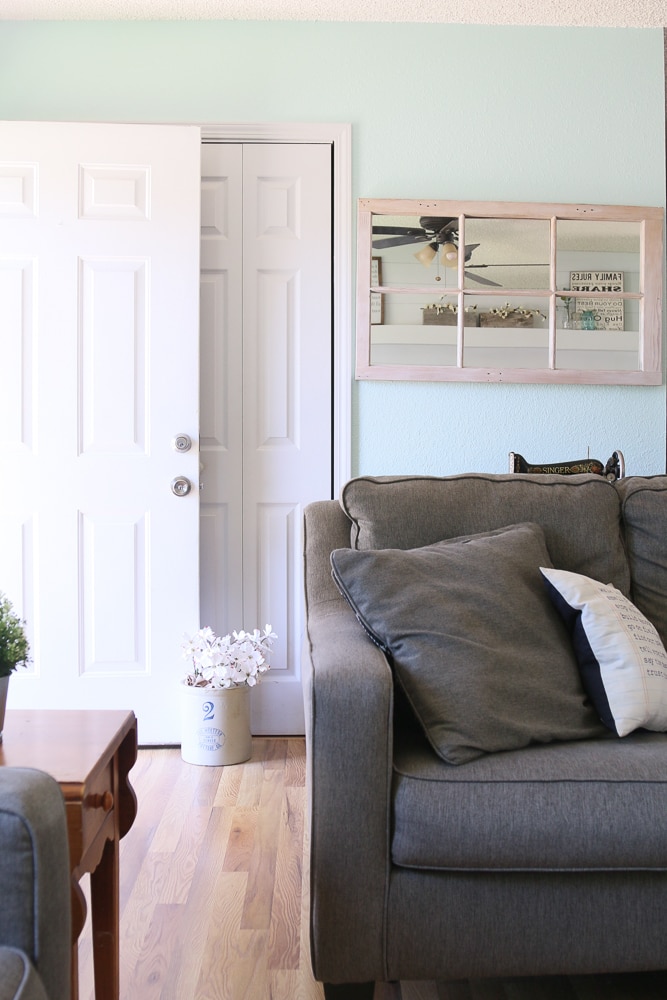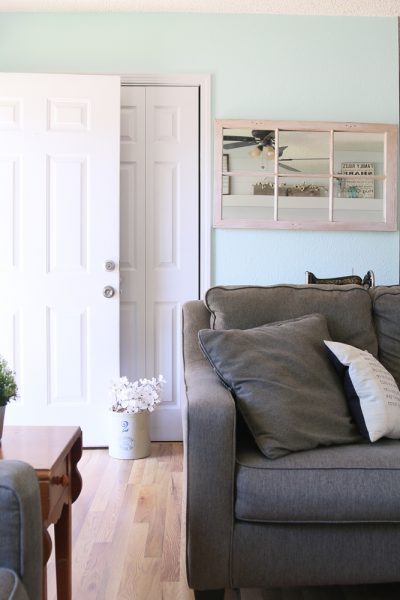 Keep only what you love:
Decorating a small house is a lesson in figuring out what is important. Lots of things had to be gotten rid of, but the very best items stayed. Every item that I see in my living space is something that I love and is meaningful to me. If you look closely I try to keep my color looking even and balanced. I do not worry a lot about whether or not something matches. If I like it and it looks good, I keep it. My goal is to have a home that looks comfortable and beautiful. I never want someone to feel like they can not make a mess or use my furniture. Too much perfection and "matchy-matchy" can create a sterile environment, rather than a comfortable one.
In other words….if you love something, keep it. You are creating a house to love, not a house to look at.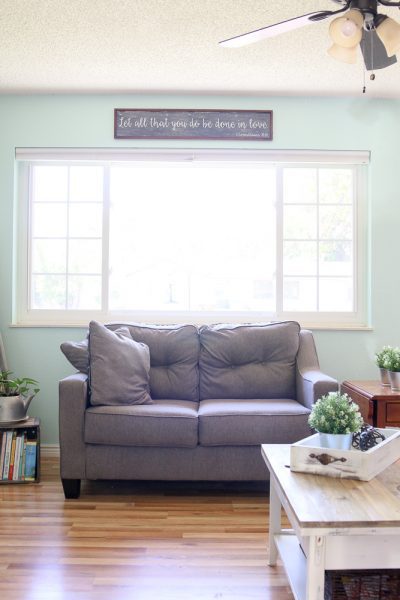 Repurpose it:
Growing my skills and making things (or flipping them) has been a way for me to create a look I love on the cheap. My coffee table is probably 20 years old, but I painted it white, distressed it and added a brand new wood top. Making it was my first venture into DIY. Is it perfect? No! I do, however, get a lot of compliments on it.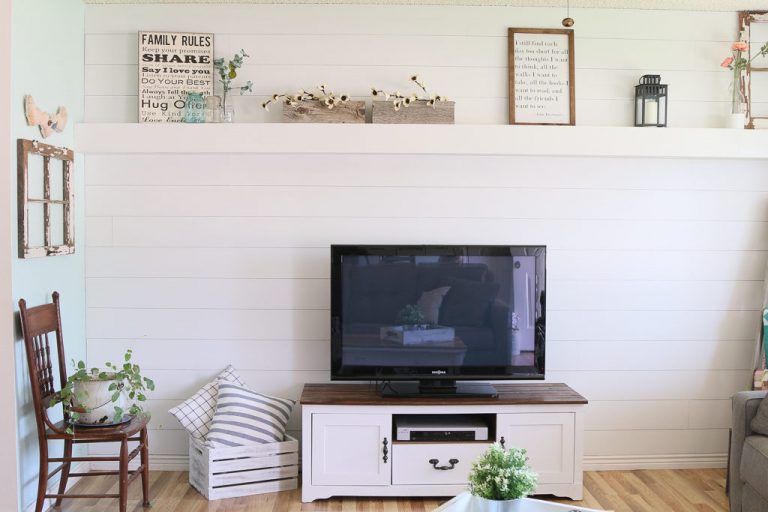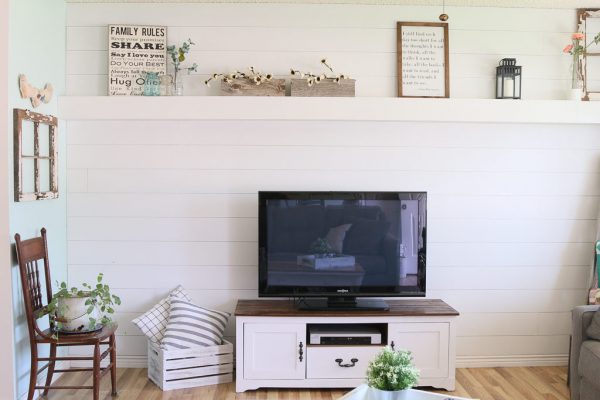 The same thing goes for my TV stand. It started out as one of those pieces that had wood surrounding the TV, with space on top to place decorative items. I simply cut the top off with a saw and I painted it white and added a wood top. I would not have been able to sell it in its original condition because it was so outdated. Now it fits my decor and I paid almost nothing for it…just the price of the wood and paint.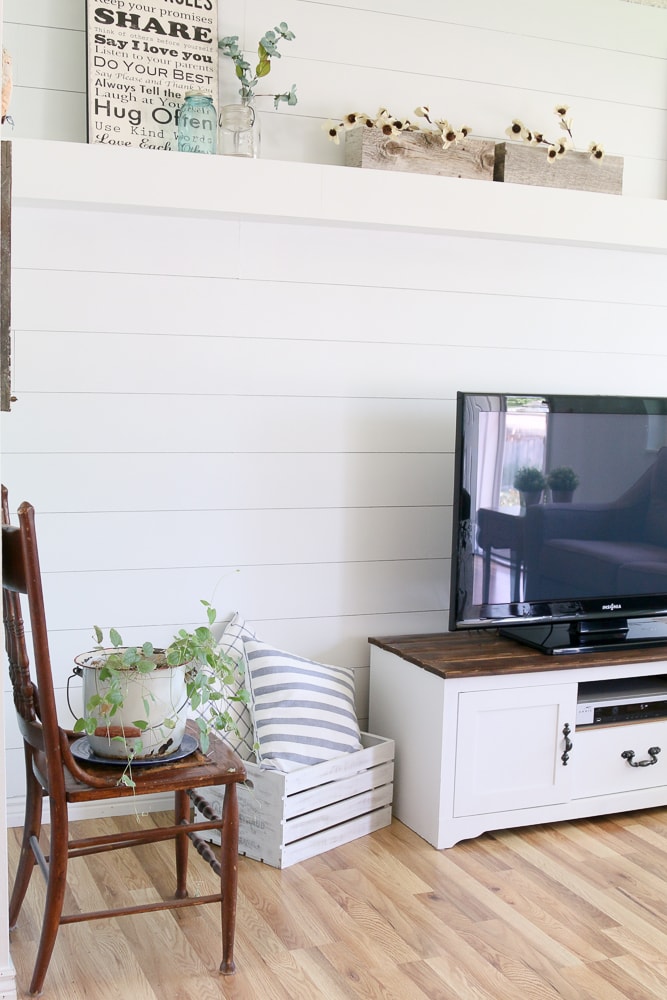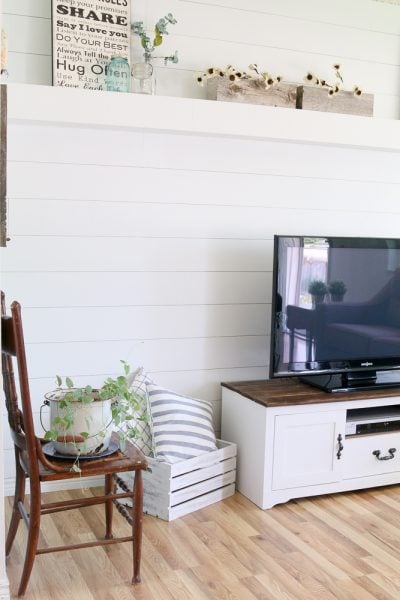 Jump in and try it:
If you are living in a small house, or a rental house, or a huge house and you are trying to decorate on a budget I encourage you to jump in and try it. Buy some paint and refresh your walls. Rescue some furniture from a yard sale and refinish it. Find a tutorial and make something. Will all of your projects be a success? Of course not!
After time you will find yourself with a good set of skills and some items that came out just great. You might even find that you are addicted to DIY home decor!
Here is a list of the projects that I used to create the look in my living room:
How to Fill a Large Vessel with Flowers Without Breaking the Budget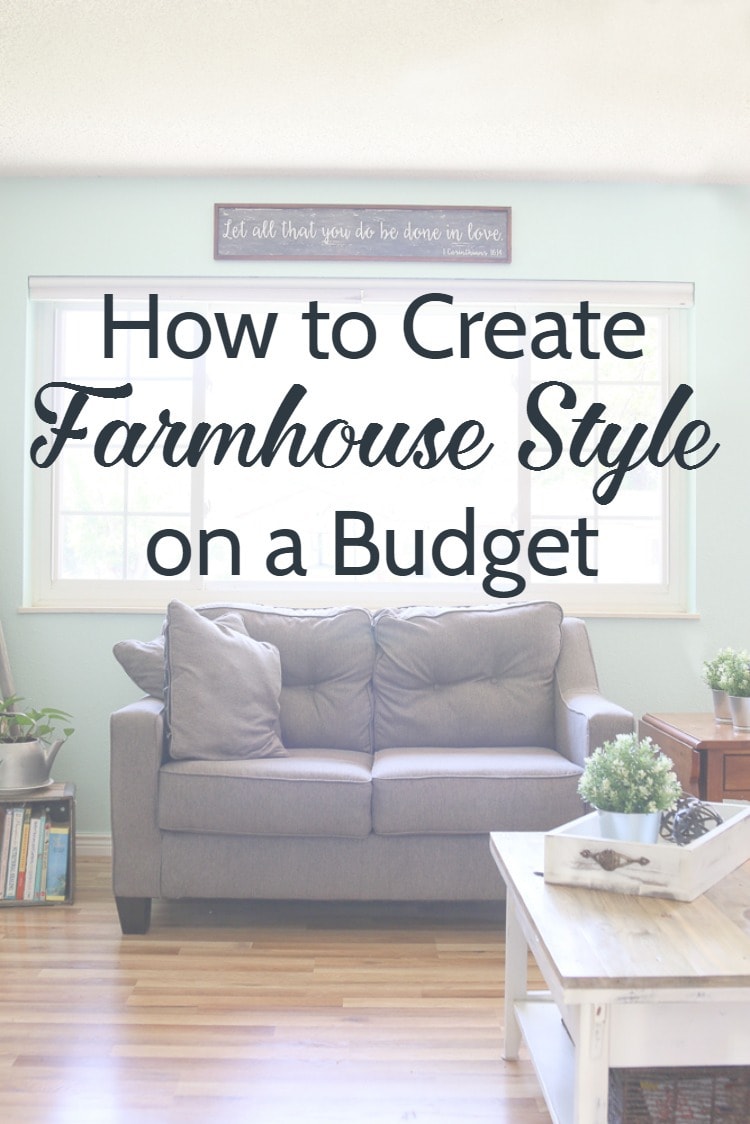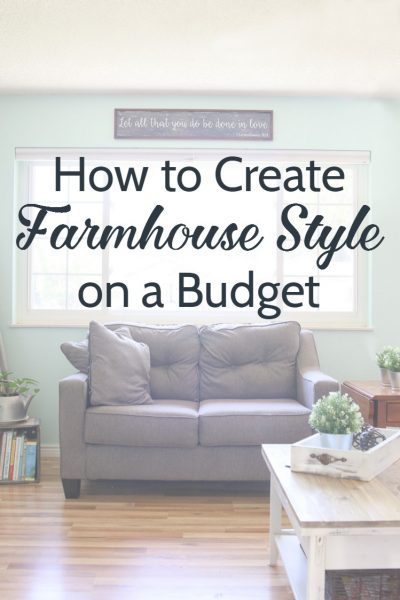 Thanks for stopping by today. I just love chatting about creating farmhouse style on a budget.
I do hope your decorating adventures are fun and successful!
Feel free to visit me at A Fresh-Squeezed Life, Facebook, Pinterest or Instagram!