Today is the big day! Bathroom reveal day! I am so excited to share our newly finished vintage modern bathroom. It seriously looks like a completely new space and I am in love!
Let me tell you, it has been a long road getting here – and I most definitely was not sure I was going to get everything finished and put back together on time.
But I just barely made it! This month I joined the $100 Room Challenge hosted by Erin of Lemons, Lavender, and Laundry.
The challenge was to make over one room in our homes in just four weeks, using only $100. Not an easy task!
I chose to tackle our sad hall bathroom for the challenge. We actually did 90% of a pretty major renovation on our bathroom last year, but somehow I never got around to finishing off that last 10%.
I thought this challenge sounded like just the kick in the pants I needed – and I was so right.
This is where our bathroom renovation began almost a year ago.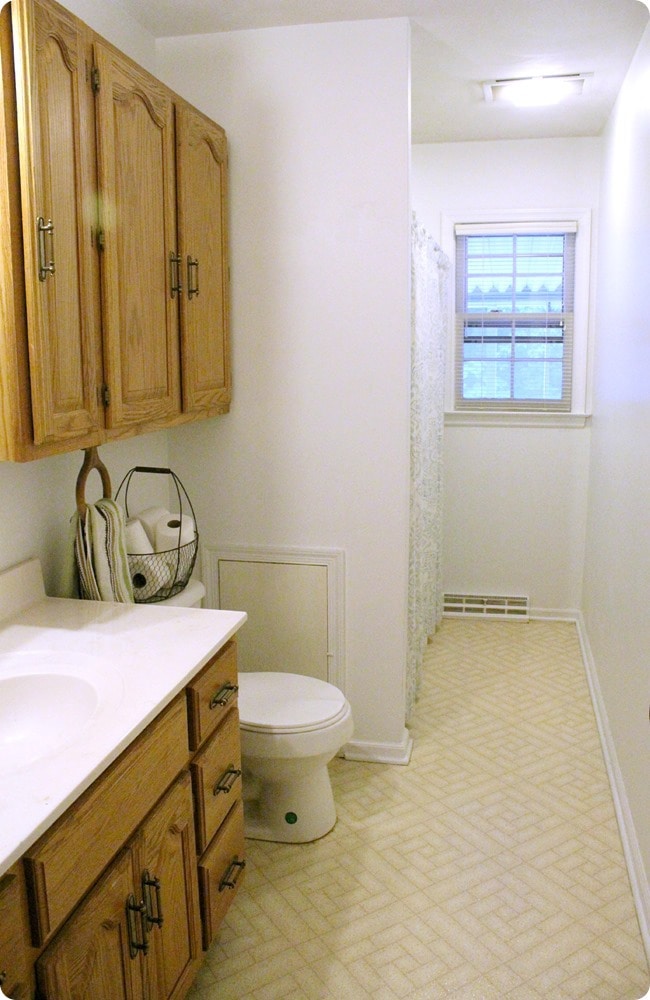 It was terribly outdated, but even worse, we had major plumbing problems and water damage.
We hired contractors to redo all of the plumbing and replace everything that was rotten. And then it was my turn.
I spent the next few months transforming an old dresser into our new vanity, tiling the shower, installing all of the faucets, installing new lighting, and painting the walls.
And then I completely ran out of steam. It certainly looked much better than before, but it was so bland and boring.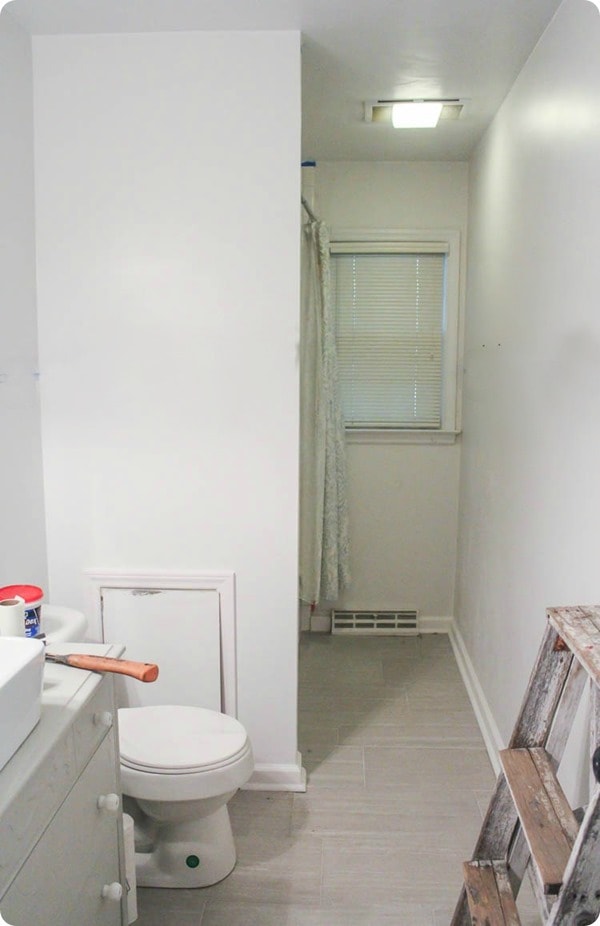 Which brings us to this month and the $100 challenge. My mission: add some personality and interest to the most boring bathroom on earth.
The vintage dresser vanity was already awesome – but it was drowning in a sea of blah.
So how did it go? Well, first and most importantly, mission accomplished! The bathroom is finished and under budget.
Woo-hoo! To be honest, I had a much harder time finishing up in just 4 weeks than I did sticking to the tiny budget.
Ok, ready to see it!
This post contains affiliate links; see my full disclosure here.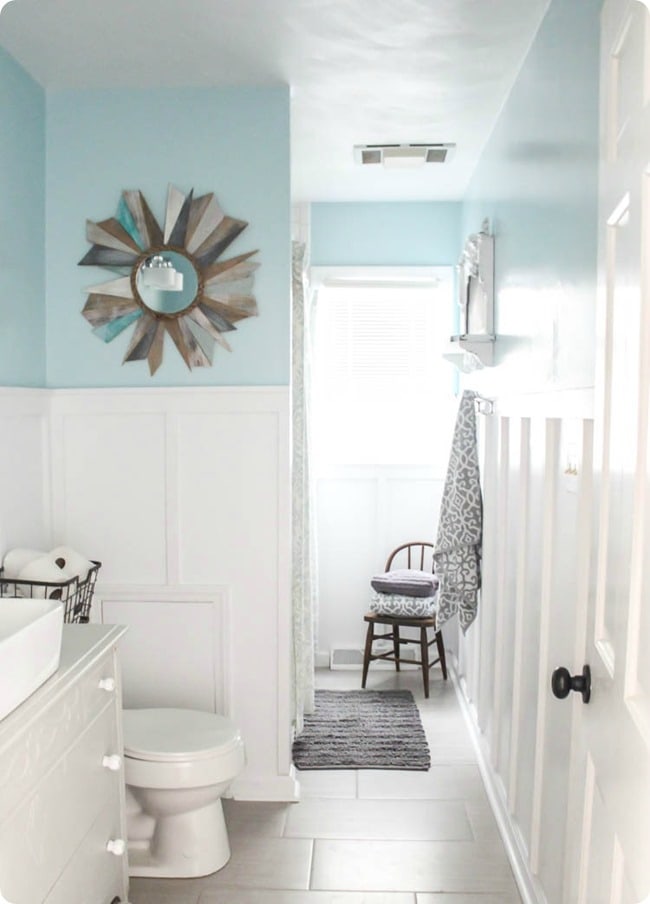 Such a huge difference! I have a full list of sources and tutorials for the whole shebang, start to finish right here.
But for today, I wanted to mainly focus on what I did during the $100 Room Challenge. And of course, share the final budget!
As I said for this challenge, it was all about adding personality, color, and texture. And of course, doing it for cheap.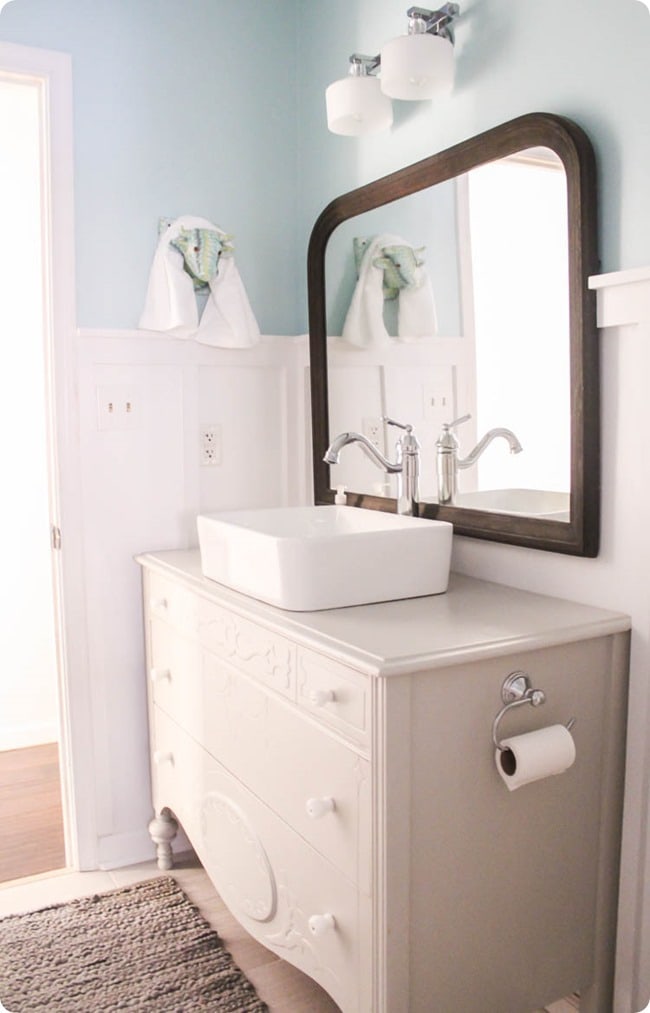 By far the biggest and best thing I did was add board and batten to the walls. It keeps the room nice and bright without being bland and adds some much needed texture.
I thought about only adding board and batten to the one long wall, but in the end I decided to go all in and do all four walls.
I am so glad that's the decision I made.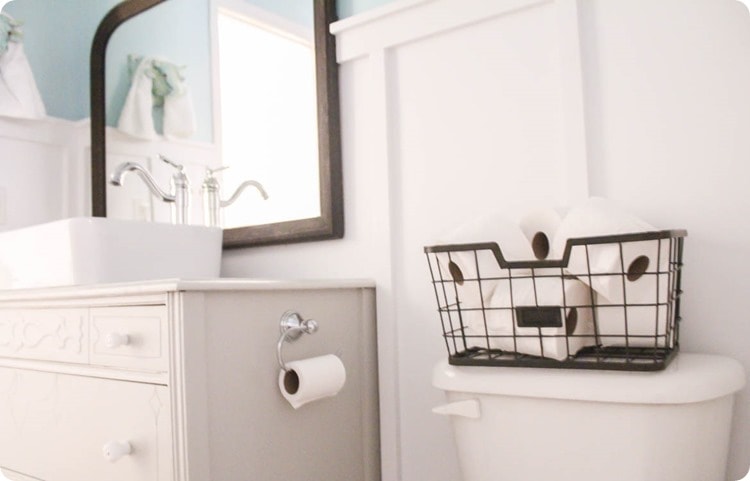 The whole room looks more finished, more classy, and more pulled together now.
Installing the board and batten, caulking, and painting took up about 95% of the four weeks I had for this challenge.
You can only imagine how happy I was when it was finally finished!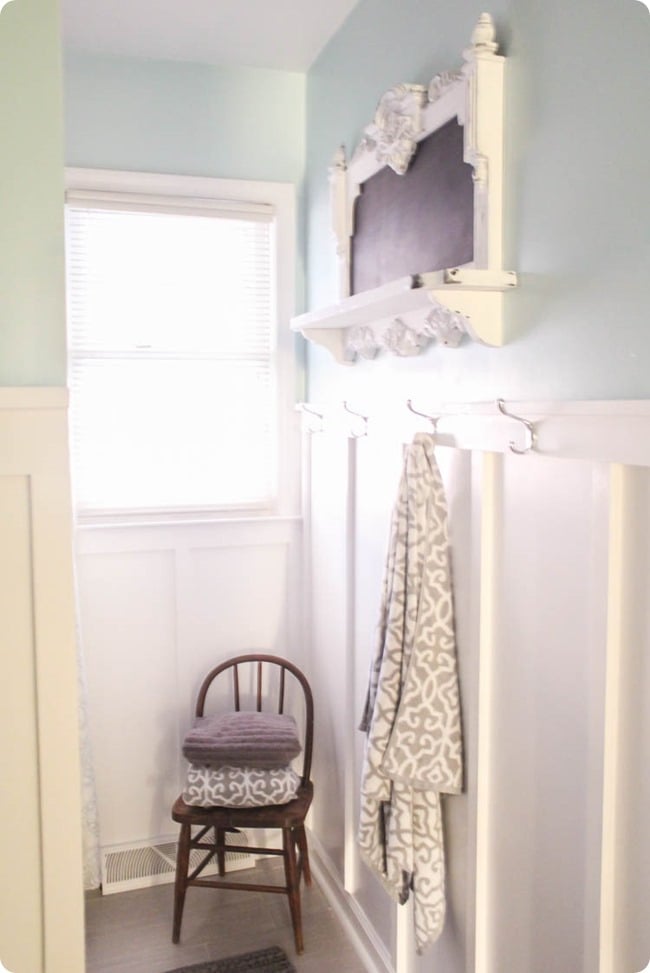 I also added some much-needed functionality. When we tackled the big reno last year, we sadly lost steam before adding a few essentials.
Now we have a toilet paper holder, towel hooks, and a very special hand towel holder.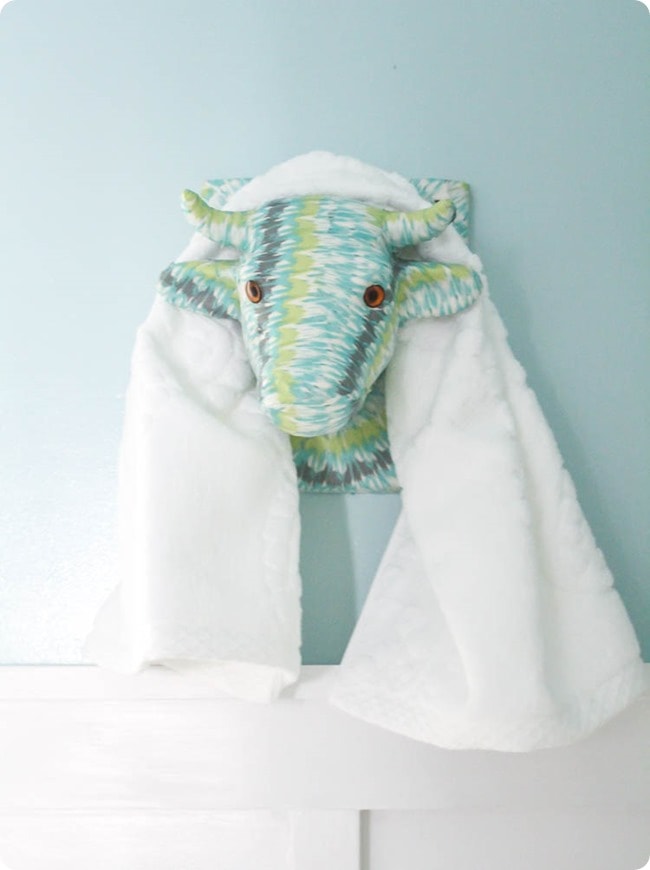 I actually ordered a perfectly nice chrome hand towel ring that coordinated with the other fixtures in the room.
But when it arrived, I realized it didn't really fit anywhere next to the sink.
The way the board and batten broke up the wall made any potential towel holder spots look super awkward.
So I went with plan b. This cute little cow head was an upcycle I did last year.
I mean, I did say I wanted to add personality right?!)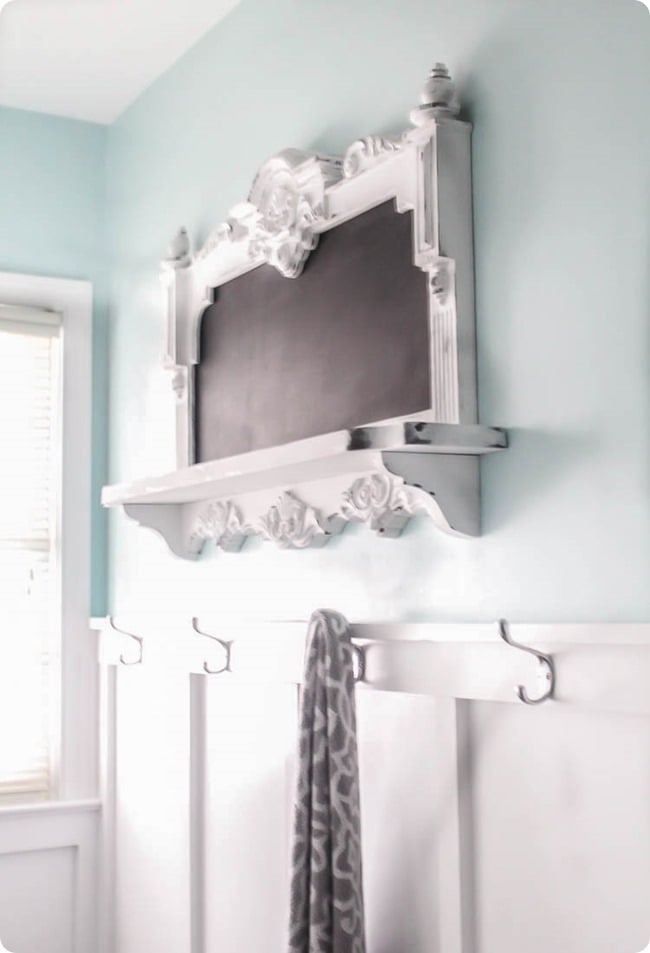 And I pulled out some things we already had to finish things off. I made the framed chalkboard from a sad, old frame that was hanging out in the basement awaiting a makeover.
We already had the little chair, the metal basket, the bath mats, and shower curtain and the towels were a Christmas gift.
And I made the sunburst mirror from scrap wood last year.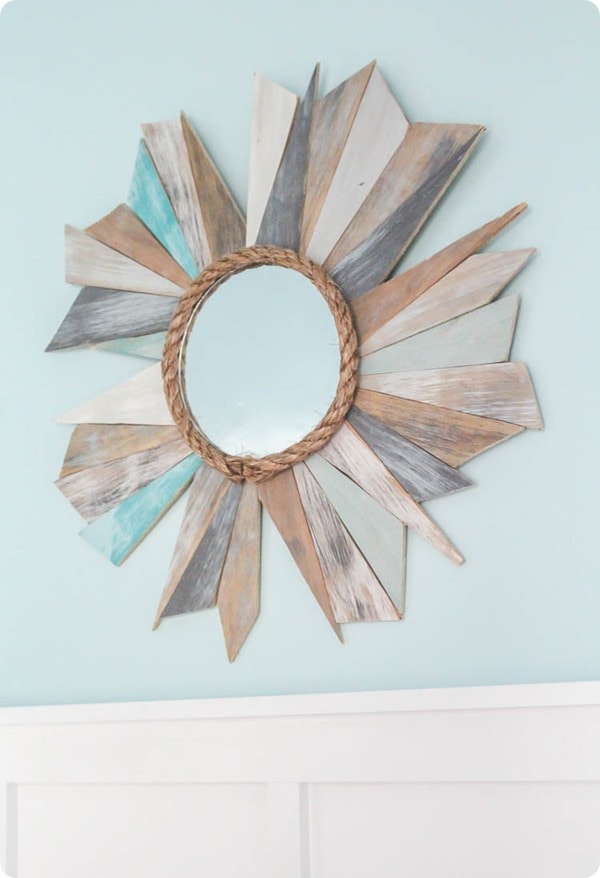 $100 Challenge Budget
paint – $0 (I actually chose and bought my paint months ago, I just needed some extra motivation to get it on the walls. Thank goodness for this challenge!)
wood for board and batten – $37 (I was able to use some wood I already had on hand. If I'd needed to buy all of the wood necessary, the total would have been $74)
caulk and wood filler – $10
tools, nails, sandpaper – $0 (I already had these).
towel hooks – $12
tp holder – $15
2 new hand towels – $12
mirror, chalkboard, cow head, bath mats, towels, metal basket – $0 (already owned)
Grand total: $86
Woo-hoo! Best of all, I can finally declare this room done, finished, finito.
Ok, I still have a bit of tweaking to do – I want to add some chalk art to that chalkboard and maybe add a few candles to the little attached shelf.
But that's small potatoes. As far as I'm concerned, this bathroom is officially checked off the to-do list!

Check out all the posts related to the very long bathroom renovation below:
And don't forget to check out the rest of the bathroom sources as well as the total budget for the whole renovation start to finish.
Because really, the entire thing was done on a pretty incredible budget – not $100, but still super cheap!
And of course, you have got to check out the rest of the $100 room makeovers everyone put together for the challenge.
I am so impressed with these rooms! It's a little unbelievable what can be done for only $100!