Every year around this time, I love to look back over the past year and remember all of my favorite DIY projects. This year as I was looking back to see what the most popular posts here at Lovely Etc were, I noticed a few things. There were a lot of upcycled projects – the kind where you use what you've got and transform it into something awesome. There were plenty of painting projects – because you really can't go wrong with paint. (And if you do, you can always repaint!) And above all, there were tons of projects and tips to help transform your home into something amazing without spending a lot of money.
Honestly, some years our home improvement budget is small and some years it is microscopic. But either way, I love the challenge of figuring out how to create the home of my dreams without spending a ton of money. And I love sharing my crazy ideas with others who have big dreams and not-so-big budgets.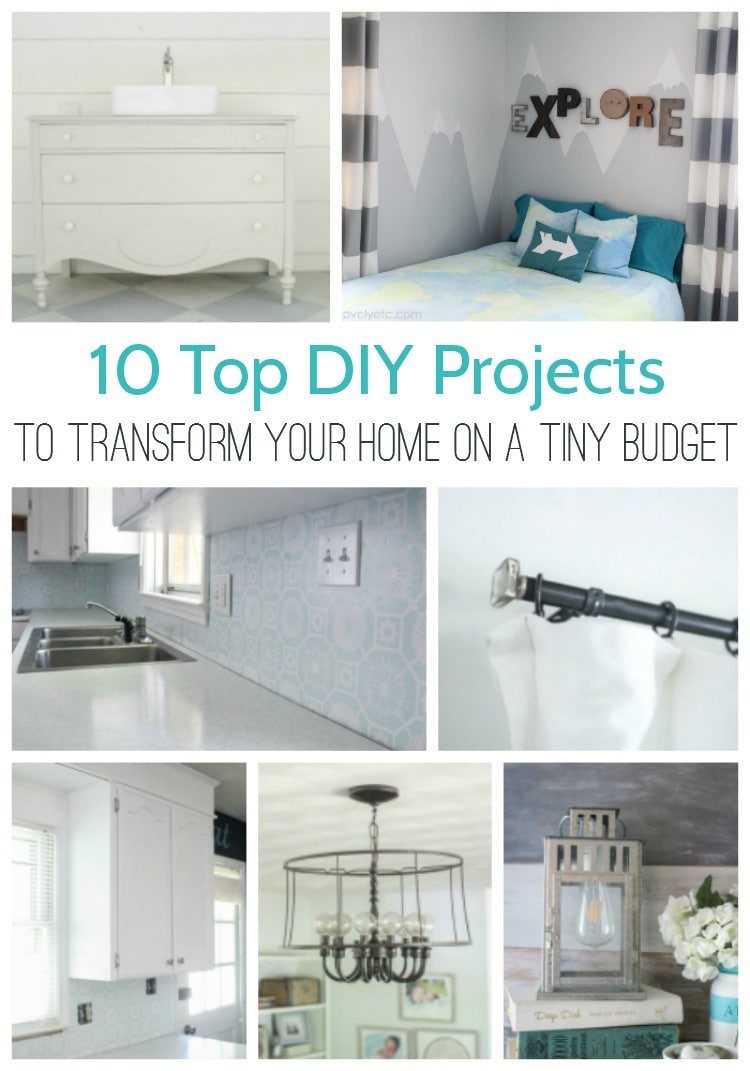 So here they are, the year's to projects in reverse order. (Because that's how these lists work – you have to save the best for last!)
10 – The cheapest curtain rods ever get a much needed update
I first shared these super cheap curtain rods using simple materials from the hardware store back in 2012. They have held up wonderfully but this year they got a long awaited update including some very affordable DIY finials. One of those small things that make a huge difference.

9 – Fabulous sources for inexpensive cabinet knobs and pulls
One of my huge projects of the year was transforming our worn out, dated kitchen as inexpensively as possible. Cabinet knobs and drawer pulls are little things that can really add up, so I shared a list of great sources to buy stylish hardware for cheap. (Plus, I shared they crazy place I found my own super cheap hardware.)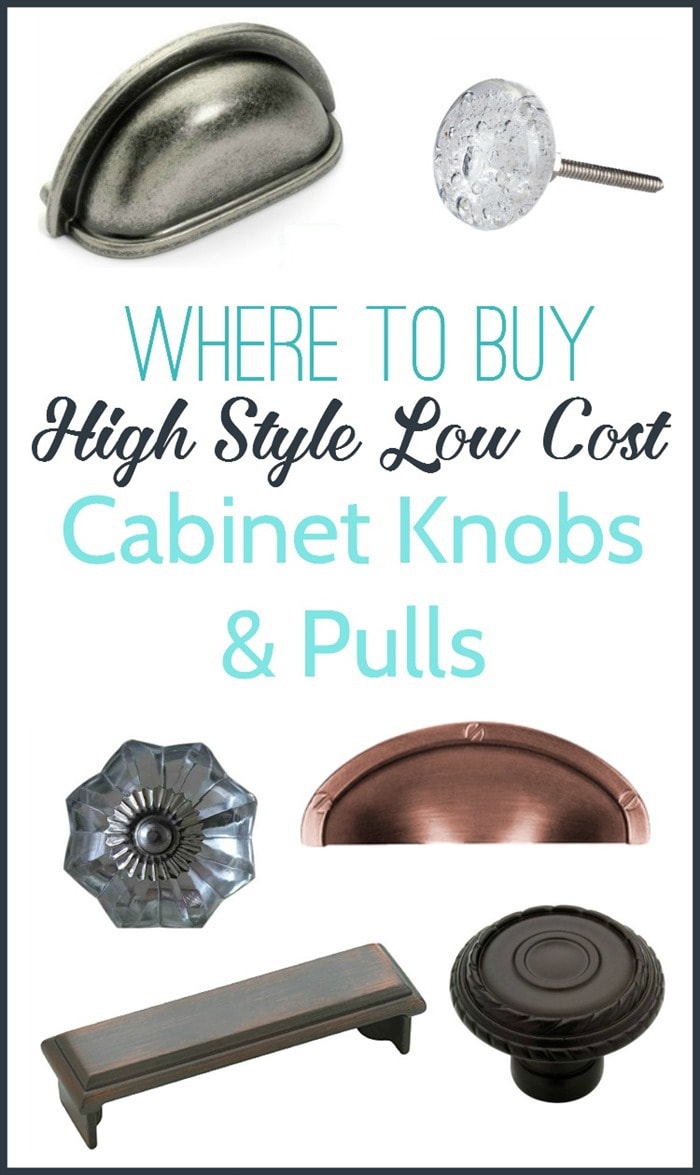 8 – An easy, inexpensive DIY backsplash
An updated backsplash was another must in our kitchen makeover. We needed to keep things inexpensive and pretty simple so I did a painted backsplash using a stencil that looks similar to tile.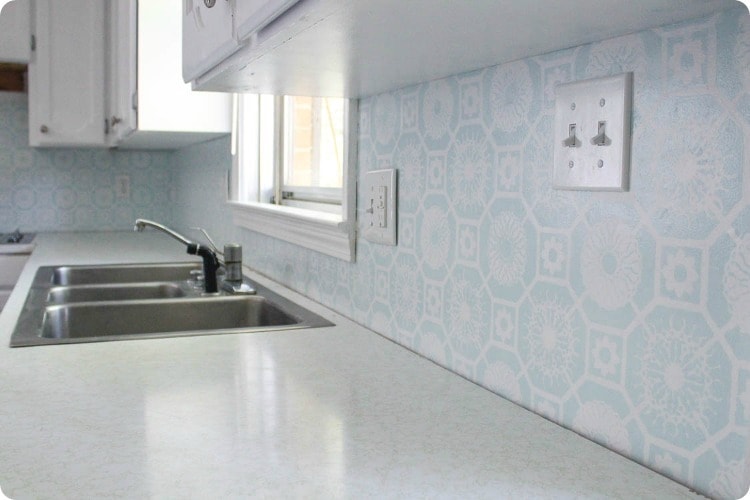 7- Painted Sliding Glass Doors
This isn't one of those projects with amazing reveal pictures, but it made a huge difference in our home nonetheless. The sliding glass doors between our family room and back porch let lots of great light in, but they had a hideous bare aluminum frame. A quick paint job and that ugly metal disappeared.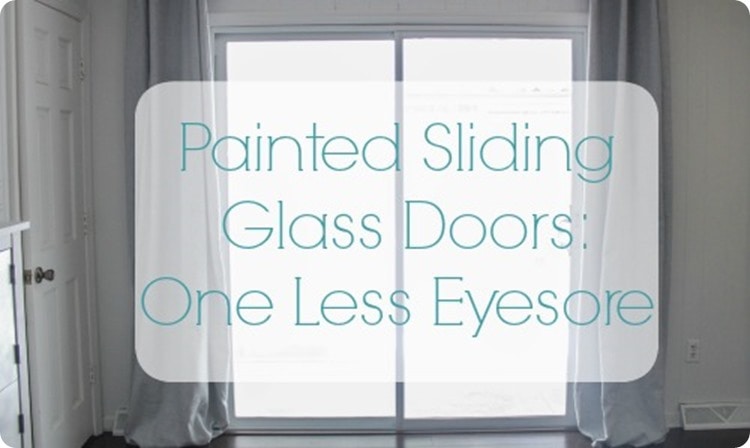 6 – Transform any candle lantern into a lamp
I needed a new lamp for my son's room with a touch of industrial, farmhouse style. I already had a stash of these cute galvanized lanterns from Ikea and with a few quick modifications, they were really easy to turn into lamps. My favorite part is they work equally well hanging on the wall as a sconce.

5 – Quick painting tips to make your next painting job easier
Painting is one of my absolute favorite ways to inexpensively update just about anything – from walls to lighting to furniture. I have literally spent hundreds of hours painting and these are a few of my favorite tricks for making the process go more smoothly.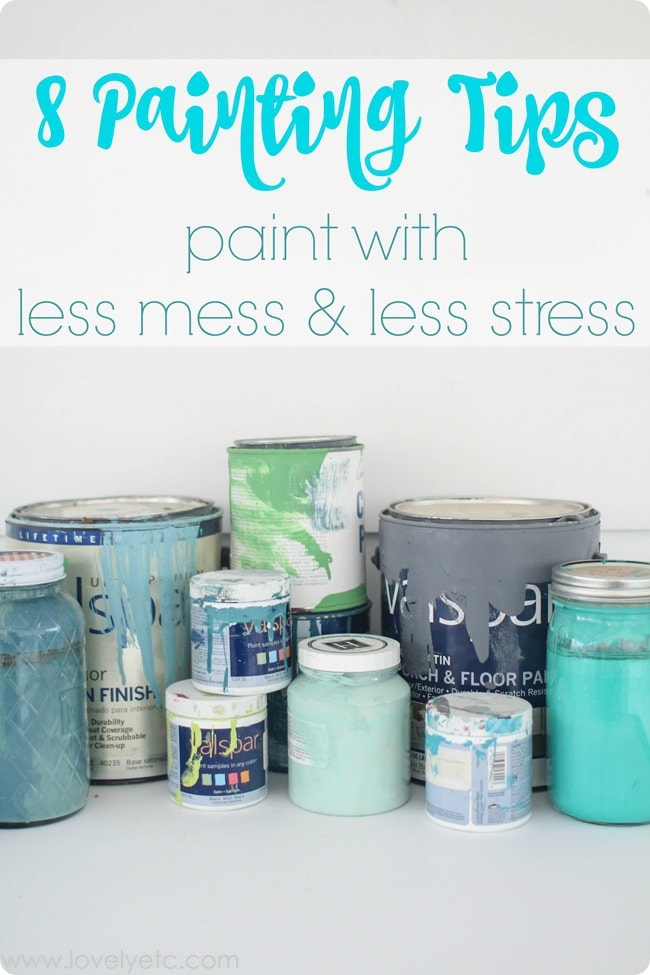 4 – A 1980s brass chandelier transformed into an updated industrial light fixture
I needed a light fixture for our living room but the beautiful industrial fixtures I love were out of my price range. So I figured out how to combine an old lampshade and a thrifted brass chandelier into the perfect industrial fixture.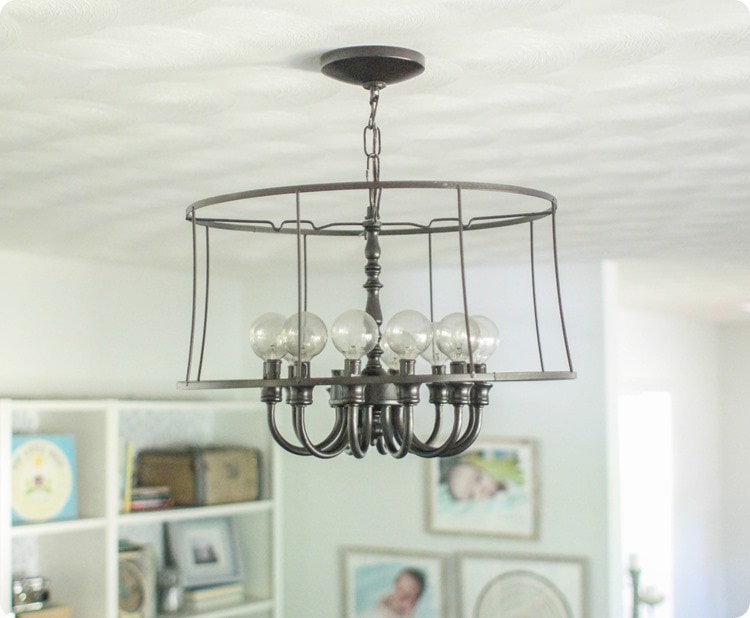 3 – A painted mountain mural
Instead of a traditional headboard, I painted a mountain mural on my son's wall. It adds the perfect graphic punch to the room and worked so much better for my son during his semi-destructive phase than a traditional (more easily destroyed) headboard.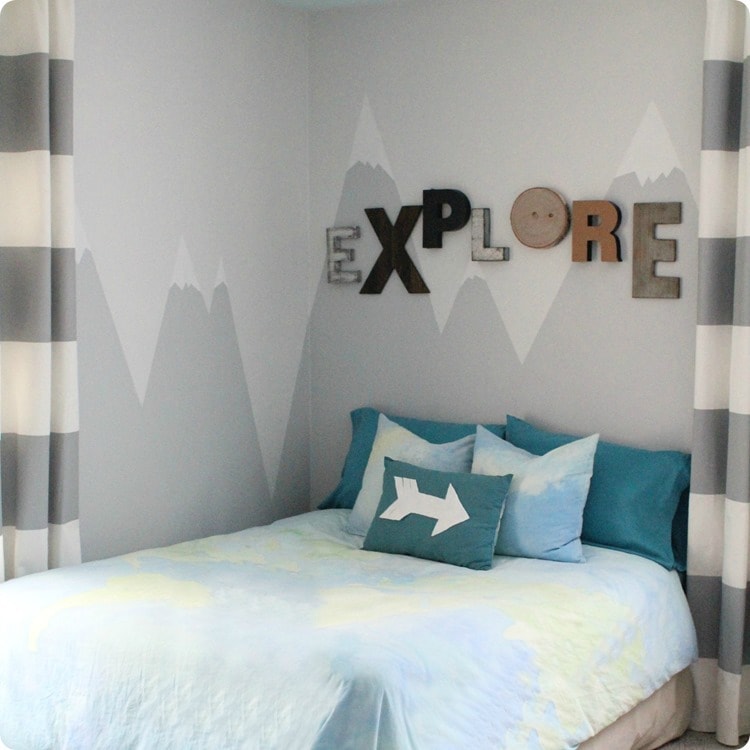 2 – Perfectly painting oak cabinets
When I finally got around to painting my oak cabinets, I wanted to make sure the project was worth my time. And I definitely did not want the old oak wood grain showing through. Luckily, with a few key steps, I was able to transform my old oak cabinets into perfectly smooth white beauties.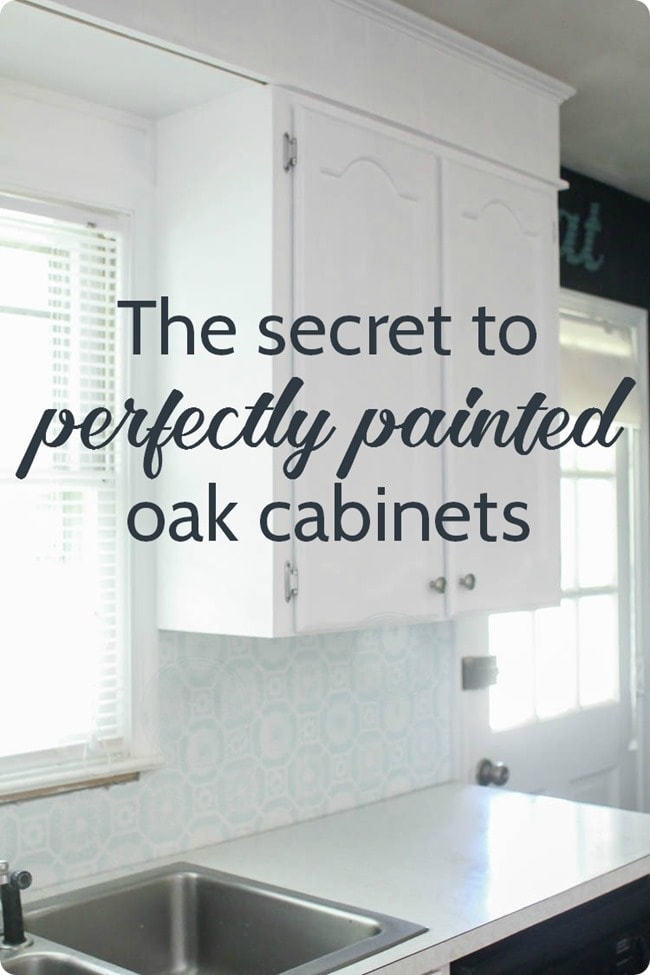 1- Vintage dresser bathroom vanity
And the year's most popular project – my new bathroom vanity. An old $25 antique dresser in need of some TLC became this beautiful modern bathroom vanity and I absolutely love it. Plus, it involved all my favorite things – repurposing old stuff, painting, and creating something we needed for way less.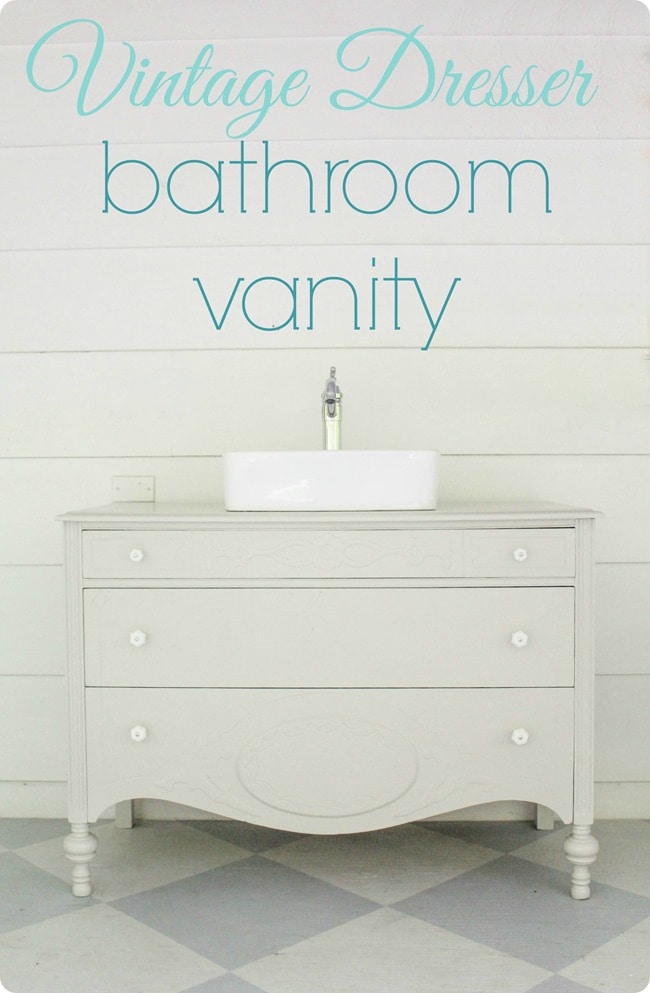 And now, I'm pretty excited about what's to come in 2017!