Even though we don't always send out Christmas cards, one thing I look forward to every year is taking some great Christmas photos of my kids.
I absolutely love being able to look back at the photos we've taken over the years and remembering each precious Christmas.
My very first Christmas as a mom, Griffin was only one month old and I had visions of taking all kinds of amazing newborn Christmas photos. Of course it didn't turn out to be nearly as easy as I had imagined and I quickly realized I had a lot to learn.
Since then I've had plenty of other fails, but over the last five years I've learned a lot and taken some awesome photos.
I'm not a professional photographer by any means – but as a mom who loves to take photos of my kids, these are the best tricks I've learned for taking really cute Christmas pics in my own home
Take your photos early
The first thing I learned is not to wait for Christmas to try to take cute Christmas photos. There will be way too much going on, it will be super stressful, and it will be too hard to relax and get good pics.
Instead find a time a week or two early when nobody is rushing around and you can take your time. Then you also have time to try again if things don't go smoothly.
And if you are taking photos to use in your Christmas cards, give yourself plenty of time before they need to be printed and mailed.
Of course, you still might want to take plenty of photos during all the action on Christmas itself too.
But if you've already taken some great ones, you can skip the posing and just get to the fun during your actual Christmas celebration.
The Christmas tree makes a perfect backdrop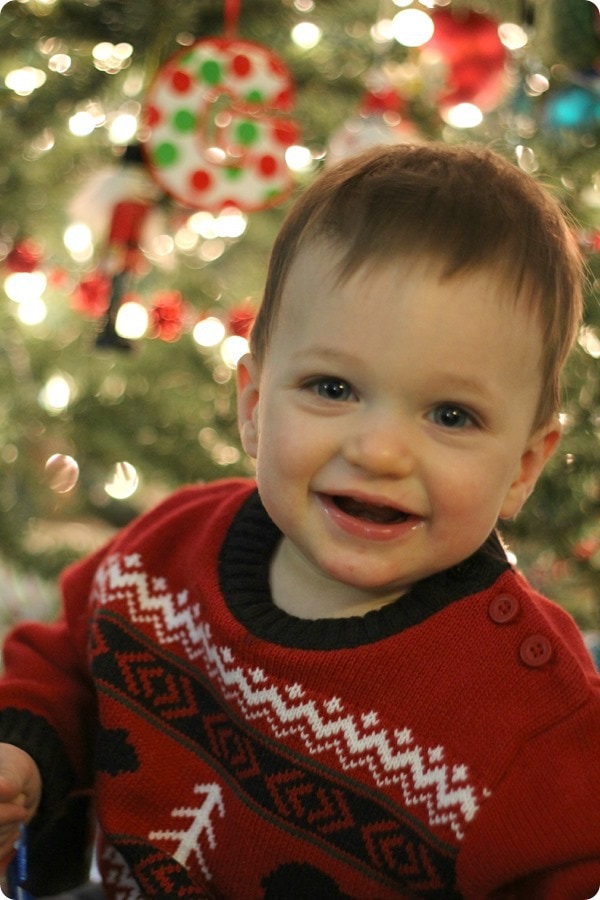 One of the easiest and most festive backdrops is in front of your Christmas tree. Be sure to turn on the Christmas tree lights and have your kids gather in front of the tree.
I don't like to get too fussy with posing – we all know the more you try to direct toddlers, the more they do the exact opposite!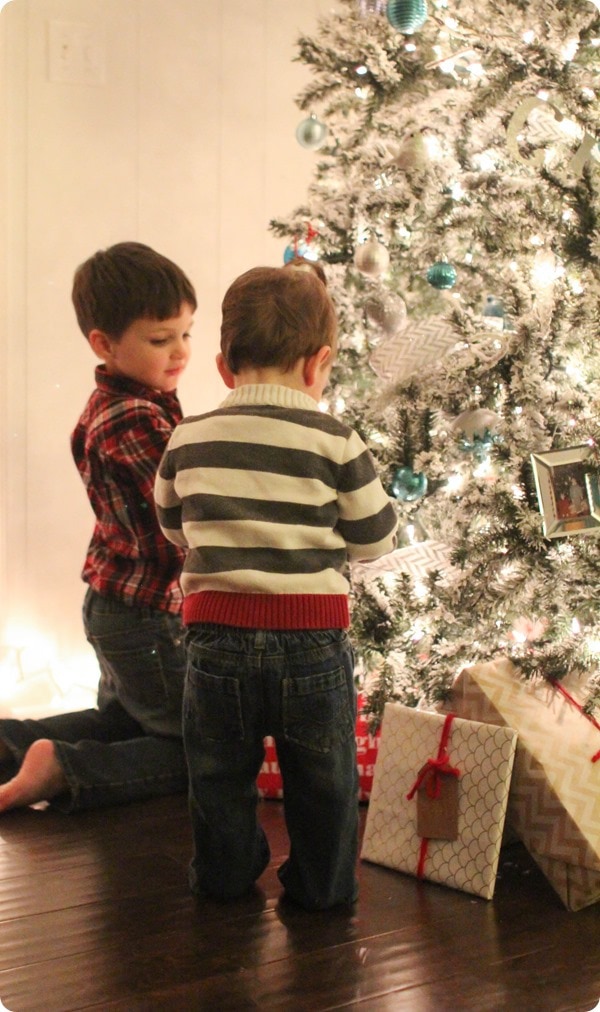 If they need something to keep them busy, give them a few ornaments to add to the tree. Or set up a little chair in front of the tree for them to sit in.
Last Christmas Asher wasn't quite sitting up yet, so I did something a little different for his photo.
I set up a small table several feet in front of the Christmas tree. I covered the table with a blanket, put a boppy pillow on top of the blanket, and then a nice furry blanket on top of the boppy. Then I propped Asher up on the boppy (with another adult nearby for safety of course.)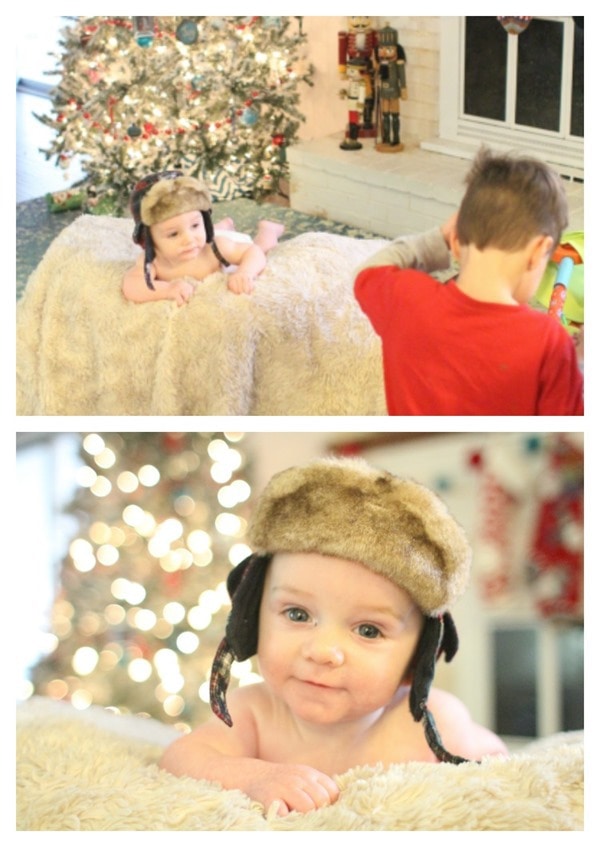 The pictures turned out amazing.
If you use a DSLR, you can get the really beautiful blurry lights (bokeh) in the background by using a very low f-stop. (The above photo was taken with an f-stop of 1.8)
Or create your own simple backdrop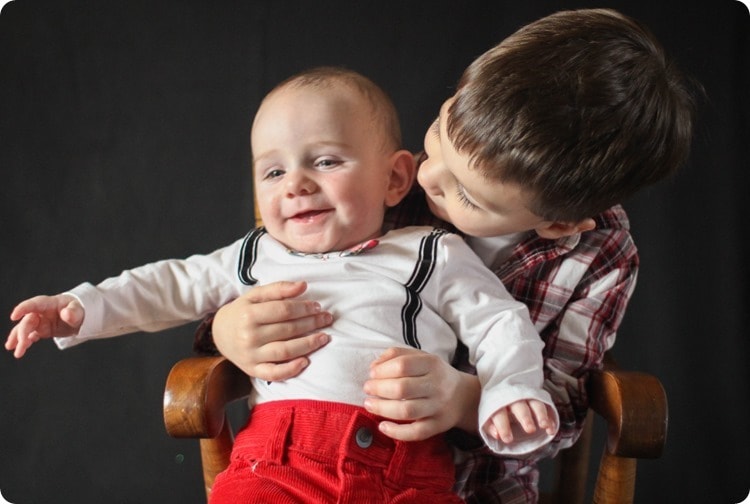 Another option is to take pictures in front of a plain backdrop. This is great if you want the focus to be totally on your kids.
If you have a blank wall that gets good light, that can make the perfect backdrop. If not, you can make your own backdrop by hanging a plain sheet, curtain, or blanket.
Chalkboard walls also make really great backgrounds. The photo above was taken in front of a simple black sheet hung from the wall.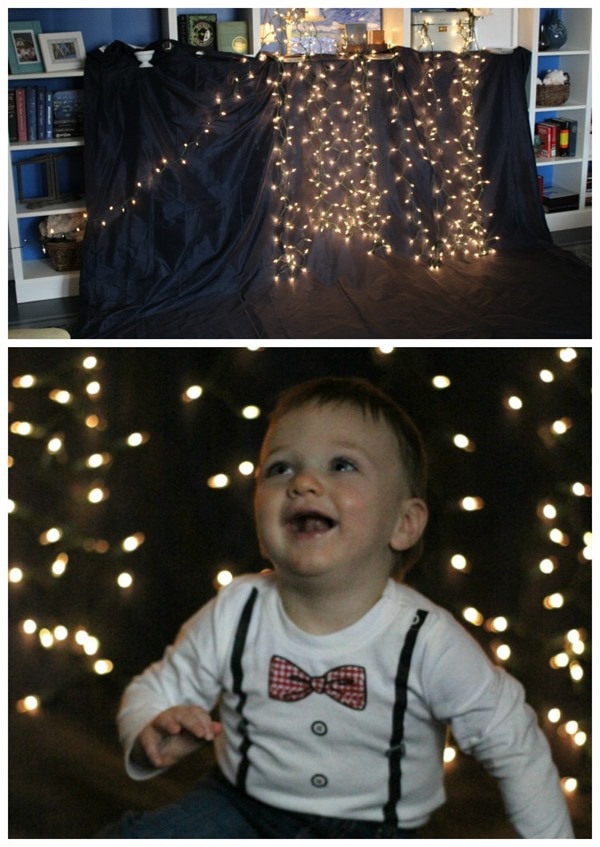 Another year I created my own backdrop using a dark curtain panel with Christmas lights draped in front of it.
Choosing outfits and props
There are so many adorable options for Christmas photo outfits.
Cute Christmas pjs, fancy Christmas dresses, bow ties and suspenders, tutus, fuzzy hats and gloves, plaid shirts, Christmas sweaters, really whatever feels like the holidays to you.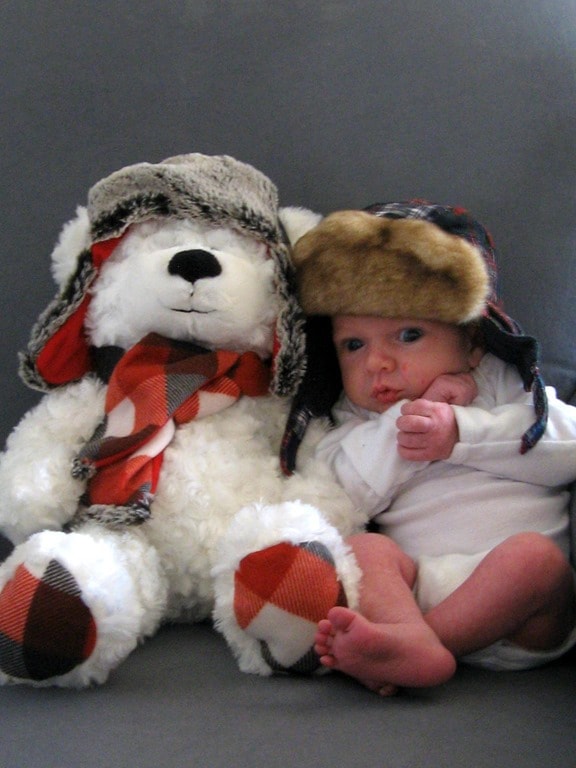 I tend to keep things super simple as far as props go.
I like the focus on the cute little kids instead of a pile of stuff, but there are some adorable prop options – wooden sleds, wrapped gifts, Christmas lights, Christmas trees of all sizes, Santa hats, Christmas lights, Christmas signs can all add that Christmas touch.
Props can also be great for showing just how tiny our Christmas babies are.
Getting real smiles
It really helps to have another adult on hand to help out. They can help keep the kids from escaping the photo area and also help keep everybody happy.
When it comes to babies and young toddlers, a little peekaboo, some jingle bells, or something shiny to play with can really help with getting adorable smiles.
What usually doesn't work great is asking kids to say cheese and look at the camera – they might smile, but it is highly unlikely it will look natural.
Instead, try to do something they genuinely enjoy and capture a real smile. Maybe sing a silly song or ask what they really want for Christmas.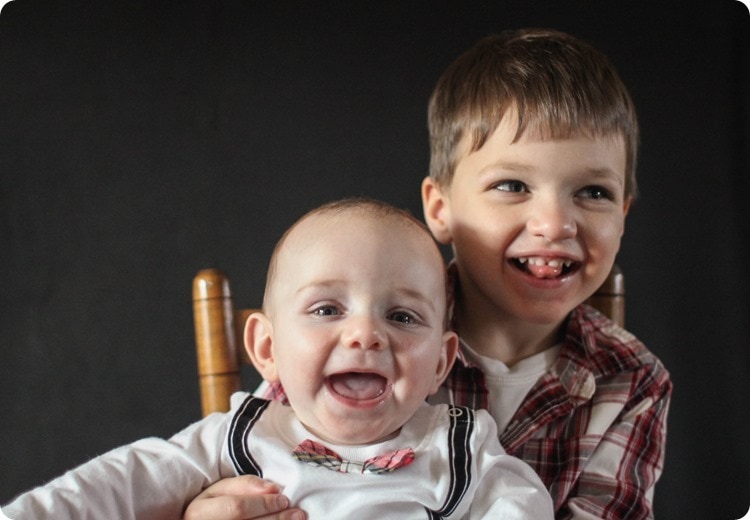 Those are my best tips for taking great photos of your kids. Of course kids are unpredictable and there are still usually plenty of duds, but as long as I can get a few great pics each year, I'm happy!
Once you have a few great photos, don't forget to get them off your phone or computer and actually use them! I have a great list of DIY photo gift ideas or you can use a few favorites to make these easy DIY photo ornaments!
I'd love for you to pin this on Pinterest!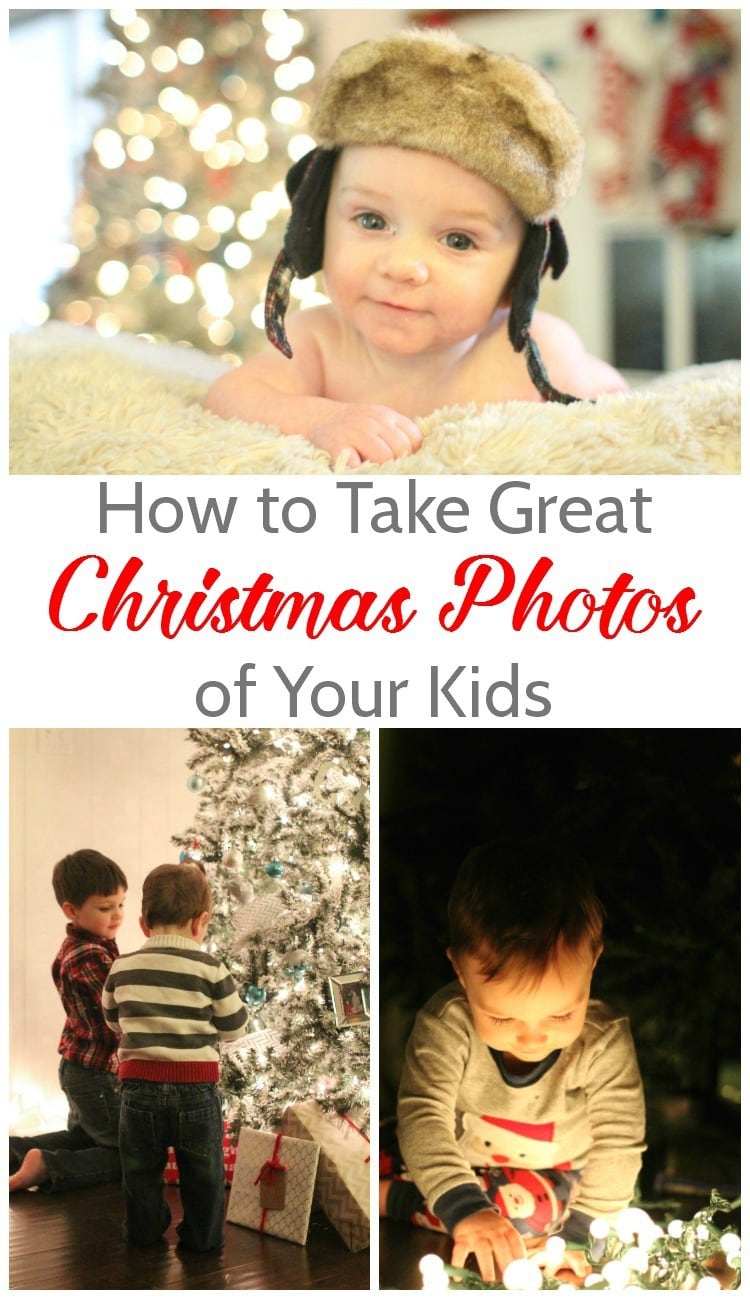 Have a wonderful Christmas!