Last week I shared that I'm transforming our basement workout space as part of the $100 Room Challenge this month. The hope is to turn it from the dark, creepy, disorganized space it is now into a decent industrial style home gym.
(If you're just joining in and you aren't sure what the $100 room challenge is, it's a challenge to makeover one room in your home with only one month and $100. Quite the challenge!)
Last week I shared the scary before pics. I don't have a lot of new pics to share this week. I've been doing lots of cleaning out, organizing, and just plain cleaning down there. The next step is paint and I'm hoping to get started on that tomorrow. It's been super frigid for the past week around here and the temp in our unheated basement was way too low to use paint. (If you didn't know, all paints have an acceptable temperature range printed on the label. And yes, it actually is important to avoid painting in extreme heat or cold. Or damp for that matter.)
So while I don't have any progress pics to share just yet, I do have a solid plan for this space and I'm excited to share it. It was a little tricky to figure out how to strike the right balance down here. This is an unfinished basement space and that's exactly what it looks like. Cinder block walls, open ceiling with exposed insulation, concrete floor, lots of junk stored everywhere. Clearly with a $100 budget, we won't be actually finishing the basement. It's still going to have cinder block walls, exposed ductwork, and a concrete floor and the gym area is still going to be open to the rest of the basement which is currently a huge storage space. I'm definitely going to be embracing the unfinished basement aspect while still working to make this a space where someone would actually enjoy working out. Thankfully my husband is a big fan of industrial style which is going to work perfectly for this space.
Similar to the last couple of $100 Room Challenges I've participated in, I'm planning to use lots of stuff we already own and spend most of the budget on paint and inexpensive wood to make the rest of what we need. So with my tiny $100 budget, here's my industrial home gym makeover plan.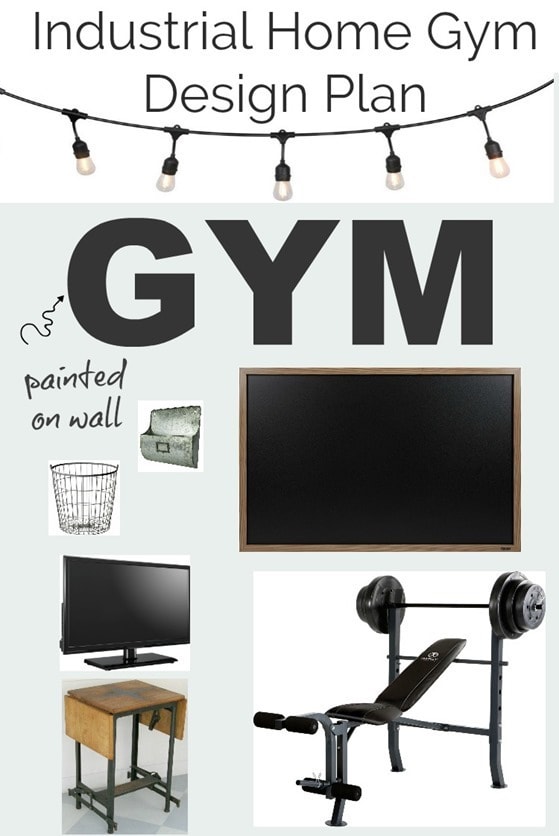 Clean and paint the walls. There are a few windows down here, but it's still a dark basement, so I plan to paint the walls a light color. I'm generally a fan of bright white paint, but I think plain white cinder block walls would be a bit more institutional than we want. Instead I'm thinking, a light gray with a hint of blue or green to it. Of course there's a pretty good chance they don't make masonry paint in a nice gray with a hint of blue, so I may have to either settle for a plain gray or mix my own color.
Simple wall mural. To help combat the blah institution feel, I also want to paint a super simple word mural on the wall. This might be what I'm most excited about.
Big chalkboard. Currently, there is a big pegboard hanging on one of the walls. I'm going to move that to my workout area and replace it with a huge chalkboard to keep track of reps and progress and all that good stuff.
New TV stand. The TV is currently sitting on a really pretty painted vanity. It's cute but not industrial in the least. I think I have something else in the basement that will work much better.
String lights. There is currently a crazy mix of random flourescent lights and random hanging light bulbs in the basement. We're not ready to make any permanent lighting changes right now, so instead I'm planning to hang string lights throughout the space. They've been a total game-changer on our screened porch and I think they'll fit right in with the industrial vibe down here.
Carpet. There are a couple of carpet remnants in the basement that we'll continue using for practical reasons.
Accessories. I'll be adding a bit more industrial style with some industrial storage pieces and other accessories that we already own. I don't know exactly what yet but I have a few things in mind depending on how everything comes together.
Workout gear and weights. Thankfully we already have all of this stuff because it would be really tough to work it into the budget!
This design is a lot more spartan looking than my usual rooms, but I think that really fits the space. In this case, it's almost more about what we are taking out than what we are adding in. Also, I will probably end up adding a few more accessories and storage pieces than what is pictured, but I usually need to see the space come together before I can figure out what will work best.
So far I haven't spent any money yet, but I'm headed out today to buy supplies so that will be quickly changing!
See everything related to my $100 home gym makeover right here:
Week 1: Basement Before Pictures
Week 2: Industrial Home Gym Plans (you're here)
Week 3: Trick to Finally Decluttering the Basement
Week 4: Basement Home Gym Update: The Final Stretch
Week 5: Basement Home Gym Reveal (the big one!)
And in case you missed them, you can see my other $100 room makeovers here:
$100 Modern Farmhouse Bathroom Reveal
Now you can catch up on the rest of the $100 room makeovers in progress at the links below.