After many failed attempts, I've finally figured out the key to truly decluttering our basement. This simple trick will help you declutter your basement, garage, attic, or any other cluttered storage space.
I'm two weeks into transforming one side of our cluttered, messy unfinished basement into a functional home gym.
I have big plans for this space, but these first two weeks have mostly involved a lot of sorting, decluttering, and purging.
The space that's going to become the home gym was buried under a bunch of kids' clothes and Christmas decorations and somehow finding new homes for those things grew into clearing out the entire basement.
Decluttering Fails
It's funny, I've definitely tried a few times before to clear out and organize our basement. Each time I started off excited and full of energy to get the job done. But I always ended up losing interest and quitting before I actually saw any real results.
I even shared a huge basement cleanout plan here on the blog a couple of years ago.
It was actually a great cleanout plan and it started out amazing. But then I started to lose momentum and then I just kind of forgot about it and started working on other stuff. Whomp-whomp.
Figuring out the secret
But this time has been different. This time I didn't just start off with great intentions to clear out and organize the basement junk – I actually did it!
I stuck with the plan and stayed motivated long enough to get the job done!
And it wasn't because it was easier this time around or there was less mess. There was just as much overwhelming clutter as the other times I've attempted this.
So what made the difference? What helped me see things through this time when all of my other attempts were failures?
I pondered this for a while as I was painting the cinder block walls downstairs. (Not a fun job by the way.)
And I think I've figured out the secret to staying motivated and truly decluttering a basement or other large space.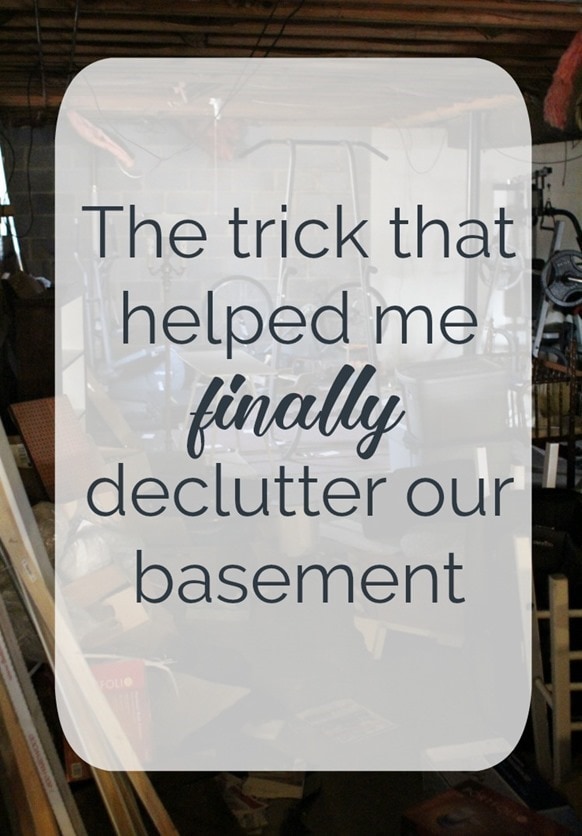 The difference wasn't a fancy decluttering plan or method – it was much simpler than that. The thing that made all the difference was a small change in how I was thinking about decluttering.
Successfully decluttering the basement
In the past, I always just decided I needed to do some decluttering and started sorting stuff.
This time around, I didn't set out to clear things out at all; I set out to create a great home gym.
And creating the home gym I envisioned meant some stuff had to go. I couldn't keep my piles and piles of clutter and still have space for a gym.
So I got to work clearing things out, letting go of things we didn't need anymore, and finding new homes for what was left.
The result was I was finally able to truly declutter our basement.
A small change that made a huge difference
In the past I would usually lose steam on decluttering projects.
As the work dragged on, I would start to question if decluttering was really going to make a difference, if it was really worth all this time and effort.
And eventually I would just shove everything left back in place and call it a day.
This time my goal wasn't to declutter. My goal was to create a functional space.
I had a vision for how I wanted that space to look and how I wanted it to work for our family.
And when I started to drag halfway through the decluttering process, I didn't just quit. Instead I reminded myself that I wanted to truly use this wasted space.
It wasn't going to be a dumping ground anymore, it was going to be a space for my husband and I to work out. And if I didn't deal with the clutter, that simply wouldn't be possible.
Instead of decluttering being this vague goal on its own, decluttering was the method I was using to reach a much more concrete goal – a functional home gym.
Begin with the end in mind
So that's the secret to actually getting rid of the extra clutter – having a vision for the end result you want. Before you start trying to declutter, spend a few minutes thinking about the end result you are working toward.
How do you want your room or space or shelf to function once it's not covered in unnecessary stuff? How do you want it to look? How will you feel when you use that space?
Keep those things front and center in your mind as you start decluttering. Remembering why you are truly doing this will make it much easier to get rid of things and it will also help get you through the parts where you would really rather just quit.
$100 Basement Home Gym Makeover
Now I've got two weeks left to transform our freshly decluttered basement into a decent home gym. This means I have a lot of work to do!
I'd be lying if I said I wasn't worried about finishing – but I still believe I can pull this off. So back to work for me!
See everything related to my $100 home gym makeover right here:
And in case you missed them, you can see my other $100 room makeovers here: