Who's ready to see how far $100 can stretch? It's reveal day and I am so excited to share what I was able to accomplish with only $100 in our family room.
I've spent the past four weeks trying to work some magic in my family room with a miniscule $100 budget. That's right – a whole room with only four weeks and $100 dollars to work with. Sound crazy? Yeah, it pretty much is. But the $100 room challenge was dreamed up by Erin of Lemons, Lavender, and Laundry and I love a good challenge so I had to join in.
Plus, it really helps me get things done! Back in January I finally got myself in gear to transform our main bathroom as part of the $100 challenge. It was a ton of work but now it's one of my favorite spaces in our house. So I decided to tackle the challenge again and this time I set my sights on our family room. We spend most of our time in this room; it's the room where we do our TV watching, toy playing, blog writing, and yes, far too often we even end up eating dinner in here.
And while this room wasn't terrible before, there was also some major room for improvement. Okay, ready for some before and after photos? (Because seriously isn't that the best part of any project?)
Before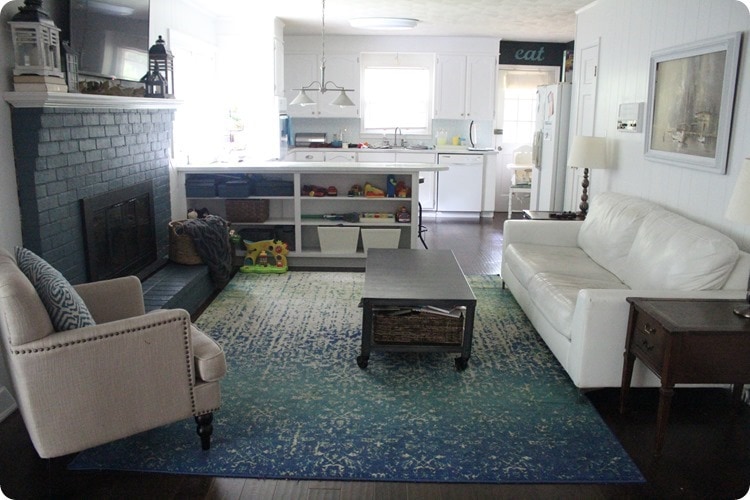 After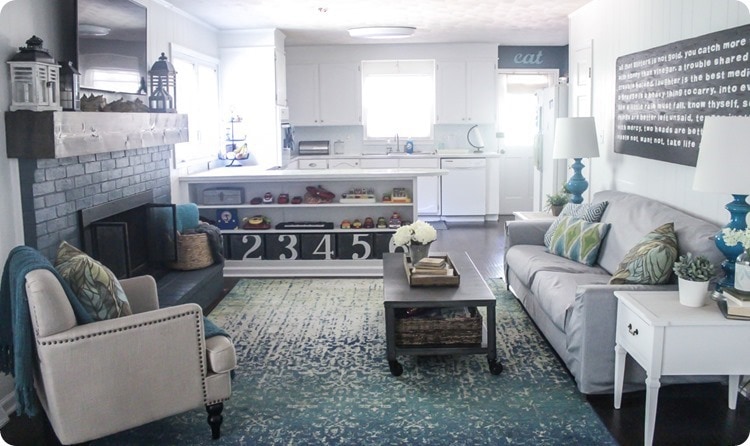 So much better! As you can see, I used all the same furniture, the same rug, and kept the same layout. But the details make all the difference.
Before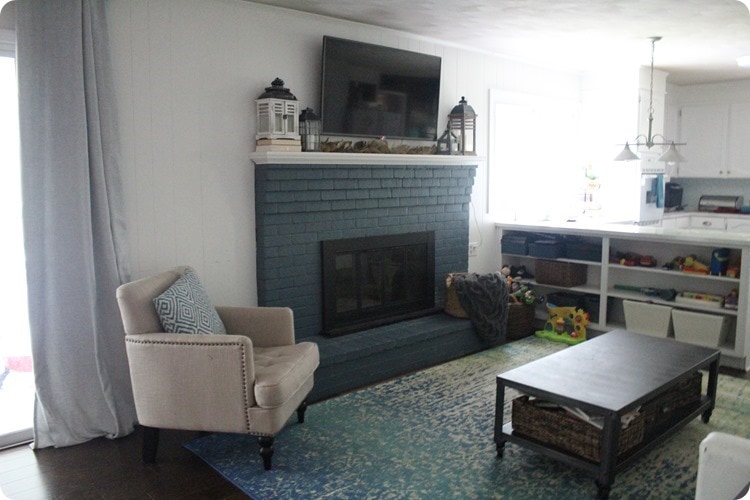 After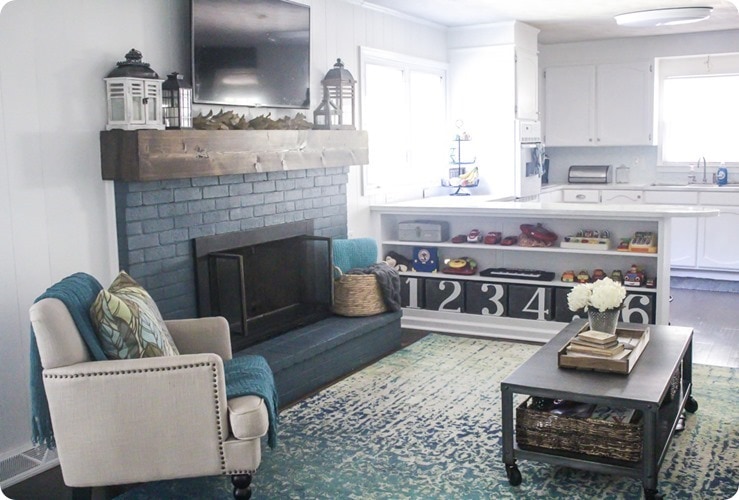 So what exactly did I do? I built a new mantel for the fireplace, added new trim to the built-in shelves, built new DIY toy bins, and removed the ugly pendant light that was hanging down over the peninsula. (I still need to replace the light at some point, but for now just having that ugly one gone is a huge improvement.)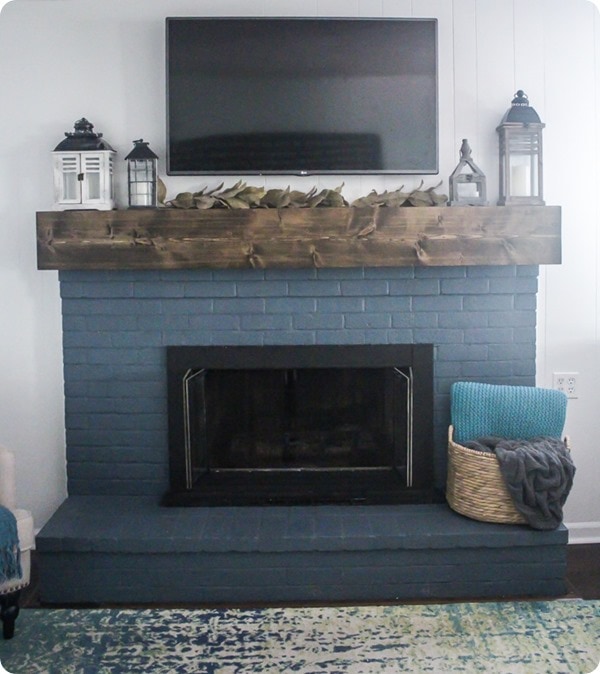 The new fireplace mantel was a pretty simple DIY and it fits the size of the fireplace so much better. This alone made a huge difference in the room.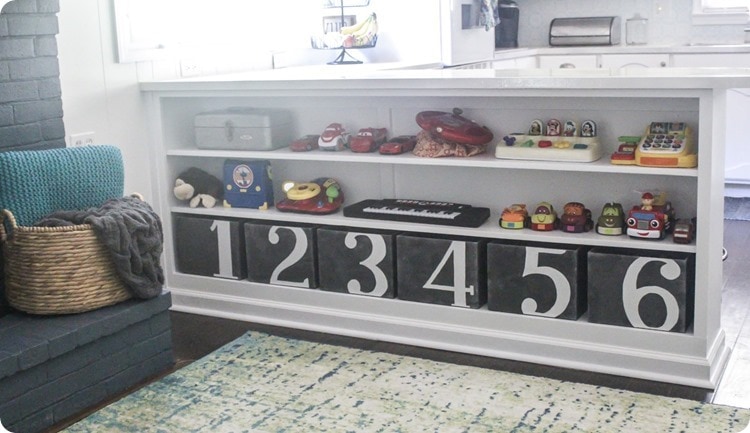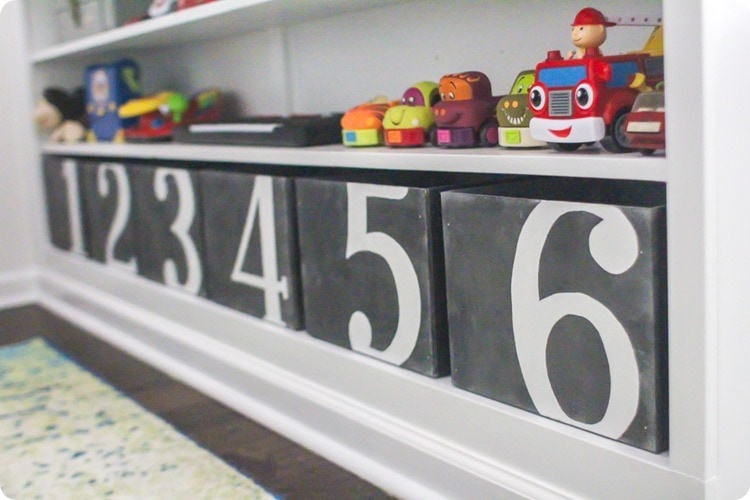 I also added new trim to the built-in shelves to help them look like real built-ins instead of leftover kitchen cabinets. I never realized before just how big a difference a bit of trim can make!
I've wanted matching bins or baskets to help contain the toys on these shelves for awhile but buying a whole set of matching bins gets expensive fast. So I made DIY wooden bins using scrap wood from my basement. I love the graphic punch the numbers give, plus they help with keeping the things inside organized.
There were some big changes on the other side of the room as well.
Before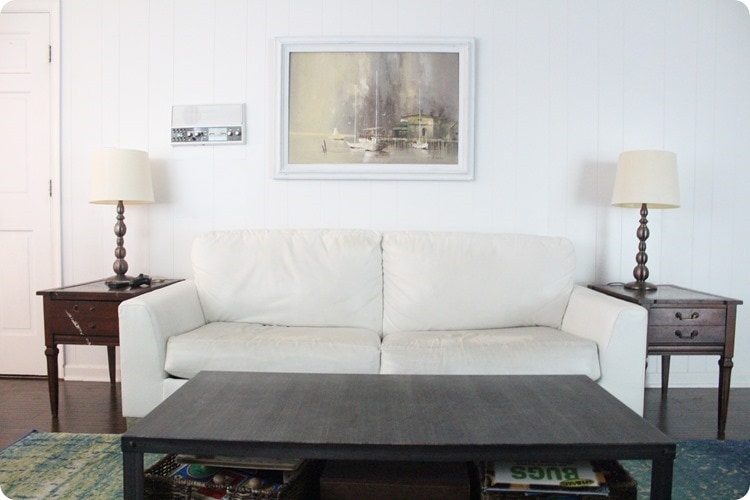 After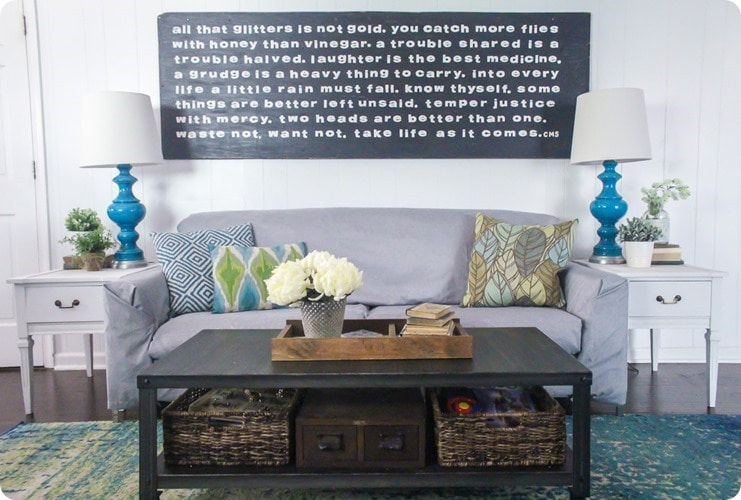 I pulled that crazy 1970s intercom out of the wall, painted the end tables, made a temporary slipcover for the couch, and pulled in different art, lamps, and accessories.
That huge awesome sign is a DIY project from several years ago. It's actually been stored away in the basement for a few years because I didn't have a wall big enough for it. But then I realized that if I got rid of the intercom, this would be the perfect spot. It looks fantastic up there and also perfectly hides the hole where the intercom used to be.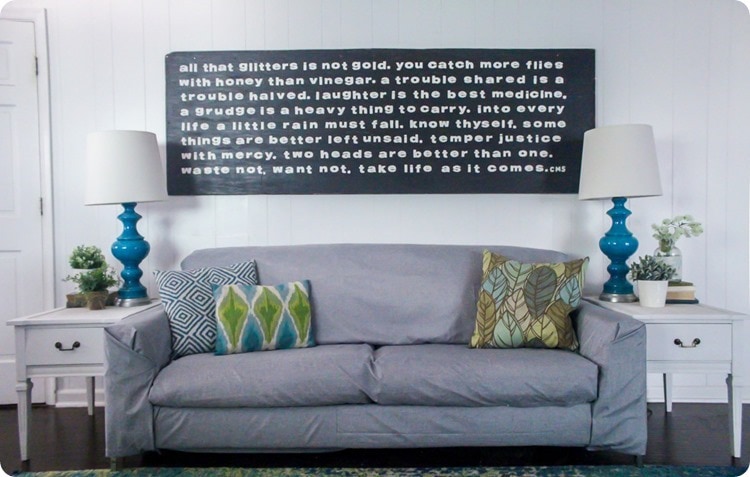 The couch slipcover is a bit wrinkly looking, but it is a huge improvement over the couch before. And it was free! Our white couch has developed a serious peeling problem over the past several months; the faux leather is peeling right off and it looks horrible in person. When I was trying to think of a cheap solution, I remembered these gray curtain panels I wasn't currently using. I didn't want to permanently sew them since I will probably use them for something else at some point, so I simply pinned them to the couch. I know this slipcover isn't perfect but it's pretty darn good considering it was both free and no-sew!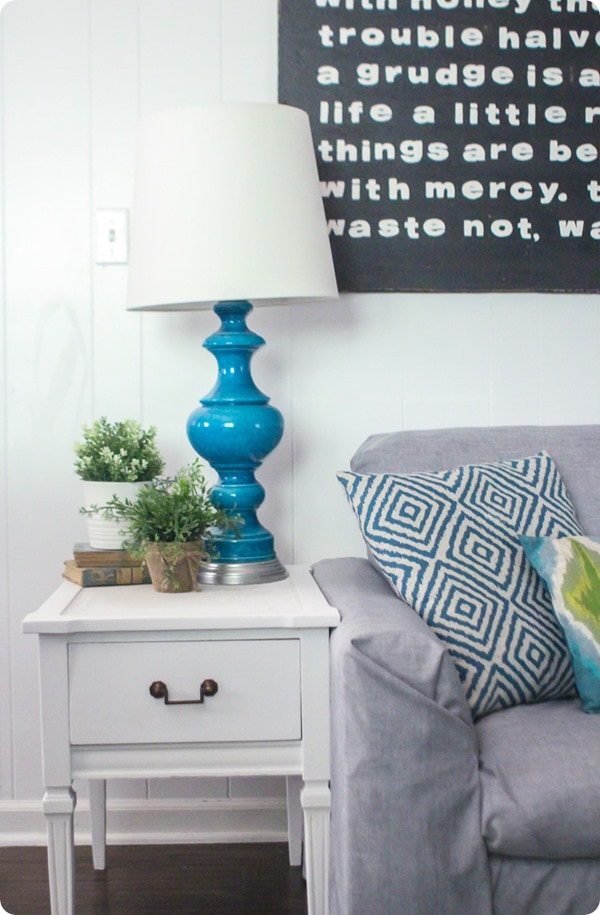 I brought in these blue lamps from another room. (These were a Goodwill find many years ago!)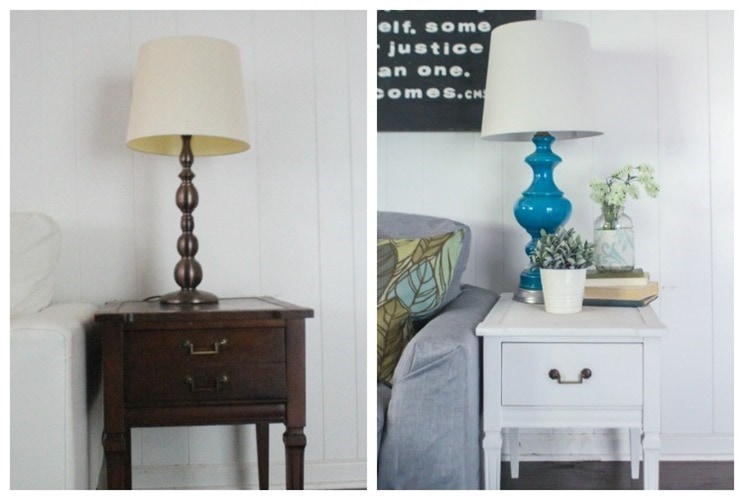 I painted the end tables that were already here white. And since one of the tables was missing the hardware, I changed the hardware placement so I could use one pull on each end table. Unfortunately I did run out of time to finish the tops of the end tables.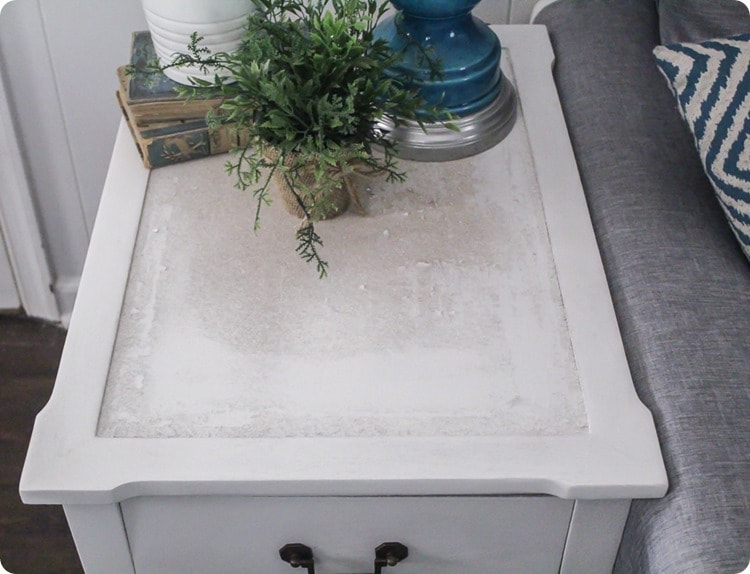 The tops were originally a weird faux leather that I removed. I have plans to do something cool in the recessed area with paint sticks but haven't had a chance to do it yet. I did include the cost of the materials in my final budget though. (Update: you can see the finished tables here and they are awesome!)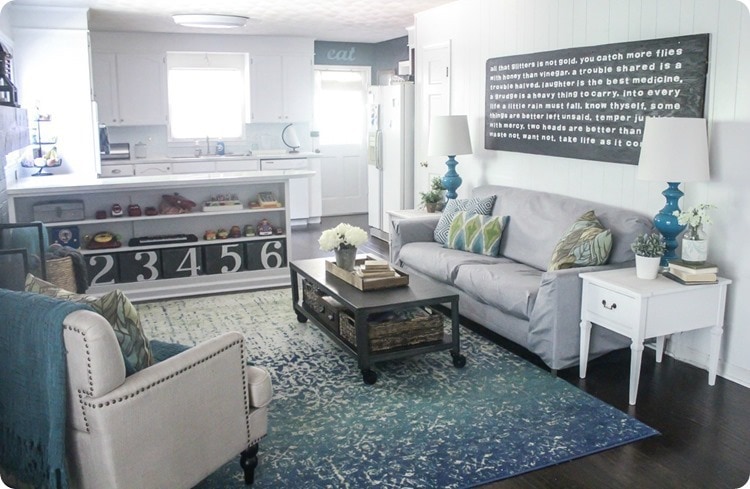 Pretty good huh!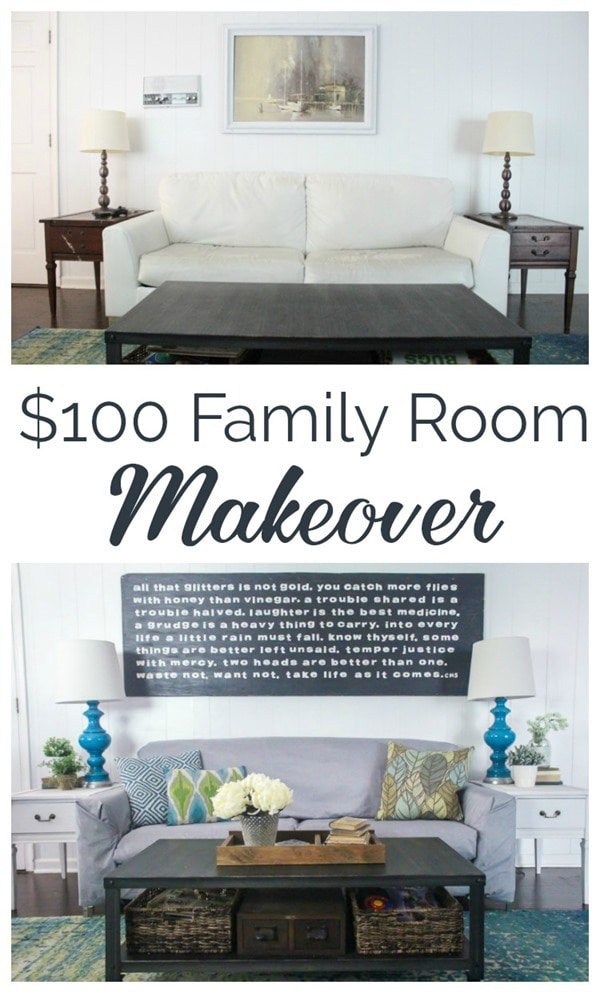 Here's the final budget breakdown:
Wood, wood veneer, and wood glue for mantel: $53
Stain for mantel: free, already owned
Wood and trim for bookshelves: $25.50
paint for bookshelves: free, already owned
Wood for toy storage: free, already owned
Finishing nails for toy storage: $1.60
Paint for toy storage: free, already owned
Lamps: free (Stole them from another room)
Paint and wood filler for end tables: free, already owned
Paint stirrers to make new tops for end tables: $20 (yes, you can get paint sticks free, but I needed a lot so I ordered 100 on Amazon.)
Fabric for slipcover: free, curtain panels that I already owned
Huge wooden sign over couch: free (DIY project from several years ago)
Pillows, blankets, accessories: free, gathered from other rooms
Grand Total: $100.10
Just barely squeaked in on budget! And with all I managed to accomplish, I definitely count this $100 room challenge as a triumph!
See everything related to my $100 family room makeover right here:
Getting rid of the ugly(adding trim to bookshelves and removing an old intercom)
How to make wooden boxes any size
And in case you missed them, you can see my other $100 room makeovers here:
$100 Modern Farmhouse Bathroom Reveal
Unfinished Basement to Industrial Home Gym on $100 Budget
Ready to see what everyone else managed to pull off with their $100 budgets? You can see all the reveals at the links below!