It's time for another $100 room challenge and I am so ready and excited to get to work! The $100 room challenge is a challenge started by Erin of Lemons, Lavender, and Laundry to makeover one room in only four weeks with a budget of $100 or less. Talk about a tough challenge. I participated in the $100 room challenge back in January and it was just the kick in the pants I needed to finally finish up my bathroom after starting a renovation that totally stalled – for nine months! But it all worked out because I finally pulled everything together during the four weeks of the challenge and it turned out fabulous!
So which room am I tackling this time around? I decided it's about time to do something with the room we spend 90% of our time in – our family room. This is a room I have always struggled with. It connects to the kitchen and is a great size – not too big, not too small. But it is long and narrow with an off center fireplace, awkward built in shelves, and sliding glass doors – all of which make furniture placement tricky. Because I never feel like I really know how to arrange the furniture, this tends to be the room where I end up sticking random furniture that doesn't really fit anywhere else.
Last spring, I attempted to makeover the family room as part of the One Room Challenge, another challenge to makeover a room in six weeks. (Apparently I really need extra motivation to actually complete rooms!) And I did paint the ugly aluminum sliding glass doors a fresh white and jazz up the fireplace with bold navy paint. But then I got busy with other things and never actually got very far with the room. So I'm going to try this again.
I already know that $100 isn't going to stretch to cover everything I would like to do in this space, but I do believe I can stretch that $100 to make a huge difference in this room.
Here's what the room looks like now.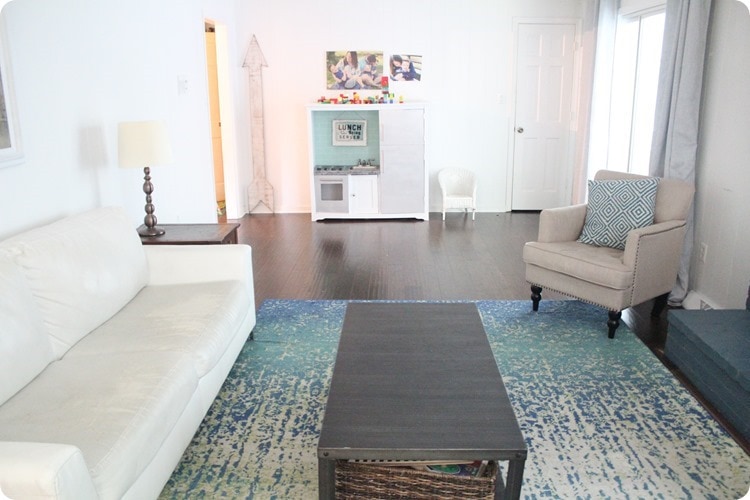 There's a lot of good stuff going on in here. I love the rug and the coffee table. And some of the other furniture is a bit random, but still nice. The walls, sliding door, and fireplace were all painted last year so they are still good to go.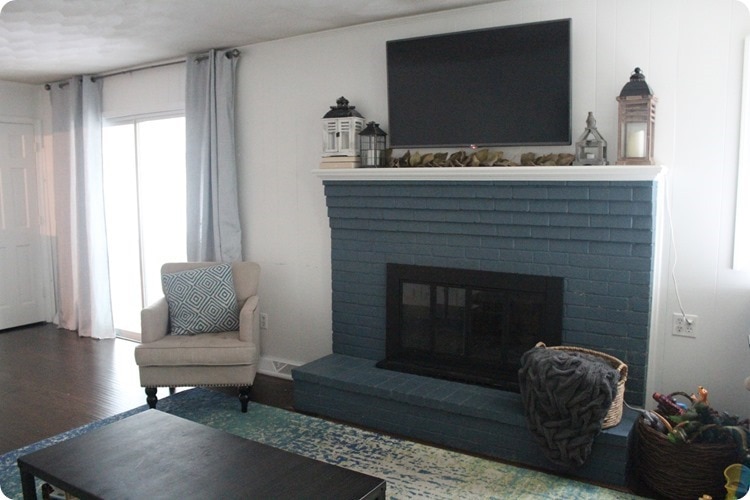 The not so good: The shelves between the family room and the kitchen are actually kitchen cabinets without doors and it shows. Also, I would love to somehow make the piles of toys on them look neater. The navy fireplace is a great focal point, but then the little white mantel is incredibly underwhelming. One of the end tables is stained and the hardware is broken. Plus they both have a weird faux-leather top covered in stains and water rings. And for some reason, those IKEA lampshades are always crooked – always! And I would love to update the art and just freshen up the room a bit. I stole some of the art in the room to use in other spaces so the walls are looking pretty bare. And the couch is sadly completely falling apart. It is Durablend leather from Ashley home furniture and the 'leather' texture is peeling right off in a very unattractive way. (Apparently this is a widespread problem and there is even a class action lawsuit about it.) There's no way I can replace the sofa for less than $100, but I can definitely do something about this.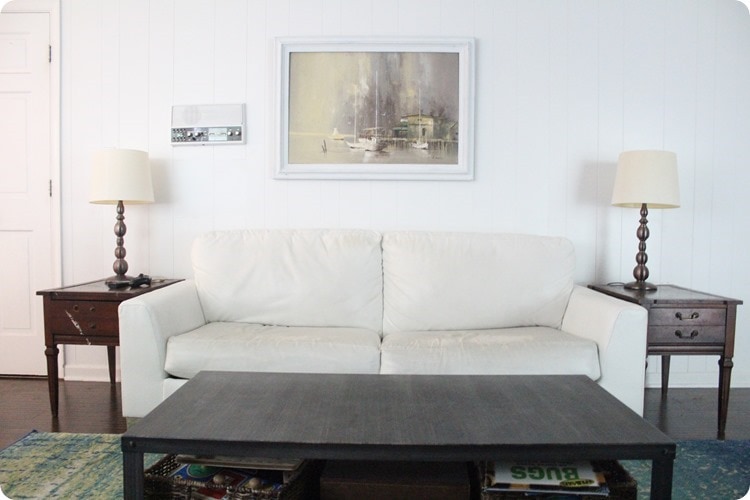 There are also a few other major things I would love to do to fix up this room: Replace the wood paneling with drywall. Add recessed lighting to brighten everything up. Replace the ugly light over the kitchen peninsula with pendant lights. But none of these things are in the budget right now, so they are going to have to wait for later.
Even so, I'm excited about all the things I do think I can accomplish. Here's what I'm planning to do:
build a new, more substantial mantel
update the shelves with new trim (so they look more like actual built-in shelves and less like the extra kitchen cabinets they actually are)
better toy organization, possibly make/buy new storage containers
remove the ugly light fixture from over the peninsula
switch out the lamps
paint the end tables and replace the hardware
cover the sofa to cover the worst of the damage
make and hang new art
clean the rug
I'm a little worried about stretching the budget to cover everything, but I'm going to do my best! I'll be sharing updates for the next few Wednesdays and I'll be sharing the final reveal the last Wednesday in September. I'd better get to work!
And yes, there's a whole group of other bloggers crazy enough to try to make over a room on this crazy timeline and budget. Visit the links below to see who else is participating and what they are planning to do.
See everything related to my $100 family room makeover right here:
Getting rid of the ugly(adding trim to bookshelves and removing an old intercom)
How to make wooden boxes any size
$100 Family room Makeover Reveal