Ok, so last week I shared our newly completed bathroom makeover with you guys. I finished up this bathroom makeover as part of the $100 room challenge, knocking out the final projects and details on a tiny budget of less than $100.
But even though we did finish this bathroom on a tight budget, the whole bathroom start to finish sadly cost much more than $100 and took far longer than four weeks.
In fact it took pretty darn close to nine months to complete start to finish. Bathroom renovations are a lot of work and I definitely don't want to give anybody the impression that it is fast or easy.
We were able to save a lot of money by doing most of the work ourselves, but that also meant we (um, make that I) put a lot of hours of work into this bathroom.
A lot.
And also, I want to give a realistic picture of the budget for a huge renovation like this. Like I said, I was able to save a ton of money by doing most of the work myself and saving money on materials wherever possible, but the budget was still significant.
So today I'm sharing the whole story of the bathroom start to finish, including the final budget.
When this whole process started, the bathroom looked like this.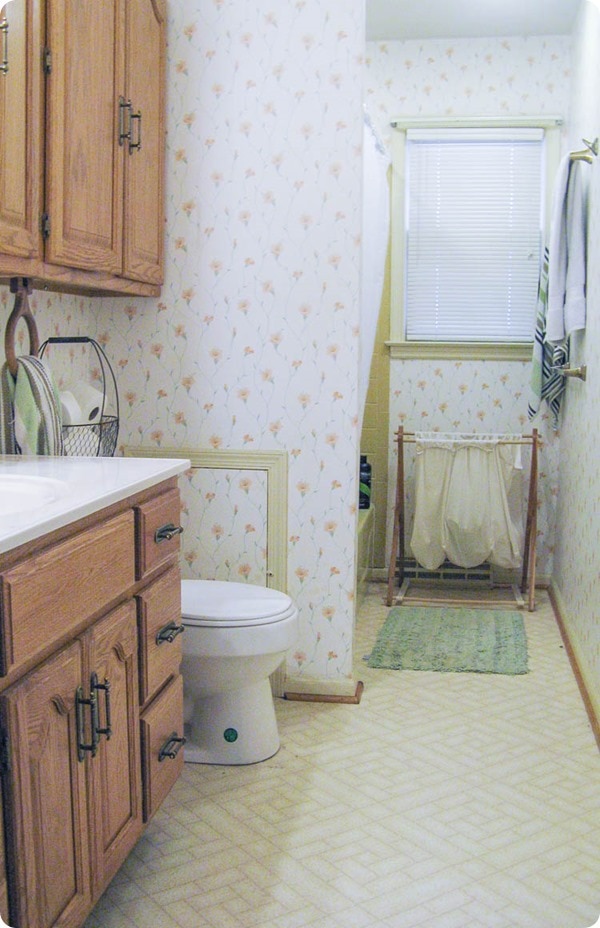 Not so pretty. A couple of years ago, I stripped the wallpaper and removed the excess of towel bars and robe hooks, so last spring the room looked more like this.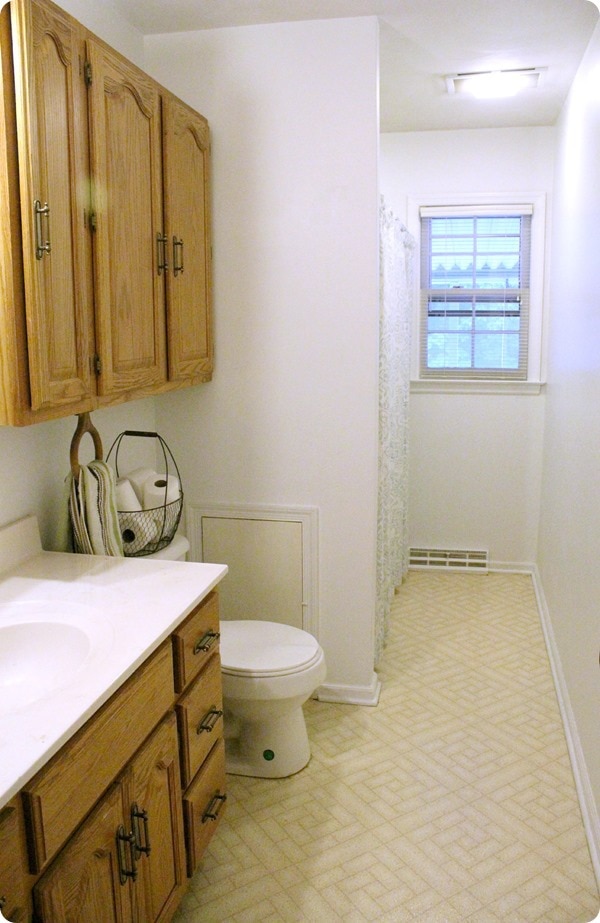 Better, but still not good. Especially when you look a little closer.
The smoky faucet handles, dated medicine cabinet, and yellow tile and tub were much much worse in person. But even that wasn't what motivated us to overhaul the room.
The real problem was our plumbing. We had very nice copper pipes which were sadly being slowly eaten away by the minerals in our local water. So much so, that the floor was beginning to feel soft and squishy. Not good.
Once we realized we were going to have to replace the walls around the shower and the entire floor, it only made sense to go for a whole new bathroom.
New plumbing and dealing with water damage
We did hire professionals to deal with removing everything that was damaged, replacing the plumbing, putting new wall board around the shower, replacing the bathtub, and installing the new tile floor.
In retrospect, I wish I had just done the floor tile myself, but I am incredibly happy we had professionals do everything else. I love to DIY, but not when it comes to matters of safety and the structure of the house.
Of course the downside of having someone else do the work was the price. We paid $5000 to our contractors to complete all of the work. This also included the tub and all of the supplies they used other than grout and tile, which we provided.
This was of course, by far the most expensive part of the project. If we hadn't been dealing with major water damage and replacing the plumbing, I think we probably could have handled the entire renovation ourselves and cut the total budget in half, but sadly that wasn't the situation we were dealing with.
DIY Bathroom Makeover
When the contractors left, the room looked basically like this (minus the subway tile peeking out above the tub).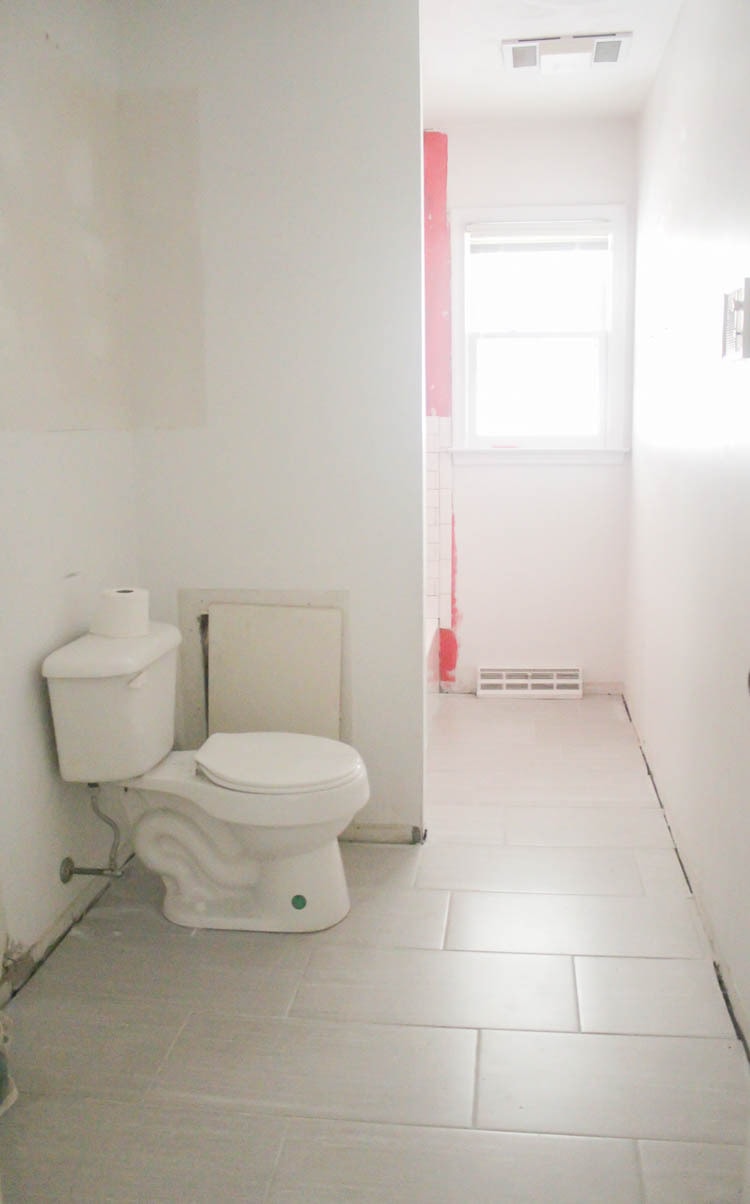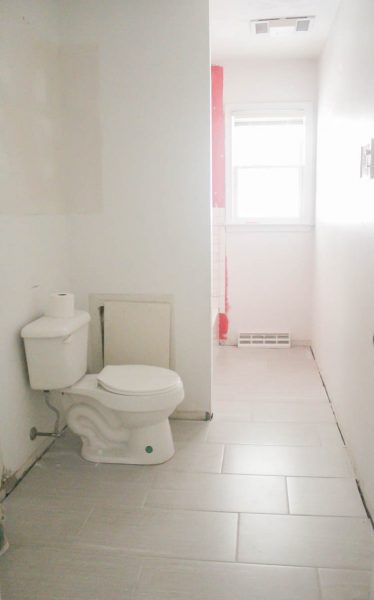 Then it was my turn to get to work. I tackled a lot of projects in this room including a lot of things I had never done before.
This was my first time tiling or doing any type of plumbing. (Even though the contractors took care of all of the plumbing in the walls, I installed the new vanity and sink myself.) This was also my first time doing anything like board and batten.
Let me tell you, there were moments I really regretted taking so much on, but in the end I was so happy I did.
Not only because it saved us thousands of dollars, but also because I learned how to do so many things I had never even considered doing before.
And I did them well! I've got to be honest – I may be feeling a bit invincible at this point.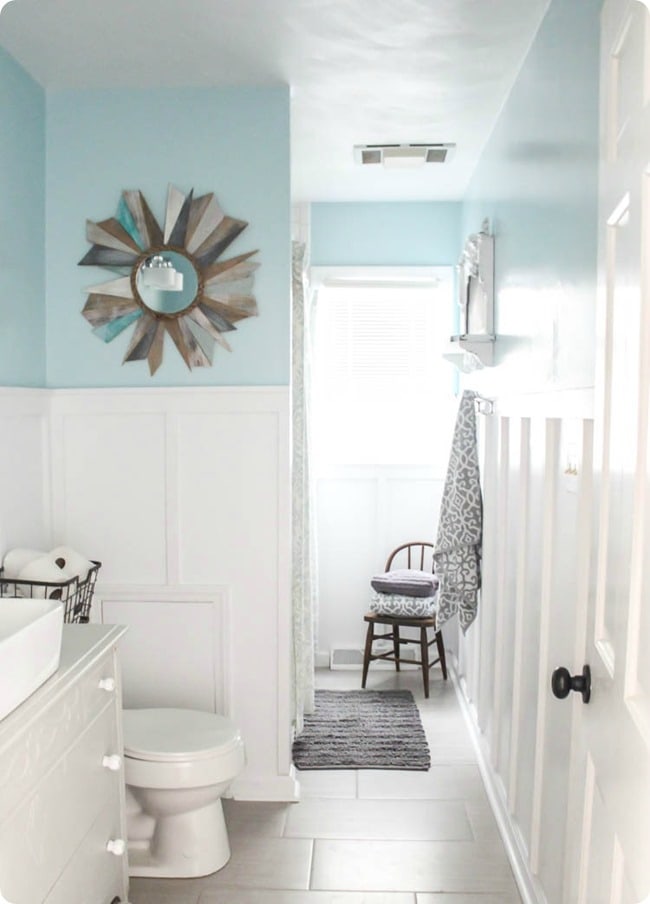 Here are a few more before and after pics to show just how much really changed!

I love, love, love our upcycled vanity.
At first I wasn't sure how I would feel about getting rid of the enormous amount of storage all of those upper cabinets gave us. But after living with the vanity for several months, I've found it has been more than enough storage.
In fact, it actually helped motivate me to clear out tons of stuff we really did not need but were hanging on to because we could.

I don't have a full before picture of the shower, but this gross photo of the old brownish-yellow tile and huge handles gives an idea of how bad it was.
The fresh new subway tile and chrome fixtures is classic and looks so clean and fresh in comparison.

And whole room overall just makes me smile.
For me it is the perfect balance of modern and vintage, classic and whimsical. Exactly how I want my home to feel.
Bathroom DIY Projects
This is a list of everything I did in the room myself as well as links to all of the tutorials.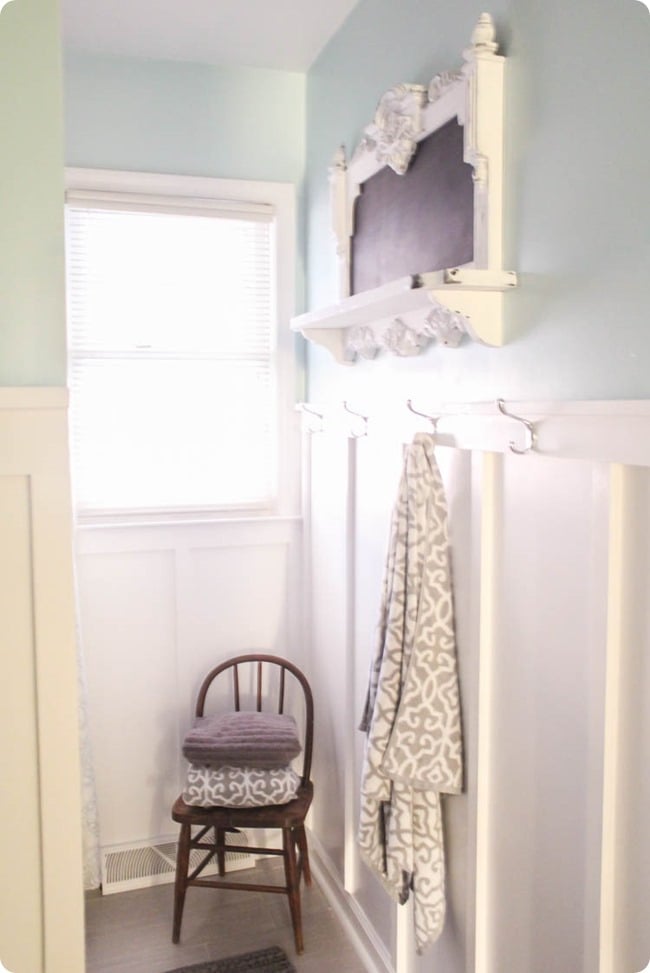 Full Source List and Final Budget
This post contains affiliate links which means if you make a purchase after clicking a link I will earn a small commission but it won't cost you a penny more. Click here to see my full disclosure policy.
And now for the real deal budget. As I mentioned above, we paid $5000 for a contractor to fix some major plumbing issues and water damage which majorly impacted the budget. Everything else was done as inexpensively as possible.
Total not including contractors: $926
Total including contractors: $5926
Of course I much prefer the total without the contractors, but even when we add them in, I'd say a total bathroom redo from floor to ceiling for less than $6000 is pretty darn good.
If you have any questions about other things in the room, ask away! I kind of can't wait to get started on our master bath (which sadly shares the same plumbing issue). But then again, a bit of a break might also be nice!

*I was provided the Amy Howard One Step paint by Ace Hardware, the vanity hardware from D. Lawless Hardware, and the vanity light from Wayfair for use in this project, but I have included their value in the final budget so you can see the true cost to recreate the look. Everything else, we purchased ourselves.