This is a sponsored post written by me on behalf of DAP Products Inc. for IZEA. All opinions are 100% mine.
This DIY beachy sunburst mirror is one of those ideas that has been in the back of my mind for a very long time.  And I am thrilled that I finally got it made – and just in time for summer!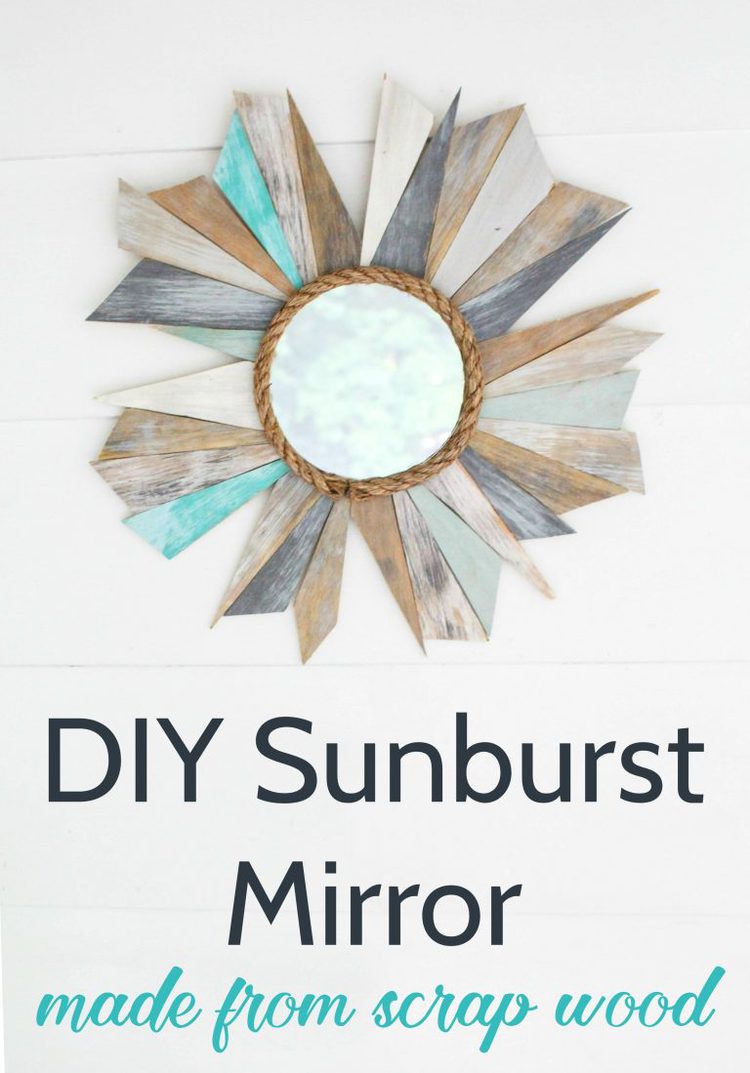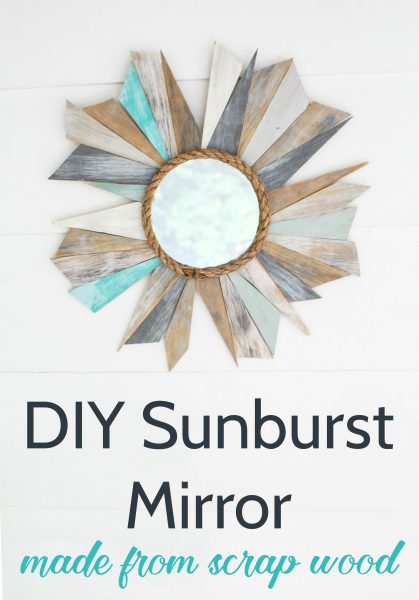 This mirror is totally a product of my preoccupation with repurposing and using what I've got. When I made my beloved plank wall a few years ago, there were some small scraps of painted wood left over.  Since then I have used those scraps to make this wooden banner and after cutting out the triangles for the wooden banner, there were still some skinny little triangle scraps left.
As soon as I saw those skinny triangles, I pictured a sunburst mirror. Then a few weeks ago, I was sitting on the couch catching up on Grey's Anatomy, when I heard a huge crash.  I immediately thought my three year old was to blame, but both boys were in bed, so I was definitely concerned.  Two mirrors had fallen off our built-ins.  They had been leaning on the top shelf for at least a year so why they suddenly fell off when nobody was in the room?  No idea.  But they did shatter all over the floor, so I'm pretty glad nobody was around when it happened.  As I was cleaning up the mess, I was already thinking about how this was the perfect time to make that sunburst mirror I had been thinking of for so long.
Materials for DIY Sunburst Mirror
In true Lovely Etc. fashion, I used mostly materials I already had on hand – scraps from our plank wall and a broken mirror.  But I am assuming nobody else on the planet probably has those exact materials lying around, so luckily you can also buy everything you need inexpensively.
This post contains affiliate links. See my full disclosure here.
scrap wood
various paints and stains (see the exact colors and process I used in my plank wall post)
sturdy cardboard
DAP® RapidFuse™ All Purpose Adhesive
3 feet of rope
picture hanger and wire
How to make a Sunburst Mirror using Scrap Wood
You can either paint your wood pieces before you cut them, or wait until after.  I would recommend painting first because it will go faster than painting a million tiny triangles.  If your wood scraps are pretty big, cut them into smaller rectangles approximately 9 inches long.  Paint or stain each rectangle.  To get a great beachy weathered finish like I did, dry-brushing is key.  Paint or stain each piece one color.  Then get a very small amount of paint on a chip brush, wipe most of the paint off on a paper towel, and then brush what is left onto the wood.  You can keep repeating this process with different colors until you like the look.  (Again, if you want more specifics, I lay out exactly what colors I used on each of my planks here.)
Let the paint dry for a few minutes and then you can start cutting your wood into triangles.  I personally love how my mirror looks like it is made from salvaged wood because each piece is a little different.   These are the four basic shapes I used on my mirror.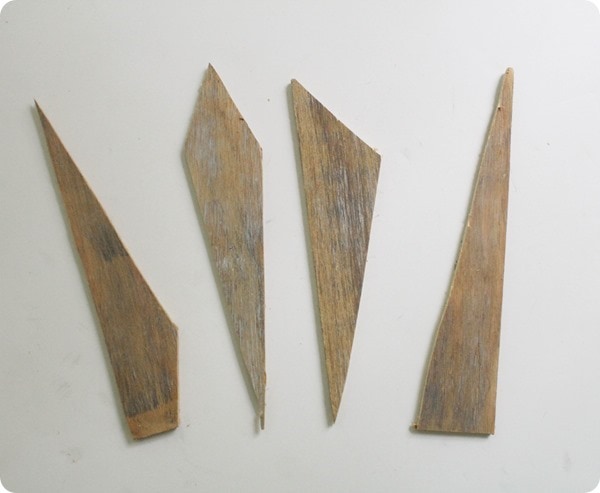 Once I had a pile of triangles (And polygons for all you math nerds like me), I started laying them out around my mirror.  I basically just tried to lay them out so that everything fit well and looked good.  I also made sure not to use the exact same color or shape right next to one another.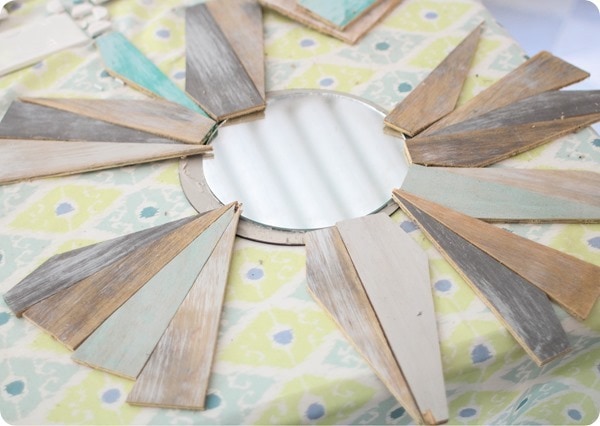 As I was filling in around the mirror, I used my jigsaw to make additional cuts as needed until everything looked the way I wanted.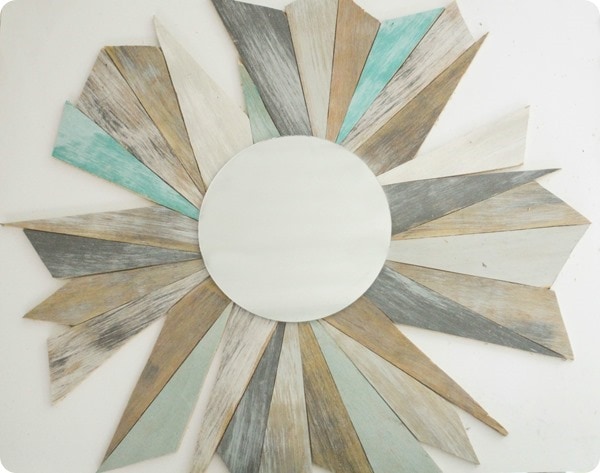 Underneath that mirror, things look a little crazy.  But that is ok because nobody will see that part.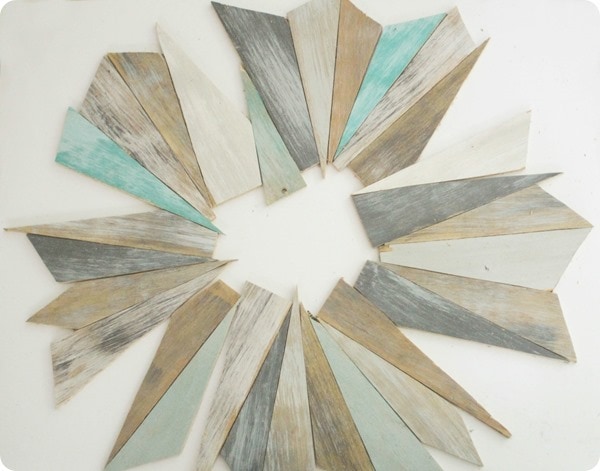 Then it was time to turn this pile of scraps into a single unit.  I used a circle of very sturdy cardboard and glued each piece of wood carefully to the cardboard using DAP® RapidFuse™ All Purpose Adhesive.  I also put a little glue in between each of the wood pieces to make it extra sturdy. I had visions of the entire thing breaking into dozens of pieces when I tried to hang it on the wall, so using a really strong adhesive was vital.  Since DAP RapidFuse is two times stronger than super glue and can bond virtually anything, I figured this was the perfect project to use it on.
I've used DAP caulks lots of times, but this was my first time using their new adhesive.  I love that it goes on clear, sets in only thirty seconds, and dries clear.  And I really, really love that it comes in a bottle, rather than a tube – much easier to keep it from dripping everywhere like other glues.  I've already used it for a few other repairs around the house including fixing an awesome vintage toy plane I found at a yard sale.  My son promptly broke it within hours of me bringing it home, so I was pretty happy I had this stuff on hand. (You can get more info about it at DAP Facebook.)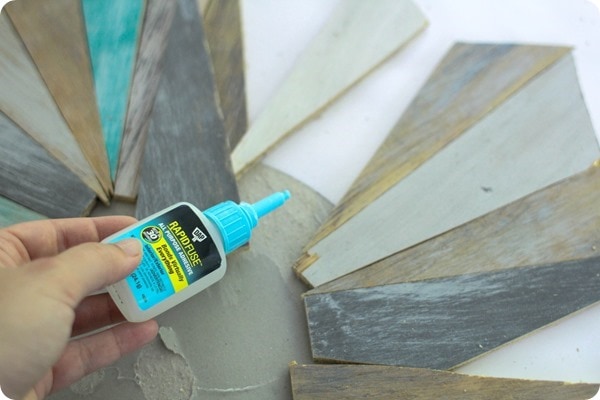 A few minutes after gluing my mirror frame together, I gently tested each wood piece to make sure it was attached and even picked up the whole thing and turned it upside down.  Everything stayed in place, woo-hoo!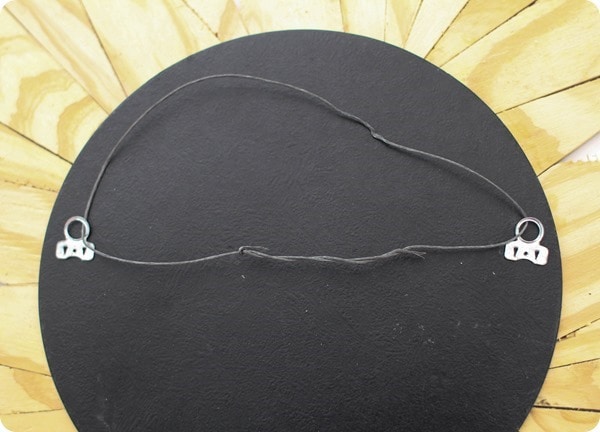 Next I attached picture hangers to the back.  (It seemed like a good idea to do any hammering and banging before attaching the mirror.)  I hammered two little picture hangers to the back of the cardboard and also used more glue to attach them as well just in case.  Then I strung some picture wire between the two hangers and it was ready.
Finally, it was time for the mirror.  Typically you need to use special adhesive for mirrors.  I didn't have any on hand though.  I noticed that my mirror still had some of the old dried adhesive on it and that there was clear packaging tape between the mirror and the glue.  So that's what I did as well.  I covered the entire back of the mirror with packaging tape to help make it stronger and also create a barrier between the adhesive and the mirror backing.  And then I just used more of my same glue to attach it to the wood frame.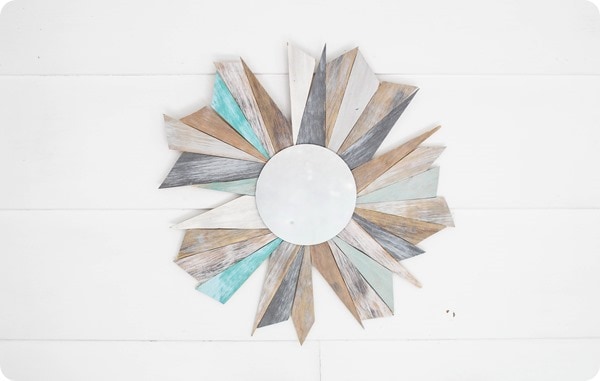 At this point, I was feeling pretty happy with my DIY mirror.  But it looked a little unfinished.  It needed something else.  So I bought a small piece of rope at my local home improvement store, cut it to size with a utility knife, and glued it around the mirror.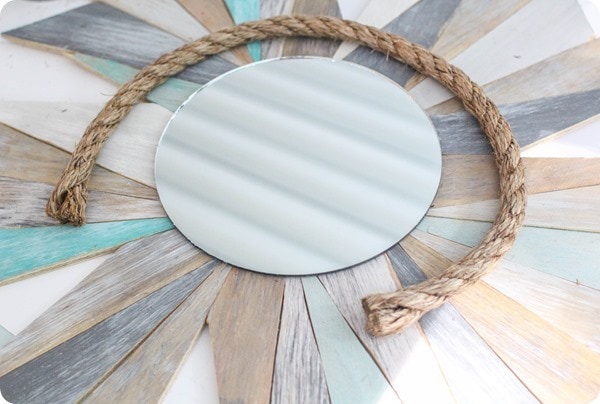 The perfect coastal touch and exactly what was needed to finish the mirror off.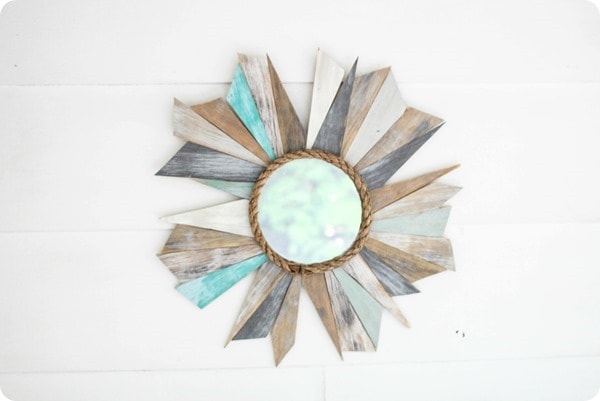 Love!  And even though it has a definitely beachy flair, I think it would look just as great in a farmhouse style space or an eclectic space like my own.
Be sure to pin it so you don't forget it!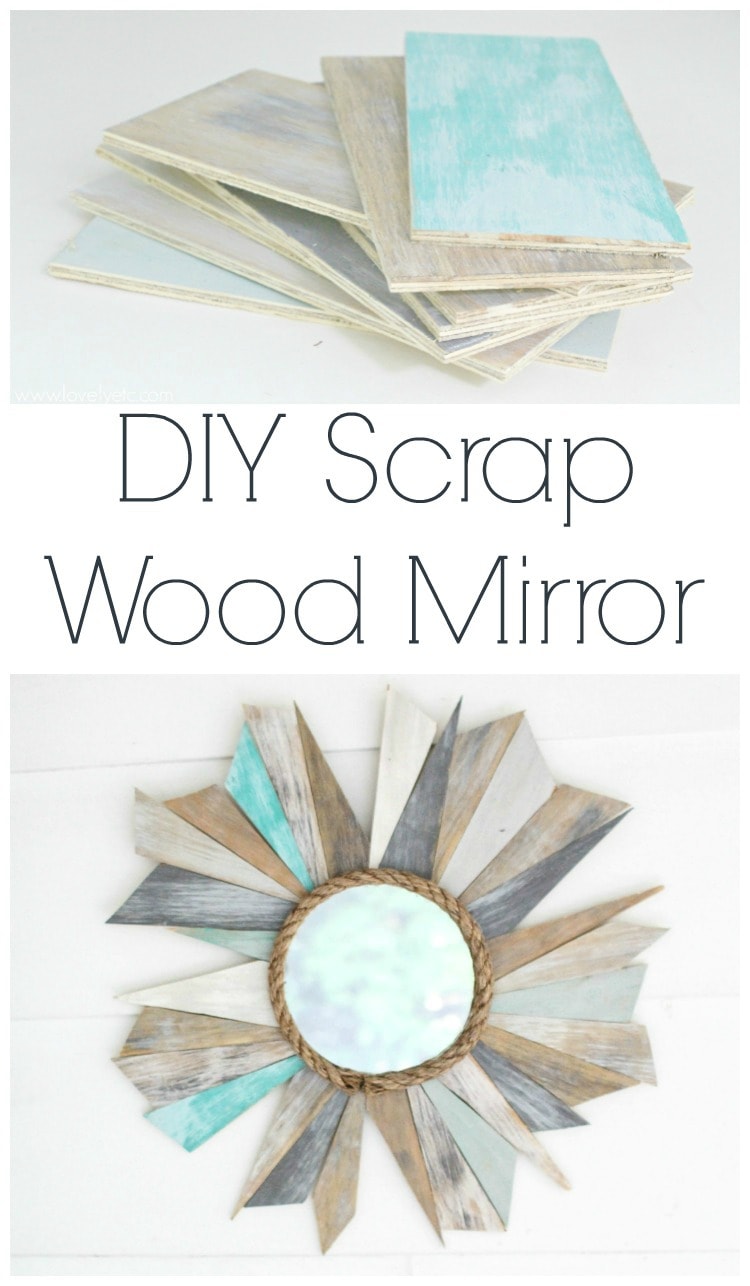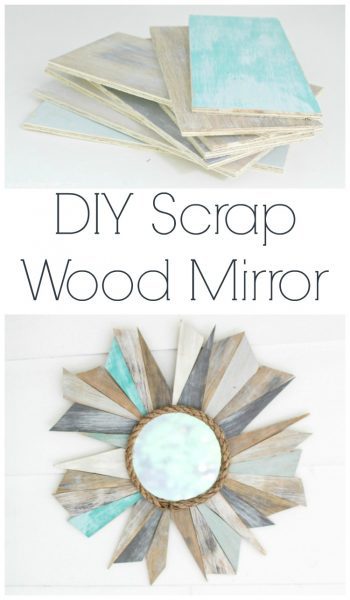 And if you love this, you are also going to want to see the rest of the projects I created with this painted plywood.  Who knew two sheets of plywood could go so far!