It's time for another round of projects from some of my favorite bloggers who really know how to decorate on a budget: the thrifty style team!  I have a great little trash to treasure project to share this month.  It involves using beauty products as DIY equipment which is clearly awesome so let's get to it.  (And then be sure to check out the other fabulous thrift projects at the bottom of this post.)
I scored this beautiful old frame at a yard sale last summer for only $5!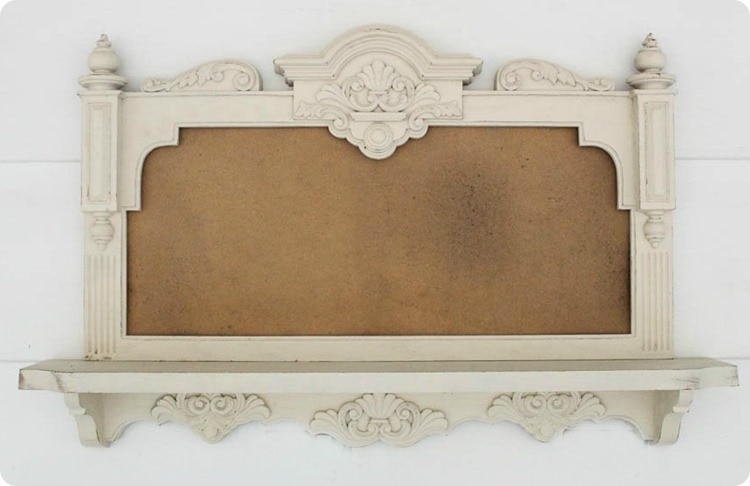 You'd better believe I was excited.  It looks like a gorgeous old carved wood frame…but it's really just a fake.  It's actually molded out of some sort of plastic or resin, but that's ok.  It's still stunning.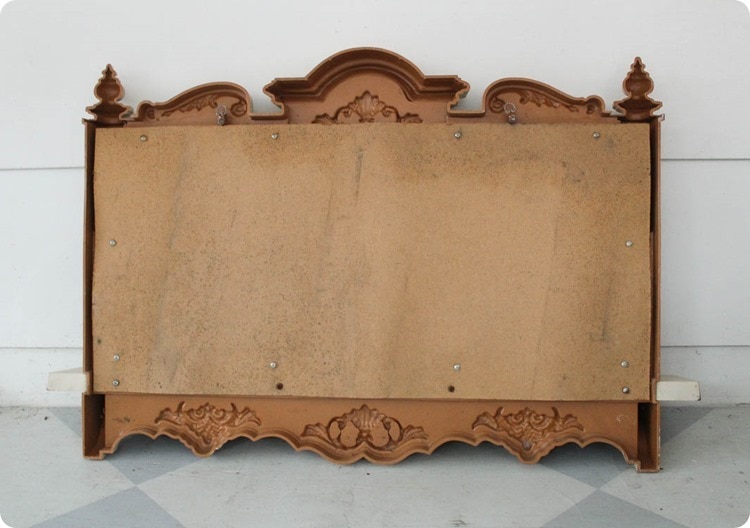 I am guessing it originally framed a mirror, but the mirror was long gone.  I considered adding a new mirror, but when I needed something for my recent bathroom makeover, I knew this would make the perfect chalkboard.
First step, dealing with the grungy beige color.  I really wanted to give it the look of old painted wood, but since it wasn't actually made of wood, I had to get a little creative.  To get the perfect wood look, I used something a little unusual – Vaseline!
This post contains affiliate links; see my full disclosure here.
Materials used for distressed chalkboard
paper towels
hardboard
chalk
printout of design
pencil, tape
I removed the old, dirty backing and gave the frame a good cleaning.  Once it was dry I painted the whole thing with a coat of dark brown paint.  (I used acrylic paint because that was what I had on hand).  This coat of paint doesn't have to be perfect, just enough to cover the old color.  This is going to be the 'wood' layer.
Next, I used my finger to rub petroleum jelly on the parts of the frame I wanted to look distressed – mostly the edges and details, areas where paint would naturally wear away with age.
Then, I painted three coats of white paint (Rustoleum Chalked Paint in Linen White) over the whole thing, petroleum jelly and all.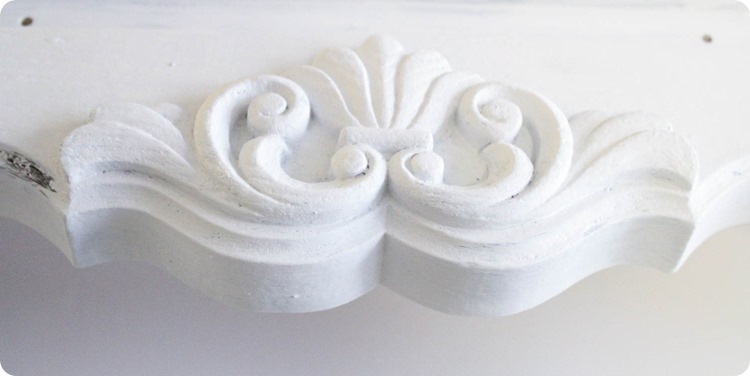 And then the fun part.  Once the white paint dried, I used a damp paper towel to gently wipe the frame down.  Wherever there was petroleum jelly, the white paint and petroleum jelly wiped right off.  This is a great alternative to using sandpaper to create a distressed look, especially when you are working with something other than wood.  Since all I used was a damp paper towel, I didn't need to worry about sanding off the brown paint or even sanding into the plastic.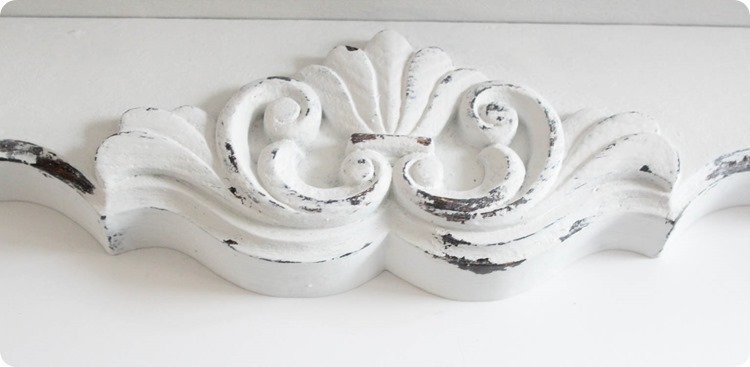 Isn't she pretty!?!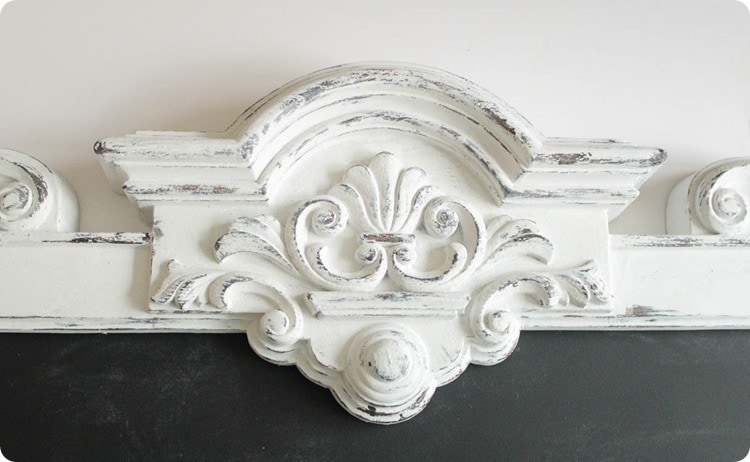 For the chalkboard, I cut a piece of hardboard the same size as the original cardboard backing using a jigsaw.  (Hardboard is similar to what they use on the back of inexpensive bookshelves.  You can buy huge sheets of it anywhere they sell lumber and it's pretty inexpensive.)  Then I painted the hardboard with several coats of chalkboard paint.
Ever wondered how people get such perfect writing on their chalkboards?  There is definitely a trick to it.  I printed my design and then rubbed a piece of chalk all over the back of the printed design.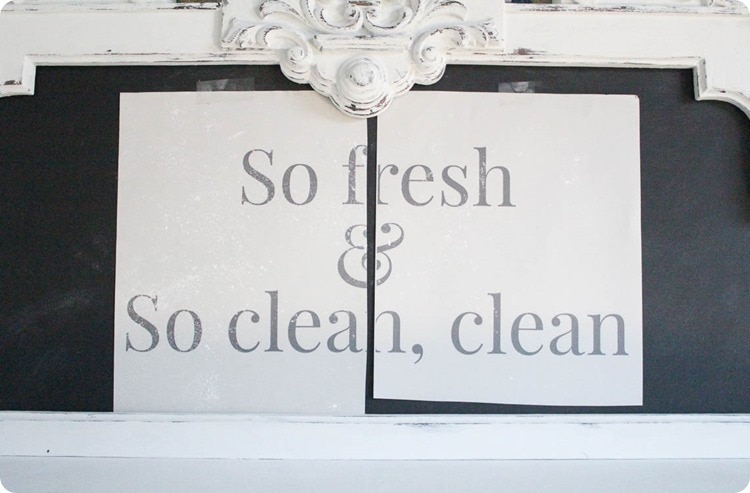 I taped it into place on my chalkboard and then traced each letter with a pencil.  The pressure of the pencil transfers the chalk from the back of the paper to the chalkboard.  It's like magic!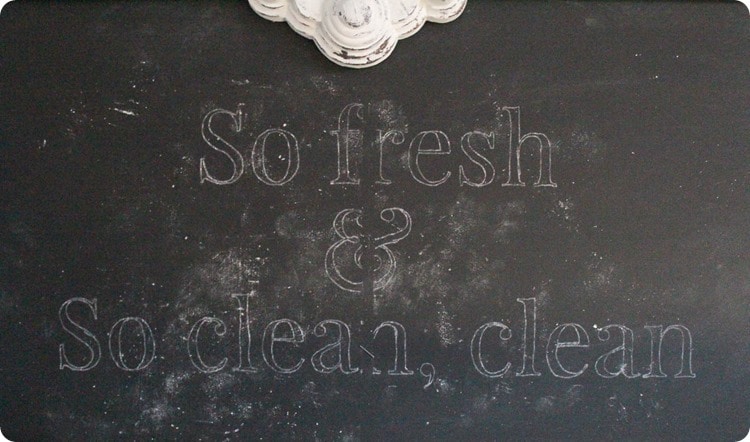 Then you just need to fill in the letter outlines with a chalk marker.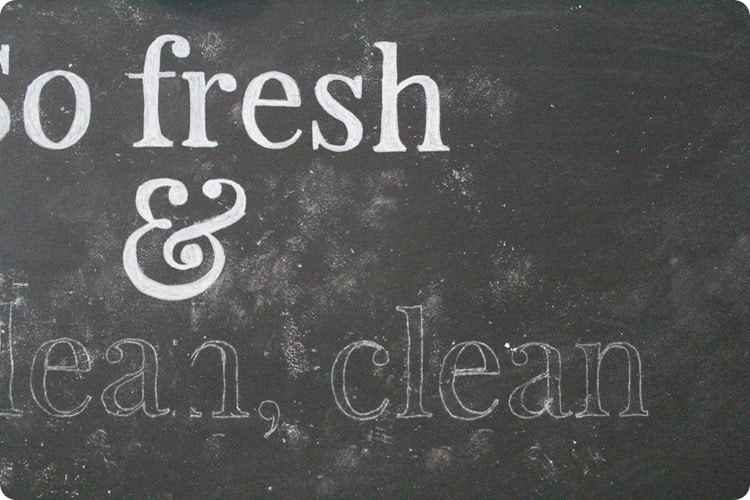 Let the chalk marker dry for a few seconds and then wipe off any stray chalk markers.  Perfection!
This old thrifted frame turned into the perfect addition to our bathroom.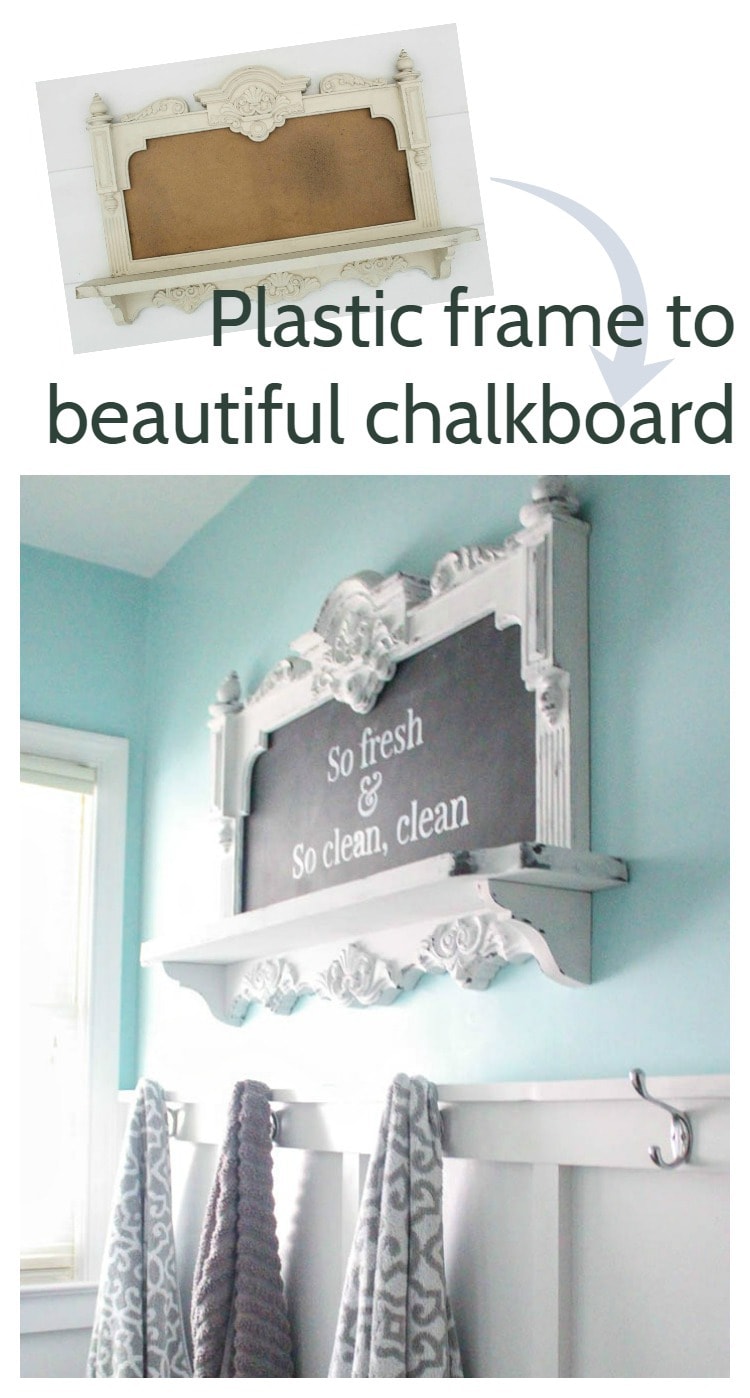 Want to see the rest of our budget bathroom transformation?  You can check it out right here.
And then be sure to stop by and see what the rest of the team is sharing this month.