You guys know I love to decorate without spending a lot of money, so I am thrilled to be joining up with some other super thrifty bloggers in sharing our thrifty style. Every month we'll be sharing simple ideas for decorating on the cheap. Be sure to check out these talented ladies' projects at the end of this post.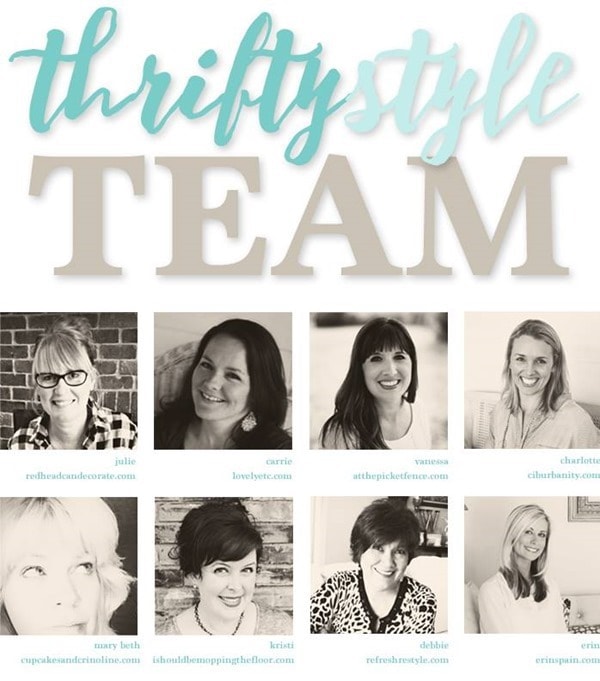 As for me, the next step in our bathroom renovation is done! This may just be one of my favorite parts yet because it rang in at a grand total of $5! If you've ever done a major renovation, you know that money adds up fast…and that pretty much nothing costs only five bucks.
As soon as we got our vanity made from an old dresser in place, I knew I wanted to find a vintage mirror to go with it. I started keeping an eye out whenever I was able to sneak away to a thrift store or garage sale. The great thing is there are certain items that seem to always be in high supply at thrift stores, flea markets, and garage sales – picture frames, old books, baskets. And large mirrors – many of which came off vintage dressers. A match made in heaven for my old dresser vanity.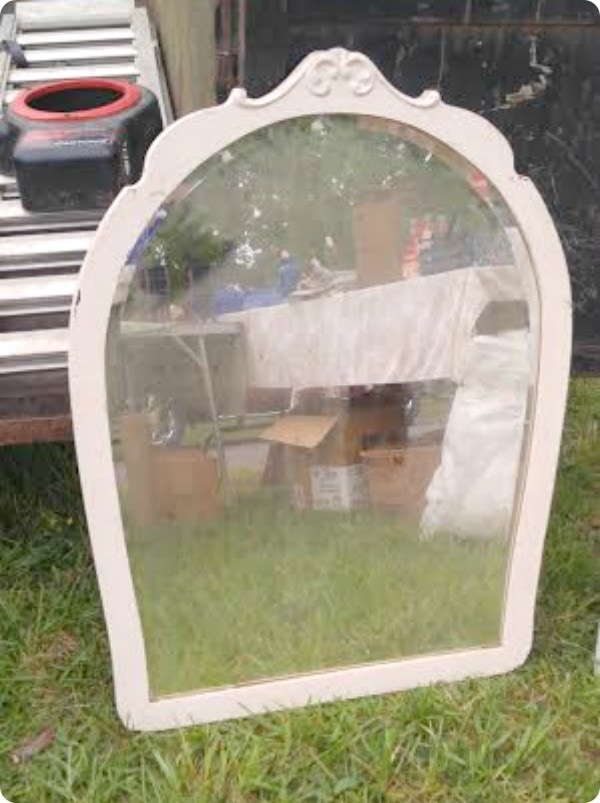 I came across this little white mirror first. It was $15 and I strongly considered it, but it was a bit girlier than what I had in mind. Also, the mirror itself was showing its age and was a bit hazy – not exactly what you want in a bathroom.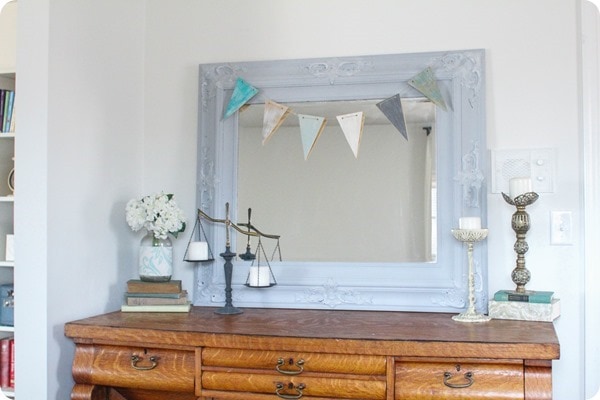 I also considered this beast of a mirror. It is currently in our dining room over the buffet and was a yard sale find from a few years ago. Unfortunately the frame was too chunky to fit behind the tall faucet that goes with our vessel sink in the bathroom.
Then last weekend, I decided to chance going to one yard sale alone with my 9 month old and 3 year old. Shopping while holding a baby and trying to keep a preschooler from breaking things isn't easy, but in this case it was worth it. I immediately spotted a big, curvy old mirror and asked how much it was. Three bucks. I couldn't say "I'll take it" fast enough.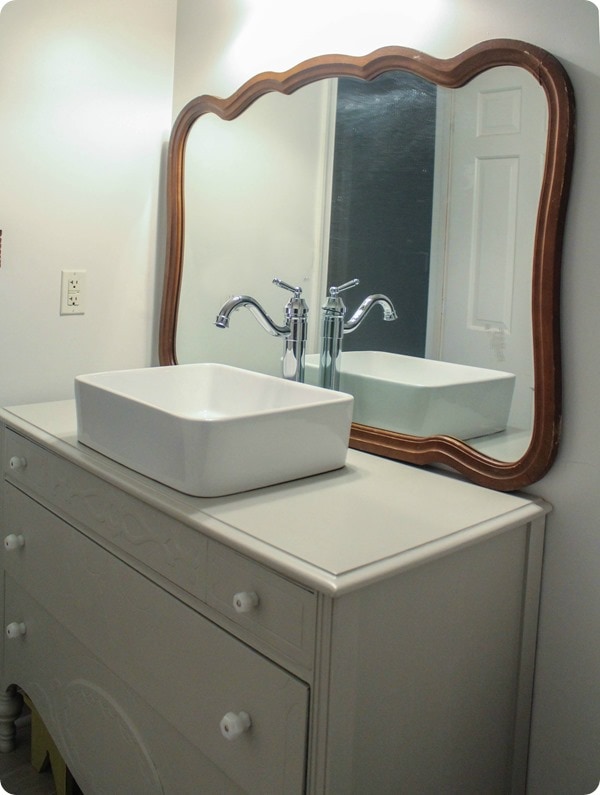 Then right before we left, I spotted another old mirror back behind a pile of boxes. When I asked about it, the lady running the yard sale told me it wouldn't be as cheap as the other one because it was much nicer. I nervously asked how much she would take for it. She considered for a minute before answering. Five dollars. Woo-hoo! I don't know if that is what she was thinking the whole time or if she cut me a break because of my cute kids, but I was ecstatic!
When I got the mirrors home, I tried them both out in the bathroom. The curvy one was cute but the curves were competing too much with the shape of the vanity drawers and it was a little too wide. Luckily, the five dollar mirror was perfect!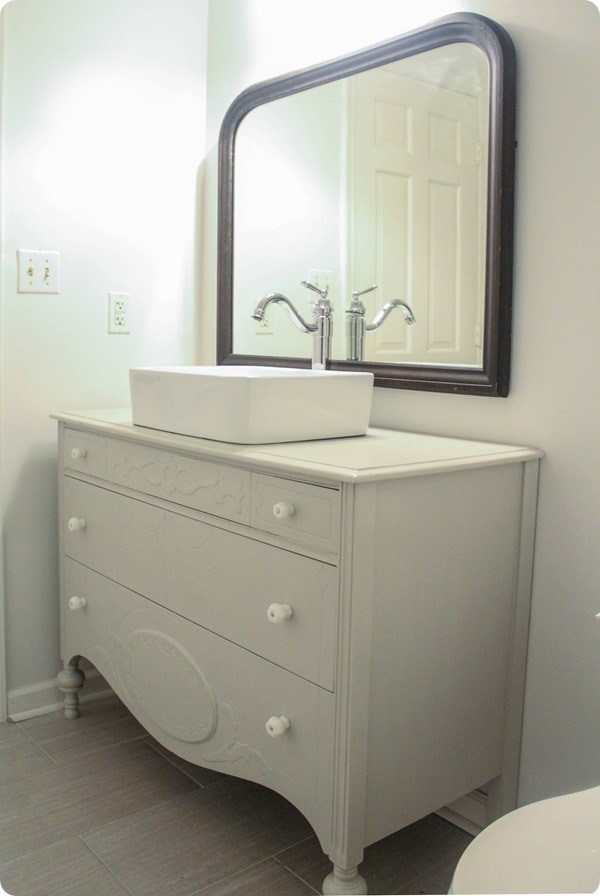 It was extremely heavy, so I screwed two picture hangers to the back and then strung heavy duty wire between them. I screwed two screws with drywall anchors into the wall and then hung the wire across them.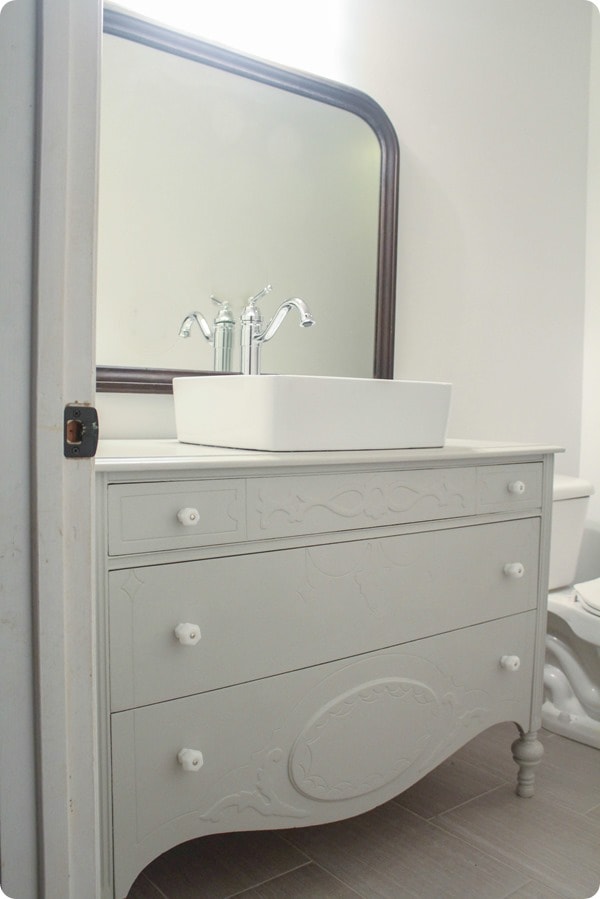 I may end up painting the frame eventually; I want to wait and see how a few other parts of the bathroom come together first. But even if I do decide to paint it, I am definitely going to make sure that beautiful dark finish isn't totally hidden.
Check out all the posts related to our DIY bathroom renovation below: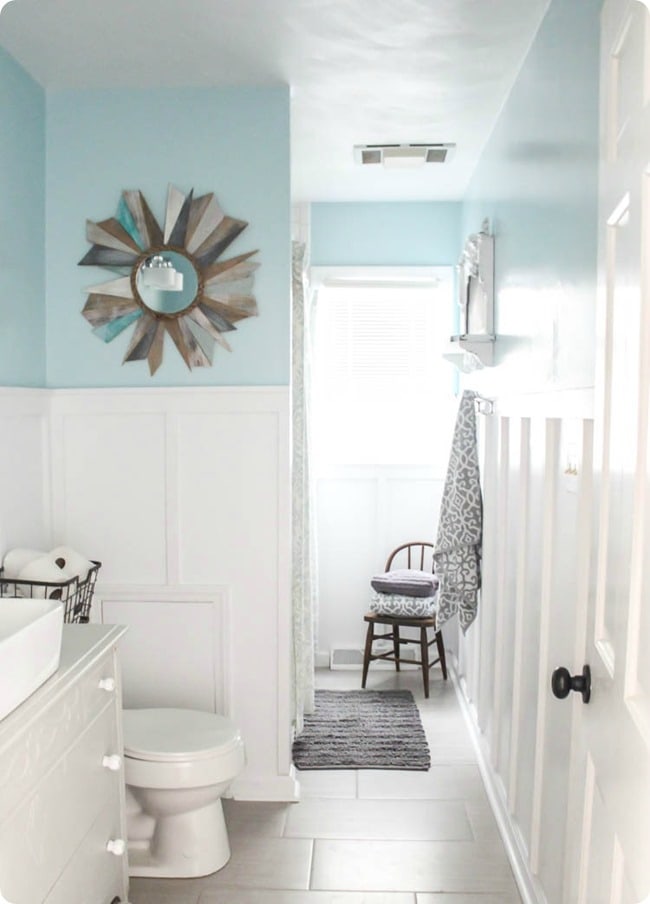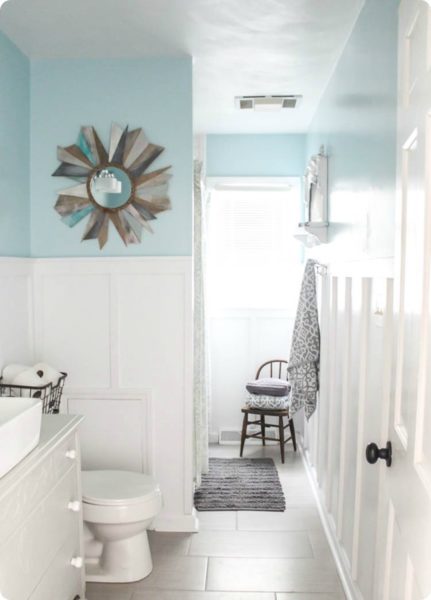 Now you have got to check out the thrifty ideas the rest of the team came up with!