For the past few weeks, I've been looking for some affordable industrial bar stools for our kitchen. We had some basic wood bar stools that we updated with paint and stain a few years ago and they looked super cute but they were literally falling to pieces. I attempted to repair them with wood glue but they were just too far gone.
I was excited at the prospect of doing some shopping for fun bar stools to replace the broken ones…until I started actually looking around. Bar stools are expensive! And cute industrial, farmhouse bar stools are even more expensive! And when you need three matching stools…well, things add up fast.
So I went looking for a deal.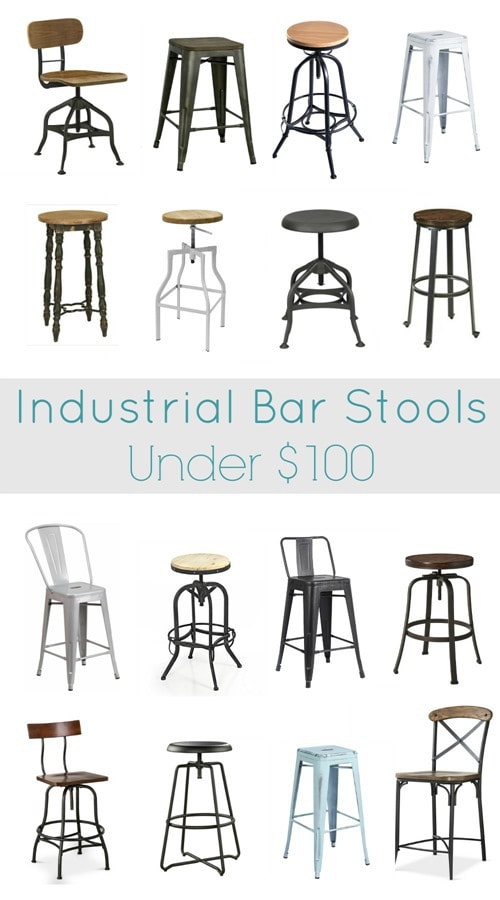 Of course, I scoped out Craigslist first, but sadly I found absolutely no sets of matching bar stools that were even remotely cute. So I hit up my favorite inexpensive décor sites. Thankfully, there are some fantastic options out there at affordable prices; it just takes a bit of digging to find them. And since I've already put in the work to find them, I figured I would pass my discoveries along.
These are my top picks for vintage style bar stools under $100. Just click the photo to get more information about each stool.
Some links are affiliate links. See my full disclosure here.
Bar Stools with Backs
Adjustable Height Stools
| | |
| --- | --- |
| | |
| | |
| | |
Backless Stools
Okay, so admittedly that last choice from Ikea isn't particularly industrial but I just had to include them. They are so stinking cheap and there are so many possibilities for doing a little DIY upgrade.
As for myself, I haven't made a decision on our own stools yet. I do (predictably) love the light blue ones and I also really like some of the adjustable height ones. But I haven't made a final decision yet…and I'm thinking it would probably be nice to let my husband weigh in first!