This is a sponsored post written by me on behalf of Faultless/Bon Ami Company . All opinions are 100% mine.
I love to DIY but sewing just isn't my forte. In fact, my sewing machine and I are barely on speaking terms, but I really wanted some fabulous new curtains for our nursery and there was no way I could afford to buy the extra long designer drapes I wanted.
So instead, I faced down my sewing machine (aka the nemesis) and got to work. Now, even though I got brave and pulled out my sewing machine, I wasn't about to try any complicated maneuvers.
I made it my mission to find the absolute easiest way to sew DIY curtain panels that look like a million bucks. And I'm pretty sure I achieved that with the help of several amazing tools – curtain rings, an iron, Faultess Starch, and the dreaded sewing machine. (Okay, and my grandmother helped too. I totally could have done it on my own, but having her there really upped my confidence. Plus, I have pregnancy-induced carpal tunnel syndrome which is really putting a cramp in my DIY spirit. Get it – a cramp? Moving on.)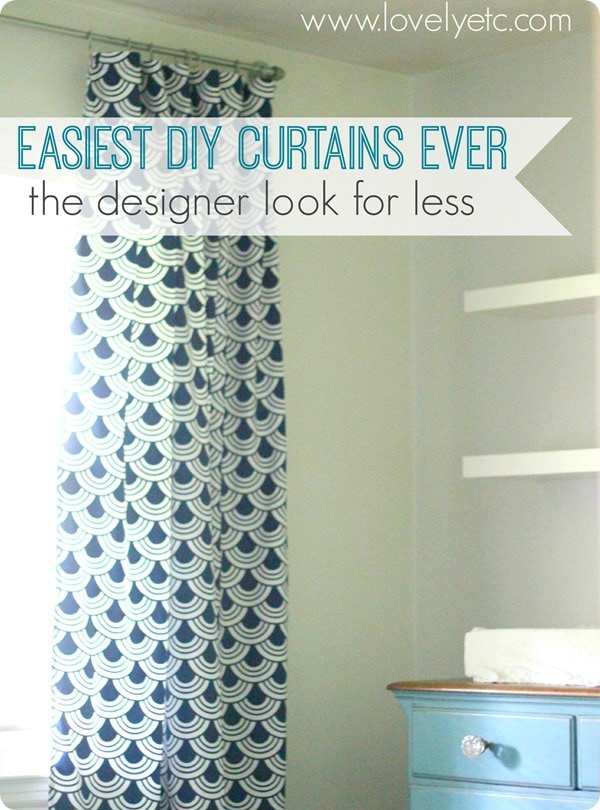 I am going to break this down and make it as simple as possible so that even those as sewing challenged as myself can follow along. I am, however, assuming you know how to sew a straight line which is basically the extent of what you will need to do – four straight lines.
Choosing fabric
You can sew curtains from almost any fabric, but you will have the best results if you use a home décor fabric. Home décor fabric, which is often also called drapery fabric, is the perfect weight for curtains. It hangs well without being too limp and flimsy. You are going to need a lot of fabric, though, and really great fabric can be extremely expensive.
Luckily, you can usually find some great deals both online and in stores. I found my fabric on sale for $6.99 a yard which brought the total for two curtain panels to $40. I like to hang my curtains high – just a few inches below the ceiling – which helps make the ceilings look taller and the room look more finished. And finding extra long curtains in any kind of stylish print is not cheap. So $40 for a pair is an amazing deal.
Measuring
First, to keep these curtains extremely simple, we are going to be using curtain rings to hang them. (But not in a cheap, dorm room way. They will look fabulous – just trust me.) Put your curtain rings on your curtain rod and measure from the floor to the bottom of the clips. Now add ten inches to this; that is how long you need to cut your material. My window was 90 inches from the floor to the curtain ring clips, so I cut my fabric 100 inches long for each panel.
Side Hems
Next you are going to hem the two long sides of each panel. Fold your fabric over a half inch and then fold it in again. Iron the folded sides, so the hem will be nice and smooth. You can also use a few straight pins to hold the ironed hem in place until you get it sewn if needed. My fabric stayed fine on its own after ironing, so I skipped the pins at this step. Now it is time to sew. Make sure your machine and bobbin are threaded with matching thread and sew the two long side hems you just ironed.
Top Hem
Next you are going to repeat the same process with the top hem. I have seen curtains using various size hems along the top and bottom of the curtains, so I just went with what I thought looked good. For the top hem, I folded over the fabric two inches and then folded that over another two inches. I ironed the hem, adding a few straight pins just to make sure everything stayed in place, and then sewed it together.
If your fabric has a distinct pattern like mine, be sure to think about which way you want your pattern to face before doing this hem. In my case, I wanted to go with a scallop pattern rather than a rainbow so I made sure to sew the top hem accordingly.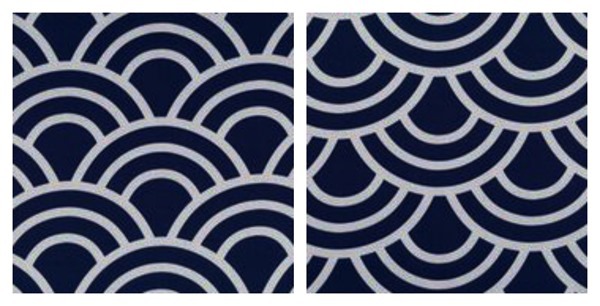 rainbows vs. scallops
Bottom Hem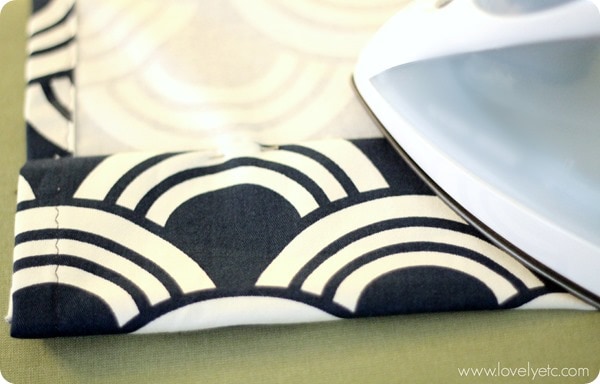 We started with ten extra inches of length and used four inches to make the top hem, which leaves six inches for the bottom. For the bottom hem, fold the fabric up three inches and then three inches again. Having that nice thick hem at the bottom really helps your curtains look finished (and expensive).
If you are nervous about your curtains ending up too short or too long, you can always hang them on your rod before sewing the bottom hem to make sure the length is right. (Never a bad idea to double check your measurements!) Now iron, pin, and sew your bottom hem.
Iron with Starch
I'm not really the ironer in our family – that is more my husband's job. But I definitely pulled out the iron and ironing board for this project. As you have probably noticed, sewing curtains includes about as much ironing as sewing. And once everything is sewn together, there is still more ironing to do.
Now I don't know about you, but after all this effort, I want my curtains to look good, not all limp and droopy. A key way to prevent your curtains from looking tired is to iron them using starch. Don't worry, the starch is not going to make them stiff and poofy like the curtains of thirty years ago. It is just going to give them some really nice body and shape.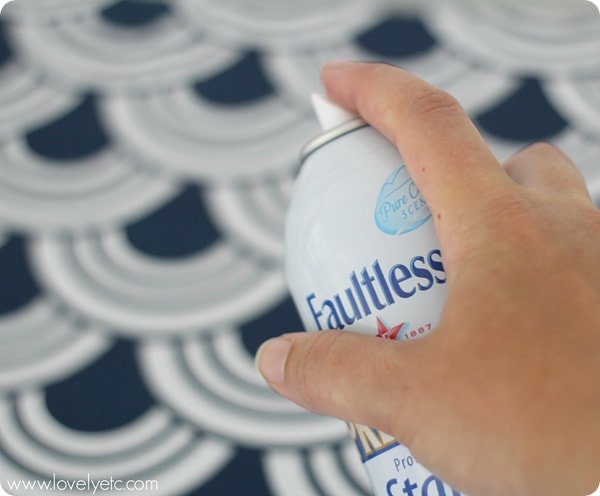 Hang on Curtain Clips
When you are ready to hang your curtains, there is a trick to getting them to look classy and gorgeous. Please do not just hang them limply from the clips like a cheap shower curtain. It just looks really bad.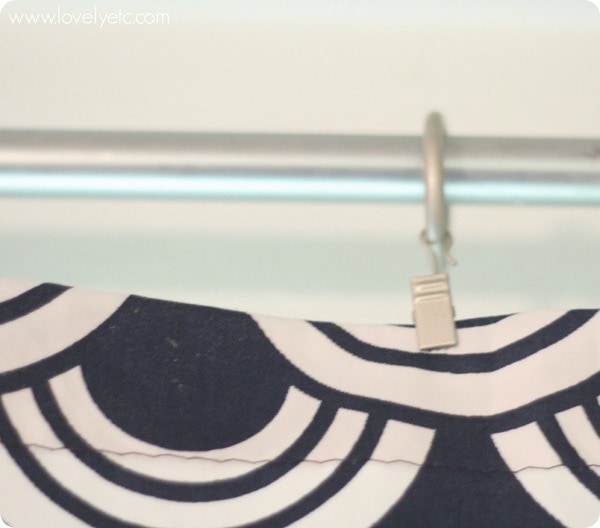 Don't do this!
There are a few ways to hang curtains from curtain clips, but my favorite is to make a tiny pleat to attach the clip to. Make a small fold shaped like a M where your clip will be. Attach the clip to the back of this fold about an inch or so from the top of the curtain. When you finish hanging your curtain, it should hang smoothly with a nice flowing shape at the top.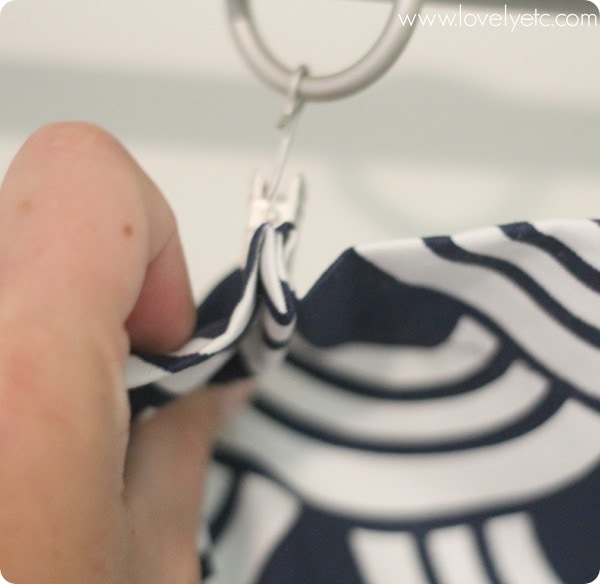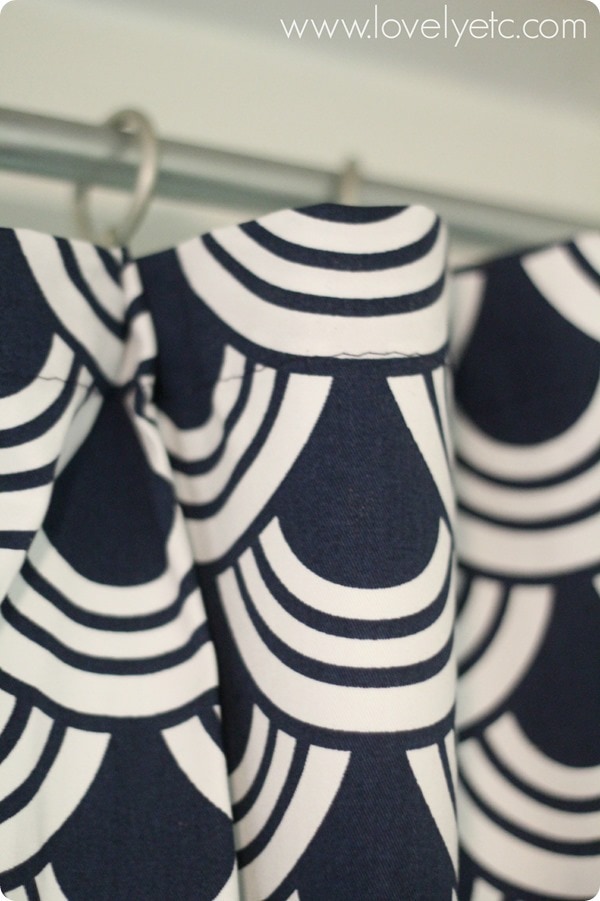 And now you can step back and admire your amazing custom curtains.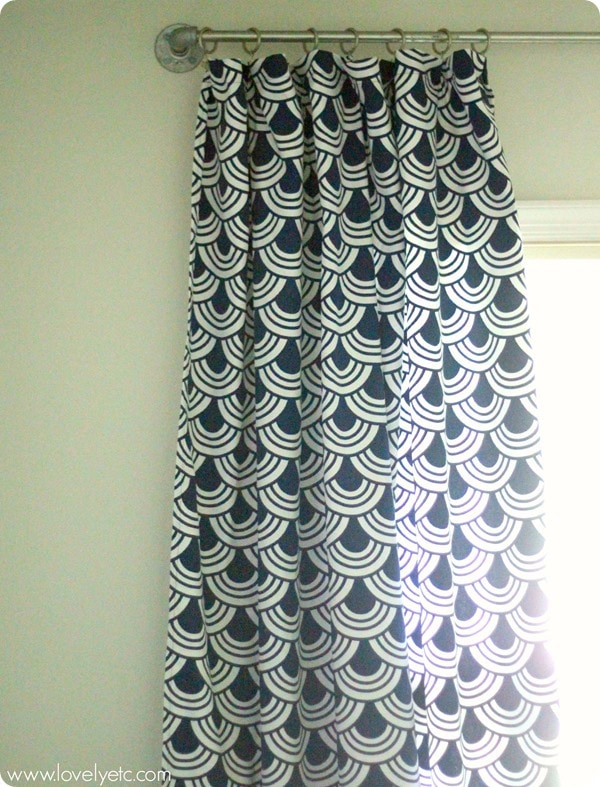 And now I can proudly say that I have at least one project for the new nursery completed! And before the due date at that! Now on to the rest of the room.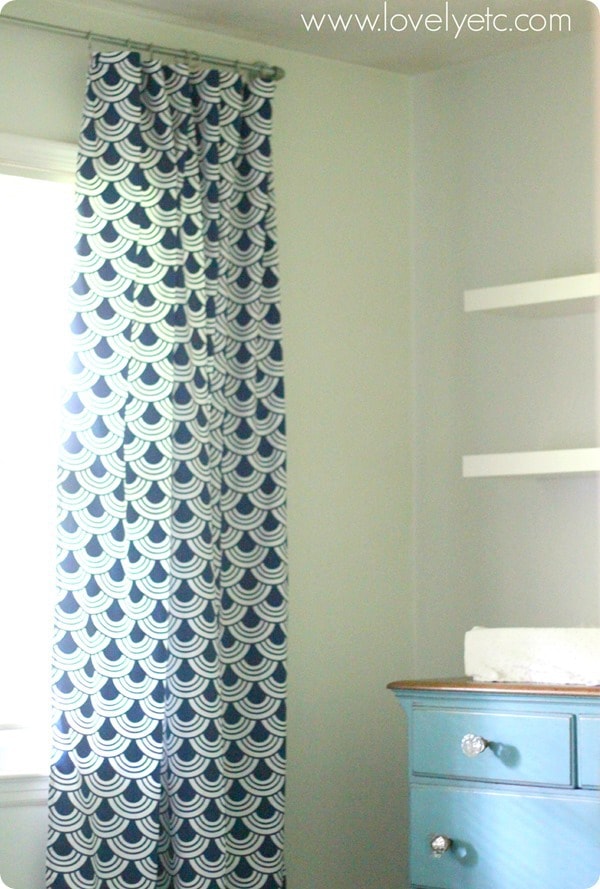 So who's ready to sew your own super simple custom curtains? And I'm curious, who's the ironer in your house? (Did I just totally luck out with an ironing husband or what?)