Children's rooms are by far the most fun to decorate – you can add as many fun details as you want without it being over the top.
I had a blast putting together Griffin's Little Explorer room. I really wanted to strike a balance between creating a room that looks good and making it a room that truly works for a two year old. (And a three, four, and five year old for that matter because I am planning on this room lasting a few years!).
I definitely think I succeeded – Griffin loves the room and so do I.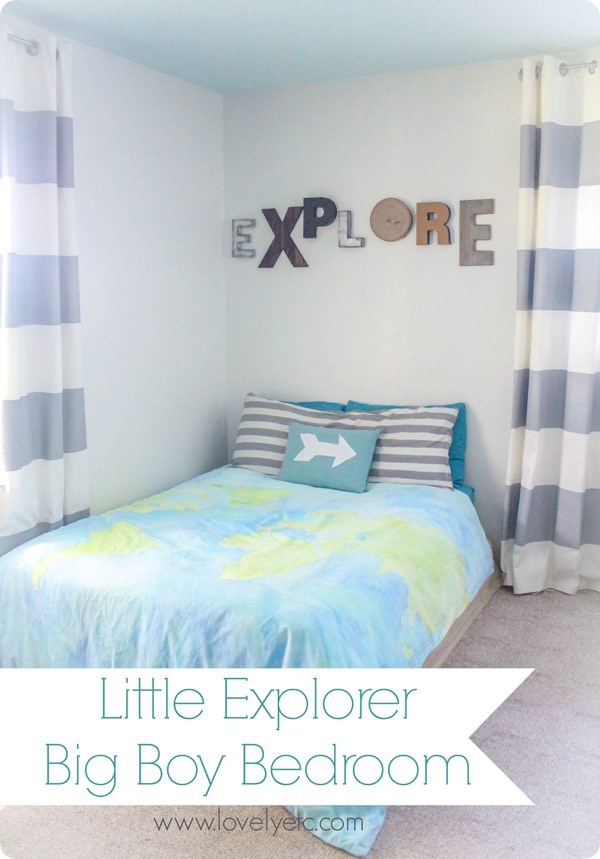 I wanted this room to be fun, unique, and, of course, inexpensive. I made, repurposed, or painted pretty much every single thing in the room. And I did it all on a teeny, tiny budget. This entire room was put together for (spoiler alert) less than $250. Yep, that's right. For the entire room.
Here is how the room started: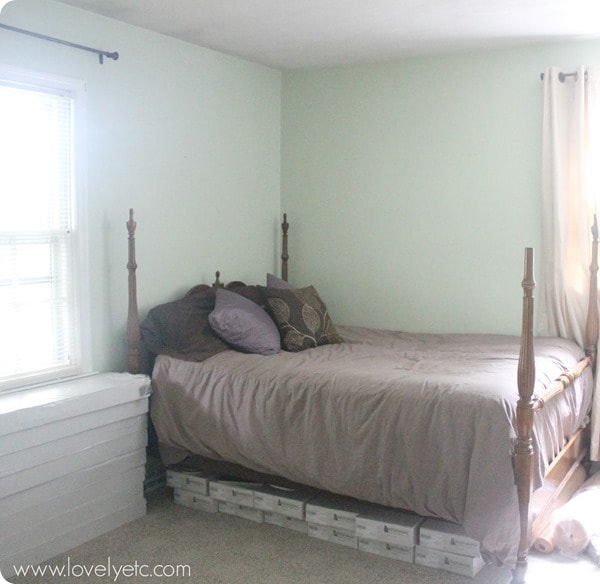 A sort of bland guest room with green walls and stacks of hardwood flooring stored everywhere. And this is what $250 can do: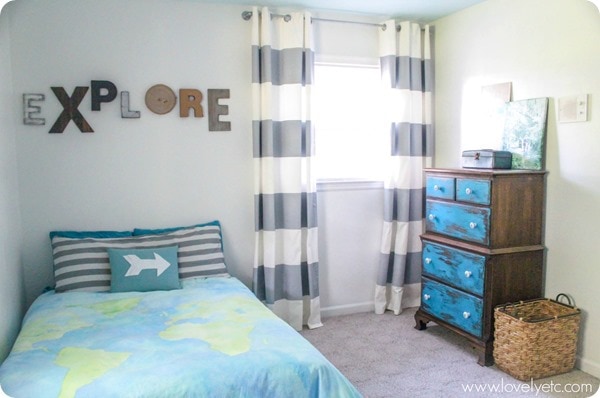 I repainted the room last summer in anticipation of it becoming a little boy's room – Valspar Bleached Slate on the walls and Valspar Icy Blue on the ceiling.
Our lucky little boy gets to sleep in this great big full size bed. This is the bed that was in the room when it was our guest room so we decided to repurpose it as Griffin's big boy bed. He loves it and calls it his BIG bed. In the interest of safety, the mattress and box springs are just resting on the floor for now but I have plans for a fun metal headboard when he gets a little bigger.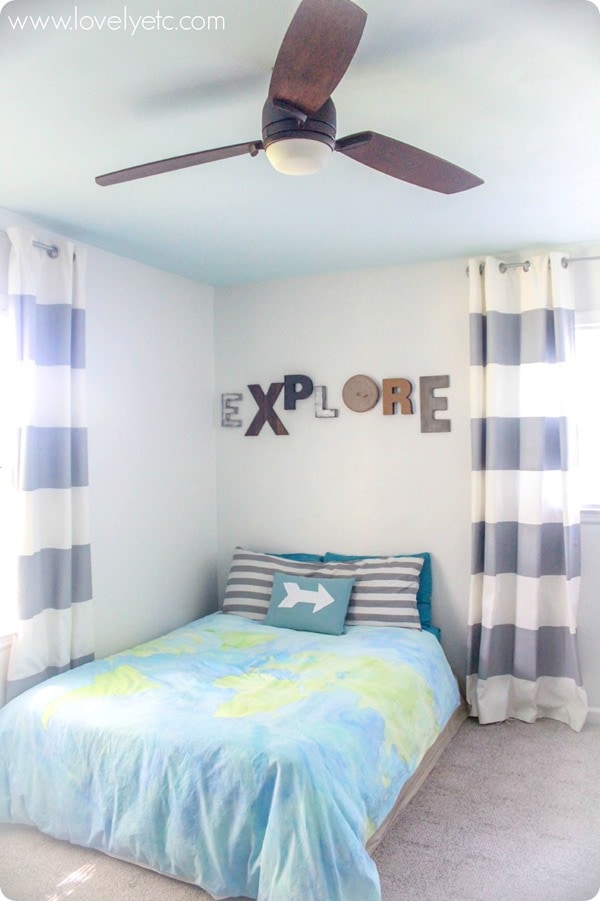 I painted the world map duvet cover and it is one of my favorite parts of the room. A painted duvet cover might sound unconventional but it is super soft, has held up well to washing and drying, and it just looks super cool.
I made the gray and white curtains for his nursery and they moved with him to this room. They were originally inexpensive white IKEA curtains and I used gray paint to add the stripes. The curtain rods were also a DIY job. They are industrial style curtain rods using simple parts from the hardware store. I love the industrial style for any room but I think they especially work well in a little boy's room.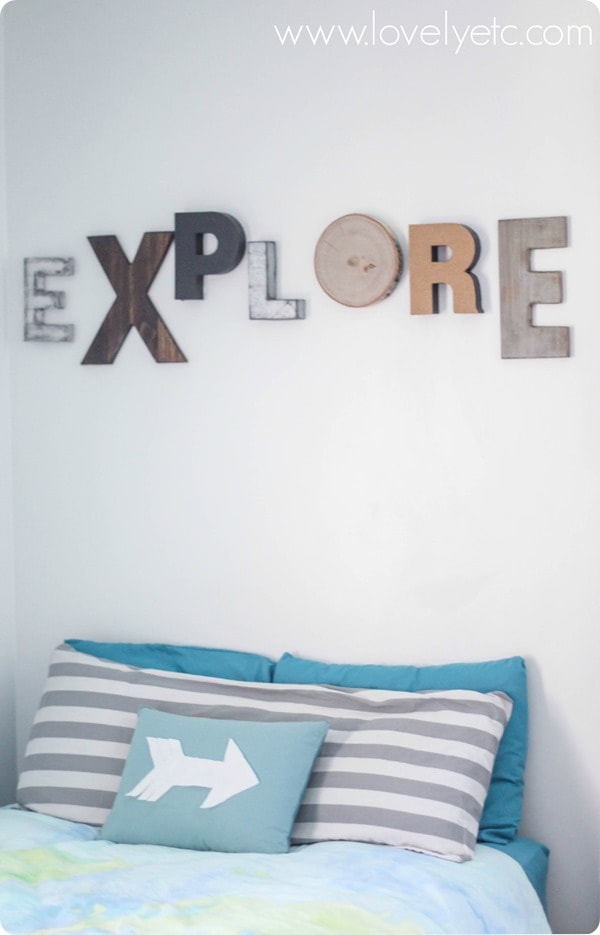 The Explore letters were one of the most fun parts of the room to put together. I already had a few of the letters and I gathered the rest from Michaels and Jo-Ann's fabrics. I love the mix of different fonts but to help it look cohesive I chose all letters that were sans serif with lots of straight lines. And then there's the O which is a tree slice – so appropriate for an explorer room! I hung the letters pretty high over the bed so that they will still work when the bed has a bed frame and a headboard. (Also to keep the two year old resident from peeling them off the wall during his nap times. Yep, that happened – twice – before I wised up and hung them higher.)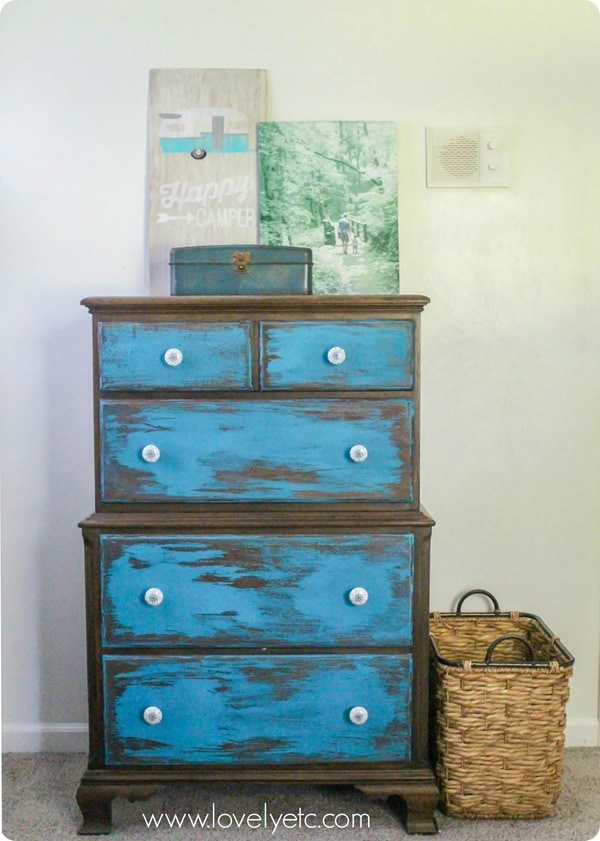 The dresser was given to me a few years ago; with a fresh rustic paint job and some new compass hardware, it was a perfect fit.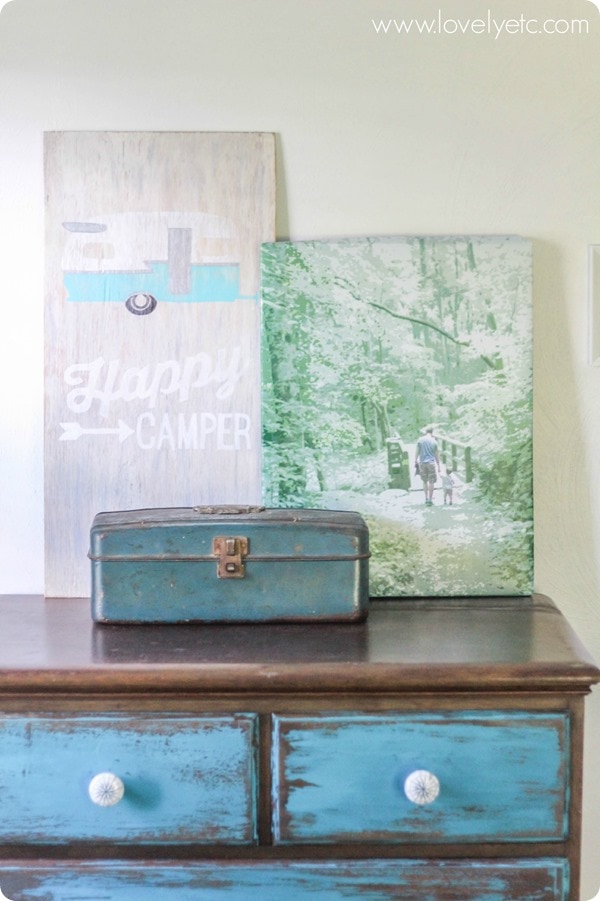 Both the Happy Camper sign and the pop art photo canvas were DIY projects. And the old tackle box seems like the perfect place tor a little boy to keep his treasures.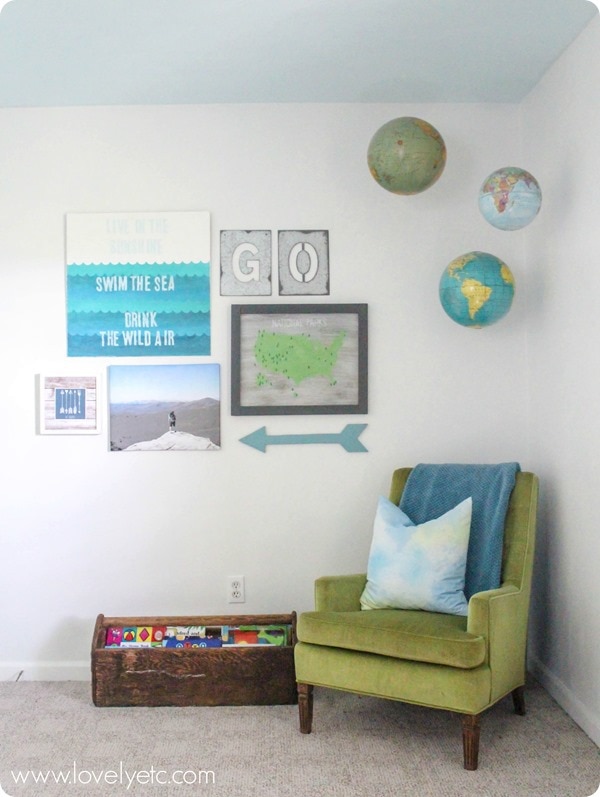 On the other side of the room is a cozy chair for reading and snuggling. The chair was a yard sale find and the hanging globes moved with him from the nursery. The watercolor pillow was another DIY project. And that huge antique toolbox is the perfect piece to hold picture books.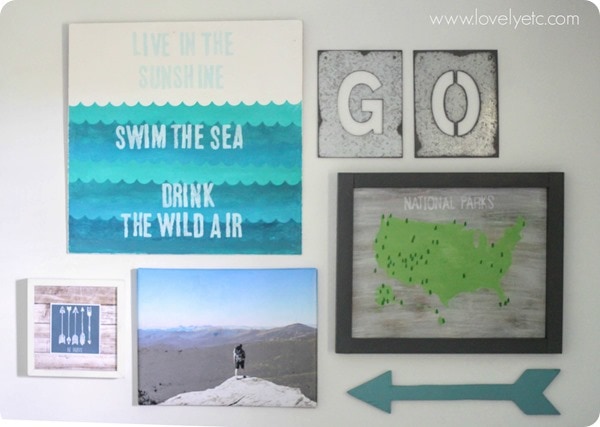 The gallery wall was super fun to put together. The "Live in the Sunshine" and National Parks wooden signs were both painted by me. The photo canvas of the Blue Ridge Mountains is another DIY job. I cut the blue arrow out of wood and painted it and the GO letters are from Michael's.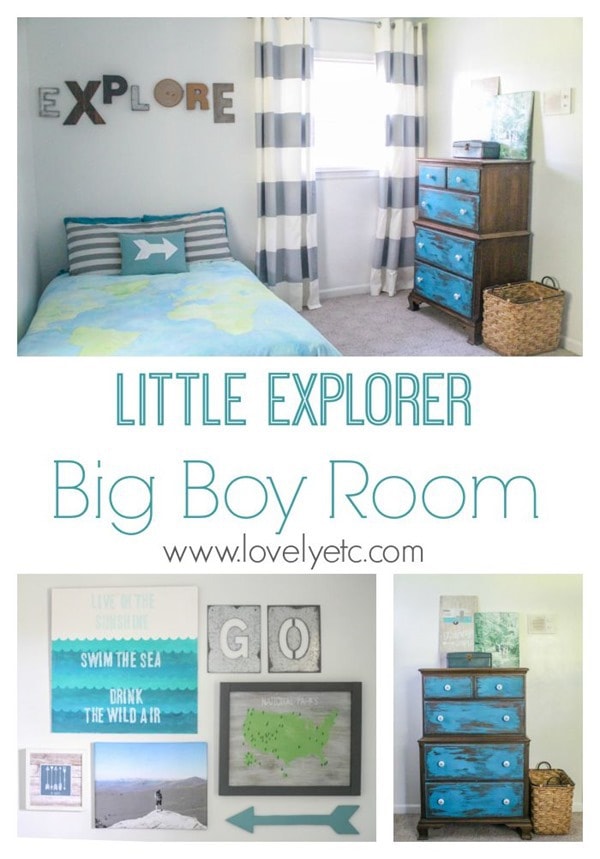 Source List and Budget
Paint: $40
Duvet Cover: DIY project using white DVALA cover from IKEA, $20
Turquoise sheets: Ross, $14
Explore Letters: Michael's and Jo-Ann's Fabric, $30
Industrial Curtain Rods: made from supplies at Hardware store, $36
Painted Dresser: free
Dresser Hardware: $22
Vintage tackle box: yard sale find, $2
Laundry basket: TJMaxx, $20
Happy Camper Art, National Parks Map, Live in the Sunshine signs: free
Two Photo Canvases: $32
GO Letters: on clearance at Michael's $7
Green Chair: yard sale find, $15
Watercolor Pillow: free
Gray and White Curtains, Hanging Globes, Vintage toolbox: from the former nursery
Box Spring, Mattress, Pillows: from the former guest room
Total Cost of Big Boy Room: $238
That is pretty darn cheap for a full room makeover! I hope if any of you guys feel like you don't have the money to create an awesome room, you can see that isn't true. Yes, it takes time and creativity, but you can pull together an amazing room for under $250! (Ok, well, I think it is a pretty amazing room anyway!) And if you are thinking you don't have the creativity, that's why I'm here! I've got plenty of ideas to go around.
If you are looking for more inspiration, check out these other crazy cheap room reveals: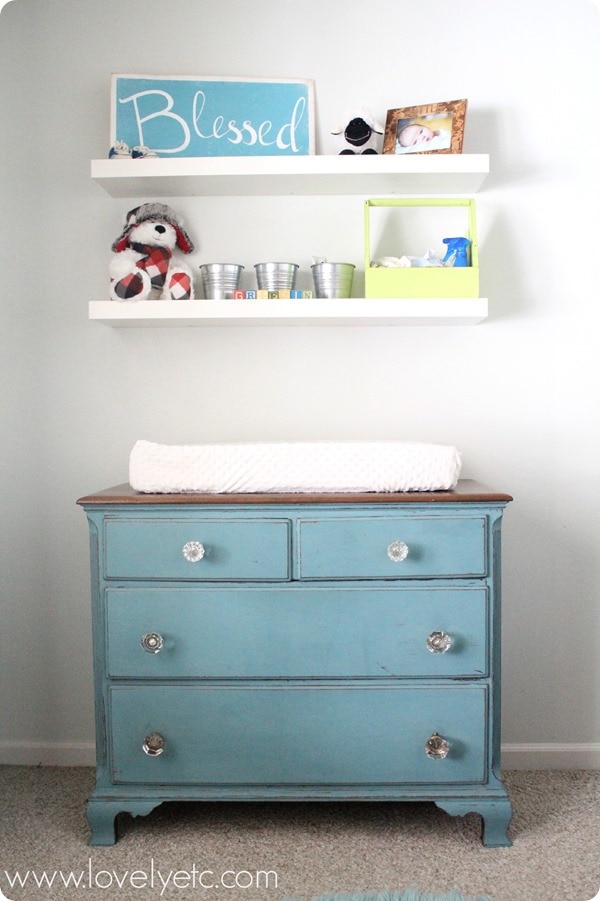 Aqua and Gray Nursery for under $400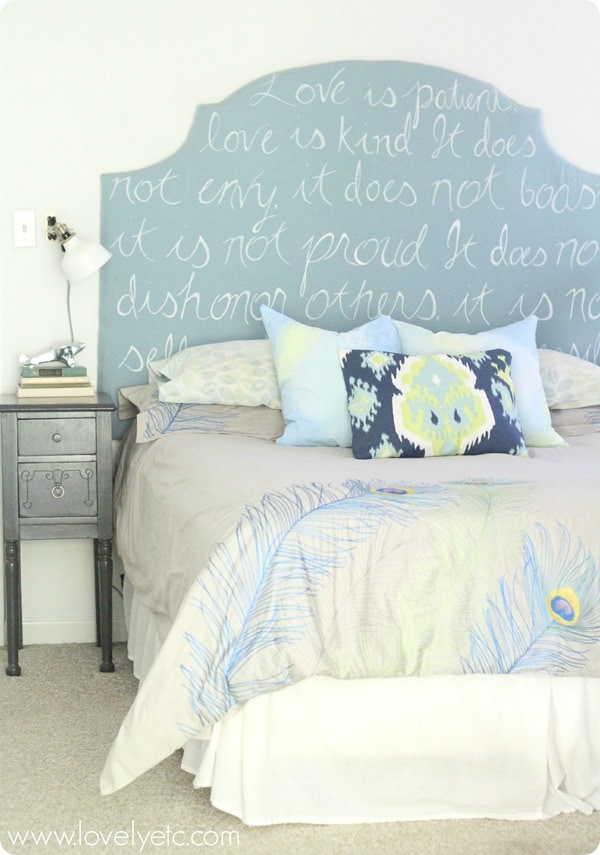 Colorful Master Bedroom for under $500