This year I could not wait to brighten up our home for spring. Every year by the time March rolls around, I am itching for sunshine and spring weather! I know my decorating has absolutely no bearing on the weather, but switching up my decor a little bit is one of my favorite ways to mark the changing of the seasons and it's such a good reminder that yes, spring really will come again this year.
(Even though as I type this, they are calling for up to 8 inches of snow tomorrow! Boo!)
For me spring decorating is all about two things: color and flowers. I love to decorate with color all year long, but I crave it more in spring than any other time of year. Every year, I invite some of my favorite blogging friends to join me in sharing how we do spring in our homes. And this year I decided to make it all about the color.
So I invited my most color-loving friends to join me in sharing how they add color to their homes for spring. You can find all of their fabulous space at the end of this post.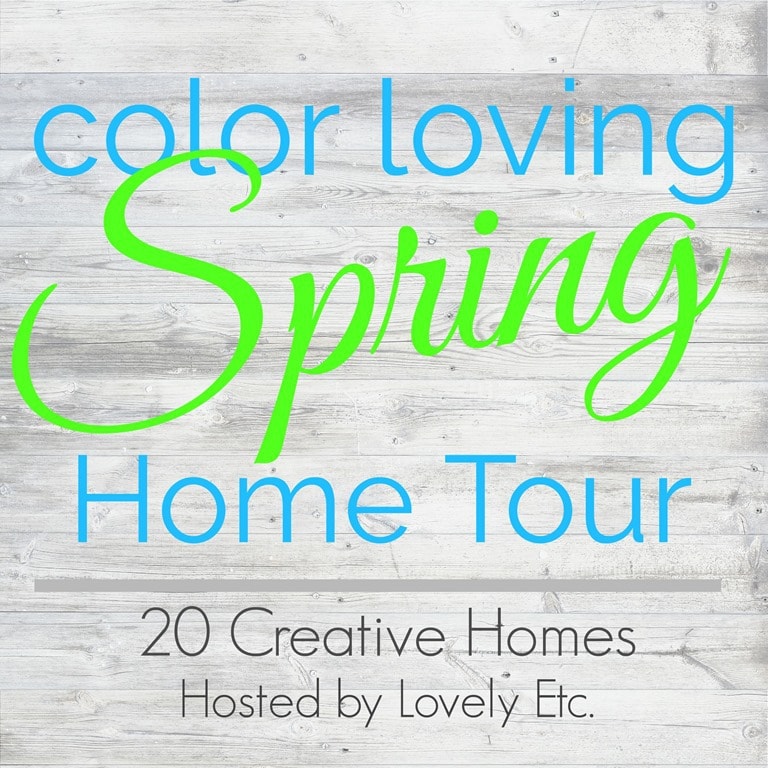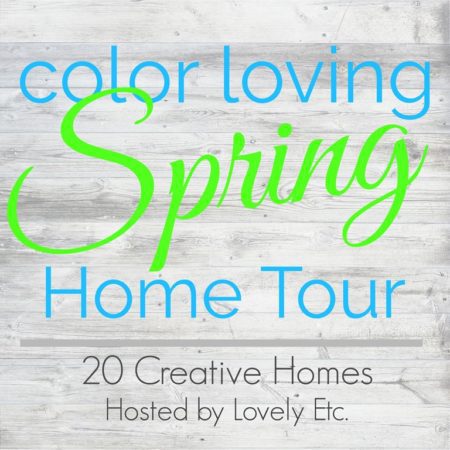 Recently I made some changes in our dining room that I have really been loving so that's the first place I wanted to get ready for spring this year.
This post contains affiliate links which means if you make a purchase after clicking a link I will earn a small commission but it won't cost you a penny more. Click here to see my full disclosure policy.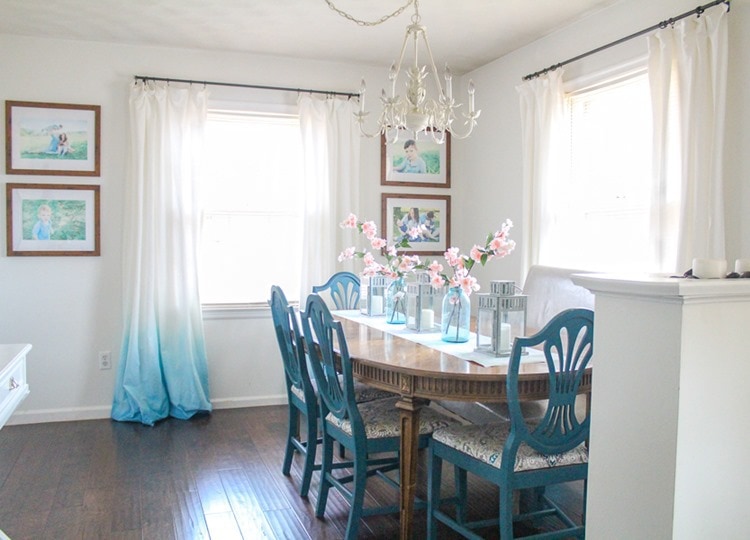 The biggest change is I finally said goodbye to the huge beast of a buffet that was in here. It was a beautiful antique tiger oak buffet that needed a bit of TLC. It was the first real piece of furniture my husband and I bought 13 years ago so I really went back and forth about selling it. Here's a pic from a couple of years ago.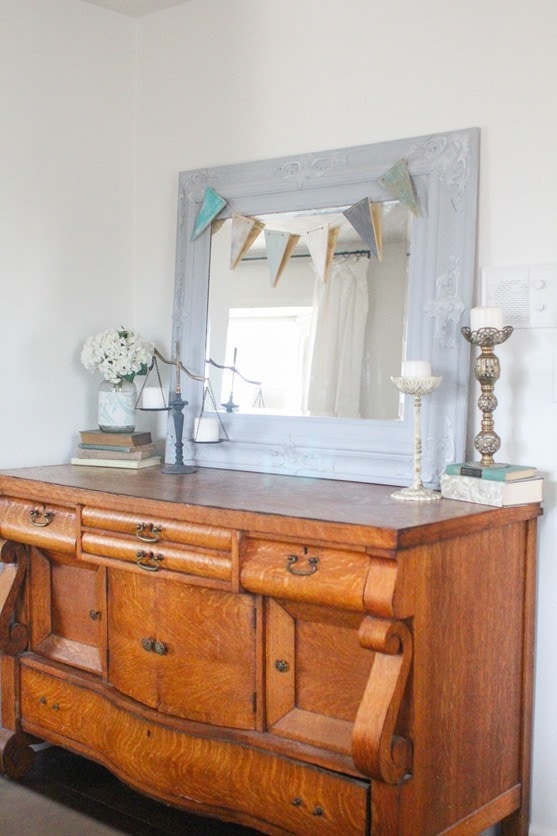 Even though it was vaguely sentimental, it was way too large for our space. And even worse, I hated the orange tone of the wood but it had such beautiful grain, I couldn't bring myself to paint over it. So we let it go to someone else who truly loves it.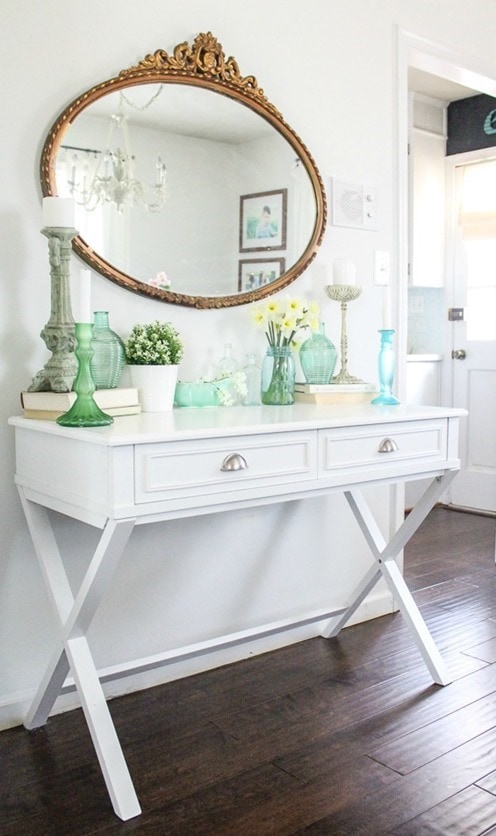 I moved this cute little X-leg table from our foyer as a temporary solution until I found a good replacement buffet. But it turns out I'm really liking this little table here, so it may just be here to stay. I love how light and airy it is after that huge, heavy oak buffet. The antique mirror was passed down to me when a family member passed away. I absolutely love the mix of the clean modern lines of the table and the formal look of the mirror.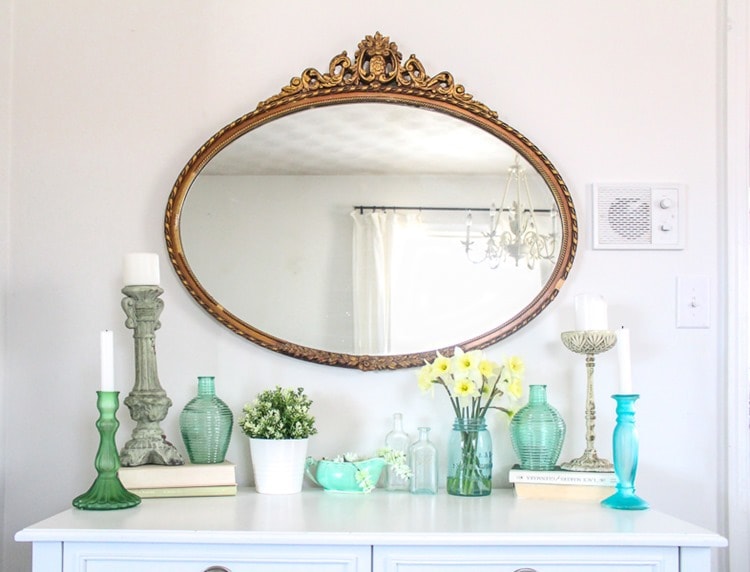 To bring it all together, I dug through all my collected bits and treasures and pulled out a bunch of my favorite candlesticks, jars, and old glass pieces. The daffodils are from our yard but all of the other plants and flowers in the room are fake. I've long ago accepted that I cannot keep plants alive and it just isn't fair to keep killing them one after another.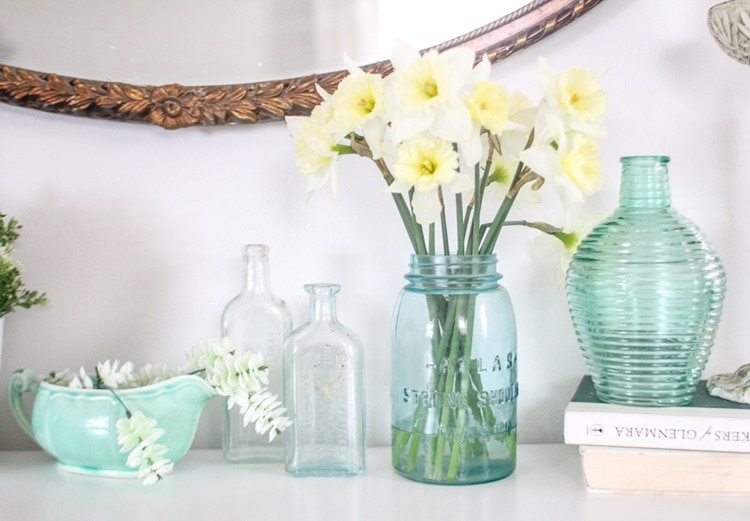 The dining table itself was a great find, I scored it last summer for less than $50. The table really needs to be refinished, but I still love it nonetheless. The chairs and settee were all found at yard sales and freshened up with paint and new upholstery. (Tutorial for refinishing the chairs is here. And here is the tutorial on how I reupholstered that settee with leather.)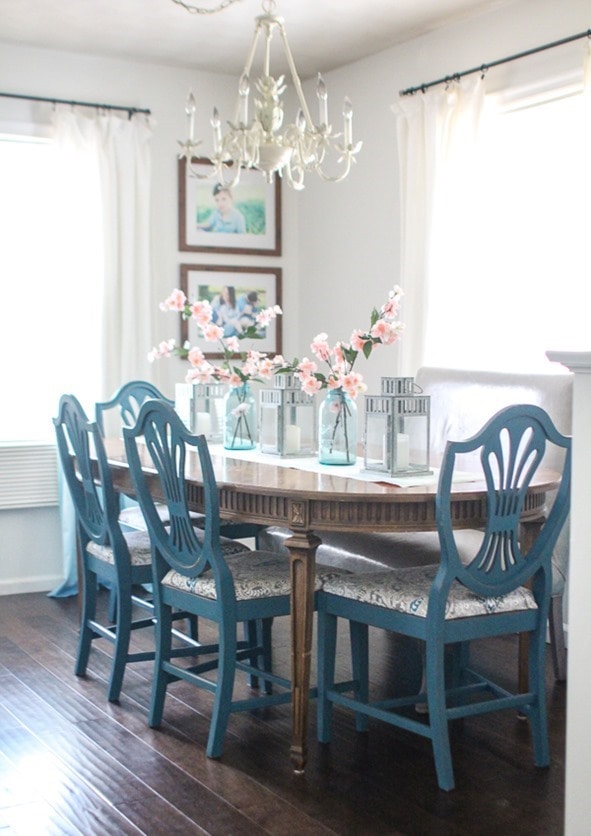 As far as the table decor, I was really trying not to buy anything new for this room so I went looking for things I already had that could work. I had several of these galvanized IKEA lanterns so I grabbed them along with a couple of tall blue mason jars.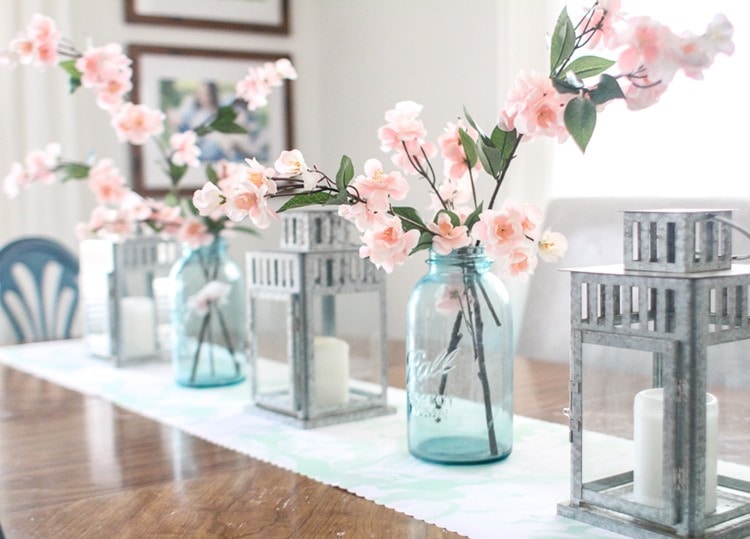 The table runner is actually cut from a really pretty piece of marbled aqua and white wrapping paper. Decorating with wrapping paper is one of my favorite tricks for keeping costs down. I've used paper table runners before and they are definitely not perfect. If you have messy kids that spill a lot, a paper table runner isn't going to last long. But my kids are small enough they still eat at a child sized table in the kitchen, so it works for us.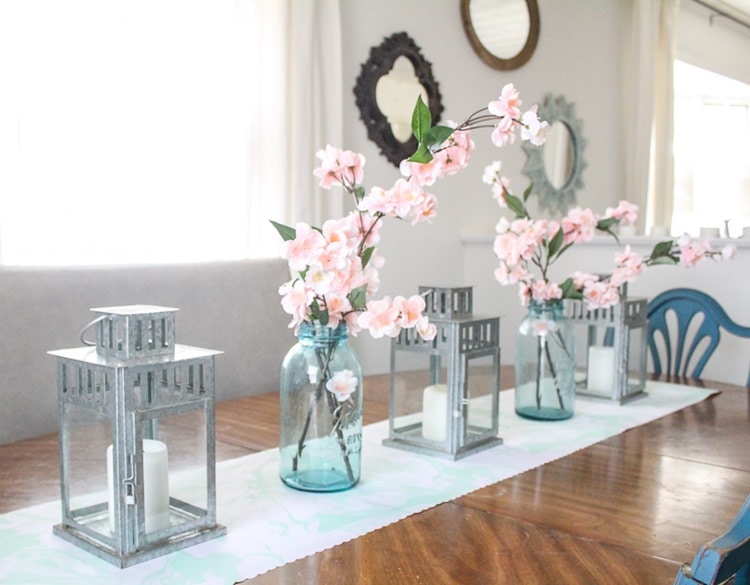 I filled the lanterns with plain white candles and the jars with cherry blossom branches. (Good fakes, from Michaels. We actually have a really pretty weeping cherry tree in our front yard but it isn't anywhere close to blooming yet.)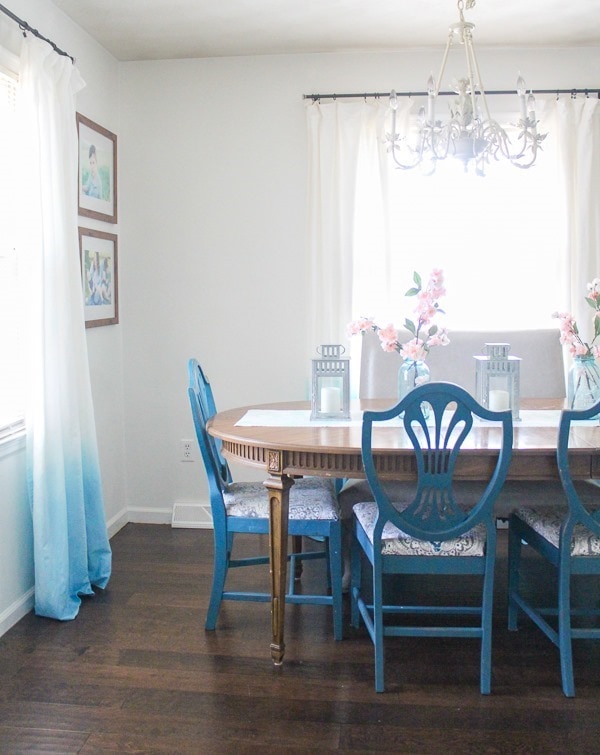 The four framed family photos on either side of the window are also new. Those blank white walls were screaming out for some color so I added a few of our favorite family photos.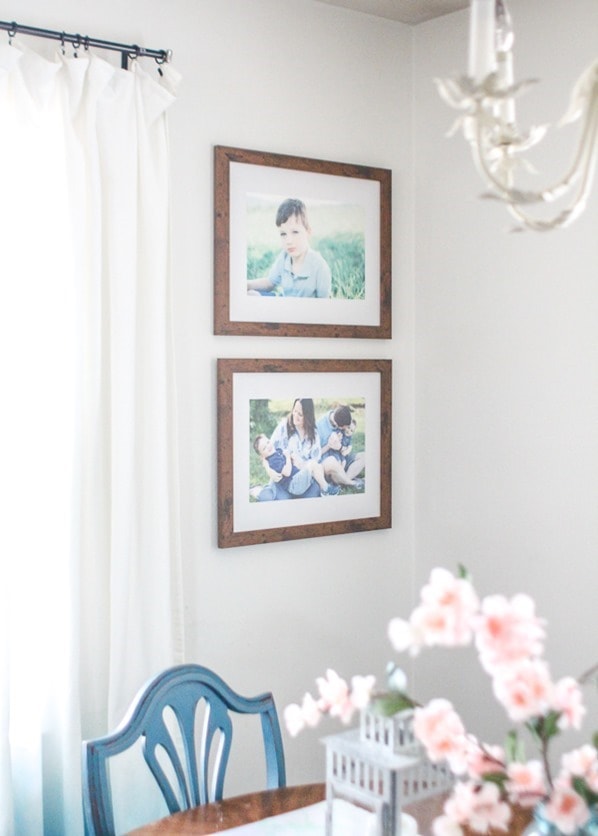 I have this crazy idea that I want to switch up the photos in them as the seasons change. Fall photos when the weather gets chilly; Christmas photos for the holidays. We'll see if I actually make that happen or not though!

To help you find the things you love as much as I do, here is a list of sources and DIY tutorials. (Sometimes I link to something similar if the original item isn't available.)
Shop the Room
white X-leg table (very similar)
lanterns (they don't carry the galvanized color anymore)
DIY Tutorials
How to reupholster furniture with gorgeous leather (setttee)
Cheapest DIY curtain rods ever
Inexpensive curtain rod finials
Share the love! Pin me!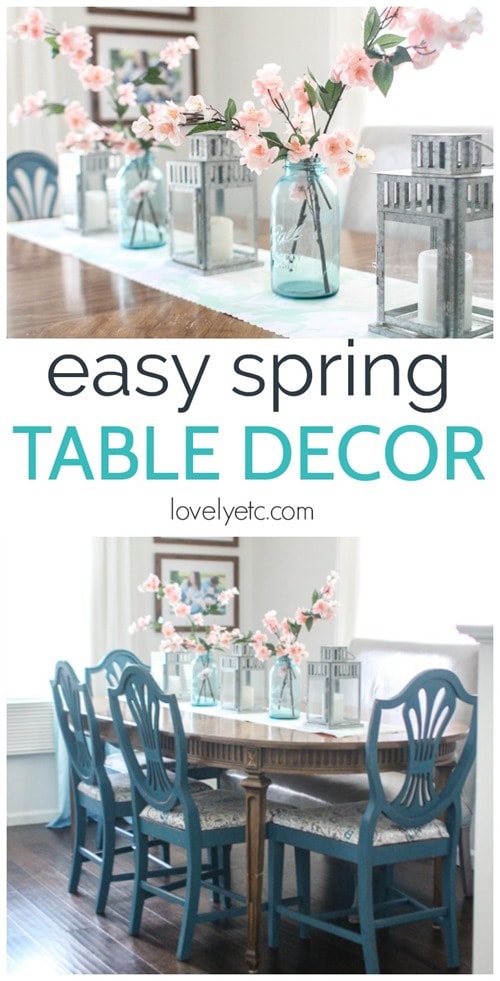 Okay, ready to see some more fantastic spring decor! Click the links below to check out all of the details and how-tos of my friends' colorful home decor.


Lovely Etc. * Green with Decor * Boxy Colonial * Wife in Progress


Love & Renovations * Brown Dog Vintage * The Happy Housie * Our House Now a Home


This is Our Bliss * Cassie Bustamante * Redhead Can Decorate * Chatfield Court


Refresh Living * Avenue Laurel * A Fresh Squeezed Life * House by Hoff


Southern State of Mind * The Striped House * Newly Woodwards