I've been having so much fun freshening my home up for spring using things I already own. I shared my spring home tour earlier this week and one of my favorite parts was the dining room table. The thing that brought it all together – the cheap and easy table runner. And when I say cheap and easy, I really mean it. You could make a dozen of these for $5 in about 30 minutes.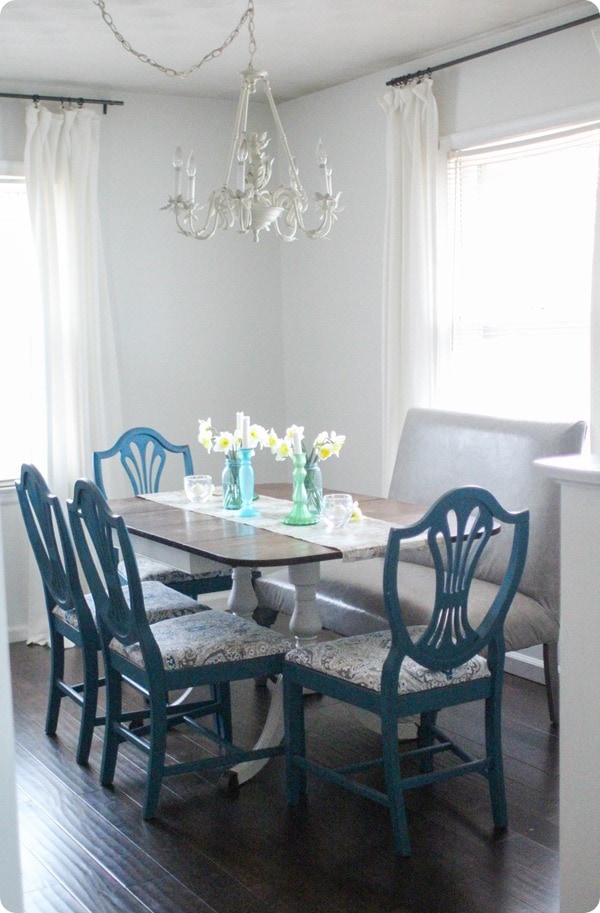 This post contains affiliate links. See my full disclosure here.
A few years ago, I picked up these aqua and green glass candlesticks at yard sales and I love them. Something about them just screams spring to me and I knew I wanted them on the dining room table along with some of my vintage blue mason jars. But when I pulled them out and added them to the table, they just looked weird. I tried clumping them closer together. (That's an interior design term right? Clumping?) They still looked off. I tried spreading them out. Still weird. The problem was they looked like they were just floating oddly in the middle of the table. I didn't think to take a picture so you're just going to have to trust me on this.
I was pretty sure the solution was a table runner – it would help bring everything together and make it look more intentional. The problem is I don't own a table runner. I know – shocking for someone who loves to decorate as much as me! But I've just never needed one before. I was pretty determined to put this table together using only things I already own so buying a table runner was out. Which meant I was just going to have to figure out how to make one.
I pulled out all of my fabric scraps and found a few that would be really pretty…but, to be quite honest, I just didn't feel like sewing. Or ironing for that matter. It sounds kind of lazy but whatever. It's just decorating – cutting corners here and there isn't the end of the world. Plus, every now and then, a little laziness leads to the best ideas and this happened to be one of those times.
Fabric was out, but what about paper? Then all I would have to do is cut it with some scissors! I happen to have a thing for pretty wrapping paper. Whenever I find a really gorgeous paper I snap it up, knowing I'll figure out some way to use it. In this case, I pulled out some pretty birch printed wrapping paper I bought last year. Mine is from TJMaxx (my favorite source for inexpensive wrapping paper), but I found the green candlesticks online at an awesome price.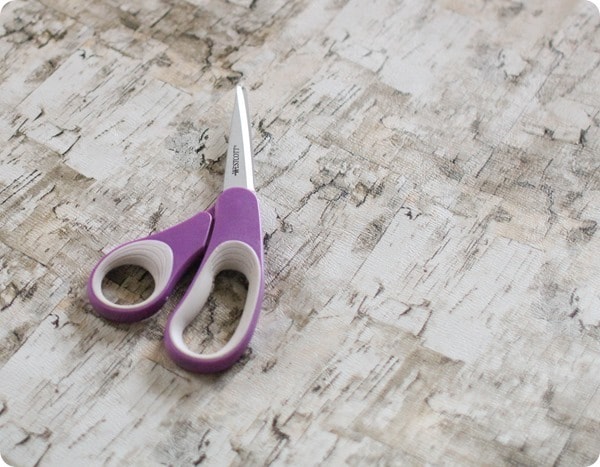 I cut a piece of the paper a little longer than the length of my table. Then I folded it in half lengthwise and cut along the fold. This gave me the perfect width for a table runner. To make it extra pretty, I pulled out a pair of green candlesticks and gave it pretty scalloped edges.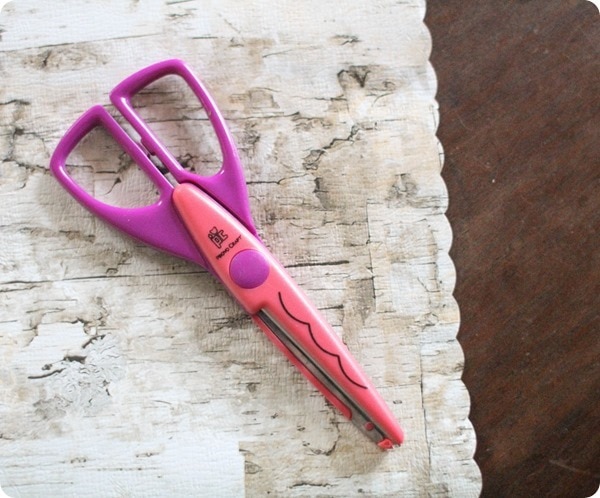 I added my candlesticks and jars again and it was perfect! Wrapping paper for the win!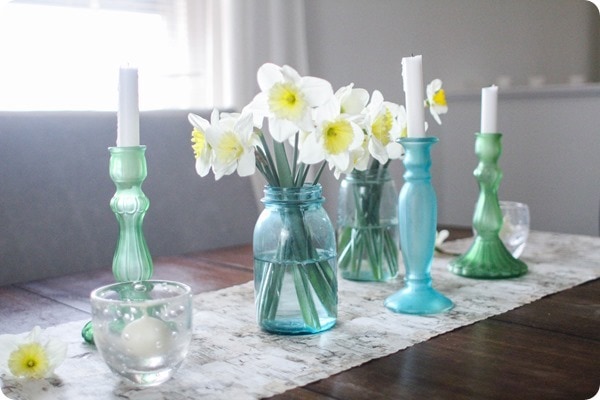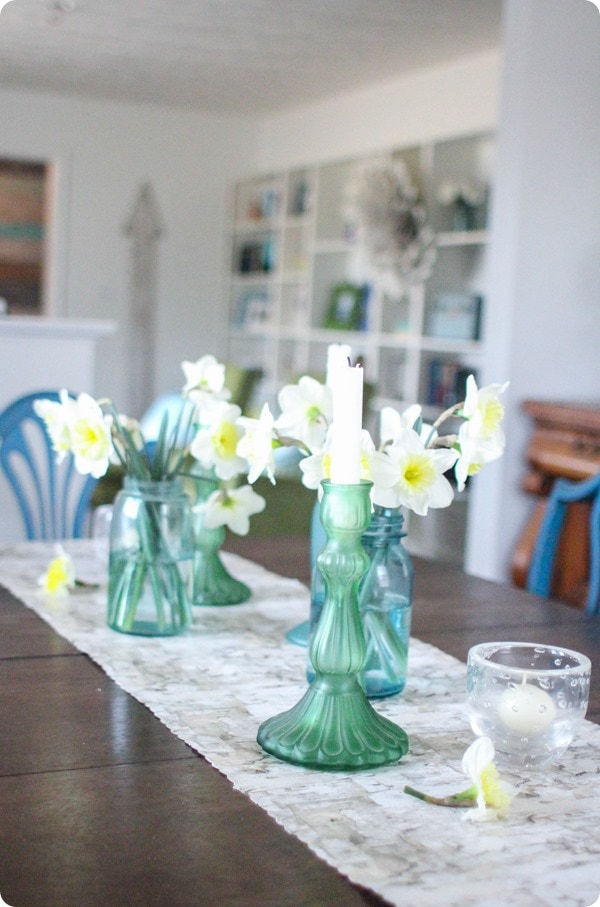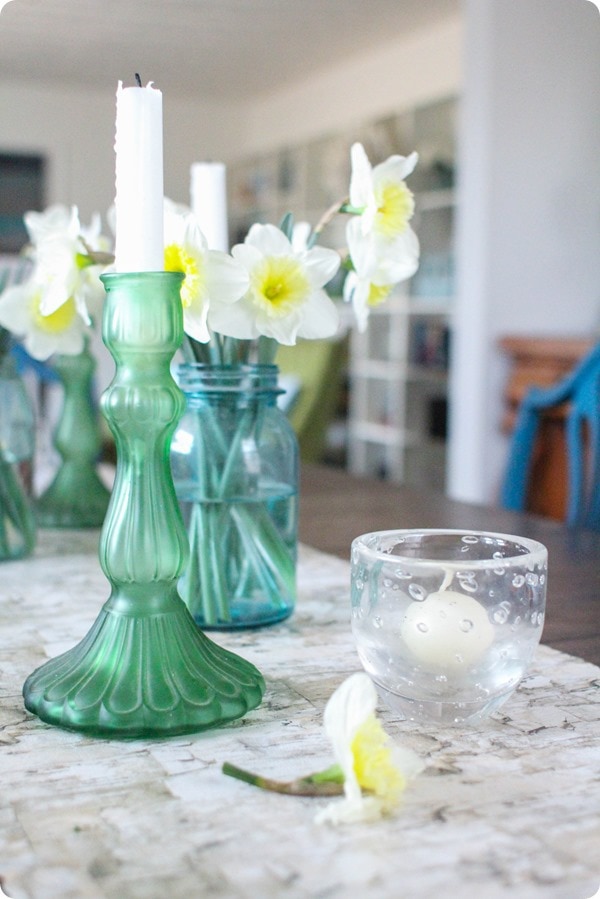 .
This isn't the first time I've used wrapping paper in my decorating. I actually used the exact same wrapping paper to update a lampshade …and I liked it so much, it is still there two years later!
Anyone else have creative ideas for repurposing wrapping paper? I've certainly got enough stashed away that I would love to put to a good use!
*I've had several comments about my pretty colored glass candlesticks. I lucked into finding these at yard sales but I did find similar green candlesticks and blue candlesticks on ebay if you are looking for your own set.
I am linking this post at Work it Wednesday.