My son's DIY play kitchen is finished and it is gorgeous! If only our real kitchen looked this good!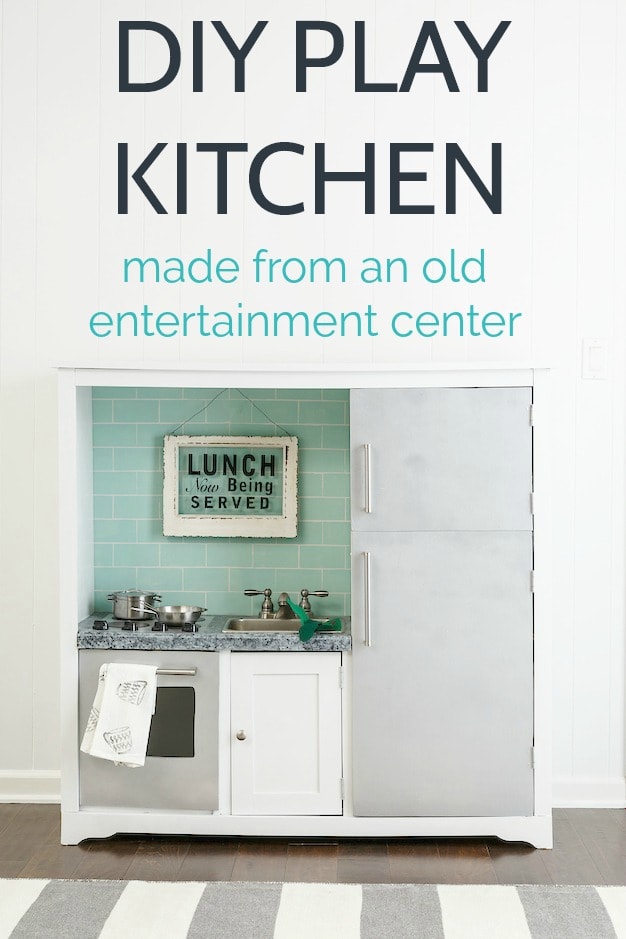 You guys this little upcycled kitchen actually landed me in the pages of Better Homes and Gardens magazine. How crazy is that!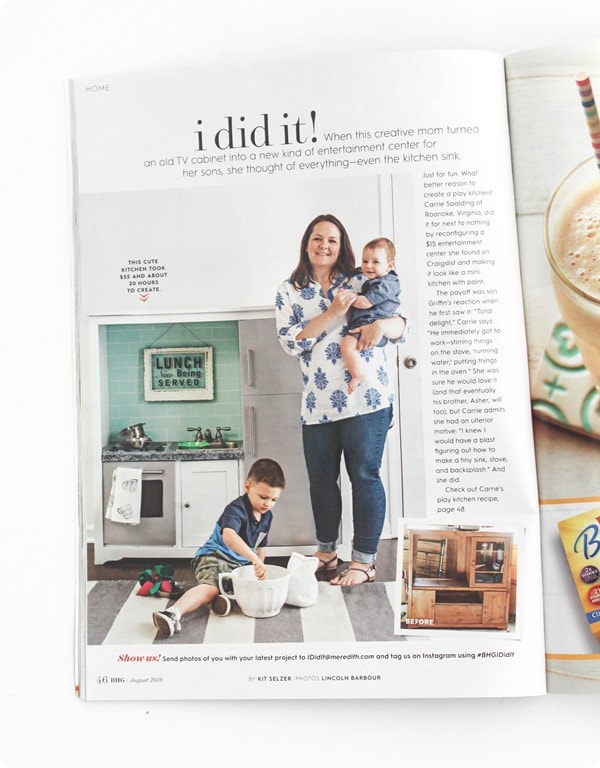 If you want to see what it's actually like to be a in a photo shoot for a huge magazine, I have lots of behind the scenes details right here. (I also used some of the photos taken at that photo shoot in this post. All photos not taken by me are noted.)
But even better, this was my 2 year old son's Christmas present and he adores it. He has played with it every single day since he got it (and I'm hoping it's getting him all ready to do some cooking for me when he gets bigger!)
From Entertainment Center to Play Kitchen
Here is the before – a run of the mill entertainment center we bought off Craigslist for $15. Nothing fancy, but a nice sturdy entertainment center.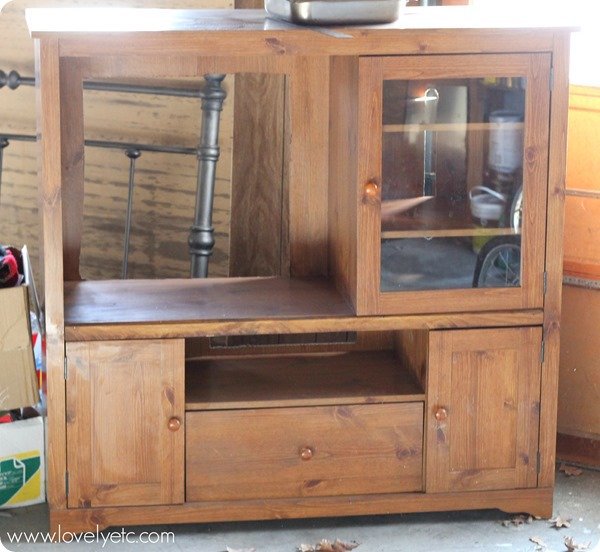 There are a few things to keep in mind when choosing a piece of furniture to repurpose as a toy kitchen. First, the whole thing needs to be fairly sturdy – anything a toddler plays with is going to take some abuse. Also, the 'counter' height needs to be a good height for your child with a little room to grow. As far as the general shape, you can play around with that by moving and removing drawers and cabinets (which I did) but it helps if you can get a general idea of how the piece will work as a kitchen.
Before I could get to any of the fun stuff, I did a bit of restructuring.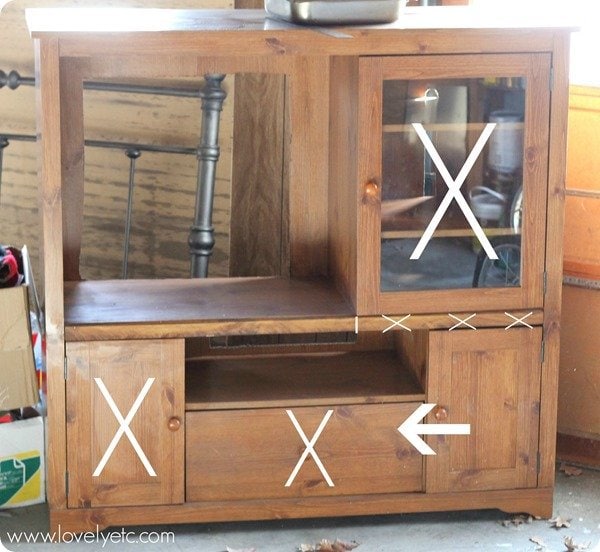 I knew I wanted a fridge and freezer where the tall cabinet was – which meant the lower cabinet needed to line up with the upper cabinet. I also wanted to incorporate a stove. Every entertainment center is different, but mine was pretty easy to take apart and reconfigure.
I removed the drawer and all of the cabinet doors as well as the backing (which had a huge hole cut out for a TV). Then I unscrewed the cabinet dividers on the lower half and moved them closer to the middle to form the fridge and the stove. To complete the fridge and freezer, I used a small saw to cut the edge of the 'counter' behind where the fridge door would go and then cut new fridge, freezer, and stove doors from a sheet of 3/4 inch plywood. (I know some of that is confusing, but the picture should help.)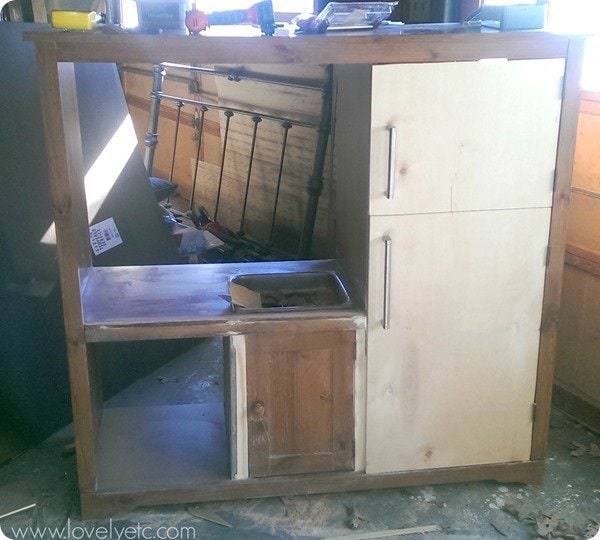 I replaced the backing with a fresh piece of hardboard from Lowes. To keep things easy, I just had them cut it to size in the store.
I used a jigsaw to cut holes for the sink and faucet. I simply traced the shape I needed cut onto the counter using a permanent marker. I used a large drill bit to drill a pilot hole and then slipped my jigsaw blade into that hole and cut out the shape I had drawn.
Then, finally I was able to get to the fun stuff!
Pretty much all of the finishes were created using paint – including the backsplash, countertop, stove top, and stainless steel appliances. You can find all my tricks for creating those here.
The sources and cost breakdown of everything else is listed below. (After a few more beautiful pictures!)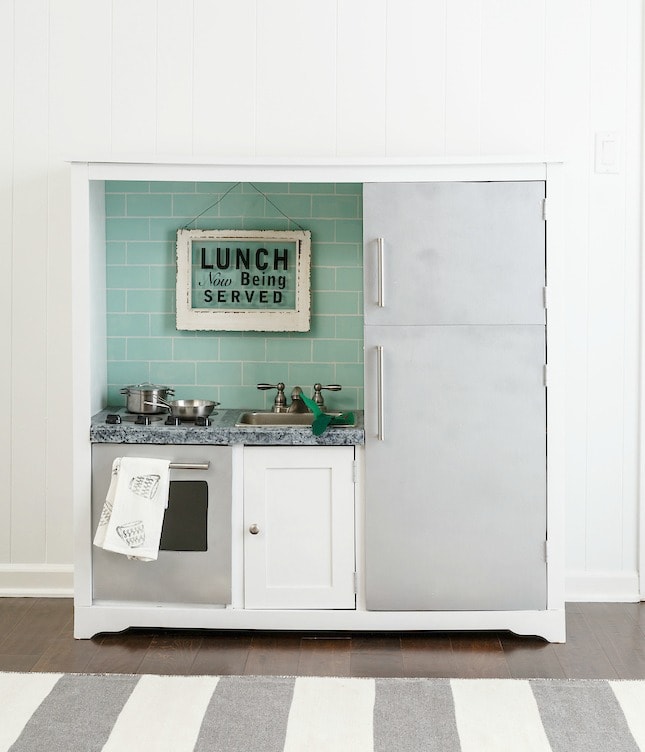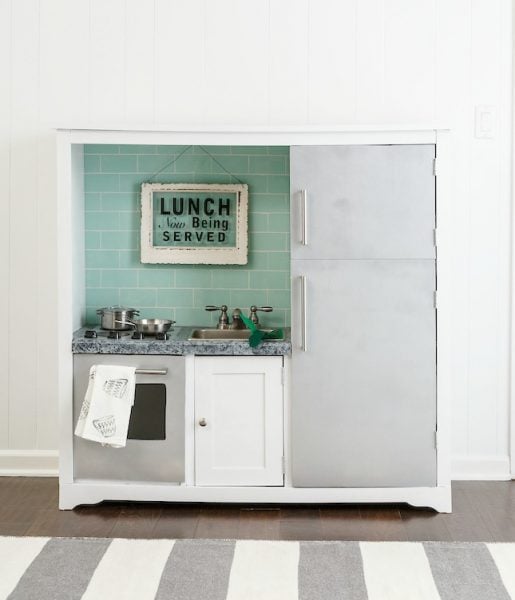 photo by lincolnbarbour.com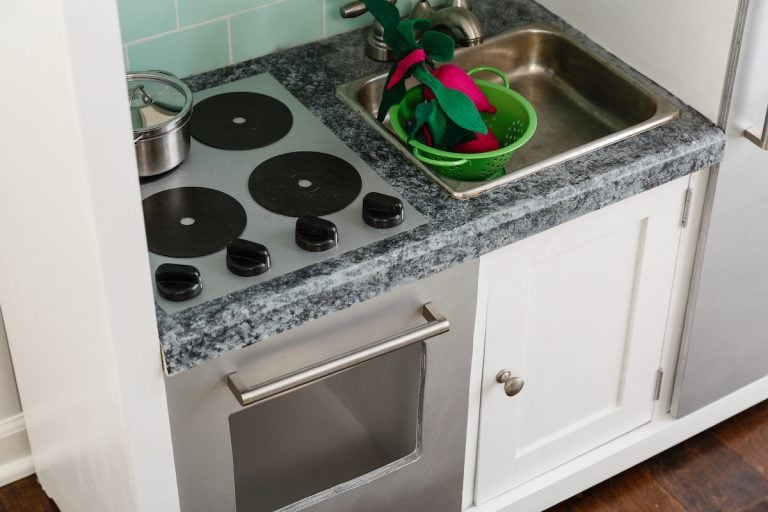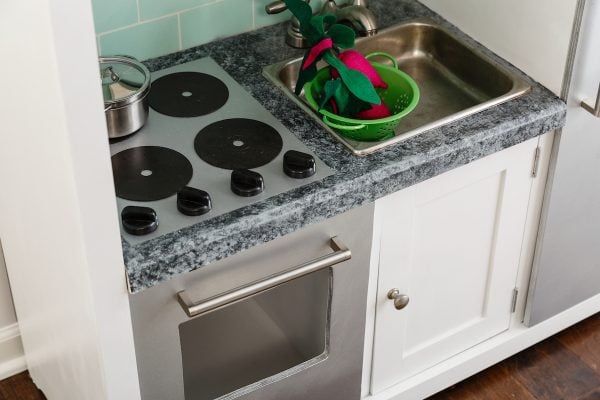 photo by lincolnbarbour.com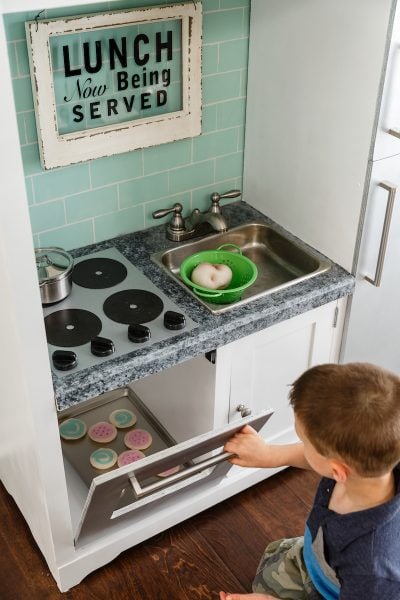 photo by lincolnbarbour.com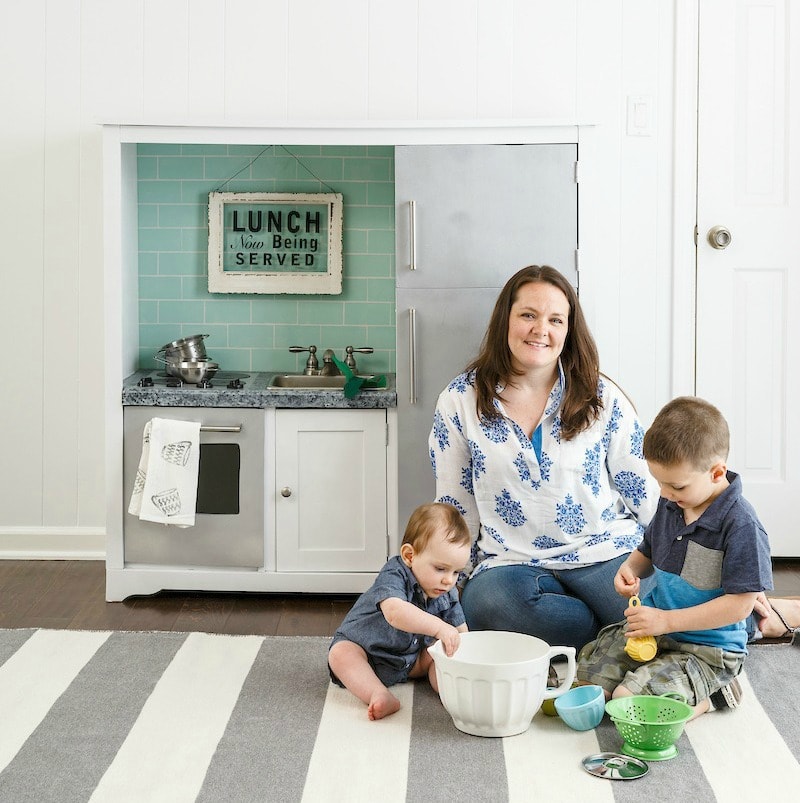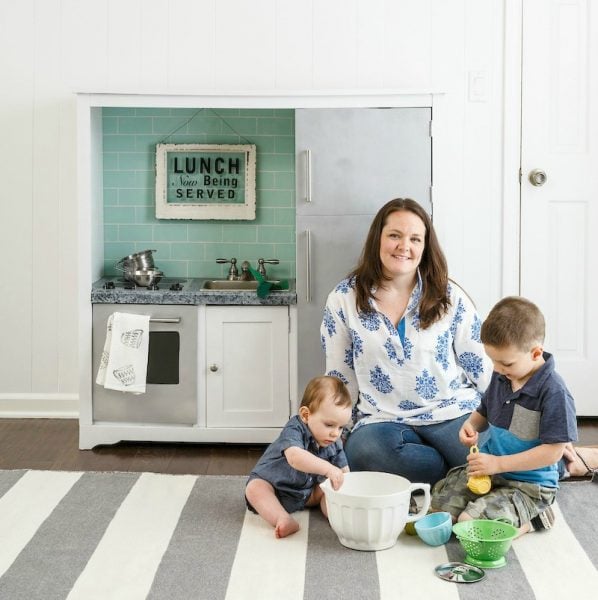 photo by lincolnbarbour.com
Materials and Cost
(Contains affiliate links)
entertainment center – $15 Craigslist
3/4 inch plywood for fridge and oven doors – $15
hardboard for backing – $12
handles for fridge and oven – $2 (As-is section at Ikea)
sink – a stainless steel pan from the Goodwill $.50
faucet – already owned (This is a real faucet I got at a yard sale years ago to use in our bathroom but sadly it wasn't compatible with our sink. The Habitat for Humanity Restore is a great place to look for something similar).
stove eyes – painted CDs we owned
stove knobs
– $4 from Amazon
hinge for stove – $3
paint for countertop (black, gray, and silver craft paints), backsplash (Laurentien Fusion Mineral Paint), appliances (Krylon Chrome spray paint
), and cabinet (Champlain Fusion Mineral Paint) – already owned, painting tutorials are here.
Total: $54.50
(Also, those adorable little metal pots are from Ikea, but you can also find them on Amazon if you don't have an Ikea nearby.)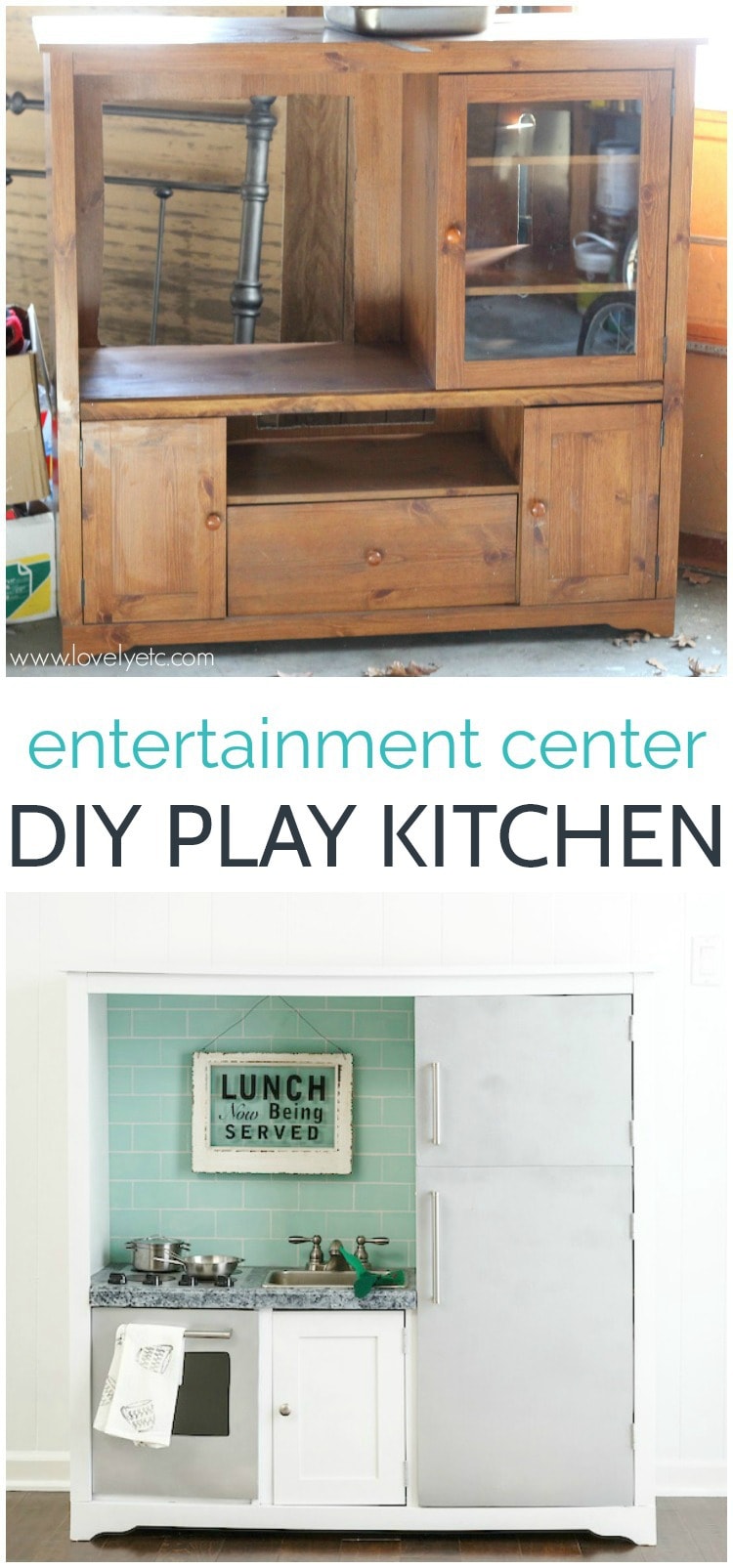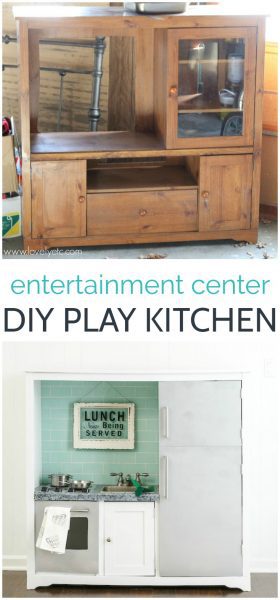 And in case you are wondering, my two year old son loves it! It is definitely getting lots of play every single day.
Now to get to work on our real kitchen…
More projects you just might love:
Turn a Candle Lantern into a Lamp